We all experience stress on a daily basis, but sometimes it can feel like it's taking over our lives, steamrolling down the road right towards us.
When stress isn't managed, it can run us ragged and leave us feeling defeated before the day even starts. The best way to not get to that place or to come back from it is to recognize physical signs of stress so you can take counteractive measures.
Perhaps a couple of the biggest physical signs of stress are a lack of sleep and fatigue.
When you find that you're unable to stay asleep or feel rested when you wake up, that's because your body isn't releasing stress and instead it's holding on to it. When the body is under stress, it naturally tenses up and can prevent your body from truly releasing at the end of the day. Also, when our mind is stressed it has a tendency to run through a long list of problems, to-do's, regrets and struggles to turn off at the end of the day. These two things combined make it difficult for your body to transition into a deep, restful sleep and eliminate fatigue.
The best way to reduce this is to do three simple things:
Allow 2 hours' time between your last meal and your bedtime.
Declutter your sleeping space.
Create a bedtime routine specific to your interests to set the tone for your night.
When your body has just eaten, it's going to focus on digesting the food you've just consumed. This interferes with its ability to fall asleep and can also leave you feeling bloated, too full, and lead to unwanted weight gain. Try to allow 2 to 3 hours of space between the end of the dinner and your bedtime. Everyone is different, some people need more or less time than that so spend some time experimenting with what works for your body.
Given that when your space is cluttered your mind has a tendency to feel cluttered as well, it's very important to make sure that where you sleep is free of clutter, and chaos and you have space to relax in. You need a calm environment that you enjoy spending time in for your bedroom. If you live in a studio, you can still make sure that your sleeping space is clear of any clutter or work items.
Creating a bedtime routine is important and the fastest and simplest adjustment you can do is stop looking at any screen or electronics for 30 minutes before you want to get in bed. Screens are stimulating and wind your mind up, not to mention your brain needs a physical break from interfacing with them. Shared below are some suggestions for what to do instead of watching TV or hanging out on your phone.
Here are 10 Ways to Reduce the Physical Signs of Stress:
Read a book
Stretch
Make your lunch for the next day
Meditate
Set your clothes out for tomorrow
Write down thoughts in your journal
Color in a coloring book
Do a devotional
Pray
Talk with a loved one
Do anything that you find enjoyable and relaxing for 30 minutes before you get into bed that doesn't involve a screen. By the way, if you're a digital reader you can adjust your kindle to a different setting so the white light doesn't stimulate you.
Making these few small changes to your sleep space and your bedtime routine will help you fall asleep faster and have you feeling rested when you wake up. Your body will be able to repair all the small wears and tears that happened that day so you feel refreshed and like you've had a chance to release stress and recharge. When you see physical signs of stress appear in your life, don't power through and ignore them. They'll only get louder and spread into other areas of your life.
The best way to reduce the physical signs of stress is to listen to your body and have those go-to stress-reducing actions on hand at all times so you can be proactive instead of reactive when it comes to taking care of your body and reducing your stress levels.
You only get one body and it's absolutely worth it to spend time taking care of it. You deserve to feel great, be healthy and do all the things you want to do; this is your time!
Did you know you can find help here? From personal to professional well-being, connect with someone who can guide you to a happier, healthier, and whole life! Become a WU Friend today!
If you provide support or products that make the world a better place and help humanity live in health, happiness, and wholeness, join us as a WU World-Changer.
– The Wellness Universe
*This article was originally published on October 13, 2018.
---
All information, content, and material are for informational purposes only and are not intended to serve as a substitute for the consultation, diagnosis, and/or medical treatment of a qualified physician or healthcare provider. The information supplied through or on this page, or by any representative or agent of The Wellness Universe, is for informational purposes only and does not constitute medical, legal, or other professional advice. Health-related information provided through this website is not a substitute for medical advice and should not be used to diagnose or treat health problems or to prescribe any medical devices or other remedies. The Wellness Universe reserves the right to remove, edit, move or close any content item for any reason, including, but not limited to, comments that are in violation of the laws and regulations formed pursuant to the Federal Food, Drug, and Cosmetic Act. None of the posts and articles on The Wellness Universe page may be reprinted without express written permission.
---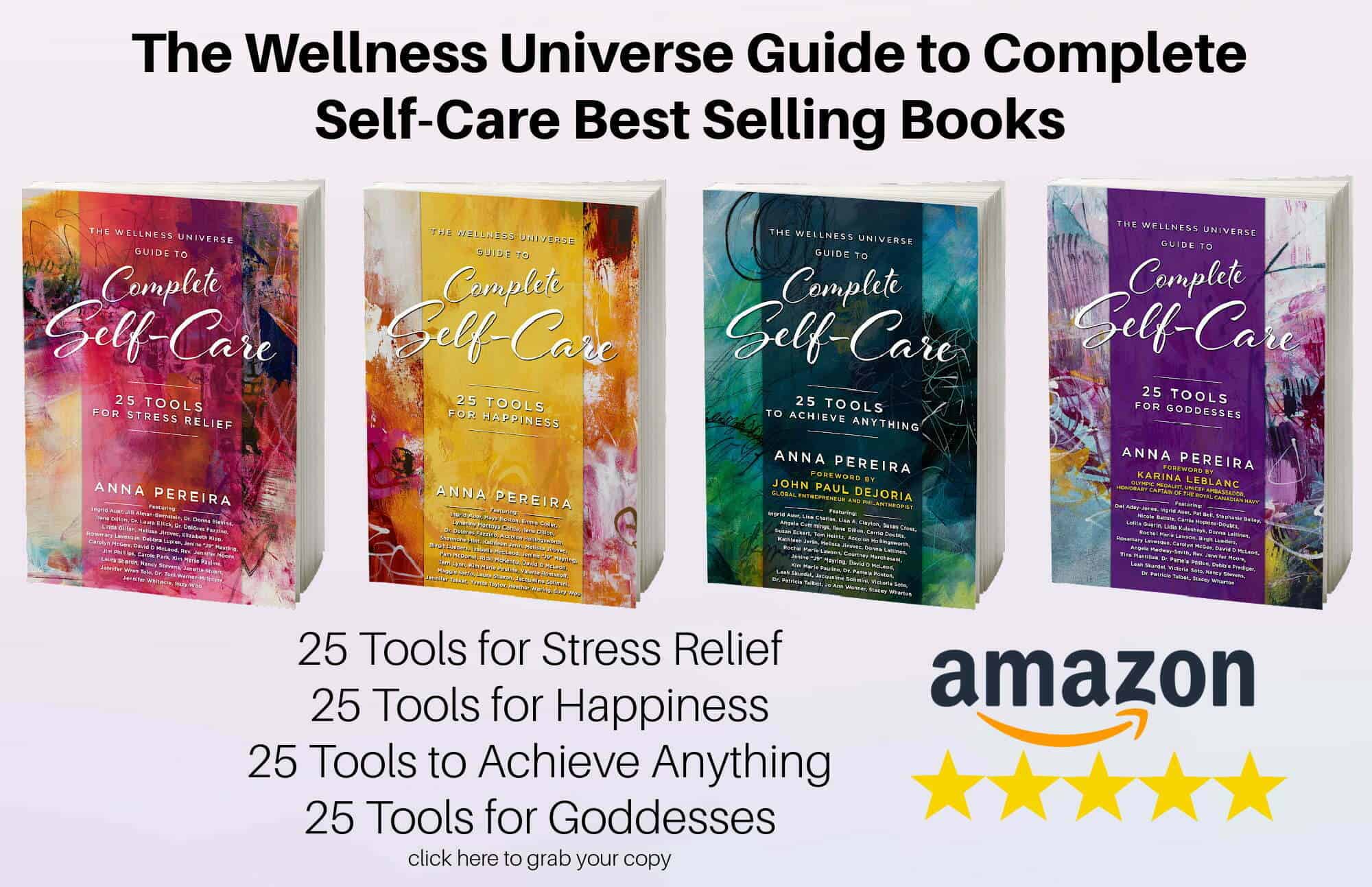 With over 250 independent reviews see how our self-care books are helping thousands of people around the world. Digital and paperback books are available now.
---
Self-development, self-care, and inspirational classes and sessions by Wellness Universe World Changer instructors who support your total well-being.
Visit The Wellness Universe Lounge today!
---
The Wellness Universe is here to serve your best well-being. If you are experiencing anxiety, grief, overwhelm, guilt, anger, or seeking ways to cope and get help for stress, relationships, parenting, or any other issue during this challenging time, we have wonderful resources for you to connect with. Our WU Best Help members are offering reduced rates, sliding scale payment options, and even pro-bono sessions.
WU Best Help