Nowadays, people are increasingly demanding a "work-life balance", which is also seen as an indicator of mental health. A 2021 study published in the Harvard Business Review concluded: "The work-life balance is not a one-time fix, but rather, a cycle that we must engage in continuously as our circumstances and priorities evolve." However, how can we find a comfortable lifestyle in this cycle? How can we juggle the stress of both worlds without causing ourselves additional pressure? How can we find the ideal work-life balance? There are three suggestions to help you get started:
 Understand the value of time
If you want to accomplish a work-life balance, it is necessary to think about the order of things that matter in your life and understand that time is the most precious resource. You must figure out what is the most crucial goal in life by asking yourself the following questions:
What are your values?
How do you set the path that will get you to your goal?
What do you think should be the highest priority in life?
What makes you feel truly alive?
To understand these questions, it is important to conduct a daily activity log, this will help you track how you spend time at home and at work. Once you have completed the activity log, use this information to determine how valuable these activities are to you by asking these questions:
Am I spending my time in the right place?
Am I investing enough time to do what I really want to do?
Am I investing too much time at work?
How much time do I spend with my spouse? Child? Friend? Or for myself?
Some people believe that the priority in life is to spend time with their children, some think it is to develop hobbies, and some want to have a successful career. No matter what, there is no right or wrong. The only thing that often gets neglected is that time is a non-renewable resource. Each day and each moment is essential. They represent one less day, one less moment to experience life, reach your goals, and spend time with family and friends. It is therefore important to organize your time to align with your goals and values.
Therefore, it would the best if you organized your time to align with your goals and values.
Practice Gratitude
When people say they want more time, they often mean that they want more time to do the things that make them happy. But how can you fulfill this? Start enjoying the little things in life! For example, how long has it been since you enjoyed the scent of a lovely flower? When was the last time you stepped out in nature?
It may be difficult to have the entire day free, but you can spend 10 to 20 minutes every day doing something you love like watching the sunset, enjoying a good cup of coffee at an outdoor cafe, or taking a walk in the park. No matter how busy you are, you should learn to release stress and recharge by appreciating seemingly ordinary things in life.
Another effective way is to keep a gratitude journal Every day take 15 minutes to write up to three things for which you feel grateful. The process of writing strengthens positive thinking abilities and enforces an attitude of thankfulness.
Furthermore, it will push you to find new things to be thankful for which may you never have noticed before. If you can't find anything specific to write, try to describe how you are grateful for yourself. For instance, thank your body, the ability to run, travel, and love, and having the possibility of achieving any dream you can imagine.
A grateful heart is a healthier heart. When you put aside the distractions in your mind and look around your life, you will find many beautiful things that might have been overlooked before. Cultivating gratitude as the norm in your life will make you enjoy better health and happiness.
Pay attention to your health
Exercise is not just good for your body, but also good for your mind. According to the Better Health Channel, a part of the Digital Strategy and Services Unit of Australia's Victorian Government's Department of Health, its research demonstrates that people who exercise regularly have better mental health and emotional well-being, and lower rates of mental illness. Moreover, it states that the physical benefits of exercise improve cardiovascular health and overall physical health, which is significant for people suffering from chronic physical conditions like heart disease, diabetes, arthritis, and asthma.
Finding time to visit the gym regularly might be challenging if you have a packed schedule. Nevertheless, any exercise is better than none. Start with small activities, such as stretching, yoga, mini workouts, or even going for a leisurely stroll at lunchtime.
On the other hand, doing housework, such as cleaning, washing, and ironing also provides you a mild workout. Clear your home, clear your mind. When you start to organize your physical environment, it will ultimately free energy and resource to help your mind to focus on more important things.
Remember – It is all about work-life balance. You always need to keep in mind that a balanced life comes from a healthy body.
Citations:
---
All information, content, and material are for informational purposes only and are not intended to serve as a substitute for the consultation, diagnosis, and/or medical treatment of a qualified physician or healthcare provider. The information supplied through or on this page, or by any representative or agent of The Wellness Universe, is for informational purposes only and does not constitute medical, legal, or other professional advice. Health-related information provided through this website is not a substitute for medical advice and should not be used to diagnose or treat health problems or to prescribe any medical devices or other remedies. The Wellness Universe reserves the right to remove, edit, move or close any content item for any reason, including, but not limited to, comments that are in violation of the laws and regulations formed pursuant to the Federal Food, Drug, and Cosmetic Act. None of the posts and articles on The Wellness Universe page may be reprinted without express written permission.
---
The Wellness Universe presents Vibrant Wellbeing, Uplifting Your Wellness hosted by Nancy Stevens, Wellbeing Coach, founder of Uplift Clean Beauty, #1 International Best-Selling Author, Speaker, and educator on wellbeing.
Register today:  https://bit.ly/VibrantWellbeing
November 27th Guest: Marisa Ferrera
Your Empowered Self: Creating Healthy Boundaries
---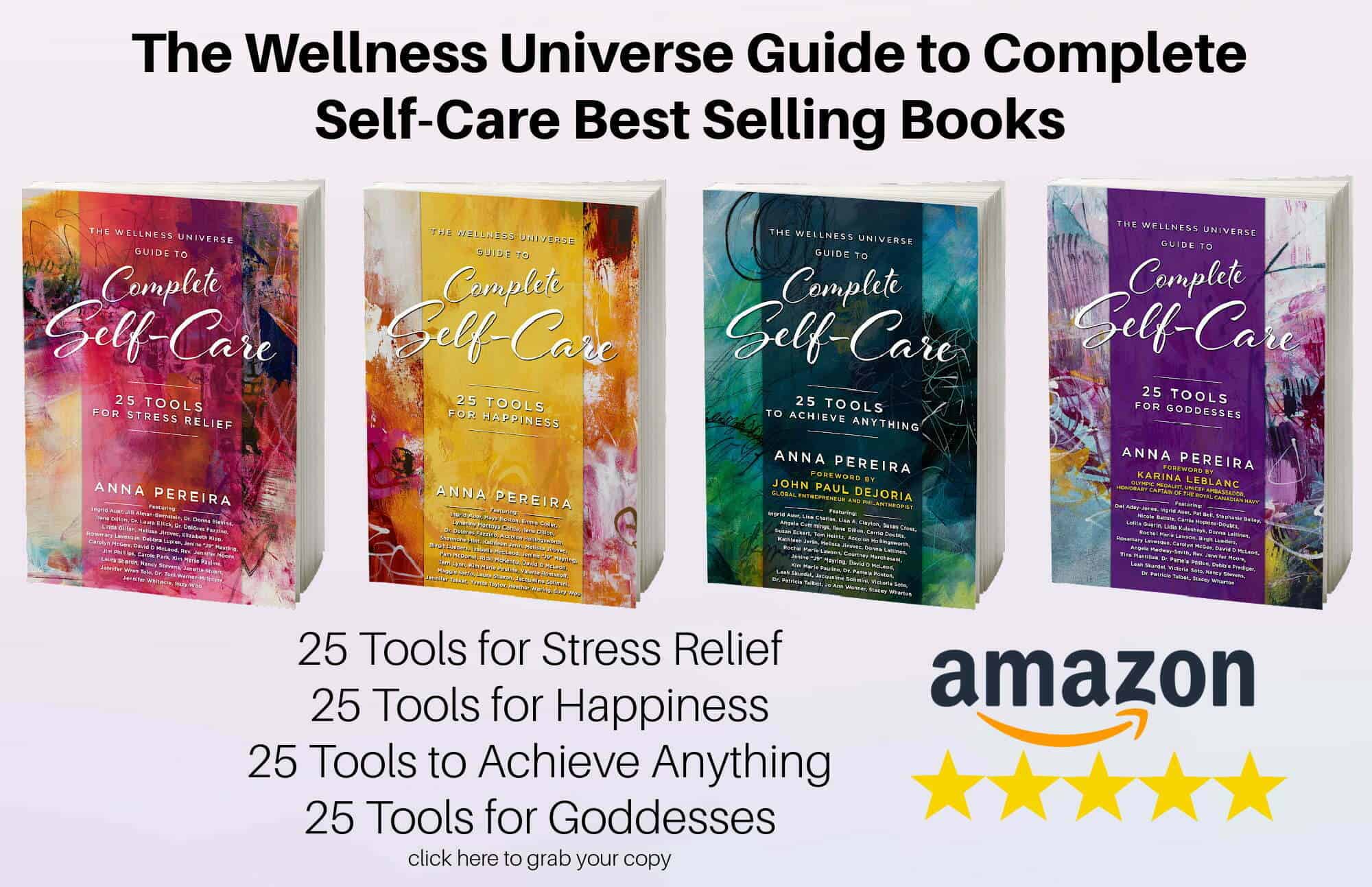 With over 250 independent reviews see how our self-care books are helping thousands of people around the world. Digital and paperback books are available now.
---

 Connect to the people that help you live your best life: The Wellness Universe
The Wellness Universe is your resource for health, wellness, well-being, and transformation. We serve and support professionals who make the world a better place and individuals and groups who seek their best life.
A woman owned company; having the vision in 2013, Anna Pereira launched the first directory in 2015 bringing together a community of members making the world a better place to be found by those seeking their best life. The Wellness Universe has grown since then to be a one-stop shop for total wellness support! We are a vetted community, online directory, book publisher, resource center, event producer, content platform, and so much more, supporting whole-health and well-being on a global scale.
The Wellness Universe is a home that connects industry professionals in the health, wellness, and well-being fields to seekers of total well-being. WU provides our WU World-Changer members with peer support, Wellness Universe produced events (live and online), projects, visibility, business mentoring, and community. Through The Wellness Universe our WU World-Changer members serve WU Friends, seekers of health, wellness and transformation, with coaching, workshops, content and more.
The Wellness Universe provides individuals and groups seeking their best lives with access to our members, wellness content, educational resources, and guidance in all areas of wellness to transform visions of how they want to live life into the life they experience.
Through the directory, WU Featured Blog, SoulTreat wellness retreat, Self-Care Books, group well-being programs, and online learning center, The Lounge, The Wellness Universe provides many avenues to support whole health, mind, body, spirit and planet.
Join us today! Wellness Professional or Seeker of Your Best Life