While the COVID-19 era is clearly behind us, mental health issues caused by the pandemic are still spreading in the workplace. Leaders might wonder, how many employees are currently under chronic stress and depression? And how many employees deal with the challenges and social isolation of working from home? These questions seem difficult to answer, unlike a runny nose or stomachache with obvious symptoms, it is challenging to know if people around us are facing psychological problems. Especially, employers should keep in mind that employees are generally reluctant to talk about mental health. As there is always a stigma surrounding mental health conditions resulting in many who avoid talking about such topics in the workplace.
The numbers tell the story. According to the World Health Organization (WHO), about 280 million people worldwide, including about five percent of all adults, suffer from depression and anxiety disorders, costing the global economy an estimated $1 trillion each year predominantly from reduced productivity.
There are plenty of stats showing how bad depression is right now. But what can be done to solve the problem? Given the situation, employers play an important role in building a friendly and safe workplace. In other words, it is incumbent upon companies to find ways to support employees when it comes to their mental health. Here are three significant suggestions:
Offer mental health resources and support
Despite growing awareness and support, mental wellness is still a taboo topic. As a result, employees need options, including time off when needed and health insurance plans that fully cover counseling. Salesforce, for example, a cloud-based software company that provides customer relationship management (CRM) software, has a tranquil meditation room for employees on the 30th floor of its London office. Here, employees can't use mobile phones or computers, they can simply concentrate on meditation and escape the stresses of the office. Furthermore, companies need to keep in mind that supporting employees include everything from individual, couples, parents, and guardians to group therapy. For example, Employee Assistance Programs (EAPs) offer various services, such as legal and family advice, childcare, midlife crisis, and loan management, allowing employees to reduce stress and lower staff turnover.
Break the stigma
"Have you ever taken a day off from work for your mental health but were too embarrassed to say it, so you pretended it was something else?" One popular tweet by a writer named Marisa Kabas raised a special discussion. The overwhelming response led us to one point: whether the employers grant leave to the employees is not really an issue; the real question is whether employees feel comfortable when they ask for time off. In fact, according to the research conducted by Ernst & Young (EY), a multinational professional services partnership, 95% of people who took time off work due to stress or anxiety didn't tell their managers the real reason. Because many do not want to make lies under pressure, while many more never take care of their mental health and do not expect to take time off. Therefore, to solve this problem, leaders need to create an inclusive workplace culture that normalizes mental health conversations at work. Instead of just offering Paid Time Off (PTO), companies should encourage employees to use it. As leaders, one of the best ways to encourage the team to use their PTO is by taking your own time off. Lead by example and show employees that you understand the importance of it.
Provide employees with flexible working options
Is a flexible working schedule in the future? Research by Catalyst, a global nonprofit helping build workplaces that work for women, demonstrates that when companies provide options to work remotely, employees reported alleviated burnout and are likely to be more innovative at work. For instance, Buffer, a social media management software company for growing brands and connecting with their customers, started testing a four-day workweek in May 2020 and it has now become a permanent policy. Besides, its survey displays that 91% of employees were happier and more productive, and 84% of employees were able to get all their work done within a four-day week. In fact, whether it is a four-day or five-day working week, the real focus is to allow employees to have flexibility at work. And it is obvious that flexible working will provide individuals with the freedom to decide what's best for them and maintain a more sustainable work-life balance.
There is no doubt that the world of work has evolved after the pandemic and is moving towards a more flexible working future. While the pros of supporting employees' mental health may appear one-sided initially, there are powerful benefits for companies as well. The WHO's research displays that twelve billion working days are lost every year to depression and anxiety alone, hence, the importance of employee benefits cannot be understated. By creating a healthy work environment, companies will increase productivity, improve organizational culture, as well as retain and attract talent even more top talent for the teams.
Moreover, this leads to an interesting discussion: how much influence can a company's change bring to the world?  Our answer is that it is absolutely impossible for the world to make even small changes without the participation of enterprises. Therefore, if companies can start to treat employees with empathy, honesty, and openness, it is believed that there will be positive effects on personal, organizational, and global levels.
References
*Previously published on November 17, 2022.
---
All information, content, and material are for informational purposes only and are not intended to serve as a substitute for the consultation, diagnosis, and/or medical treatment of a qualified physician or healthcare provider. The information supplied through or on this page, or by any representative or agent of The Wellness Universe, is for informational purposes only and does not constitute medical, legal, or other professional advice. Health-related information provided through this website is not a substitute for medical advice and should not be used to diagnose or treat health problems or to prescribe any medical devices or other remedies. The Wellness Universe reserves the right to remove, edit, move, or close any content item for any reason, including, but not limited to, comments that are in violation of the laws and regulations formed pursuant to the Federal Food, Drug, and Cosmetic Act. None of the posts and articles on The Wellness Universe page may be reprinted without express written permission.
---
The Wellness Universe welcomes Kathy Jerin, Spiritual Leadership & HeartMath Trainer, in partnership with Wellness for All programming for Self Mastery Through Spiritual Awareness with Kathy. 
Catch the recorded session(s) and be sure to join the next LIVE class! 
Register today https://bit.ly/SMTSAwKathyJerin
---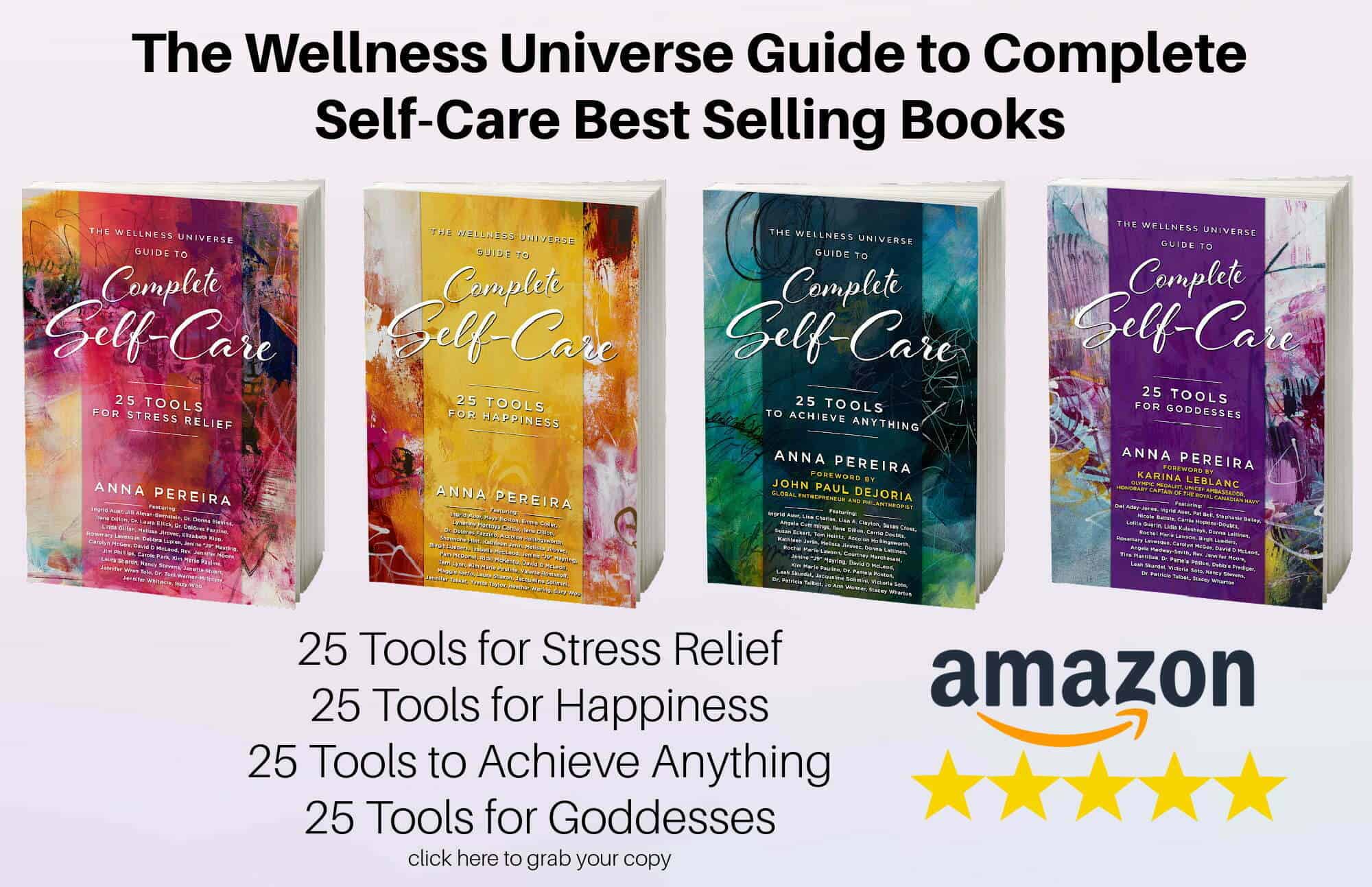 With over 250 independent reviews see how our self-care books are helping thousands of people around the world. Digital and paperback books are available now.
---

Connect to the people that help you live your best life: The Wellness Universe
The Wellness Universe is your resource for health, wellness, well-being, and transformation. We serve and support professionals who make the world a better place and individuals and groups who seek their best life.
A woman owned company; having the vision in 2013, Anna Pereira launched the first directory in 2015 bringing together a community of members making the world a better place to be found by those seeking their best life. The Wellness Universe has grown since then to be a one-stop shop for total wellness support! We are a vetted community, online directory, book publisher, resource center, event producer, content platform, and so much more, supporting whole-health and well-being on a global scale.
The Wellness Universe is a home that connects industry professionals in the health, wellness, and well-being fields to seekers of total well-being. WU provides our WU World-Changer members with peer support, Wellness Universe produced events (live and online), projects, visibility, business mentoring, and community. Through The Wellness Universe our WU World-Changer members serve WU Friends, seekers of health, wellness and transformation, with coaching, workshops, content and more.
The Wellness Universe provides individuals and groups seeking their best lives with access to our members, wellness content, educational resources, and guidance in all areas of wellness to transform visions of how they want to live life into the life they experience.
Through the directory, WU Featured Blog, SoulTreat wellness retreat, Self-Care Books, group well-being programs, and online learning center, The Lounge, The Wellness Universe provides many avenues to support whole health, mind, body, spirit and planet.
Join us today! Wellness Professional or Seeker of Your Best Life