Welcome to May!
May is traditionally a month where we focus on the return of warmer weather, blooms everywhere, Mom, graduations, and getting out in nature here in the Northern Hemisphere.
The angels have been clear that this month, the angel affirmations will be blessings beginning with the word May which happened last May. In fact, last May\'s angel affirmations became my Drenched in Love book and inspirational card deck. See how powerful affirmations are, dear heart?
Remember to continue treating yourself well, including positive and loving self-talk. Affirmations can boost our inner dialogue and positively impact our lives.
What is an affirmation?
It is a short, powerful statement used to consciously affect your thoughts positively. We have an estimated 50,000 thoughts a day, and most of them are not pretty. Often, we are very critical of ourselves. We would never dream of talking to another person the way we "speak" to ourselves in our inner dialogue. I invite you to join me each day to recite these angel affirmations to bring more goodness, grace, and nourishment into our lives.
An affirmation only needs to feel about 50% true for it to resonate with you. Affirmations that begin with the words "I am" are incredibly powerful. Whatever follows the "I am" becomes your truth.
Be vigilant with the thoughts you think and say about yourself. You want to select empowering statements that improve the energy vibration of your life. For example, if you say, "I am tired. I am sick. I am broke. I am not worthy. I am stuck," you are calling more of that low energy toward you.
You can shift those thoughts with affirmations.
This month we\'ll focus on giving and receiving blessings by nourishing our body, mind, and spirit with one affirmation for each day in May.
May my steps be lightened by love and gratitude for the gift of today.
May love and light guide my journey.
May I find wonder and delight along the way.
May the Divine forces be with me today in all I say or do.
May I lighten up and have some fun.
May I make time for fun during my busy day.
May ease guide my choices.
May I honor the precious women who have helped nurture and guide me.
May I roll up my proverbial sleeves as I focus on getting things done today.
May I be on the lookout for wonder and beauty.
May I be humble and kind in all I do.
May I see myself and others through the blessed lens of divine love.
May I remember today is a blessed day.
May I let my inner child run free.
May I indulge myself in some well-deserved self-care today.
May I remember to count my blessings with a heart full of love and gratitude.
May I give a random gift of kindness to others today. It could be a kind word, smile, or act that will bless us both.
May laughter bubble up easily and effortlessly for me today.
May I travel with ease every step of the way today.
May I enjoy the gift of friends or family with a heart full of gratitude.
May joy fill me now, and may it guide my every choice.
May I appreciate my many blessings.
May I remember to breathe before I respond today.
May I release something that no longer serves me.
May I remember the importance of creativity in all I do today.
May I remember my magnificence.
May I consider the synchronicities today brings.
May I celebrate a great accomplishment today.
May I honor myself with some me-time to restore and replenish my energy.
May I be filled with gratitude for the gift of my freedom.
May I enjoy the beauty of nature during my busy day.
If you love these affirmative blessings, you\'ll love my A Prayer for Wholeness, commissioned for the book CoffeeTalk with Douglas. Here\'s a sneak peek "May I fan the flames of my burning dreams, desires, and passions as I create the life I came here to live. May I rest assured that I am enough exactly as I am." You can sign up for a complimentary print of the prayer, and an audio recording as an opt-in gift for my Love Letters from the Angels sent on select Sundays RIGHT HERE.
Also, Drenched in Love is my newest book and inspirational card deck based on last year\'s May Angel Affirmations. You can find out MORE HERE.
Connect with Janette today!
---
All information, content, and material are for informational purposes only and are not intended to serve as a substitute for the consultation, diagnosis, and/or medical treatment of a qualified physician or healthcare provider. The information supplied through or on this page, or by any representative or agent of The Wellness Universe, is for informational purposes only and does not constitute medical, legal, or other professional advice. Health-related information provided through this website is not a substitute for medical advice and should not be used to diagnose or treat health problems or to prescribe any medical devices or other remedies. The Wellness Universe reserves the right to remove, edit, move or close any content item for any reason, including, but not limited to, comments that are in violation of the laws and regulations formed pursuant to the Federal Food, Drug, and Cosmetic Act. None of the posts and articles on The Wellness Universe page may be reprinted without express written permission.
---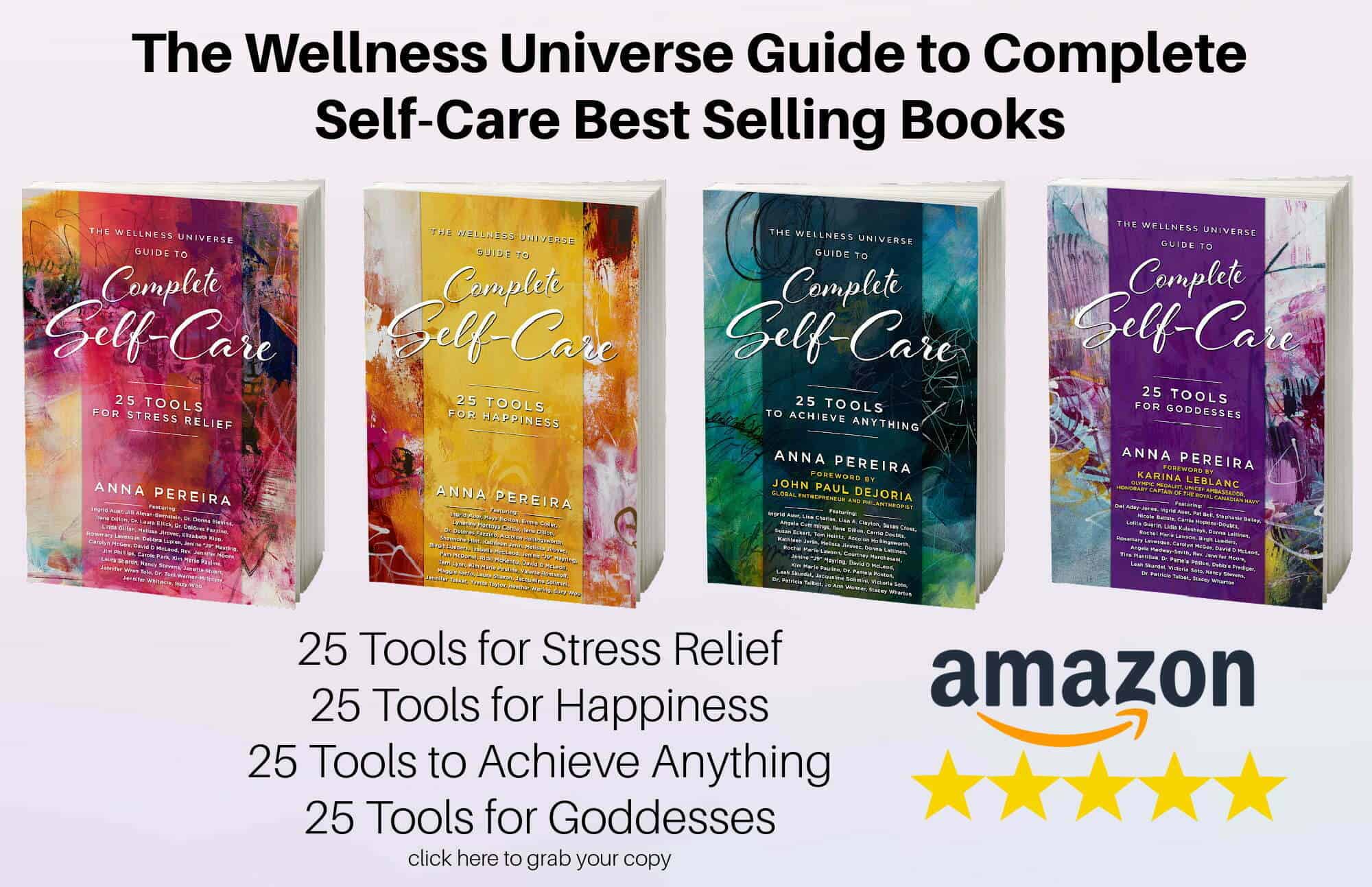 With over 250 independent reviews see how our self-care books are helping thousands of people around the world. Digital and paperback books are available now.
---
Self-development, self-care, and inspirational classes and sessions by Wellness Universe World Changer instructors who support your total well-being.
Visit The Wellness Universe Lounge today!
---
The Wellness Universe is here to serve your best well-being. If you are experiencing anxiety, grief, overwhelm, guilt, anger, or seeking ways to cope and get help for stress, relationships, parenting, or any other issue during this challenging time, we have wonderful resources for you to connect with. Our WU Best Help members are offering reduced rates, sliding scale payment options, and even pro-bono sessions.
WU Best Help
I'm Janette, founder of Angel Angles which exists to spread more love, joy and peace into the world. Angel Angles also shares the Divine beauty which resides within us all. Helping us remember what beautiful, loving, amazing people we are and what a beautiful. loving world we live in.