Mental health is the foundation to better emotional and physical wellness.
This is an area of our well-being we may think about when we are experiencing negative emotions, stress, feelings that create distress, or feelings we do not like to go through. Have you thought of the effects your mental health has on your overall health both physically and mentally?
Let's look at some of the most common experiences and the results as they manifest:
          Stress
          Lack of motivation
          Depression
          Anxiety
           Low self-confidence
           Irritability
           Grief
         Hopelessness
         Low self-worth
        Negative attitude
These are some of the physical effects:
         Physical pain
         Compromised immune system
          Lack of appetite
          Emotional eating
          Fatigue
        Sleep disorders
        Brain fog
        Not feeling like yourself
        Anxiety or feelings of panic
At its foundation, having positive mental health will impact other areas of your life in great ways.
What are some ways we can live healthier and heal without going to a doctor and drug-free? Prevention is key, however, if we are already in a place we need to heal from, here are some ways we can help ourselves:
        Get out and socialize. Being with people is essential for mental health.
         Exercise. Physical activity improves mental and physical health.
         Reduce stress. Remove stressors from your life and incorporate stress-reducing tools and activities.
        Nourish your brain with healthy food. There are many foods that deplete your brain and inhibit its functioning. Eating brain-healthy foods requires better food choices.
       Get better sleep.
       Find meaning and purpose.
Find the motivation to implement some of these practices.
Lifestyle change is necessary and if you have concerns or are experiencing the effects of a lack of mental health, make it a priority to do one thing at a time. Pick the one you find to be the easiest to stick with and little by little, make more changes. As you begin to see the results, you will be motivated to do more for yourself!
There is no right or wrong way to nurture yourself to well-being.
Go at your own pace and know you are doing this for yourself and those you love. Be good to yourself and feel better as you nurture yourself lovingly to a better state of mind, body, and spirit. We will expand on the 6 self-help tips above in upcoming articles for you to take action on from our top WU World-Changers, members of The Wellness Universe.
If you feel your issues need medical attention, please seek the help of a trained professional.
If you've already taken action to improve your mental and emotional health and still aren't functioning optimally at home, work, or in your relationships, seeking professional help is suggested.
Did you know you can find help here? From personal to professional well-being, connect with someone who can guide you to a happier, healthier, and whole life! Become a WU Friend today!
If you provide support or products that make the world a better place and help humanity live in health, happiness, and wholeness, join us as a WU World-Changer.
– The Wellness Universe
*Adapted from an article originally published on July 5, 2019.
---
All information, content, and material are for informational purposes only and are not intended to serve as a substitute for the consultation, diagnosis, and/or medical treatment of a qualified physician or healthcare provider. The information supplied through or on this page, or by any representative or agent of The Wellness Universe, is for informational purposes only and does not constitute medical, legal, or other professional advice. Health-related information provided through this website is not a substitute for medical advice and should not be used to diagnose or treat health problems or to prescribe any medical devices or other remedies. The Wellness Universe reserves the right to remove, edit, move or close any content item for any reason, including, but not limited to, comments that are in violation of the laws and regulations formed pursuant to the Federal Food, Drug, and Cosmetic Act. None of the posts and articles on The Wellness Universe page may be reprinted without express written permission.
---
The Wellness Universe presents Vibrant Wellbeing, Uplifting Your Wellness hosted by Nancy Stevens, Wellbeing Coach, founder of Uplift Clean Beauty, #1 International Best-Selling Author, Speaker, and educator on wellbeing.
Register today:  https://bit.ly/VibrantWellbeing
October 23rd Guest: Kristi Borst Ph.D.
What's the Buzz About Chakras and Health?
---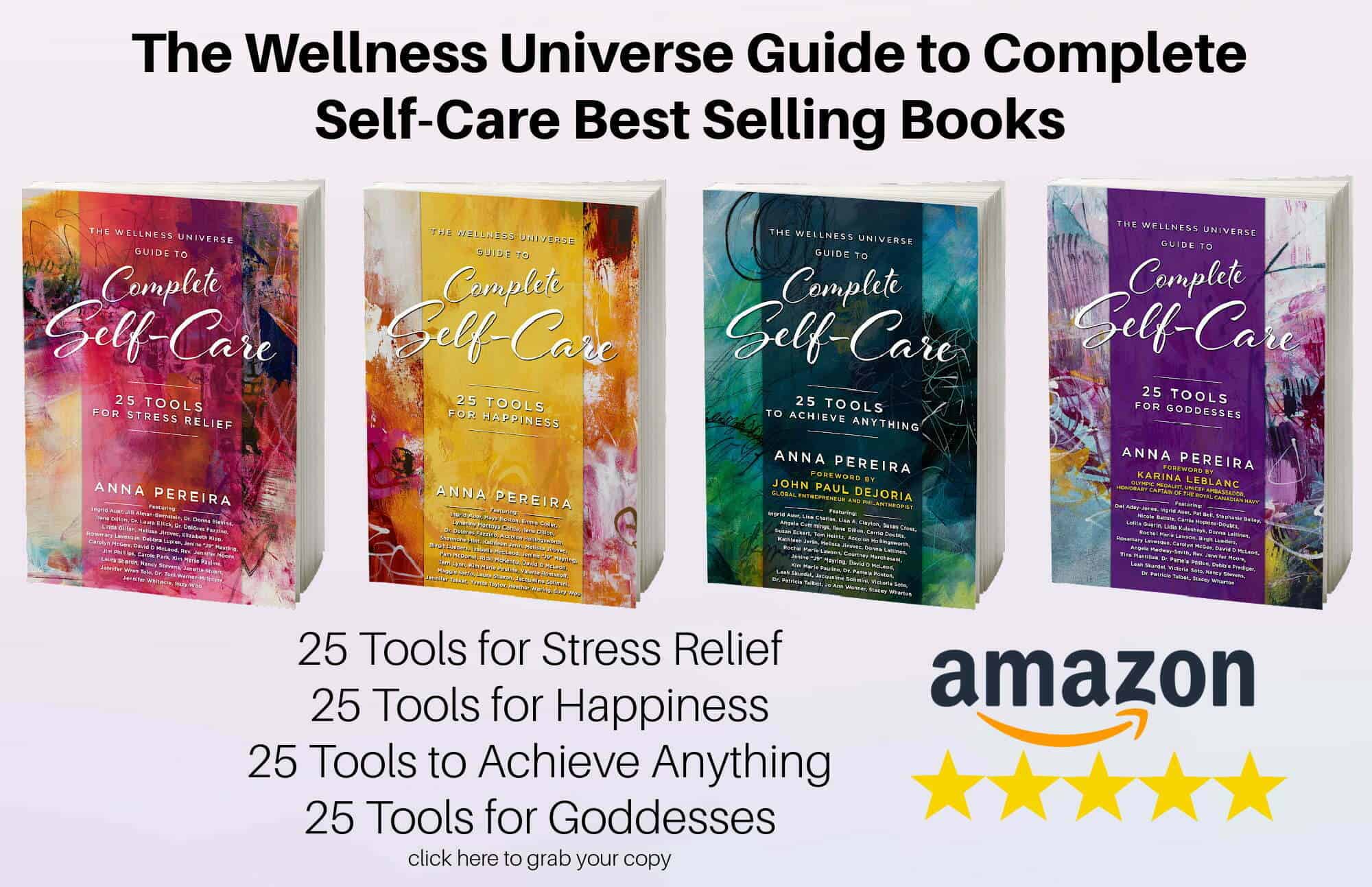 With over 250 independent reviews see how our self-care books are helping thousands of people around the world. Digital and paperback books are available now.
---
Self-development, self-care, and inspirational classes and sessions by Wellness Universe World Changer instructors who support your total well-being.
 Visit The Wellness Universe Lounge today!
---
The Wellness Universe is here to serve your best well-being. If you are experiencing anxiety, grief, overwhelm, guilt, anger, or seeking ways to cope and get help for stress, relationships, parenting, or any other issue during this challenging time, we have wonderful resources for you to connect with. Our WU Best Help members are offering reduced rates, sliding scale payment options, and even pro-bono sessions. WU Best Help
The Wellness Universe is your resource for health, wellness, well-being, and transformation. We serve and support professionals who make the world a better place and individuals and groups who seek their best life.
A woman owned company; having the vision in 2013, Anna Pereira launched the first directory in 2015 bringing together a community of members making the world a better place to be found by those seeking their best life. The Wellness Universe has grown since then to be a one-stop shop for total wellness support! We are a vetted community, online directory, book publisher, resource center, event producer, content platform, and so much more, supporting whole-health and well-being on a global scale.
The Wellness Universe is a home that connects industry professionals in the health, wellness, and well-being fields to seekers of total well-being. WU provides our WU World-Changer members with peer support, Wellness Universe produced events (live and online), projects, visibility, business mentoring, and community. Through The Wellness Universe our WU World-Changer members serve WU Friends, seekers of health, wellness and transformation, with coaching, workshops, content and more.
The Wellness Universe provides individuals and groups seeking their best lives with access to our members, wellness content, educational resources, and guidance in all areas of wellness to transform visions of how they want to live life into the life they experience.
Through the directory, WU Featured Blog, SoulTreat wellness retreat, Self-Care Books, group well-being programs, and online learning center, The Lounge, The Wellness Universe provides many avenues to support whole health, mind, body, spirit and planet.
Join us today! Wellness Professional or Seeker of Your Best Life