After a long week, the last thing many of us want to do is get dressed up and go out. Finding comfy pants, a favorite chair, and a movie sounds like the perfect plan. But for millions of adults, every social invitation brings on that same feeling and very real anxiety about social situations takes over.
If you find yourself avoiding leaving your home because of any level of anxiety, you're missing out on building great relationships and great memories. Shared below are a few baby steps you can take to reduce social anxiety, feel comfortable in social settings, and start living a full life.
Here Are 6 Ways You Can Reduce Social Anxiety
Find A Friend
Social settings are often loud and overwhelming. Add in the logistics of going somewhere new – where do you park? How do you order off of a new menu? What do you wear? And it's too much to handle. Find one or two close friends to go with you. Often having a small group of people to help navigate the "new" turns a large social gathering into a small intimate group event. Suddenly it's less overwhelming and a lot more fun.
Be Accountable to Someone
Plan a weekly outing with someone, so you have an accountability partner. Adding a second person's schedule and feelings to the equation often means that you'll be more likely to stick with a commitment. Consider joining a book club or finding a class at the gym. Even committing to 30 minutes after work on Thursdays to grab a plate of appetizers at the local pub is the perfect way to build up confidence for other social situations.
Say Hello to Strangers
Do you find yourself running for your door or acting busy when your neighbors walk by? Do you avoid making eye contact at the grocery store or library? It might be time to step out of your comfort zone and initiate some kindness.
People appreciate the simple gesture of a smile or a quick hello. A wave will often be met with a return wave. You don't need to commit to a full conversation if you don't want to, but these small gestures help build confidence all around.
Take A Class
Put yourself in a situation where you can stay busy doing something you enjoy. When you feel comfortable, try talking to some of your classmates – you know you have a common interest because you're in the same class. Build your confidence, learn a new skill, and meet new people at the same time. It's a win, win, win!
Be Prepared
If you know you get overwhelmed or anxious in social situations, have conversation starters planned to help you work through awkward moments or uncomfortable silence. It can be as simple as asking, "Did you grow up around here?"  Or, "do you have any pets?" Asking questions that lead to more questions is a great way to get a conversation started and ease some of the tension.
Keep A Positive Attitude
Many people who find they have social anxiety had a negative emotional experience earlier in life. Maybe they were bullied as kids, embarrassed by parents or teachers, or ridiculed unfairly for a failure years ago. After an emotionally traumatizing experience, it's natural to be hurt and bitter. Give yourself time to heal and focus on being as positive as possible. Surround yourself with positive people. Compliment people every day. When you wake up in the morning, list five things you are grateful for. Eventually, the positive emotions will outweigh the negative, and your confidence will soar.
While millions of adults suffer from social anxiety, it's often something that can be worked through with some determination.
You deserve to live a happy, full life, and finding positive people who want to see you be truly happy is a big part of that.
If this article interests you, meet people who can do even more for you right now. From personal to professional well-being, connect with someone who can guide you to a happier, healthier, and whole life! Become a WU Friend today!
If you provide support or products that make the world a better place and help humanity live in health, happiness, and wholeness, join us as a WU World-Changer.
– The Wellness Universe
*Original post published on May 22, 2019.
---
All information, content, and material are for informational purposes only and are not intended to serve as a substitute for the consultation, diagnosis, and/or medical treatment of a qualified physician or healthcare provider. The information supplied through or on this page, or by any representative or agent of The Wellness Universe, is for informational purposes only and does not constitute medical, legal, or other professional advice. Health-related information provided through this website is not a substitute for medical advice and should not be used to diagnose or treat health problems or to prescribe any medical devices or other remedies. The Wellness Universe reserves the right to remove, edit, move or close any content item for any reason, including, but not limited to, comments that are in violation of the laws and regulations formed pursuant to the Federal Food, Drug, and Cosmetic Act. None of the posts and articles on The Wellness Universe page may be reprinted without express written permission.
---
The Wellness Universe presents Soul Language Expert Lisa Dadd, Consultant & Soul Language Certified Sales Trainer guiding you through a 12-month program for heart-centered, business-minded wellness-preneurs.
Catch the recorded session(s) and be sure to join the next LIVE class!

Register today prior to the LIVE launch: https://bit.ly/SoulSales
---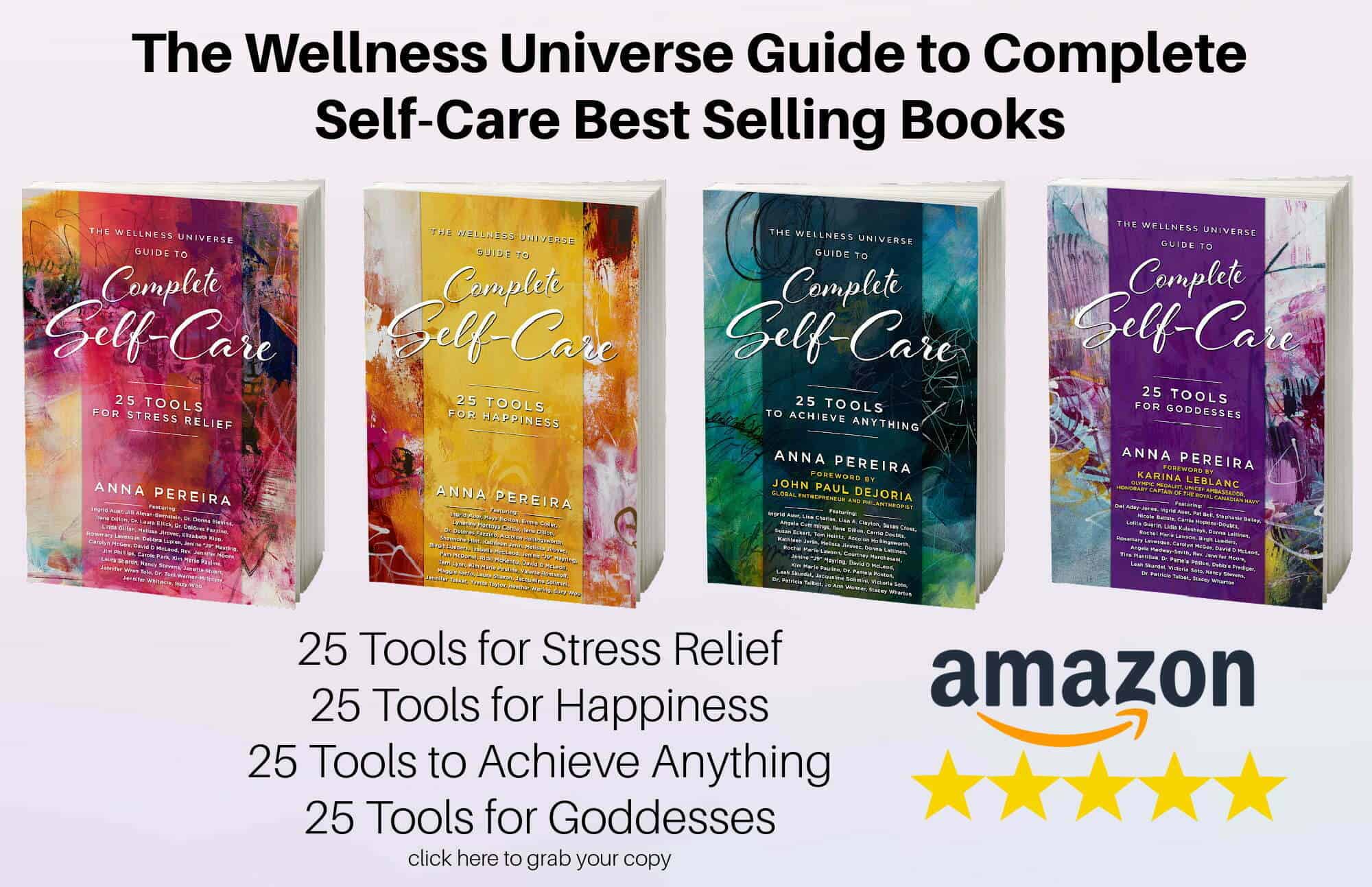 With over 250 independent reviews see how our self-care books are helping thousands of people around the world. Digital and paperback books are available now.
---
Self-development, self-care, and inspirational classes and sessions by Wellness Universe World Changer instructors who support your total well-being.
 Visit The Wellness Universe Lounge today!
---
The Wellness Universe is here to serve your best well-being. If you are experiencing anxiety, grief, overwhelm, guilt, anger, or seeking ways to cope and get help for stress, relationships, parenting, or any other issue during this challenging time, we have wonderful resources for you to connect with. Our WU Best Help members are offering reduced rates, sliding scale payment options, and even pro-bono sessions. WU Best Help
The Wellness Universe is your resource for health, wellness, well-being, and transformation. We serve and support professionals who make the world a better place and individuals and groups who seek their best life.
A woman owned company; having the vision in 2013, Anna Pereira launched the first directory in 2015 bringing together a community of members making the world a better place to be found by those seeking their best life. The Wellness Universe has grown since then to be a one-stop shop for total wellness support! We are a vetted community, online directory, book publisher, resource center, event producer, content platform, and so much more, supporting whole-health and well-being on a global scale.
The Wellness Universe is a home that connects industry professionals in the health, wellness, and well-being fields to seekers of total well-being. WU provides our WU World-Changer members with peer support, Wellness Universe produced events (live and online), projects, visibility, business mentoring, and community. Through The Wellness Universe our WU World-Changer members serve WU Friends, seekers of health, wellness and transformation, with coaching, workshops, content and more.
The Wellness Universe provides individuals and groups seeking their best lives with access to our members, wellness content, educational resources, and guidance in all areas of wellness to transform visions of how they want to live life into the life they experience.
Through the directory, WU Featured Blog, SoulTreat wellness retreat, Self-Care Books, group well-being programs, and online learning center, The Lounge, The Wellness Universe provides many avenues to support whole health, mind, body, spirit and planet.
Join us today! Wellness Professional or Seeker of Your Best Life