Last year was probably the most challenging year we\'ve experienced since the Vietnam War or the AIDS epidemic. The loss of life that was experienced throughout the world was precedent, scary, and left people feeling vulnerable, anxious, closed in, and non-existent. The healthcare professionals that were on the frontlines experienced challenges and were some of the most vulnerable during the pandemic.
Companies scrambled to figure out ways to stay open and keep operating with consistency while staying afloat. Office meetings became virtual meetings, happy hours became virtual happy hours, and family celebrations became virtual celebrations. The longer the pandemic existed, the more virtual our reality came to be.
The return
Thankfully, a resemblance of normalcy of the pre-pandemic conditions has begun to return. Now, the adjustment of getting back to reality, to the way things used to be prior to the pandemic is beginning to occur.
Or is it?
For almost a year, people were at home and most of them were operating in a "low-power mode." Being at home didn't allow for a lot of mental stimulation or variety, so high-power mode was not necessary. Over time, this lack of mental stimulation can decrease motivation.
As we begin to reenter being social, hidden fears will begin to surface in the mind and the hesitancy to be close to someone or touch others will be evident. While some folks have experienced stress responses from which they will likely recover from such as excess worry, anxiety, and poor sleep, others will need a little more assistance in managing their challenges as they relate to their experience during the pandemic.
People that experienced dramatic financial upheaval are also vulnerable. Severe economic stress can be associated with an increased risk of substance abuse and alcohol consumption. In addition, it has been identified that the stresses from the pandemic hit women harder than it did men, taking a toll on their mental health.
As the world begins to rebound, it may take time to feel truly connected again, particularly if you've been living alone. Loneliness is a serious problem and can lead to additional stress. There's a reason solitary confinement is the worst punishment anyone can have. And to deal with being lonely while dealing with grief can be exhausting.
The healing mind
Due to the mind's amazing adaptability as a healing force, we have the power to direct our minds in a smooth transition back to reality.
For example, focusing on three hopeful thoughts for every negative thought will create a healthy energetic vibrational flow in the brain, which increases the theta waves within the brain. This creates a boost to healing due to its ability to change the chemistry in the brain, which delivers this message to the body.
Cortisol, the stress hormone levels drop, and the heart starts functioning in a more relaxed state.
Journaling, voice, or video journaling aids in releasing troubling thoughts and reinforces positive mantras so negativity-carrying neurons don't wire together. These are great ways to keep the mind balanced which will assist in smoothing the transition back to reality.
For those folks that live alone, I suggest taking a warm bath and really making that bath time a relaxing ritual by adding candles, essential oils, soft relaxing music or no music at all, and dim lights. The warm bath will trigger oxytocin; help to overturn negative thinking and the relaxing ritual will soothe the mind and relax the soul.
Lastly, be sure to get enough sleep, drink plenty of water, exercise or get some form of movement daily, meditate, and eat healthy foods.
By following this guidance, your transition back to reality will be a breeze.
Wishing you peace, wellness, and tranquility.
Connect with Rochel on The Wellness Universe
---
All information, content, and material is for informational purposes only and is not intended to serve as a substitute for the consultation, diagnosis, and/or medical treatment of a qualified physician or healthcare provider. The information supplied through or on this page, or by any representative or agent of The Wellness Universe, is for informational purposes only and does not constitute medical, legal, or other professional advice. Health-related information provided through this website is not a substitute for medical advice and should not be used to diagnose or treat health problems or to prescribe any medical devices or other remedies. The Wellness Universe reserves the right to remove, edit, move or close any content item for any reason, including, but not limited to, comments that are in violation of the laws and regulations formed pursuant to the Federal Food, Drug, and Cosmetic Act. None of the posts and articles on The Wellness Universe page may be reprinted without express written permission.
---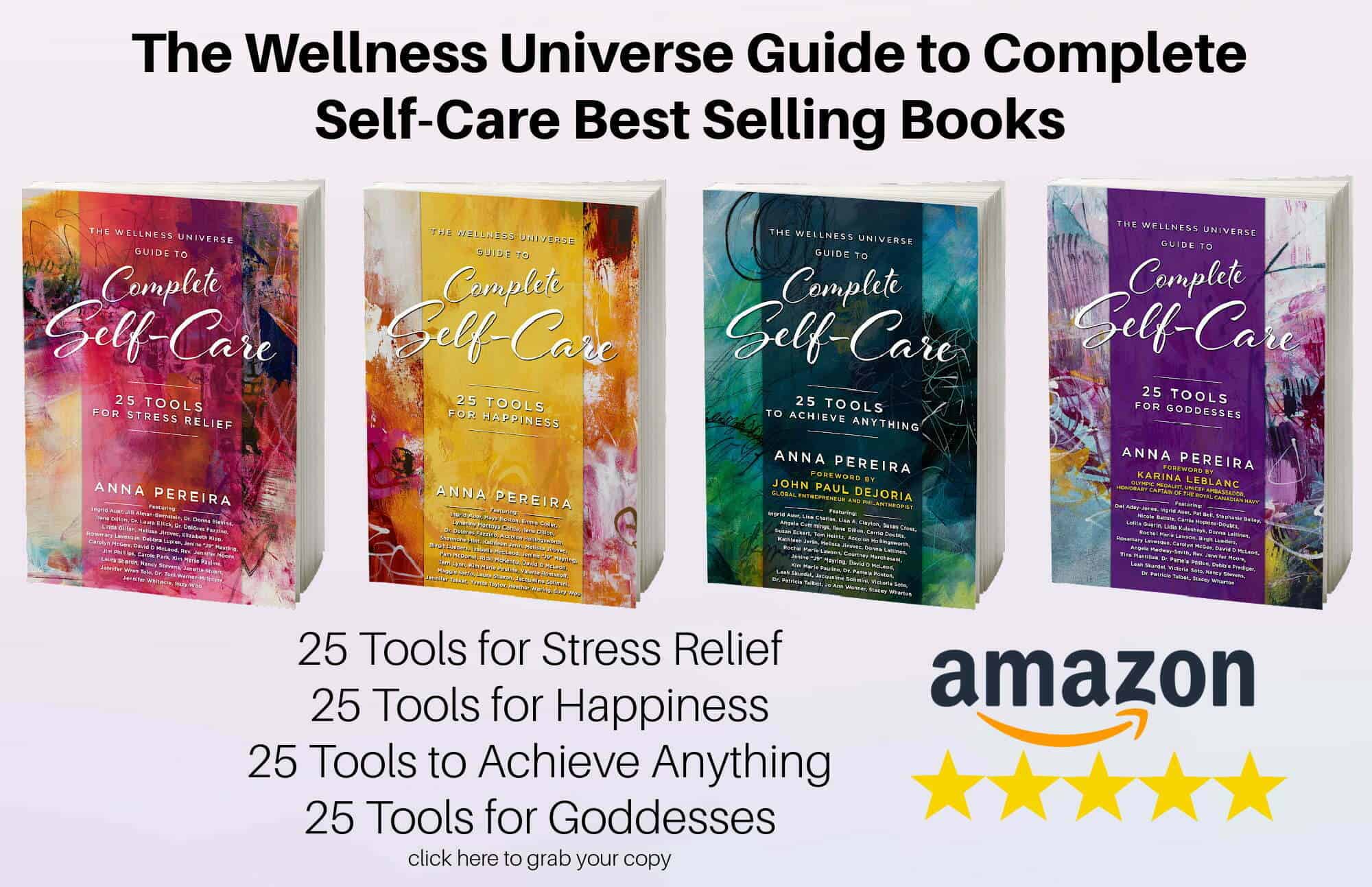 With over 250 independent reviews see how our self-care books are helping thousands of people around the world. Digital and paperback books are available now.
---
Self-development, self-care, and inspirational classes and sessions by Wellness Universe World Changer instructors who support your total well-being.
Visit The Wellness Universe Lounge today!
---
The Wellness Universe is here to serve your best well-being. If you are experiencing anxiety, grief, overwhelm, guilt, anger, or seeking ways to cope and get help for stress, relationships, parenting, or any other issue during this challenging time, we have wonderful resources for you to connect with. Our WU Best Help members are offering reduced rates, sliding scale payment options, and even pro-bono sessions.
WU Best Help
Rochel Marie Lawson is a Registered Nurse, Ayurvedic Health Practitioner, Holistic Health and Wellness Consultant, Speaker, and Radio Show Hostess. Her goal is to bring holistic health and wellness into the lives of individuals seeking a natural path to wellness.