Wellness for All programming from The Wellness Universe introduces you to wellness programs and wellness events that support your best mental wellbeing.
The first in the quarterly panel series, Resilience for Every Day – Tools, Tips, and Exercises for Wellbeing produced and hosted by Leah Skurdal, Resilience Event Leader, and co-hosted by Janette Stuart, occurred on June 4, 2022. The recording is available HERE, https://bit.ly/ResilienceforEveryday
The 90-minute program features resilience experts sharing their tools, tips, and exercises to help navigate the challenges of living in a rapidly changing world. While preparing for the event, each of the resilience leaders encountered their own stressful situations where they had to apply their best resilience strategies to their lives. In this special series of articles, we hear from each of the presenters on:  
Building Resilience Through Walking Our Talk
Today we hear from … Elizabeth Kipp
Elizabeth shares her story of managing health challenges leading up to the Resilience for Everyday event.
Building Resilience During Covid
In February of 2020, I got Covid just about the time it was coming onto everyone's radar as an issue. It was the strangest 'flu' I ever had. It was a whole different experience. It sat right at the top of my lungs and my throat and ears for about three months and zapped my energy. I felt fortunate to have a yoga practice that included pranayama and acupuncture to help boost the immune system and my diet supported it as well.
About a year later, I received my first dose of the Moderna Covid vaccine, followed by another in April 2021. I felt each time that I contracted a milder case of what I had experienced during those months in 2020, especially concerning my energy level. My doctor suggested that I get the two-dose series of the Shingles vaccine and I received those in July and September of 2021.
Then in October, I had a routine dental X-ray series and discovered that I had a potential problem with one of my lower molars. The jawbone under the molar had receded below the bottom of the molar and created a space. Knowing that nature abhors a vacuum, my dentist warned me that this space was a perfect environment for a bacterial infection and suggested that I have the tooth removed and a bone graft and implant put it.
I was about due for the Covid booster in December. I knew that if I had dental surgery I would need antibiotics, which would further stress my immune system. The thing was, with the Covid and Shingles vaccines, my immune system was already challenged. I was hesitant to add more stress, but I also had to consider the risk of developing an infection in my mouth. What to do? I decided to get my Covid booster in December and delay the dental surgery until May.
I continued my pranayama, acupuncture, and diet protocol to keep my immune system as healthy as possible and hoped for the best. By the end of March, I noticed a slight swelling in the gum below the weakened molar and had my dentist examine it. Sure enough, there was a slight infection present below the tooth. My acupuncturist suggested that I take herbal antibiotics, which are powerful but not as damaging to the gut as pharmaceutical-grade antibiotics. After consulting my dentist about this alternative, he agreed and so I took the herbal antibiotics for a while as I waited for my appointment in May.
As a member of the panel for the Resilience for Everyday: Tips, Tools, And Exercises for Well-being workshop on June 4th, I found that I was getting an excellent chance to practice my resilience tools. It gave me a chance to 'walk my talk.'
In mid-May, I had the tooth extracted and the bone graft put in place and a five-day course of Amoxicillin antibiotics followed. I was surprised at how tired I was from the dental surgery. I had to clear my schedule of work for a few days to rest and allow my body to heal. For the next week or so, I had to take a nap in the afternoon as well.
Resilience can be learned. We can develop our capacity to be resilient. For me, this time since the beginning of the Covid pandemic has been a powerful lesson for helping me increase my resilience.
Elizabeth Kipp is a Chronic Pain Specialist, Trauma-Trained, Yoga-Informed Addiction Recovery Coach, Ancestral Clearing® Practitioner, and Yoga and Meditation Teacher. She's the international best-selling author of The Way Through Chronic Pain: Tools to Reclaim Your Healing Power. She focuses on helping people realize the power of their inherent healing. Elizabeth healed from over 40 years of chronic pain. She now helps others achieve the same healing that she experienced directly from the work she teaches. In addition, Elizabeth offers one-on-one and group sessions.
Connect with Elizabeth Kipp on her WU profile https://www.thewellnessuniverse.com/world-changers/elizabethkipp/
Elizabeth's free gift to you is Five Ways to Relieve Stress, Anxiety, and Fear: Creating a Toolkit for Daily Use https://elizabethkippcom.simplero.com/page/67552
Resilience for Everyday: Tools, Tips & Exercises for Well-being is a donation-based event, supported by pay-what-you-can donation upon registration, during the live event, or anytime through the recording. It is available to all who would like to attend. You can make a donation at https://bit.ly/ResilienceforEveryday
Save the Date for the next Resilience Building event:
Resilience for Harmony: Tools, Tips & Exercises for Well-being
September 10, 2022, 10-11:30amET
Written by Elizabeth Kipp and Leah Skurdal
---
All information, content, and material are for informational purposes only and are not intended to serve as a substitute for the consultation, diagnosis, and/or medical treatment of a qualified physician or healthcare provider. The information supplied through or on this page, or by any representative or agent of The Wellness Universe, is for informational purposes only and does not constitute medical, legal, or other professional advice. Health-related information provided through this website is not a substitute for medical advice and should not be used to diagnose or treat health problems or to prescribe any medical devices or other remedies. The Wellness Universe reserves the right to remove, edit, move or close any content item for any reason, including, but not limited to, comments that are in violation of the laws and regulations formed pursuant to the Federal Food, Drug, and Cosmetic Act. None of the posts and articles on The Wellness Universe page may be reprinted without express written permission.
---
The Wellness Universe presents Vibrant Wellbeing, Uplifting Your Wellness hosted by Nancy Stevens, Wellbeing Coach, founder of Uplift Clean Beauty, #1 International Best-Selling Author, Speaker, and educator on wellbeing.
July 10th Guest: Carol Pilkington
Topic: Becoming One's Own Authority
Register today:  https://bit.ly/VibrantWellbeing
---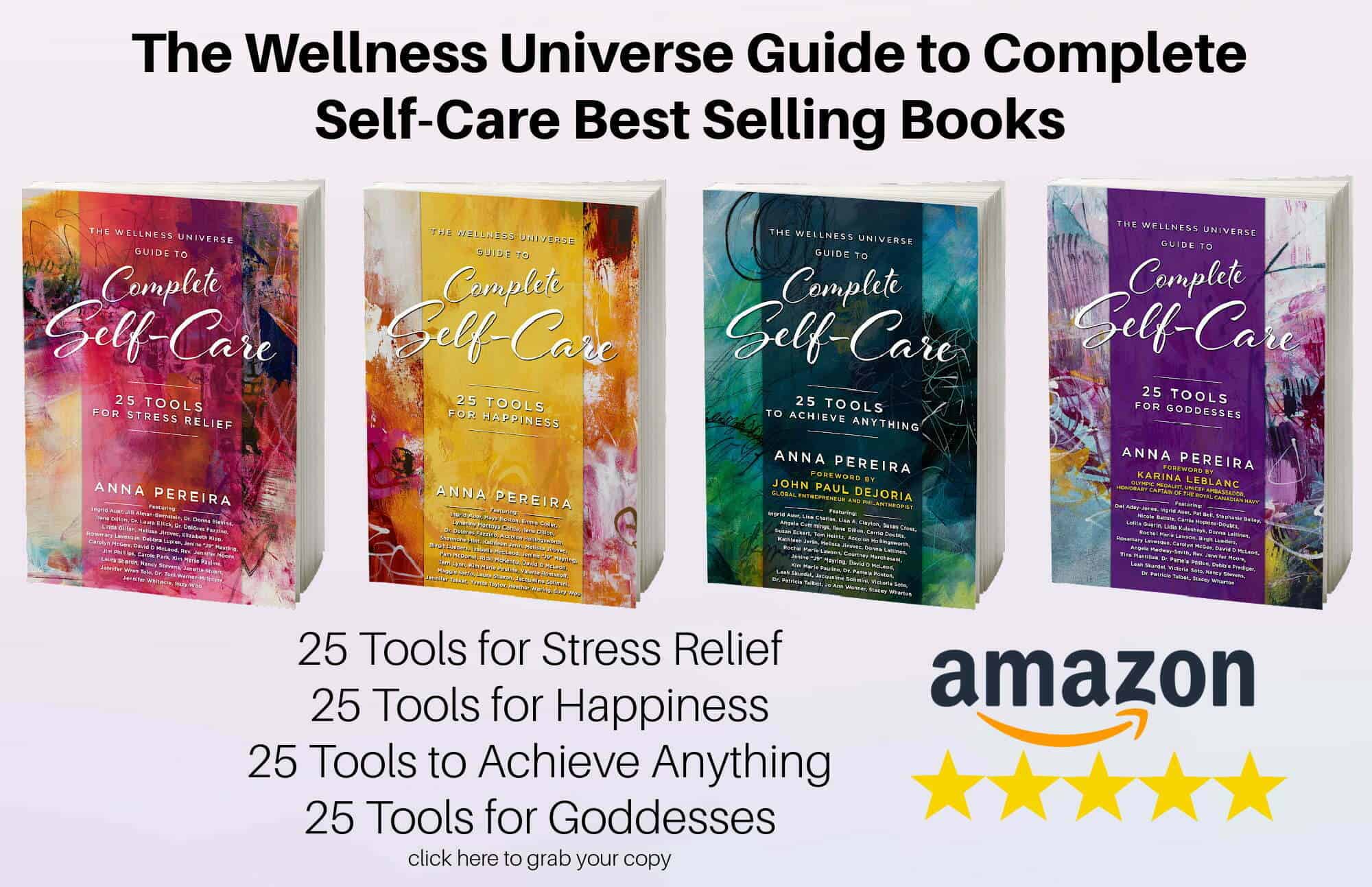 With over 250 independent reviews see how our self-care books are helping thousands of people around the world. Digital and paperback books are available now.
---
Self-development, self-care, and inspirational classes and sessions by Wellness Universe World Changer instructors who support your total well-being.
 Visit The Wellness Universe Lounge today!
---
The Wellness Universe is here to serve your best well-being. If you are experiencing anxiety, grief, overwhelm, guilt, anger, or seeking ways to cope and get help for stress, relationships, parenting, or any other issue during this challenging time, we have wonderful resources for you to connect with. Our WU Best Help members are offering reduced rates, sliding scale payment options, and even pro-bono sessions. WU Best Help
Leah Skurdal guides people to up-level their stress resilience to improve relationships. Leah shares intuitive insights in private Energy Healing to address the roots of disharmony. As an inspirational speaker and published author, Leah offers lively classes, experiential workshops, and keynotes.