Wellness for All programming from The Wellness Universe introduces you to wellness programs and wellness events that support your best mental wellbeing.
The first in our quarterly panel series, Resilience for Every Day – Tools, Tips, and Exercises for Wellbeing produced and hosted by Leah Skurdal, Resilience Event Leader, and co-hosted by Janette Stuart, occurred June 4, 2022. The recording is available HERE. https://bit.ly/ResilienceforEveryday
The 90-minute program features resilience experts sharing their tools, tips, and exercises to help navigate the challenges of living in a rapidly changing world. While preparing for the event, each of the resilience leaders encountered their own stressful situations where they had to apply their best resilience strategies to their lives. In this special series of articles, we hear from each of the presenters on:  
Building Resilience Through Walking Our Talk
Today we hear from …  Ilene Dillon
Ilene shares her story of recovery from surgery, traveling to Egypt, driving across the country, and attending a family death during the months leading to the Resilience for Everyday event.
Learning Opportunities Never End!
For my 79th birthday, I received an unexpected present: I fell on the stairs at my daughter's house, shattering the upper end of the humerus in my left arm. "For Christmas," I underwent shoulder replacement surgery!
I looked after myself meticulously, renting a hospital bed to make getting in and out of bed easier. I bought a small freezer, loading it with gel packs for icing my shoulder. My adult children and grandchildren vetted the surgeon, explored details of the surgery, bought me front-button clothing, and took me to doctors.
I asked for help—I wanted a "textbook perfect" operation. I got it. I didn't take narcotics. Permission to drive came in 15 days! 9 weeks post-surgery, I went on a previously-planned trip to Jordan and Egypt. There, I rode camels. The doctor admonished, "Just don't fall off!"
Five months post-accident, I resumed my RV travels. I have lived, worked, and traveled in my RV full-time since 2017. Writing, consulting, coaching, and speaking, I wend my way through North America.
Challenges I experienced:
I had lost the ability to lift the heavy hood of my van, which I needed to do every other refueling stop. At the service station, I asked two men starting on a fishing trip for help. Smiling, they did everything for me. Expressing my gratitude, I accepted their gifts.
To put my Murphy bed down for sleeping, I need to extend my slide out. It started having problems, creaking, snapping, and moving unsteadily. Nearly $800 later, it was barely working but I had new tricks for coaxing it.
During my travels, I kept rehabbing and got strong enough to raise the hood on my van. The slide-out quit completely in Mobile, AL. I spread my blow-up camping mat over the unfolded seats to sleep for 12 nights.
It was time to hotfoot it to my sister's Texas home, where I could stay while the van was properly repaired. Available and reputable repair shops were nearly impossible to find—but I did on the first call!
Arriving a week ahead of schedule, my sister called when I was two hours from her home. She was in Hawaii. Our mother, age 104, was in the ER and appeared to be dying. She lasted three days until my sister arrived. Going straight to the hospital, I was able to comfort her in her last days. End of an era. She was my stepmom for 76 years.
Resilience is about adapting to change. What helped me?
Whatever happened, I faced it directly. Facing Facts is the road to freedom.
At last, I've learned to ask for and accept help.
I had things to look forward to—Egypt and continuing my RV travels.
I followed a principle formulated years ago: Pay attention, not to what you want to overcome, but to what you want to Become.
I provided myself what I needed to feel supported and loved.
I was continuously a grateful learner.
Ilene's free gift to you is a 30-page Transformational Chaos Booklet. Send an email with the subject line "Chaos" to [email protected] for your free copy.
Ilene Dillion, MSW, has dedicated her life to helping people resolve personal challenges once and for all, then design life to be what they want it to be. A Transformation Specialist, she has worked for 50 years as a marriage counselor, psychotherapist, and coach. Ilene is a recovered angry person, a global speaker, Amazon's #1 Bestselling author, and mastermind leader. She is the author of Emotions in Motion: Mastering Life's Built-in Navigation System. Connect with Ilene Dillon on her WU Profile page https://www.thewellnessuniverse.com/world-changers/ilenedillon/
Resilience for Everyday: Tools, Tips & Exercises for Well-being is a donation-based event, supported by pay-what-you-can donation upon registration anytime through the recording. It is available to all who would like to attend. You can make a donation HERE. https://bit.ly/ResilienceforEveryday
Save the Date for the next Resilience Building event:
Resilience for Harmony: Tools, Tips & Exercises for Well-being
September 10, 2022, 10-11:30amET
Written by Ilene Dillon and Leah Skurdal
---
All information, content, and material are for informational purposes only and are not intended to serve as a substitute for the consultation, diagnosis, and/or medical treatment of a qualified physician or healthcare provider. The information supplied through or on this page, or by any representative or agent of The Wellness Universe, is for informational purposes only and does not constitute medical, legal, or other professional advice. Health-related information provided through this website is not a substitute for medical advice and should not be used to diagnose or treat health problems or to prescribe any medical devices or other remedies. The Wellness Universe reserves the right to remove, edit, move or close any content item for any reason, including, but not limited to, comments that are in violation of the laws and regulations formed pursuant to the Federal Food, Drug, and Cosmetic Act. None of the posts and articles on The Wellness Universe page may be reprinted without express written permission.
---
The Wellness Universe introduces you to Gayle Nowak Visibility Sage and Soul Session Guide in partnership with Wellness for All programming bringing you. Unmask Your Magic, Soul Sessions: Healing and Clearing to Achieve Success.
Register today prior to the LIVE launch: https://bit.ly/UnmaskYourMagic
---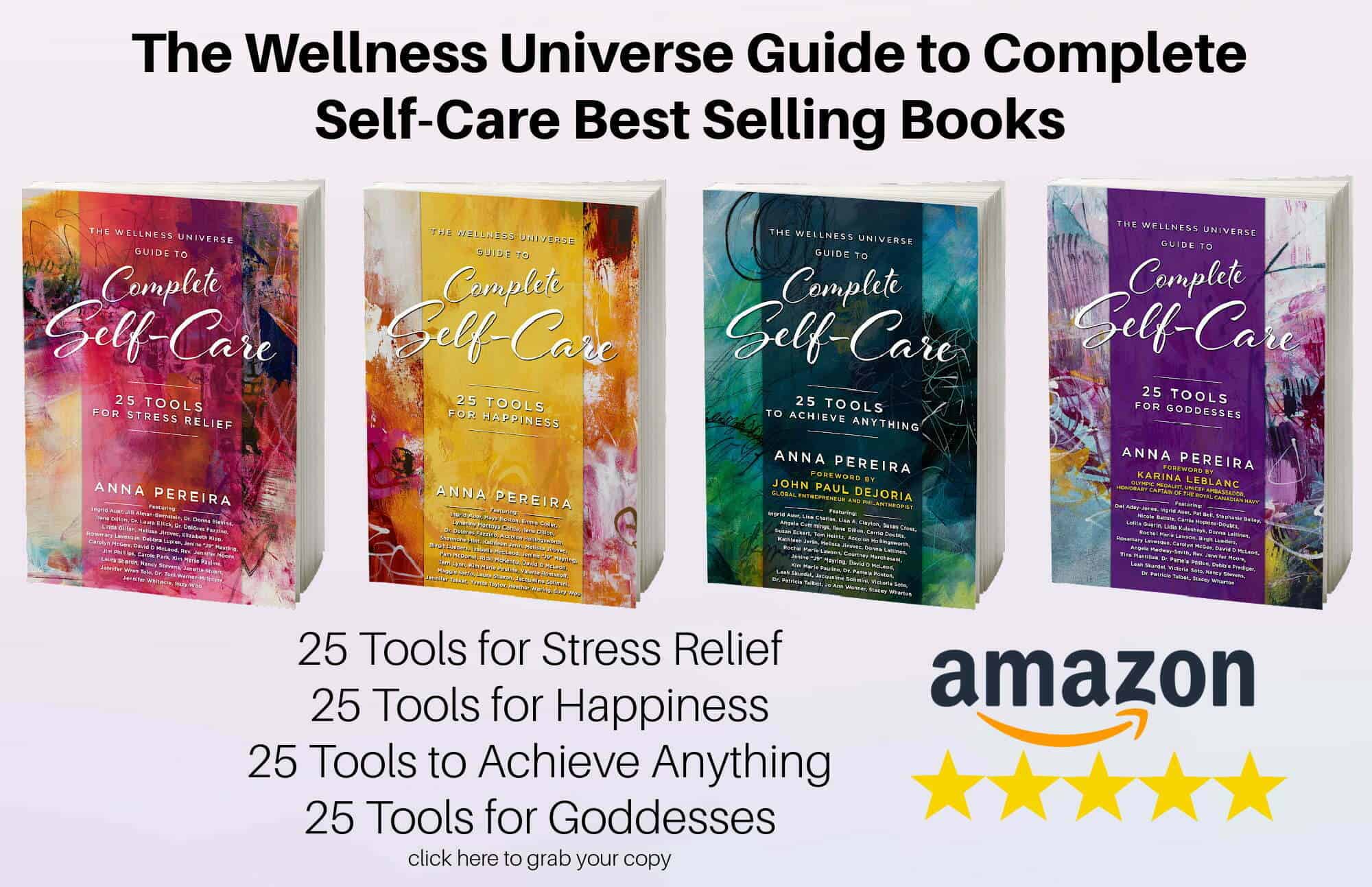 With over 250 independent reviews see how our self-care books are helping thousands of people around the world. Digital and paperback books are available now.
---
Self-development, self-care, and inspirational classes and sessions by Wellness Universe World Changer instructors who support your total well-being.
 Visit The Wellness Universe Lounge today!
---
The Wellness Universe is here to serve your best well-being. If you are experiencing anxiety, grief, overwhelm, guilt, anger, or seeking ways to cope and get help for stress, relationships, parenting, or any other issue during this challenging time, we have wonderful resources for you to connect with. Our WU Best Help members are offering reduced rates, sliding scale payment options, and even pro-bono sessions. WU Best Help
Leah Skurdal guides people to up-level their stress resilience to improve relationships. Leah shares intuitive insights in private Energy Healing to address the roots of disharmony. As an inspirational speaker and published author, Leah offers lively classes, experiential workshops, and keynotes.