Wellness for All programming from The Wellness Universe introduces you to wellness programs and wellness events that support your best mental wellbeing.
The first in our quarterly panel series, Resilience for Every Day – Tools, Tips, and Exercises for Wellbeing produced and hosted by Leah Skurdal, Resilience Event Leader, and co-hosted by Janette Stuart, occurred June 4, 2022. The recording is available HERE. https://bit.ly/ResilienceforEveryday
The 90-minute program features resilience experts sharing their tools, tips, and exercises to help navigate the challenges of living in a rapidly changing world. While preparing for the event, each of the resilience leaders encountered their own stressful situations where they had to apply their best resilience strategies to their lives. In this special series of articles, we hear from each of the presenters on:  
Building Resilience Through Walking Our Talk
Today we hear from … Jo Ann Wenner
Jo Ann shares her story of tapping into inner resilience when she missed a flight on the way to give a presentation.
Flying the Friendly Skies with Resiliency as My Co-Pilot
I'm standing in an airport in Baltimore, having missed my connection to New York. While I write this, I'm looking for the silver lining. Right now, it's hard to be in this place. I'm desperate for sleep and with this change in flights, I'll arrive at my destination around midnight. So, what else is possible?
Resiliency demands that I look at this disappointment as an opportunity. For what? I'm not sure but I'm going to breathe; hopefully, stay calm and relax a bit. I am going to be open to what appears. Maybe, the gift is in the opportunity to rest and catch up on things that have been on my mind.
There's part of me that could feel trapped here but then again, I could be grateful that I have nowhere else to be right now. There are some nice rocking chairs in front of big windows and a great book in my bag that I've been hoping to dig into. Though I'll admit I still have some lingering disappointment about missing the flight and a bit of edge at the thought of arriving in NCY around midnight, I'm feeling better. Some of my overwhelm of the past weeks is oozing out. With a shift in perspective and an opening of the heart, I can be thankful for this forced slowing down.
Over the years, I've learned some handy tools to cultivate resiliency by studying what makes some people more resilient than others. I know the place for me to begin is to do what I'm doing: to check my perspective and shift my lens to a wider view.
As I do this, I see one young man practicing yoga over in a corner, some people napping, and some entertaining their small children on the moving walkways. Then, my eye catches a marvel of talent and ingenuity. I see an airport employee who can deliver two wheelchairs and field a phone call at the same time without missing a beat. It reminds me of holding a baby and a squirmy toddler while cradling a phone receiver – pretty much like he is here. I wonder if he has small children at home.
When you have plans that go awry, can you close your eyes, take a nice long, slow breath, and allow yourself to imagine this as a gift – an opportunity for something else that's even better to arrive.
Of course, the gift is "in the eye of the beholder." I've had gifts arrive I didn't want to receive at the time they were given to me. Yet, I can guarantee that the struggle of what came to me instead is a lesson I needed to learn. I'd love to hear your story about the last time your best-laid plans had to be scrapped. How did you react? How did you respond? What happened next?
It's easy to forget we always have a choice and most likely, several choices. My experience is that if I'm open to "the magic," it often finds me. I'll let you know. I'm guessing there will be a few more twists and turns and I'll learn a few more things about stretching myself, flexing these resiliency muscles, and trying on a few more lenses to find greater clarity in this adventure called life. May You Be Happy and Well!
Jo Ann's free gift to you is A Guided Meditation for Greater Resiliency https://prismholistic.com/guided-meditation
Jo Ann Wenner, MS, MA-T, is the owner and founder of Prism Holistic Coaching and Consulting where she supports clients to reignite their courage and passion for life through Compassionate Conversations™. If you are struggling with grief, lost your mojo, or moving through some tough challenges, Jo Ann will help you navigate your way through it and embrace your life in ways you'd never felt possible. She is a Certified Reiki Master, a well-loved speaker and teacher of courses on compassionate life practices, an international best-selling author, mom, and an avid hiker and poet.
Jo Ann Wenner – Find out more about Jo Ann Wenner – Holistic Life Coach Leading Compassionate Conversation for a Courageous Life
https://www.thewellnessuniverse.com/world-changers/jowenner/
Resilience for Everyday: Tools, Tips & Exercises for Well-being is a donation-based event, supported by pay-what-you-can donation upon registration anytime through the recording. It is available to all who would like to attend. You can make a donation HERE. https://bit.ly/ResilienceforEveryday
Save the Date for the next Resilience Building event:
Resilience for Harmony: Tools, Tips & Exercises for Well-being
September 10, 2022, 10-11:30amET
Written by Jo Ann Wenner and Leah Skurdal
---
All information, content, and material are for informational purposes only and are not intended to serve as a substitute for the consultation, diagnosis, and/or medical treatment of a qualified physician or healthcare provider. The information supplied through or on this page, or by any representative or agent of The Wellness Universe, is for informational purposes only and does not constitute medical, legal, or other professional advice. Health-related information provided through this website is not a substitute for medical advice and should not be used to diagnose or treat health problems or to prescribe any medical devices or other remedies. The Wellness Universe reserves the right to remove, edit, move or close any content item for any reason, including, but not limited to, comments that are in violation of the laws and regulations formed pursuant to the Federal Food, Drug, and Cosmetic Act. None of the posts and articles on The Wellness Universe page may be reprinted without express written permission.
---
The Wellness Universe presents Janette Stuart our Angelic Practitioner Expert Guide. Monthly, Janette invites you to escape to the Secret Garden of Joy.
The Secret Garden of Joy:
Every first Saturday of the month, come escape to the Secret Garden of Joy for an hour as you leave the world behind, delight your heart, nurture yourself and fill your cup.
Register today prior to the LIVE launch:  https://bit.ly/SecretGardenofJoy
---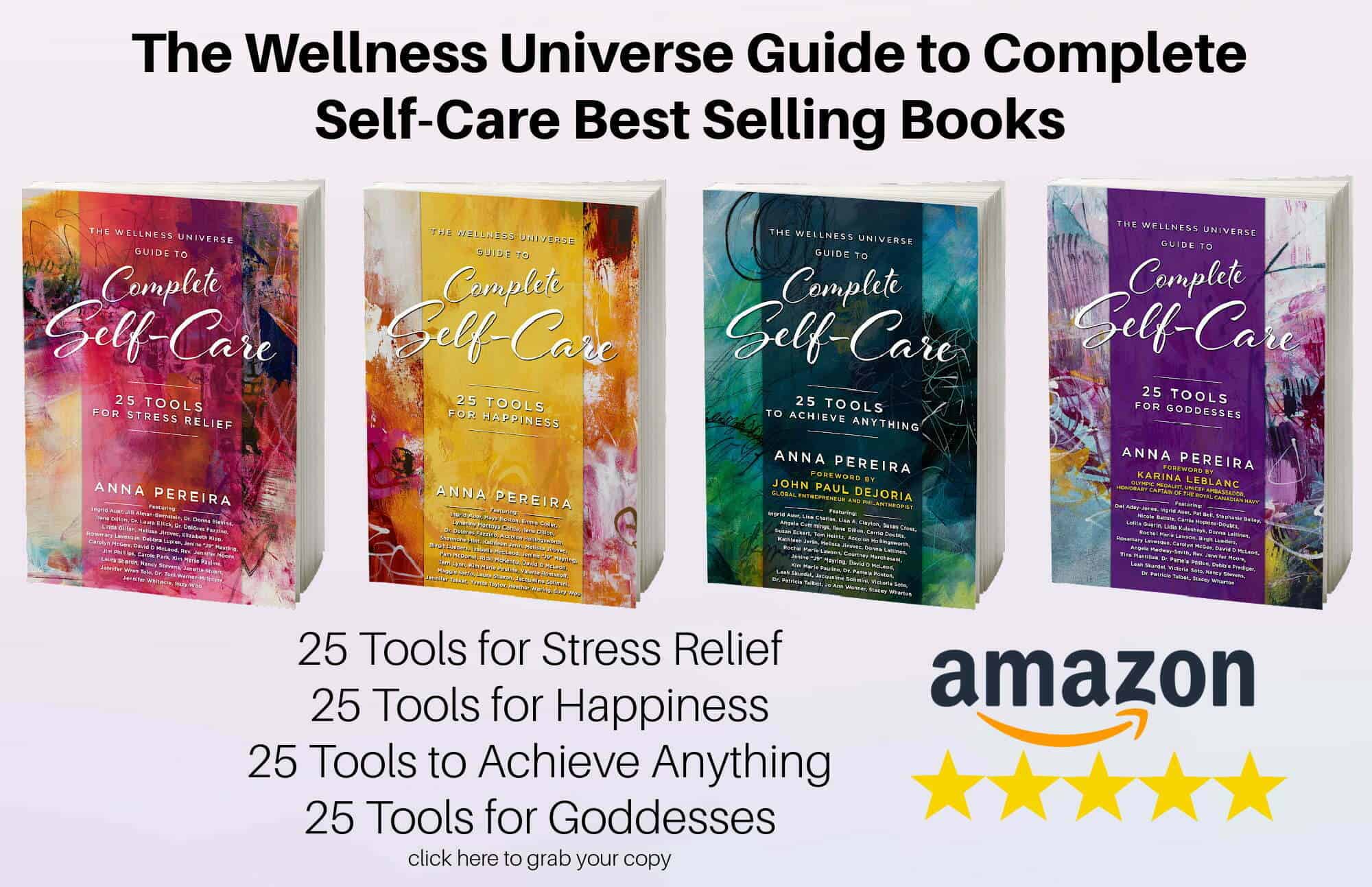 With over 250 independent reviews see how our self-care books are helping thousands of people around the world. Digital and paperback books are available now.
---
Self-development, self-care, and inspirational classes and sessions by Wellness Universe World Changer instructors who support your total well-being.
 Visit The Wellness Universe Lounge today!
---
The Wellness Universe is here to serve your best well-being. If you are experiencing anxiety, grief, overwhelm, guilt, anger, or seeking ways to cope and get help for stress, relationships, parenting, or any other issue during this challenging time, we have wonderful resources for you to connect with. Our WU Best Help members are offering reduced rates, sliding scale payment options, and even pro-bono sessions. WU Best Help
Leah Skurdal guides people to up-level their stress resilience to improve relationships. Leah shares intuitive insights in private Energy Healing to address the roots of disharmony. As an inspirational speaker and published author, Leah offers lively classes, experiential workshops, and keynotes.