Wellness for All programming from The Wellness Universe introduces you to wellness programs and wellness events that support your best mental wellbeing.
Introducing you to Resilience for Every Day – Tools, Tips, and Exercises for Wellbeing produced and hosted by Leah Skurdal, Resilience Event Leader, and co-hosted by Janette Stuart.
Now let's introduce you to ….
Choose Your Perspective
Here are six things my life has taught me about resiliency.
      Resiliency is a state of BEING.

      Building resiliency from within takes practice, and there is no shortage of opportunities to practice.

      Being in a resilient state often includes our ability to practice Grace, Forgiveness, Courage, and Compassion.

      Resilience is about Being Okay with Becoming Undone.

      Sometimes, Being Resilient is about Being Okay while we exist in a state of Not Knowing.
 And, here is what it's NOT.
 Resilience is not about making due; it's not about mindlessly muddling through.
Resiliency is not about continuing to kick the brick wall that's in front of us (and perhaps even constructed by us).
What I can't stress enough is that resilience is a practice. It is a practice that shifts our focus from the pain, suffering, loss, or heartache (or whatever it is that's hurting and has our complete attention) into a larger view with a deeper perspective.
Standing too close to the situation we often only see the problem, and here, we are frustrated and stuck. In our overwhelm, we feel isolated and alone. However, if we can shift our perspective to a wider lens, we often find that solutions exist. Perhaps what we need right then is in close proximity. It may be just off to the left, right, or even above us. It may be in the helping hand extended toward us that, until now, we couldn't see.
Something as simple as taking a step back to make sense of where we've ended up (and maybe even why we've ended up here) is what's needed.
Photo Credit: Shutterstock
It's like standing too close to a Pissarro and only seeing colored dots. But, when we take a step back, an entire landscape – complete with people, fields, and trees comes into our view.[1]
It's like seeing a scary monster standing right in front of the only door we can see. However, if we could just step back, we'd see that there are other doors for us to consider – in fact, there may even be a door that's been opened and showing a bright sky beyond it, or someone in the doorway to help us move through whatever it is we're wrestling with that has us tied up in knots. Taking a step back in order to take in the whole view often creates enough clarity to take a small step forward and perhaps even to allow a leap.
If we never step back to see the full number of options before us, we will miss this opportunity to choose differently – to choose in our favor – to choose to be supported – to choose movement into ease and joy.
Resilience is a continuous practice. Accepting that we are VULNERABLE and CREATING A TEAM around us can hold us up when we can't seem to find the way to do this on our own.
ASK for support. You don't have to go it alone. I am here to support you. The Wellness Universe is here to support you.
Thank you, JoAnn!
Join us and be enriched by the strategies and conversations during our 90-minute special event, Resilience for Everyday: Tools, Tips & Exercises for Wellbeing. You will have the opportunity to participate in self-care and resilience-building exercises in our interactive and workshop-style event. Saturday, June 4, 10-11:30am ET/7-9:30am PT.  
This donation-based event is supported by pay-what-you-can donation upon registration, during the live event, or anytime as this will be available as a recording. Available to all who would like to attend.
JoAnn Wenner is a Certified Holistic Coach (GAHP), trained as a Co-Active Transformational Life Coach with CTI, a Certified Reiki Master Teacher and Practitioner (IARP), and Certified Spiritual Teacher. She has an MS, Science and Technology Studies, and an MA-T. She has worked in the corporate world in HR Management, Training, and Project Management for several Fortune 500 Companies. Jo Ann coaches through Compassionate Conversations for a Courageous Life™ working with clients through grief and loss, while bolstering resilience and rekindling a love of life. She leads workshops, is a speaker, and is an international best-selling author for The Wellness Universe and bLU Talks (Business, Life and the Universe). 
You can connect with JoAnn through her Wellness Universe profile. 
 Written by: Jo Ann Wenner
[1] This painting is an example of "Pointillism", a method of painting perfected by Camille Pissarro in his Neo-Impressionist era. This painting technique relies on the viewer's eyes and minds having the ability to make sense of the individual points of color – to mix the individual color spots into various tones and images and construct a whole image. When standing too close to the painting, the viewer is only aware of individual dots of color and loses the perspective of the grand image and the whole. (Image taken from Shutterstock.)
---
All information, content, and material are for informational purposes only and are not intended to serve as a substitute for the consultation, diagnosis, and/or medical treatment of a qualified physician or healthcare provider. The information supplied through or on this page, or by any representative or agent of The Wellness Universe, is for informational purposes only and does not constitute medical, legal, or other professional advice. Health-related information provided through this website is not a substitute for medical advice and should not be used to diagnose or treat health problems or to prescribe any medical devices or other remedies. The Wellness Universe reserves the right to remove, edit, move or close any content item for any reason, including, but not limited to, comments that are in violation of the laws and regulations formed pursuant to the Federal Food, Drug, and Cosmetic Act. None of the posts and articles on The Wellness Universe page may be reprinted without express written permission.
---
Q & A – Personal Growth and The Akashic Records
Join us for an opportunity to learn more and ask questions about personal growth or the Akashic Records to support your self-transformation journey!
https://wellnessuniverse.learnitlive.com/Class/Q-%26-A—Personal-Growth-and-The-Akashic-Records/20779
---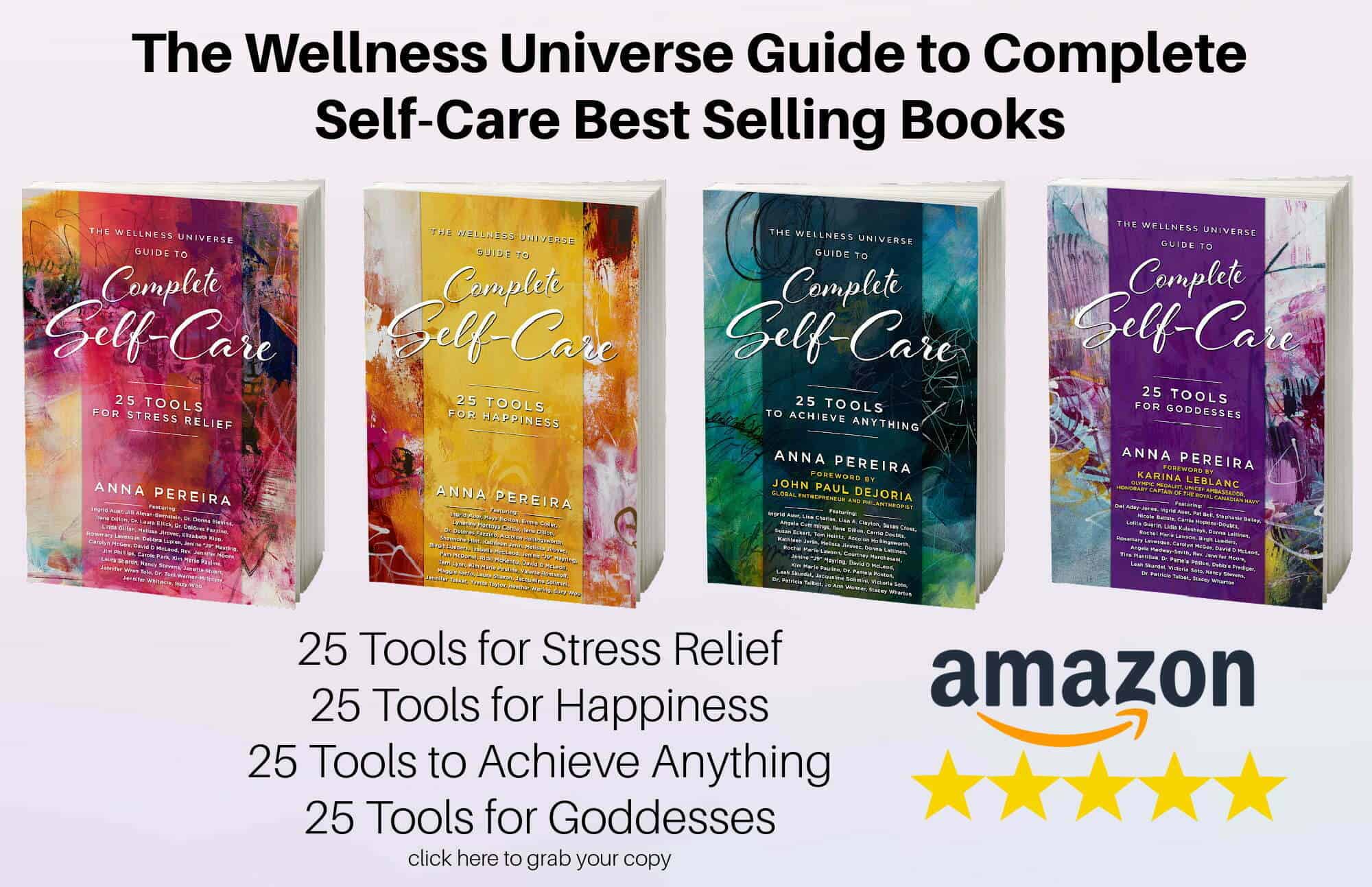 With over 250 independent reviews see how our self-care books are helping thousands of people around the world. Digital and paperback books are available now.
---
Self-development, self-care, and inspirational classes and sessions by Wellness Universe World Changer instructors who support your total well-being.
 Visit The Wellness Universe Lounge today!
---
The Wellness Universe is here to serve your best well-being. If you are experiencing anxiety, grief, overwhelm, guilt, anger, or seeking ways to cope and get help for stress, relationships, parenting, or any other issue during this challenging time, we have wonderful resources for you to connect with. Our WU Best Help members are offering reduced rates, sliding scale payment options, and even pro-bono sessions. WU Best Help
The Wellness Universe is your resource for health, wellness, well-being, and transformation. We serve and support professionals who make the world a better place and individuals and groups who seek their best life.
A woman owned company; having the vision in 2013, Anna Pereira launched the first directory in 2015 bringing together a community of members making the world a better place to be found by those seeking their best life. The Wellness Universe has grown since then to be a one-stop shop for total wellness support! We are a vetted community, online directory, book publisher, resource center, event producer, content platform, and so much more, supporting whole-health and well-being on a global scale.
The Wellness Universe is a home that connects industry professionals in the health, wellness, and well-being fields to seekers of total well-being. WU provides our WU World-Changer members with peer support, Wellness Universe produced events (live and online), projects, visibility, business mentoring, and community. Through The Wellness Universe our WU World-Changer members serve WU Friends, seekers of health, wellness and transformation, with coaching, workshops, content and more.
The Wellness Universe provides individuals and groups seeking their best lives with access to our members, wellness content, educational resources, and guidance in all areas of wellness to transform visions of how they want to live life into the life they experience.
Through the directory, WU Featured Blog, SoulTreat wellness retreat, Self-Care Books, group well-being programs, and online learning center, The Lounge, The Wellness Universe provides many avenues to support whole health, mind, body, spirit and planet.
Join us today! Wellness Professional or Seeker of Your Best Life