The Wellness Universe believes a happy, healthy, healed human leads to a better community, a better world, and ultimately to world peace.
The Wellness Universe introduces you to conduits of empowerment, change, and healing as we feature our community members who are here to support your happiest, best version of you to help you shine!
Today's featured member is Gayle Nowak, Visibility Sage & Founder of Sage SensationTM Retreats
– Guiding New Earth leaders to break through visibility blocks, disrupt outworn paradigms, and create a world where we all thrive.


Gayle shares with us an introduction about how she is creating a better world through well-being support.
Transformation, wellness, and self-care are only a connection away.
My Story
When I was nine years old, I made a vow to be silent.
From as early as I can remember, I saw members of my family tolerate toxic, dysfunctional, and abusive behavior toward each other. When that behavior locked in on me in early childhood, I kept my mouth shut.
At that time, I believed that if I spoke up all hell would break loose, and I'd lose my family. It was only when it became too painful for me to keep quiet any longer that I finally found the courage to speak up.
Yet, everything I feared would happen, didn't.
Instead, the truth was swept under the rug as if nothing had happened at all. As afraid as I was about speaking up, the lack of response to these traumatic experiences was far more confusing and devastating to me. In that moment, I knew it was up to me to protect myself, and the best way I knew how to survive in that situation was to make myself invisible.
Fast forward to 2013, two years into my business, and my past was wreaking havoc on my present. At that time, I was helping my clients find, create, and share their signature stories. However, subconsciously, I was operating from two powerful false beliefs that If I share my truth I'll hurt someone, and My truth isn't important and will be ignored anyway. So even though I was coaching my clients to use their powerful and healing stories for greater visibility, when it came to my own story, I avoided it by doing all the external things – networking, blogging, Facebook ads, creating content and courses, signing up for as many coaching programs I could handle.
Instead of sharing from my own heart because I cared so much about supporting my clients to freely express their true selves, I went into full overachiever mode working hard to make things happen. Yet the only thing that seemed to be happening was maxed out credit cards, drained bank accounts, and less-than-ideal clients.
The harsh reality was that I couldn't think, learn, or spend my way out of this situation no matter how hard I tried. That's when I knew it wasn't my actions that needed to change, it was the energy.
Until I was willing to freely express myself, I would continue to struggle with my business.
I couldn't quite make sense of it at that time, yet deep down I felt an inner knowing that bringing light to the part of me that I wanted to bury in the dark would help me heal my invisibility and get different results. Even though I was terrified at first to share something that felt so vulnerable, doing so has led me to heal and transmute my childhood trauma, create a thriving award-winning marketing agency, and become a certified SourcedTM transformational coach and retreat master.
It's the commitment to my own inner work, healing, and journey that has evolved my business beyond delivering done-for-you strategy and tactics into facilitating self-healing and transformation for my clients so that they can unleash the potent, powerful leaders they are deep inside.
My mission is to hold the vibration of my clients' vision, meet them in the darkness and bring in the light as they work toward creating a world where all voices are valued, and everyone thrives.
Supporting my clients at that level would have been terrifying for me if I chose to stay silent and invisible.
We all have past experiences that create beliefs, patterns, and wounds that we bring into new situations. It's human nature. And I'm so passionate about supporting clients who are ready to transform, lead differently, and share their mission with more people.
My Specialties:
Visibility, Marketing, and Business Coaching
Transformational Coaching
Intuitive Soul Healing
Designing and Leading Transformative Experiences
Speaking, Interviewing, and Moderating
Testimonials
Gayle invited me to a place where I didn't have to pretend. Where I felt safe and supported so that I could rest, relax, and feel held. I had the space to hear myself. To drop into my body and heart and check-in at a deep level. I received space to process this and to remember and access the answers inside me. She helped me relax into deeper wisdom and compassion for myself, not as someone who bumbles and makes mistakes, but rather as one who claims her trust, role, and gift as a visionary. Having Gayle witness, hold and reflect back to me was a necessary part of the embodiment process. I was able to give myself permission to speak my heart and mind, trusting that the only person who needs to approve of it is me. This is my voice, my point of view. It feels powerful to trust my voice. You can't put a price on that!
–  Monica Rodgers, Host of The Revelation Project Podcast + Co-founder of Revelation Media LLC
 Gayle helps you get to the heart of your heart. She pushes you to go deep and claim the mission you were assigned to live in this lifetime. She brought me Clarity, Certainty, and Peace surrounding my life's work. As a heart-let entrepreneur, you can make no better investment in yourself than to get in a room with her.
– Rose Tenaglia-Dunn, Host, EaarthFeelsPodcast.com
Thank you for meeting Gayle and connecting with her on their Wellness Universe. 
---
All information, content, and material are for informational purposes only and are not intended to serve as a substitute for the consultation, diagnosis, and/or medical treatment of a qualified physician or healthcare provider. The information supplied through or on this page, or by any representative or agent of The Wellness Universe, is for informational purposes only and does not constitute medical, legal, or other professional advice. Health-related information provided through this website is not a substitute for medical advice and should not be used to diagnose or treat health problems or to prescribe any medical devices or other remedies. The Wellness Universe reserves the right to remove, edit, move or close any content item for any reason, including, but not limited to, comments that are in violation of the laws and regulations formed pursuant to the Federal Food, Drug, and Cosmetic Act. None of the posts and articles on The Wellness Universe page may be reprinted without express written permission.
---
The Wellness Universe presents Lynda Lippin, Bone Health Expert Leader, CEO, and Pilates Goddess at Lynda Lippin Pilates, LLC, guiding you through Exercise for Bone Health, Strength, & Mobility 6-month program that will help you to enjoy better health, mobility, vitality, and overall wellbeing.
Register today prior to the LIVE launch: https://bit.ly/LyndaLippinCourse
---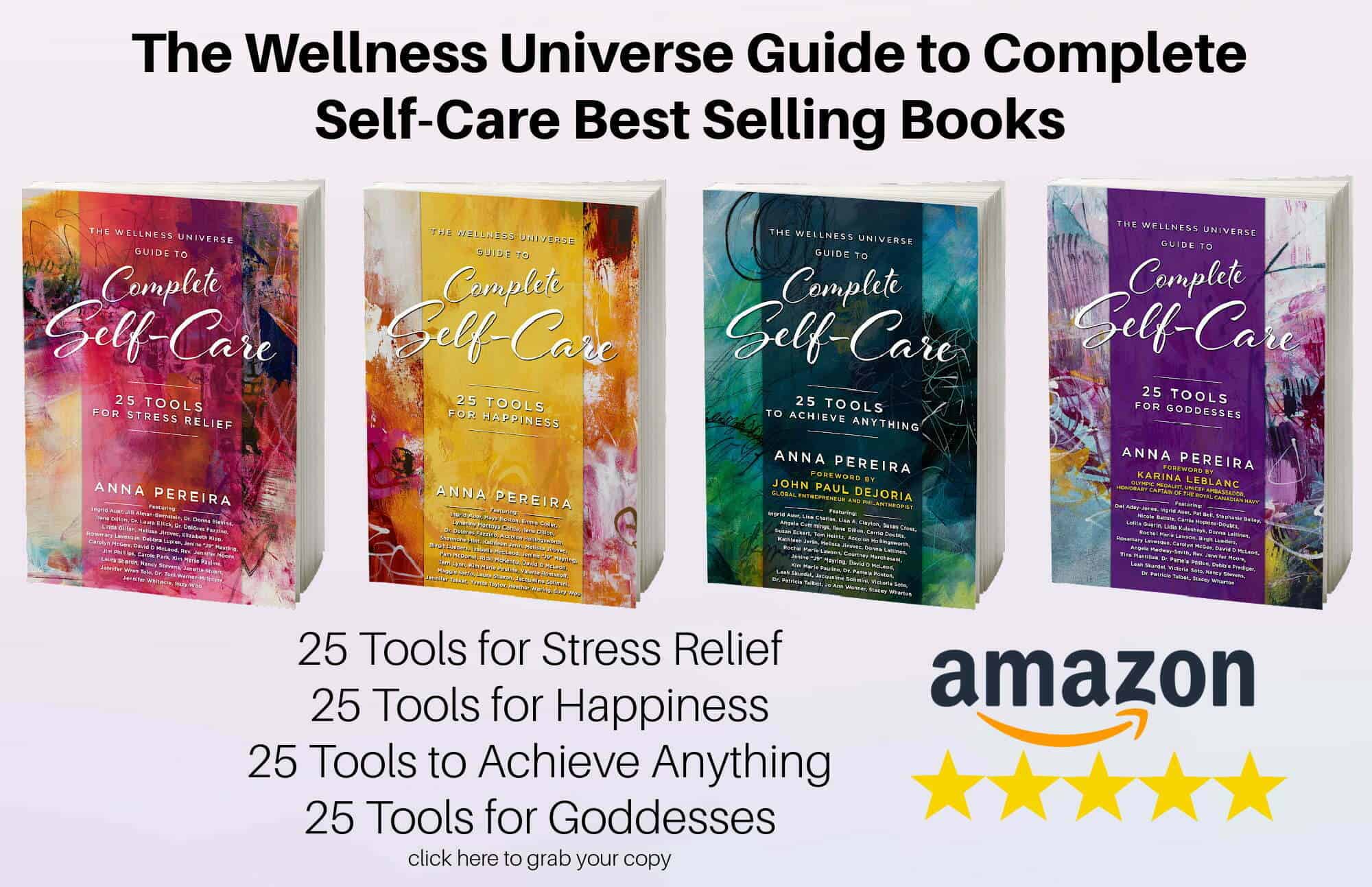 With over 250 independent reviews see how our self-care books are helping thousands of people around the world. Digital and paperback books are available now.
---
Self-development, self-care, and inspirational classes and sessions by Wellness Universe World Changer instructors who support your total well-being.
 Visit The Wellness Universe Lounge today!
---
The Wellness Universe is here to serve your best well-being. If you are experiencing anxiety, grief, overwhelm, guilt, anger, or seeking ways to cope and get help for stress, relationships, parenting, or any other issue during this challenging time, we have wonderful resources for you to connect with. Our WU Best Help members are offering reduced rates, sliding scale payment options, and even pro-bono sessions.
WU Best Help
The Wellness Universe is your resource for health, wellness, well-being, and transformation. We serve and support professionals who make the world a better place and individuals and groups who seek their best life.
A woman owned company; having the vision in 2013, Anna Pereira launched the first directory in 2015 bringing together a community of members making the world a better place to be found by those seeking their best life. The Wellness Universe has grown since then to be a one-stop shop for total wellness support! We are a vetted community, online directory, book publisher, resource center, event producer, content platform, and so much more, supporting whole-health and well-being on a global scale.
The Wellness Universe is a home that connects industry professionals in the health, wellness, and well-being fields to seekers of total well-being. WU provides our WU World-Changer members with peer support, Wellness Universe produced events (live and online), projects, visibility, business mentoring, and community. Through The Wellness Universe our WU World-Changer members serve WU Friends, seekers of health, wellness and transformation, with coaching, workshops, content and more.
The Wellness Universe provides individuals and groups seeking their best lives with access to our members, wellness content, educational resources, and guidance in all areas of wellness to transform visions of how they want to live life into the life they experience.
Through the directory, WU Featured Blog, SoulTreat wellness retreat, Self-Care Books, group well-being programs, and online learning center, The Lounge, The Wellness Universe provides many avenues to support whole health, mind, body, spirit and planet.
Join us today! Wellness Professional or Seeker of Your Best Life