Wellness for All programming from The Wellness Universe introduces you to wellness programs and wellness events that support your best mental wellbeing.
Introducing you to Resilience for Every Day – Tools, Tips, and Exercises for Wellbeing produced and hosted by Leah Skurdal, Resilience Event Leader, and co-hosted by Janette Stuart.
Now let's introduce you to ….
Emotional Mastery
Ilene shares her thoughts on why Emotional Mastery is essential now more than ever.
The past two years have shown us how foundational emotional resiliency is to our wellbeing.
Developing Emotional Mastery and Emotional Resiliency is the process of bringing awareness to emotions and learning to work with your emotions as teachers, rather than repressing undesirable emotions.
We now have research statistics to identify the root cause of the top three killers in the U.S—diabetes, heart disease, and cancer. Studies show that what causes them to happen in us initially—and to continue accelerated growth—is repressed anger.
One article in The National Institute of Health, National Library of Medicine cites studies documenting the effect of repressed anger on the body. "Frequent suppression (anger-in) and frequent expression (anger-out) of angry emotion have each been associated with a wide range of health complications, including cardiovascular disease, respiratory illness, and musculoskeletal problems, and pain disorders."
We now know that holding onto repressed anger can kill us.
As a recovered angry person, Ilene Dillon changed the course of her life by developing Emotional Mastery through personal experience.  
Ilene shares three practices that have become part of the fabric of who she is and how she responds to stress and challenging situations. When working with clients, Ilene taps into Emotional Mastery.
1) Before she starts her work with clients, Ilene connects to her Soul, Higher Self, and inner guidance system so she can be of spiritual service. This practice has become automatic and she doesn't have to focus for long.
2) Ilene works under the premise that we all have lessons to learn. It's the client's lesson, not hers, so she doesn't take it home with her.
3) Ilene sees emotions as positive helpers. "I help myself and my clients as we work with emotions as they're intended to be used—to decipher lessons brought to use so we can learn."
"I get it. In my thirties, I believed my anger in the workplace was justified. I blamed the other people involved in my drama who I believed "made me angry." However, when I looked more deeply, I could see how I had contributed to the situation and was equally at fault. When I practiced Ilene's three steps, (before I knew her), I was able to release the emotional baggage that was holding me back. My kids might tell you that I'm still working on emotional mastery, but it's a lifelong endeavor."
Developing Emotional Resilience in the workplace helps employees be productive, healthier, and happier humans—in the workplace and at home.
To that end, the Resilience series, live panel events will be a quarterly series on resilience for the workplace and for life. Mark your calendars!
Resilience for Every Day: Tools, Tips & Exercises for Well-being June 4, 2022. 
Resilience for Harmony: Tools, Tips & Exercises for Well-being September 10, 2022
Resilience for the Holidays: Tools, Tips & Exercises for Well-being December 10, 2022
Resilience for Transition: Tools, Tips & Exercises for Well-being March 11, 2023
Resilience for Every Day, Emotional Mastery Coach, Ilene Dillon talks about Compounding Resilience. Like compounding interest, resilience increases exponentially when we work with our most basic tools: emotions. Ilene introduces us to the fundamentals of emotional mastery which you can start practicing in your life today.
Ilene Dillon, MSW, has dedicated her life to helping people resolve personal challenges once and for all, then design life to be what they want it to be. A Transformation Specialist, she has worked 50 years as a marriage counselor, psychotherapist, and coach. Ilene is a recovered angry person, a global speaker, Amazon #1 Bestselling author, and mastermind leader. She is the author of Emotions in Motion: Mastering Life's Built-in Navigation System.
You can connect with Ilene through her Wellness Universe Profile.
 Join us and be enriched by the strategies and conversations during our 90-minute special event, Resilience for Everyday. You will have the opportunity to participate in self-care and resilience-building exercises in our interactive and workshop-style event, Saturday, June 4, 10-11:30am ET/7-9:30am PT. 
This donation-based event is supported by pay-what-you-can donation upon registration, during the live event, or anytime as this will be available as a recording. Available to all who would like to attend.
 Sources:
https://www.ncbi.nlm.nih.gov/pmc/articles/PMC4824648/
 Written by: Leah Skurdal
---
All information, content, and material are for informational purposes only and are not intended to serve as a substitute for the consultation, diagnosis, and/or medical treatment of a qualified physician or healthcare provider. The information supplied through or on this page, or by any representative or agent of The Wellness Universe, is for informational purposes only and does not constitute medical, legal, or other professional advice. Health-related information provided through this website is not a substitute for medical advice and should not be used to diagnose or treat health problems or to prescribe any medical devices or other remedies. The Wellness Universe reserves the right to remove, edit, move or close any content item for any reason, including, but not limited to, comments that are in violation of the laws and regulations formed pursuant to the Federal Food, Drug, and Cosmetic Act. None of the posts and articles on The Wellness Universe page may be reprinted without express written permission.
---
Q & A – Personal Growth and The Akashic Records
Join us for an opportunity to learn more and ask questions about personal growth or the Akashic Records to support your self-transformation journey!
https://wellnessuniverse.learnitlive.com/Class/Q-%26-A—Personal-Growth-and-The-Akashic-Records/20779
---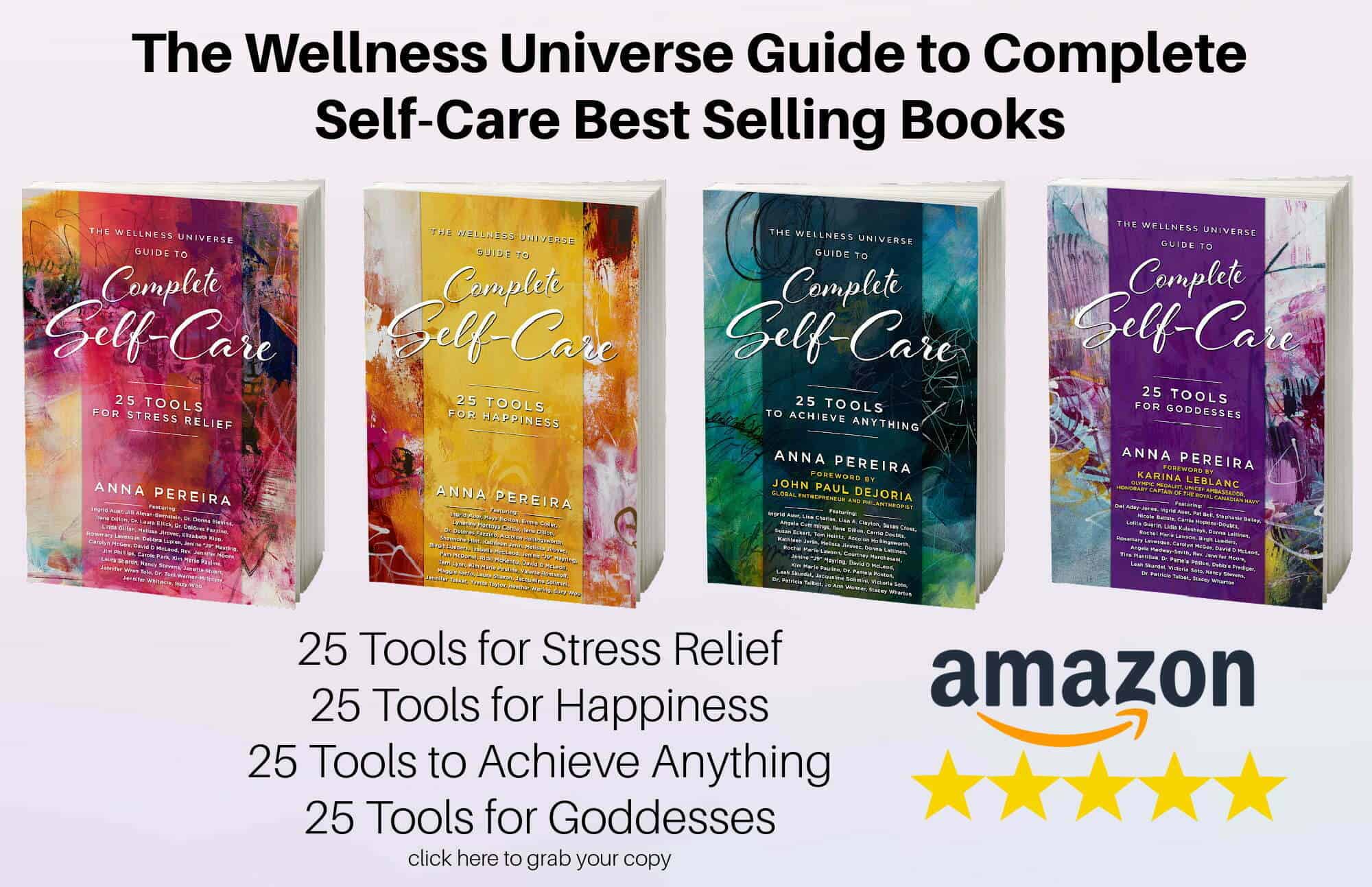 With over 250 independent reviews see how our self-care books are helping thousands of people around the world. Digital and paperback books are available now.
---
Self-development, self-care, and inspirational classes and sessions by Wellness Universe World Changer instructors who support your total well-being.
 Visit The Wellness Universe Lounge today!
---
The Wellness Universe is here to serve your best well-being. If you are experiencing anxiety, grief, overwhelm, guilt, anger, or seeking ways to cope and get help for stress, relationships, parenting, or any other issue during this challenging time, we have wonderful resources for you to connect with. Our WU Best Help members are offering reduced rates, sliding scale payment options, and even pro-bono sessions. WU Best Help
The Wellness Universe is your resource for health, wellness, well-being, and transformation. We serve and support professionals who make the world a better place and individuals and groups who seek their best life.
A woman owned company; having the vision in 2013, Anna Pereira launched the first directory in 2015 bringing together a community of members making the world a better place to be found by those seeking their best life. The Wellness Universe has grown since then to be a one-stop shop for total wellness support! We are a vetted community, online directory, book publisher, resource center, event producer, content platform, and so much more, supporting whole-health and well-being on a global scale.
The Wellness Universe is a home that connects industry professionals in the health, wellness, and well-being fields to seekers of total well-being. WU provides our WU World-Changer members with peer support, Wellness Universe produced events (live and online), projects, visibility, business mentoring, and community. Through The Wellness Universe our WU World-Changer members serve WU Friends, seekers of health, wellness and transformation, with coaching, workshops, content and more.
The Wellness Universe provides individuals and groups seeking their best lives with access to our members, wellness content, educational resources, and guidance in all areas of wellness to transform visions of how they want to live life into the life they experience.
Through the directory, WU Featured Blog, SoulTreat wellness retreat, Self-Care Books, group well-being programs, and online learning center, The Lounge, The Wellness Universe provides many avenues to support whole health, mind, body, spirit and planet.
Join us today! Wellness Professional or Seeker of Your Best Life