The last time we chatted, I shared with you how I stared the devil down. Today we'll discuss my journey from heartbreak to happiness.
From heartbreak to happiness
As I watched the sunrise, I heard the angel on my shoulder speak, "Nothing can prevent the universe to fill the sky with magical colors every day, regardless of thunderstorms or heavy rains the night before. Do you remember your vow to be happy no matter what happens?"
I gazed in awe at the sky, "You're so close," the voice continued. "Now stand up to your choice, go and create more of the magic you already own."
I nodded yes. Of course, I remember, but…
But what?
I paused and took a breath. This but felt harsh and heavy on my heart. it was the devil speaking again, wanting me to drown in my sorrow.
But…
Are you, dear reader, using your "but" to defend why you can't be happy just yet?
I've been there, I understand. And you know what? All it does is keep you trapped in a life you don't want. Closer to hell and giving the devil permission to speak.
If you're committed to unconditional happiness do this:
cross the word but out of your vocabulary
deepen your awareness and notice when you hear the devil's voice
On my path, I learned that …
Awareness is a truth-finder. With awareness comes choice. And the choice offers freedom.

~ Manuela
The Night Happiness Was Stolen From Me
On a hot summer day in August 1990, my heart broke as happiness was stolen from me.
Following the loss of three pregnancies, my daughter Sarina was born four months early by emergency C-Section. She weighed 881g (1 pound and 15 ounces) and barely had a chance to live through the night.
Life taught me early on how to live with loss. This latest experience tested the vow I made in my mid-20s. It was rooted in Herman Hesse's work, more specifically his book Siddhartha where he spoke about what happiness is. I put his words on my apartment wall:
Happiness is a how not a what. A talent, not an object.
But now, instead of living my dream, I earned the title of Special Needs Mom overnight. I spent the first six months of my baby's life sitting by her incubator dealing with the devastating truth I received shortly after her birth. "If your daughter survives, she'll have multiple handicaps."
I had fantasized about my life being like paradise with a loving guy by my side and a bundle of healthy kids in tow. Adventures, birthday parties, graduations, a house full of laughter, perhaps weddings and grandkids to love. But in reality, I felt closer to hell than to paradise.
That night I felt happiness was stolen from me and was immediately bombarded with the back and forth between the angel saying, "stay present, you'll find your happiness again" and the devil laughing, "I told you so. Happiness is not meant for you."
Heaven and Hell
Heaven and hell lived side by side until I had grieved enough and chose to let the angel win.
The path from heartbreak to happiness is a rocky one. When everything is going well, it's easy to be happy. But when difficulties happen, it isn't so easy and the "I'll be happy when" tape, which of course is the devil's voice, keeps playing.
Practice staying present and learning to not close your heart in the face of life's challenges. Remain open and relaxed, and cultivate awareness for tiny miracles in your life. The joy you feel inside will put the spark back in your eyes!
Learn to witness your emotions, feelings, or problems instead of losing yourself in them.
I had many teachers who inspired me to know myself better and gain clarity about how I show up in my life. The mindfulness practice called Phoenix Rising Yoga Therapy together with teachings from Pema Chodron are at the root of how I celebrate being unconditionally happy every day.
Heartbreak taught me that freedom lies inside, right at the center of who I am, available in the depth of exhaustion and in the heights of gloriousness."

~ Manuela, quote from my story – "The Broken Dream"
The Dream Dancer and The Tiny Islands
I gazed at the sky again and another teacher, my Dream Dancer appeared in front of my eyes. He is a print of a little elephant balancing on a tightrope across the night sky along with a poem describing this impossible act.
We received him as a gift a week before Christmas 1990. Sarina was four months old and still very sick. But we had a first victory to celebrate. The day the gift arrived she was successfully extubated. It was her first day breathing on her own.
The Dream Dancer's message was clear. Sarina would manage the balancing act of her life and so would I. He became the symbol of her survival.
Whenever I lose trust, I look at him for guidance: "How do you manage this tightrope act?" I wondered. He looks at me with knowing eyes: "To keep your balance, you have to look up not down, always keep going, and trust!"
It was trust that I needed. I knew that everything I needed to manage my challenging life was within me. I simply had to change my perspective and start collecting short practices to support me throughout the day.
I already had a morning ritual I called my Tiny Island so why not create more islands?
The idea to create a Tiny Island Journey, to never let anything steal my inner peace and power was magical. Immediately I felt new energy and committed to deleting the "no-time" thought from my mind.
The islands came together swiftly like a mosaic and weaved themselves into the flow of my day. Very quickly, I felt more energy and a new glow within me.
Next time we meet I'll share those tiny islands with you. If you'd like to know more about how to navigate your difficult situations, you can get on a waiting list for my new program and embark on your very own Tiny Island Journey! 
Shine your light,
Manuela
Connect with Manuela on The Wellness Universe.
---
All information, content, and material are for informational purposes only and are not intended to serve as a substitute for the consultation, diagnosis, and/or medical treatment of a qualified physician or healthcare provider. The information supplied through or on this page, or by any representative or agent of The Wellness Universe, is for informational purposes only and does not constitute medical, legal, or other professional advice. Health-related information provided through this website is not a substitute for medical advice and should not be used to diagnose or treat health problems or to prescribe any medical devices or other remedies. The Wellness Universe reserves the right to remove, edit, move or close any content item for any reason, including, but not limited to, comments that are in violation of the laws and regulations formed pursuant to the Federal Food, Drug, and Cosmetic Act. None of the posts and articles on The Wellness Universe page may be reprinted without express written permission.
---
The Wellness Universe presents Carol Pilkington, a Self-development Expert Leader guiding you through Creating Joyful Relationships – Self-Development for Happier and Healthy Relationships 6-month program that will help you to enjoy fulfilling relationships.
Register today prior to the LIVE launch:  https://bit.ly/CreatingJoyfulRelationships
---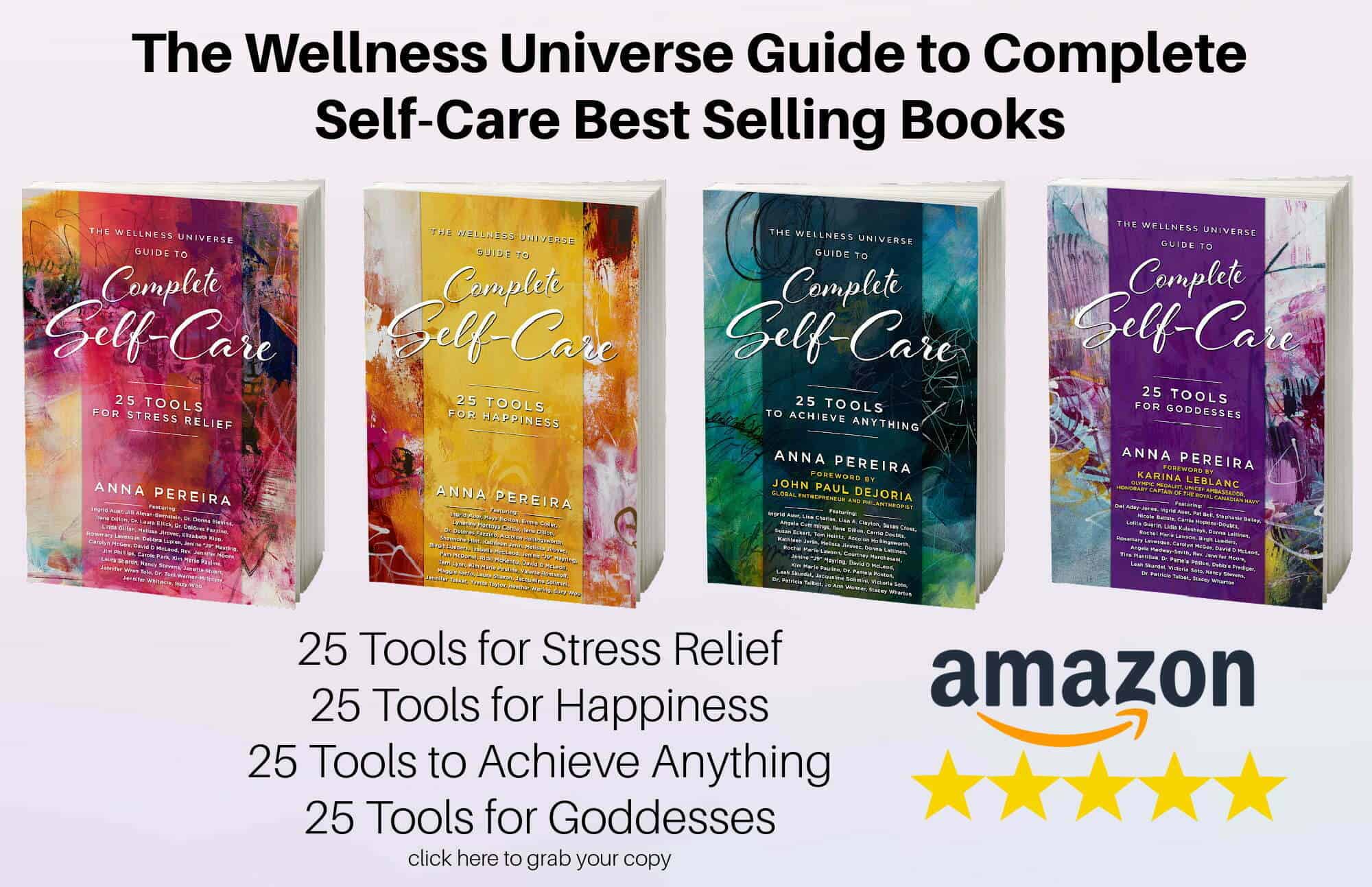 With over 250 independent reviews see how our self-care books are helping thousands of people around the world. Digital and paperback books are available now.
---
Self-development, self-care, and inspirational classes and sessions by Wellness Universe World Changer instructors who support your total well-being.
 Visit The Wellness Universe Lounge today!
---
The Wellness Universe is here to serve your best well-being. If you are experiencing anxiety, grief, overwhelm, guilt, anger, or seeking ways to cope and get help for stress, relationships, parenting, or any other issue during this challenging time, we have wonderful resources for you to connect with. Our WU Best Help members are offering reduced rates, sliding scale payment options, and even pro-bono sessions. WU Best Help
Manuela
's healing journey from heartbreak to happiness spans over 31 years. She is a Body Wisdom Coach, an Expert on Unconditional Happiness, and the Creator of the Tiny Islands. She's conquered the extraordinary challenges of being the mother of a special needs daughter. Her transformational programs are based on embodied mindfulness and guide her clients to connect to their inner healers when facing life's challenges. Her signature tools, the Tiny Islands, are mini-retreats you can hop on throughout the day to cultivate deepened awareness and pure happiness.