Wellness for All programming from The Wellness Universe introduces you to wellness programs and wellness events that support your best mental wellbeing.
Introducing you to Resilience for Every Day – Tools, Tips, and Exercises for Wellbeing produced and hosted by Leah Skurdal, Resilience Event Leader, and co-hosted by Janette Stuart.
Now let's introduce you to ….
Self-Care
Janette shares her thoughts on why self-care is essential now more than ever.
Self-care and resilience are no longer luxuries. The world needs us each to show up as our best and brightest selves—which means filling our own cups first and nurturing others from the overflow.
In a Global Workforce Study, ADRI.org defines Workplace Resilience as "the capacity of an individual to withstand, bounce back from, and work through challenging circumstances or events at work." Self-care contributes a vital link to resilience. 
Both employees and employers are seeing the value of aligning employee skill building with a holistic approach to caring for the whole person.
Employers who develop holistic approaches to wellness contribute to work cultures that employees rate highly. A LinkedIn Learning Report highlighted that employees who rate their culture highly are 25% more likely to be happy at work and 31% more likely to recommend working at their organization.  Translation: good for employee retention.
At the Wellness Universe, we are committed to promoting healthy, happy, healed humans for a more peaceful world. To that end, The Wellness Universe in partnership with Leah Skurdal is offering a quarterly series of Resilience Building events. Mark your calendars:
Resilience for Everyday: Tools, Tips & Exercises for Well-being June 4, 2022. 
Resilience for Harmony: Tools, Tips & Exercises for Well-being September 10, 2022
Resilience for the Holidays: Tools, Tips & Exercises for Well-being December 10, 2022
Resilience for Transition: Tools, Tips & Exercises for Well-being March 11, 2023
We are delighted to include Janette Stuart on our panel of esteemed experts for June's Resilience for Everyday speaking on the topic: Self Care to Boost Your Resiliency. She will offer practical self-care tools and strategies that you can use today. 
Janette Stuart is an Emissary of Joy at Angel Angles and Well-Being and Wonder. She is a beacon of love, joy, peace, and gentleness. Janette is a #1 Best Selling author, speaker, military mom, and pancreatic cancer survivor who uses the gift of her words and positivity to assist others in embracing their divinity and living a life of joy.
Janette uses tools such as her five devotionals, Drenched in Love and the On a Path of Joy series, 1:1 Angel Readings, and live events. As an angelic practitioner, she shares goodness and grace and the healing beauty of nature frequently in her work to inspire others. She has developed three inspirational card decks, Drenched in Love and Love Notes from The Divine. She is the co-creator of Words of Wisdom Guidance Cards and shares daily messages of love and encouragement on social media.
Janette facilitates an online monthly gathering celebrating cozy, inspiring conversations at her Sanctuary of Joy on Zoom. Each month the focus changes, all while indulging in joy.
Janette loves cooking, being out in nature, and writing, and has an impressive collection of stationery, pens, and journals. She seeks wonder and delight in her daily walks in nature. 
As a Best Selling Author of The Wellness Universe Guide to Complete Self-Care and The Ultimate Guide to Self-Healing, Vol. 2 and 3, Janette spreads love, joy, and peace. Connect with Janette through her Wellness Universe Profile
Join us and be enriched by the strategies and conversations during our 90-minute special event, Resilience for Everyday: Tools, Tips & Exercises for Wellbeing. You will have the opportunity to participate in self-care and resilience-building exercises in our interactive and workshop-style event, Saturday, June 4, 10-11:30am ET/7-9:30am PT. 
This donation-based event is supported by pay-what-you-can donation upon registration, during the live event, or anytime as this will be available as a recording. Available to all who would like to attend.
Written by: Leah Skurdal
Sources:
LinkedIn-Learning_Workplace-Learning-Report-2022-EN.pdf https://www.glintinc.com/wp-content/uploads/2021/05/Glint-May-2021-Employee-Well-Being-Report.pdf
---
All information, content, and material are for informational purposes only and are not intended to serve as a substitute for the consultation, diagnosis, and/or medical treatment of a qualified physician or healthcare provider. The information supplied through or on this page, or by any representative or agent of The Wellness Universe, is for informational purposes only and does not constitute medical, legal, or other professional advice. Health-related information provided through this website is not a substitute for medical advice and should not be used to diagnose or treat health problems or to prescribe any medical devices or other remedies. The Wellness Universe reserves the right to remove, edit, move or close any content item for any reason, including, but not limited to, comments that are in violation of the laws and regulations formed pursuant to the Federal Food, Drug, and Cosmetic Act. None of the posts and articles on The Wellness Universe page may be reprinted without express written permission.
---
Q & A – Personal Growth and The Akashic Records
Join us for an opportunity to learn more and ask questions about personal growth or the Akashic Records to support your self-transformation journey!
https://wellnessuniverse.learnitlive.com/Class/Q-%26-A—Personal-Growth-and-The-Akashic-Records/20779
---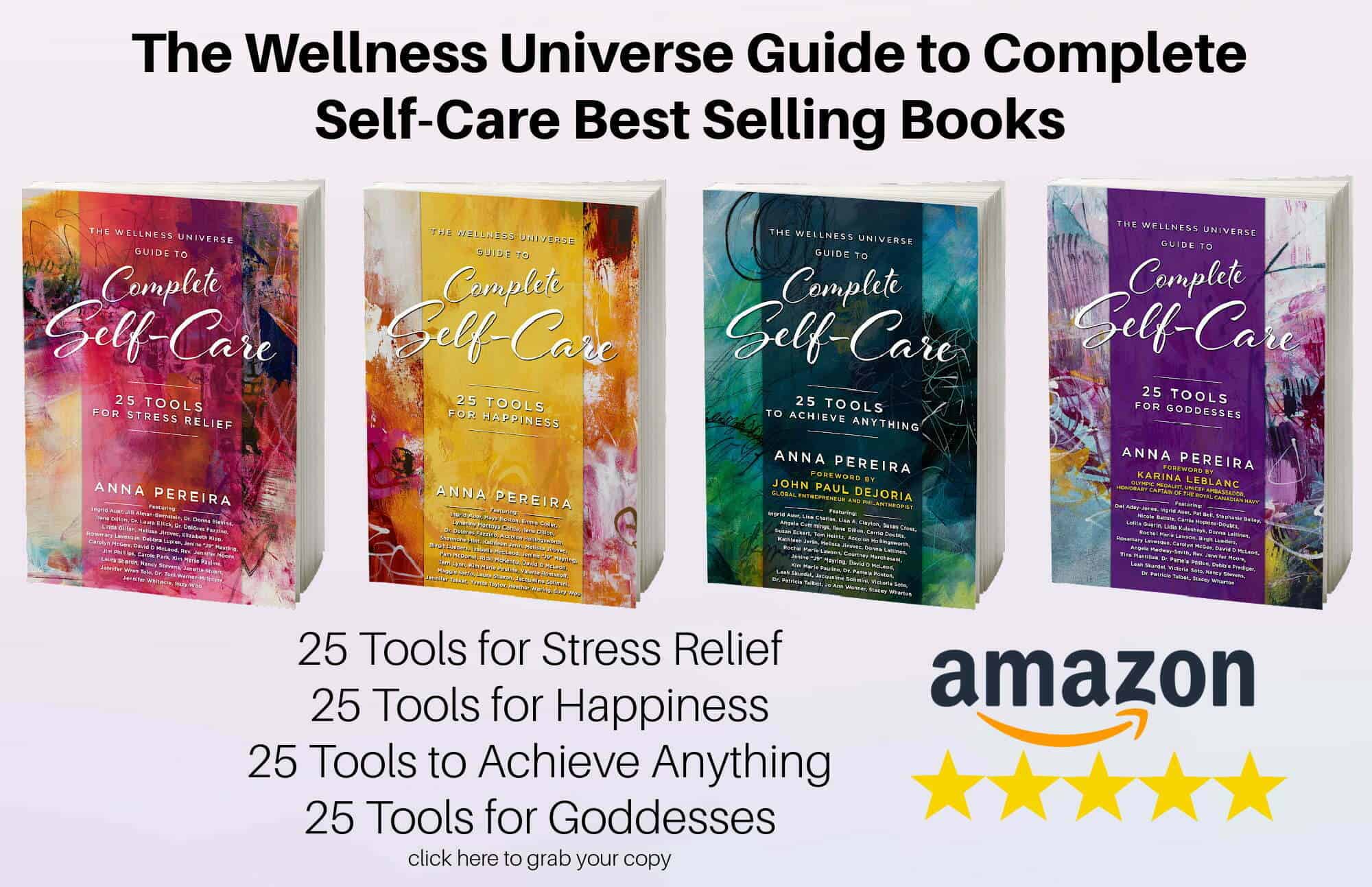 With over 250 independent reviews see how our self-care books are helping thousands of people around the world. Digital and paperback books are available now.
---
Self-development, self-care, and inspirational classes and sessions by Wellness Universe World Changer instructors who support your total well-being.
 Visit The Wellness Universe Lounge today!
---
The Wellness Universe is here to serve your best well-being. If you are experiencing anxiety, grief, overwhelm, guilt, anger, or seeking ways to cope and get help for stress, relationships, parenting, or any other issue during this challenging time, we have wonderful resources for you to connect with. Our WU Best Help members are offering reduced rates, sliding scale payment options, and even pro-bono sessions. WU Best Help
The Wellness Universe is your resource for health, wellness, well-being, and transformation. We serve and support professionals who make the world a better place and individuals and groups who seek their best life.
A woman owned company; having the vision in 2013, Anna Pereira launched the first directory in 2015 bringing together a community of members making the world a better place to be found by those seeking their best life. The Wellness Universe has grown since then to be a one-stop shop for total wellness support! We are a vetted community, online directory, book publisher, resource center, event producer, content platform, and so much more, supporting whole-health and well-being on a global scale.
The Wellness Universe is a home that connects industry professionals in the health, wellness, and well-being fields to seekers of total well-being. WU provides our WU World-Changer members with peer support, Wellness Universe produced events (live and online), projects, visibility, business mentoring, and community. Through The Wellness Universe our WU World-Changer members serve WU Friends, seekers of health, wellness and transformation, with coaching, workshops, content and more.
The Wellness Universe provides individuals and groups seeking their best lives with access to our members, wellness content, educational resources, and guidance in all areas of wellness to transform visions of how they want to live life into the life they experience.
Through the directory, WU Featured Blog, SoulTreat wellness retreat, Self-Care Books, group well-being programs, and online learning center, The Lounge, The Wellness Universe provides many avenues to support whole health, mind, body, spirit and planet.
Join us today! Wellness Professional or Seeker of Your Best Life