What is resilience?
People vary in their ability to adapt to stress in life and different abilities to recover from stressful experiences. This capacity to handle stress is called resilience. Key factors determining resilience are the qualities that help you recover from a stressful event and help you thrive in the face of any challenge.
How to nurture and sustain resilience is an essential part of healing and is the topic of an upcoming panel discussion, Resilience for Everyday: Tools, Tips & Exercises for Well-being.
So far, we do not understand why some people are born with more resilience than others. Trauma, such as regular and repeated stress, can influence anyone's coping capacity, regardless of how much resilience they are born with. A person's resilience shows up through their genetic expression related to their life experiences and beliefs. Further, our capacity for resilience can be modified, learned, and enhanced just like any other skill.
How is resilience measured?
Currently, there is no specific biological measurement for resilience. No brain chemical or neurotransmitter can be pointed to that produces resiliency. However, resilience measurements can accurately describe the relative resilience of the individual within their context and groups. A resilience test assesses the critical aspects of resilience.
There are several resilience tests but no definite consensus on measuring resilience – or even on what resilience is.
A resilience test can reveal how effectively a person engages with adversity. There are at least fourteen different frameworks that try to measure resilience.
Thus, research in recent years has determined that resilience is a skill that can be learned and has focused on exactly how it could be developed.
Resilience reflects one's capacity to live in the world. Realize that you hold the ability to impact your own life. The Predictive 6 Factor Resilience Assessment Scale (PR6) is a newer scale based on the definition of resilience developed by Rossouw & Rossouw in 2016: "advancing despite adversity." The PR6 scale sets out these parameters that contribute to developing resilience:
Vision is recognizing that you hold the ability to impact your own life.
Composure allows you to focus on your emotional state to center on your goals and purpose.
Tenacity helps you recover quickly and keep moving forward.
Reasoning helps you to creatively solve problems during challenges.
Collaboration provides a connection through a support network.
Health– a healthy body allows for a healthy mind, and a healthy mind is a resilient mind.
So how can an individual build resilience?
Resilience can be learned and developed in anyone
Resilience provides you with the capacity to harness inner strength. It helps you rebound efficiently from a setback or challenge, such as a job loss, an illness, a disaster, or a loved one's death.
Resilience won't make your problems disappear — but resilience can allow you to see past them, find enjoyment in life, and better handle stress. If you aren't as resilient as you'd like to be, you can develop skills to become more resilient.
Resilience is the ability to adapt to challenging situations. When stress, adversity, or trauma strikes, you still experience anger, grief, and pain, but you can keep functioning — both physically and psychologically. However, resilience isn't about putting up with something difficult, being stoic, or figuring it out on your own. Being able to reach out to others for support is a vital part of being resilient.
Tips for nurturing and sustaining your resilience
If you aren't as resilient as you'd like to be, you can develop skills to become more resilient. If you'd like to create more resilience, try these tools:
Get connected. Building strong, affirming relationships with loved ones and friends. Such a support network can provide you with needed encouragement, coregulation, and acceptance in good and bad times. You can develop other sustaining connections through public service or become a spiritual community member.
Step into purpose. Do something that gives you a sense of purpose every day. Provide yourself with some structure so that you feel a sense of accomplishment.
Learn from your experiences. Remember how you have adapted to circumstances around hardships in the past. What skills and strategies helped you through these trying times?
Keep a journal. Write about past experiences in a journal. A record of your past will help you identify your behavior patterns, both positive and negative. Use your observations to guide your future behavior.
Stay in gratitude. You can't change the past, yet you can learn from its lessons and be grateful for everything you have in the present.
Take care of yourself. Look to your needs. Allow yourself to feel your feelings. Have fun! Move your body. Get plenty of sleep. Eat a healthy diet. Practice stress management techniques like yoga, Qi Gong, meditation, or prayer.
Resilience gives you the capacity to harness inner strength. It helps you rebound efficiently from a setback or challenge, such as a job loss, an illness, a disaster, or a loved one's death.
Resilience doesn't remove your problems in life, but resilience allows you to see past them and better handle stress.
Live Event 6/4/22 10am ET/ 7am PT – Free to join support vis donation.
Elizabeth Kipp is the author of The Way Through Chronic Pain: Tools to Reclaim Your Healing Power. She is a Chronic Pain Management Specialist, Addiction Recovery Coach, and Ancestral Clearing Practitioner. You can reach Elizabeth through her website at https://Elizabeth-Kipp.com
Connect with Elizabeth Kipp on The Wellness Universe and walk away feeling better!
---
All information, content, and material are for informational purposes only and are not intended to serve as a substitute for the consultation, diagnosis, and/or medical treatment of a qualified physician or healthcare provider. The information supplied through or on this page, or by any representative or agent of The Wellness Universe, is for informational purposes only and does not constitute medical, legal, or other professional advice. Health-related information provided through this website is not a substitute for medical advice and should not be used to diagnose or treat health problems or to prescribe any medical devices or other remedies. The Wellness Universe reserves the right to remove, edit, move or close any content item for any reason, including, but not limited to, comments that are in violation of the laws and regulations formed pursuant to the Federal Food, Drug, and Cosmetic Act. None of the posts and articles on The Wellness Universe page may be reprinted without express written permission.
---
The Wellness Universe Q&A, Meet & Greet
A warm gathering for Members and those thinking of becoming members of The Wellness Universe. 
Come and meet with our Wellness Universe Mission Ambassador Nicole, AKA Nikki, Batiste for a welcoming gathering to inform you about our community, connect to other world-changers,  and how to get involved.
---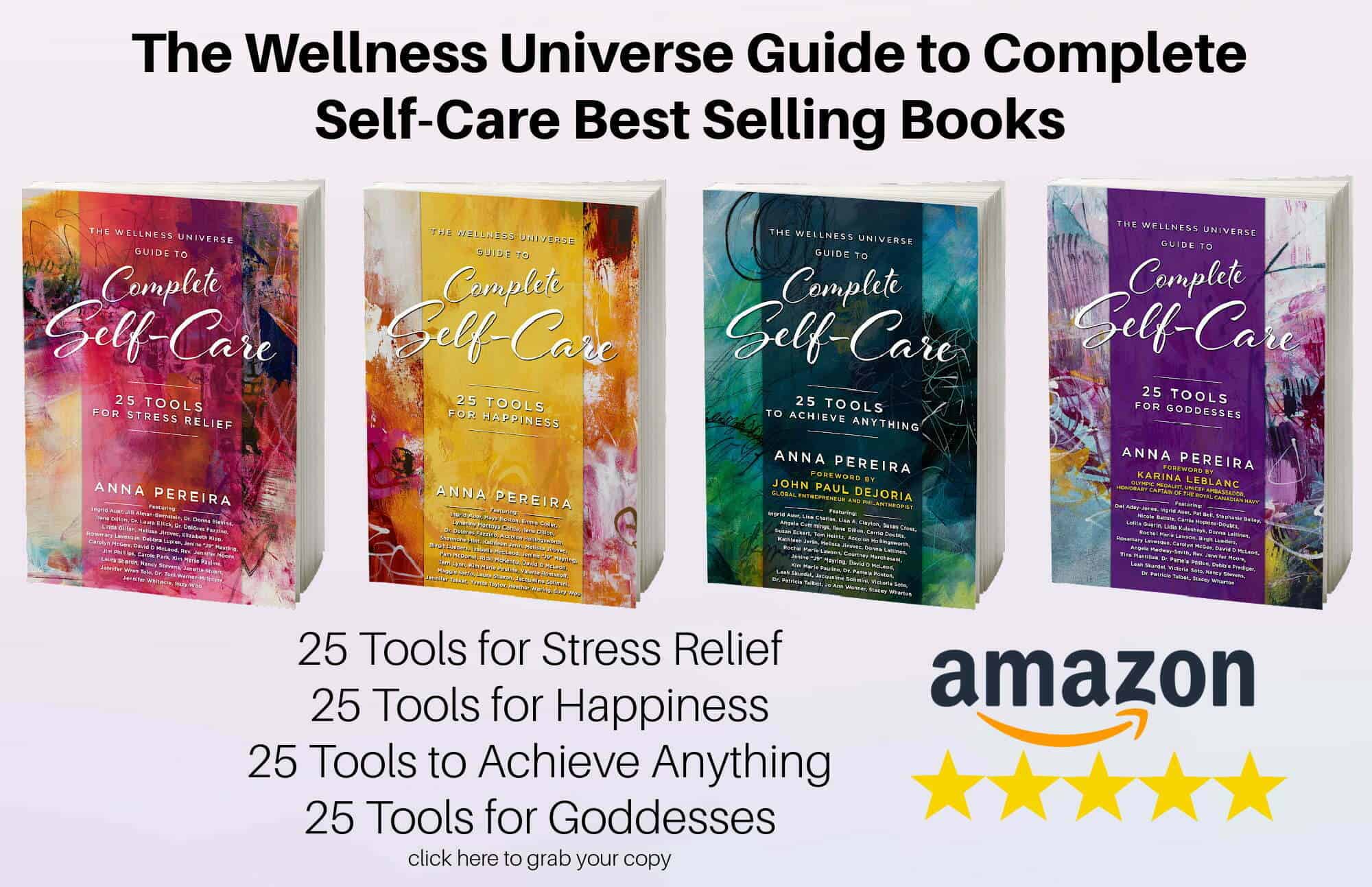 With over 250 independent reviews see how our self-care books are helping thousands of people around the world. Digital and paperback books are available now.
---
Self-development, self-care, and inspirational classes and sessions by Wellness Universe World Changer instructors who support your total well-being.
 Visit The Wellness Universe Lounge today!
---
The Wellness Universe is here to serve your best well-being. If you are experiencing anxiety, grief, overwhelm, guilt, anger, or seeking ways to cope and get help for stress, relationships, parenting, or any other issue during this challenging time, we have wonderful resources for you to connect with. Our WU Best Help members are offering reduced rates, sliding scale payment options, and even pro-bono sessions. WU Best Help
Elizabeth is a Health Facilitator, Empowerment Coach, EFT/Tapping and Ancestral Clearing Practitioner, and Kundalini Yoga Teacher, helping people to step into the power of their own healing. She has turned her attention as a patient advocate and health facilitator in service to the alarmingly high population of people who suffer from stress, chronic pain, and the quest for a life free from suffering.