In short, yes, everyone is capable of achieving their dreams.
We are ALL given an opportunity to manifest and create our own realities. The Wellness Universe is all about supporting and encouraging everyone to pursue their heart's desires, whatever they are, and there are a few tips to consider in order to give yourself the best chance for success.
Stick to your strengths
Your strengths are the "tools" you came to this earth with in order to achieve success in this life. When creating our dreams, we may see another person living them and think we should do it like them. It's great to have a model to emulate but following them exactly may not be for your Highest Good. You may have another component to your personality to add to the mix to make it uniquely your own and therefore bring something entirely new and fresh to the world that adds incredible value to peoples' lives.
If we're pursuing a dream but are following another person's way of doing it too closely we may run into obstacles and think, "This isn't working; I must be failing; there's something wrong with me," but that couldn't be further from the truth! When that happens, it is most beneficial to focus on adjusting your dream or outcome to tailor it to what YOU are naturally good at.
For example, certain dreams call for a more outgoing, extroverted personality, while others are more suited for an introverted personality. If you are an introvert who sees an extrovert living a dream you desire to experience, you may find it a little less natural to start conversations or be social, whereas the extroverted person excels at this. As much as the introvert wants to experience the life of the extrovert, each of their skill sets will directly influence the required steps along their respective journeys, and therefore, their individual outcomes. One will find it easy to create; the other will find it more challenging. If, for instance, the introvert has a desire to become more extroverted, they must be honest with themselves about how far they are willing to stretch outside of their comfort zone to manifest that dream.
It's much easier to be honest with yourself about what you can easily do versus what requires more effort and discomfort for you to achieve. It's challenging enough to bring your dreams into your reality; you don't need to add to it by undervaluing and underutilizing your strengths.
Exercise no. 1
Write down all the things that come naturally to you. What are the things you might take for granted or think everyone else has? Once your list is full, but not necessarily complete, see if you can find the common denominator between each item. If the Universe is trying to steer you in the right direction using your strengths as guidance, what "solution" do all these qualities point to? In what way can you express all or many of your strengths to benefit yourself and the world around you?
You don't have to use ALL your strengths to manifest one dream vision but building a plan for yourself utilizing many of your "tools" will smooth out the journey and make it much more fun, rather than a struggle.
Believe in yourself, even if you are the only one who does
This is where you can supercharge your manifestation abilities to achieve your dreams. Being CERTAIN of what you wish to accomplish makes it more real and helps take it from mind to reality much more quickly. Faith makes your dreams possible; certainty makes them inevitable. Be so certain that you just KNOW it's only a matter of time before it will actualize.
By believing in yourself and the vision you see for yourself, others will be more likely to believe in you too. Don't allow yourself to totally rely on that initially. At first, you may face resistance from your surroundings, especially if you are bringing something new to the world. As you progress on your path with faith and certainty, other like-minded people will join in and want to support you. That's when belief in yourself attracts others who add to and enhance the power of your belief.
Exercise no. 2
The phrase "I am" is incredibly powerful, and anything you put after it becomes a "command" to the Universe to make it so. Use this phrase to help you stay on track and keep your belief strong. As a daily or as-needed practice, write down the words, "I am…" and then fill in the blank. Write it for as many things that come to mind. This exercise boosts your beliefs, with certainty, as you state, "I am _______." Be certain that your dreams will inevitably happen and release the how and the when; that job is for the Universe to fulfill.
Believing in yourself and sticking to your strengths are two major components that make achieving your dreams a WHOLE LOT easier. When self-doubt is introduced and when you're not being honest with yourself about your capabilities and strengths, you may be adding unnecessary struggle to the equation. It will most certainly provide opportunities to learn from, which is still a benefit. However, if you want to have as much fun and joy as possible, embrace your natural abilities, apply your "tools," and believe that you can achieve your dreams, and you will.
If you provide support or products that make the world a better place and help humanity live in health, happiness, and wholeness, join us as a WU World-Changer.
– The Wellness Universe
*Adapted from an article originally published on October 15, 2018
---
All information, content, and material are for informational purposes only and are not intended to serve as a substitute for the consultation, diagnosis, and/or medical treatment of a qualified physician or healthcare provider. The information supplied through or on this page, or by any representative or agent of The Wellness Universe, is for informational purposes only and does not constitute medical, legal, or other professional advice. Health-related information provided through this website is not a substitute for medical advice and should not be used to diagnose or treat health problems or to prescribe any medical devices or other remedies. The Wellness Universe reserves the right to remove, edit, move, or close any content item for any reason, including, but not limited to, comments that are in violation of the laws and regulations formed pursuant to the Federal Food, Drug, and Cosmetic Act. None of the posts and articles on The Wellness Universe page may be reprinted without express written permission.
---
The Wellness Universe welcomes you to our Mid-Week Reset Meditation led by Leah Skurdal, Intuitive Wellness Guide.
Our group meditation is live every 1st and 3rd Wednesday. Sign up here: 
https://bit.ly/WUMidWeekMeditation
---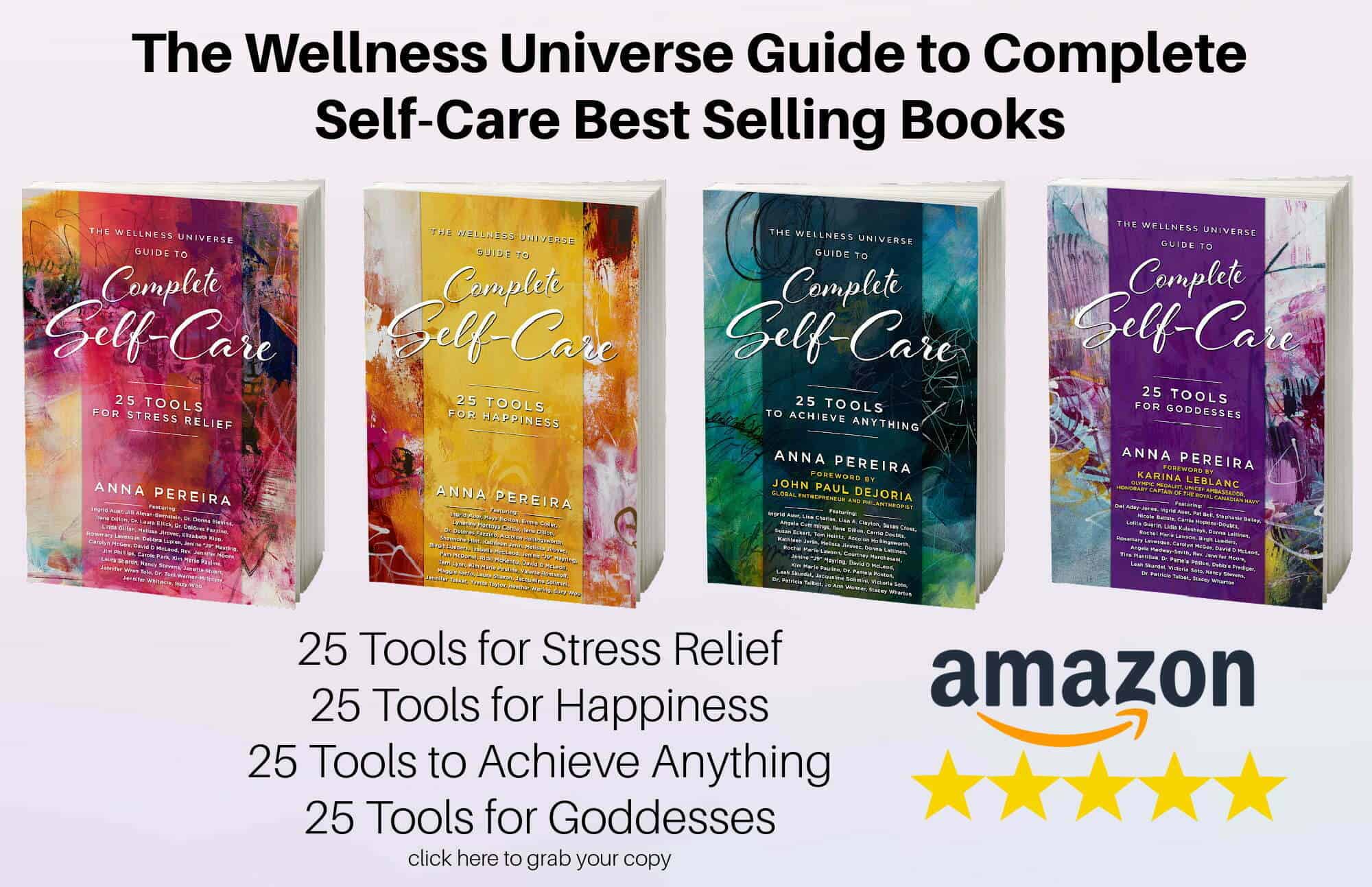 With over 250 independent reviews see how our self-care books are helping thousands of people around the world. Digital and paperback books are available now.
---

Connect to the people that help you live your best life: The Wellness Universe
The Wellness Universe is your resource for health, wellness, well-being, and transformation. We serve and support professionals who make the world a better place and individuals and groups who seek their best life.
A woman owned company; having the vision in 2013, Anna Pereira launched the first directory in 2015 bringing together a community of members making the world a better place to be found by those seeking their best life. The Wellness Universe has grown since then to be a one-stop shop for total wellness support! We are a vetted community, online directory, book publisher, resource center, event producer, content platform, and so much more, supporting whole-health and well-being on a global scale.
The Wellness Universe is a home that connects industry professionals in the health, wellness, and well-being fields to seekers of total well-being. WU provides our WU World-Changer members with peer support, Wellness Universe produced events (live and online), projects, visibility, business mentoring, and community. Through The Wellness Universe our WU World-Changer members serve WU Friends, seekers of health, wellness and transformation, with coaching, workshops, content and more.
The Wellness Universe provides individuals and groups seeking their best lives with access to our members, wellness content, educational resources, and guidance in all areas of wellness to transform visions of how they want to live life into the life they experience.
Through the directory, WU Featured Blog, SoulTreat wellness retreat, Self-Care Books, group well-being programs, and online learning center, The Lounge, The Wellness Universe provides many avenues to support whole health, mind, body, spirit and planet.
Join us today! Wellness Professional or Seeker of Your Best Life