Recovering from the effects of a traumatic experience can be challenging. The elements of trauma recovery include holistic healing tools and modalities able to address the changes in the mind/body/spirit that occur because of one's traumatic experience.
What is trauma?
Dr. Gabor Mate defines trauma this way: "Trauma isn't what happened to you. It's what happens inside you because of what happened to you." Gabor Mate turns our attention not to the action causing the trauma but to the meaning we make of it and how it affects our inner world.
Trauma is our response to an event that we find upsetting and stressful. Naturally, we feel afraid and anxious as part of our traumatic reaction. We can also feel numb, shut down, and disconnected. Trauma can disturb our sense of safety. It can cause physical, emotional, and spiritual damage when unresolved. The effects of trauma can lead to chronic pain and chronic illness.
Types of traumas
Many events, such as accidents, environmental disasters, violence, and abuse, can cause trauma.
Gabor Mate outlines three different types of trauma in his book In the Realm of Hungry Ghosts" Close Encounters with Addiction:
Shock trauma: Shock trauma is the kind of single event that is so overwhelming that it fractures our whole sense of self and our world. The Japanese attack on Pearl Harbor in 1941 is an example of shock trauma.
Developmental trauma: This type of trauma is a repeated experience of adversity during our development. Developmental trauma includes physical or emotional abuse, abandonment, or being raised disruptive, confusing, or unpredictable environment.
Attachment trauma: This type of trauma refers to an early separation of a baby or young child from their caretakers. Examples of such ruptures occur when a child is given up for adoption or loses their parents to war.
Collective vs. Individual trauma: Collective trauma is a trauma that impacts an entire community. It is a shared emotional reaction to an overwhelming event, such as 9/11 or what the Indigenous Americans experienced on The Trail of Tears. While these traumas can be dealt with collectively, each individual within the group can be impacted differently.
Elements of trauma recovery
Since trauma is an experience that affects the body, mind, and soul, we need to use a holistic approach to recovery. These are at least some of the elements that help us heal.
Regulating the nervous system – The nervous system becomes dysregulated in reaction to trauma because we perceive that we have lost our sense of safety in the world. Breathwork, voice, and other sound healing modalities are somatic-based ways to help regulate the nervous system in trauma recovery. We practice mind-body regulation strategies that help establish and maintain a ventral vagal state of social engagement, felt safety, and coregulation.
Reestablishing emotional balance – Learn the healing power of authentic storytelling and personal narratives to build empathy and compassion between individuals, reduce bias, and learn the power of true forgiveness.
Calming the mind – Meditation helps to calm the chaos in the mind that we experience from trauma. It is a foundational part of trauma recovery.
Safe community – We experience trauma as a rupture in a relationship. We heal when we find a community where we feel safe and supported.
Social justice and trauma recovery – experiences of implicit bias, microaggressions, overt racism, and social marginalization impact the brain and nervous system and can be registered in the body as a form of trauma for people of all ages. Reflective exercises help us explore where unconscious bias lives in one's body and how it shows up as nervous system triggers (fight, flight, freeze, appease) in the nervous system.
Elizabeth Kipp will teach these elements and more in the upcoming donation-based online course Healing. Here. Now. Mindfulness, Trauma, and Recovery starting this January 9 at 3 pm PT/ 6 pm ET in partnership with the Wellness Universe's exclusively for Wellness For All programming. The class will meet every second Monday of the month for 12 months. For more information and registration, click here.
Elizabeth Kipp is the author of The Way Through Chronic Pain: Tools to Reclaim Your Healing Power. She is a Chronic Pain Management Specialist, Addiction Recovery Coach, and Ancestral Clearing Practitioner.
Connect with Elizabeth Kipp on The Wellness Universe and walk away feeling better!
---
All information, content, and material are for informational purposes only and are not intended to serve as a substitute for the consultation, diagnosis, and/or medical treatment of a qualified physician or healthcare provider. The information supplied through or on this page, or by any representative or agent of The Wellness Universe, is for informational purposes only and does not constitute medical, legal, or other professional advice. Health-related information provided through this website is not a substitute for medical advice and should not be used to diagnose or treat health problems or to prescribe any medical devices or other remedies. The Wellness Universe reserves the right to remove, edit, move or close any content item for any reason, including, but not limited to, comments that are in violation of the laws and regulations formed pursuant to the Federal Food, Drug, and Cosmetic Act. None of the posts and articles on The Wellness Universe page may be reprinted without express written permission.
---
Welcome to The Soul Artist Experience! The Wellness Universe is happy to announce our partnership in Wellness for All programming with Jane Ramsey Founder of The Soul Artist Experience, Certified Meditation Teacher, Accomplished Author, and Inspired Artist. 
Register today prior to the LIVE launch: https://bit.ly/SoulArtistExperience
---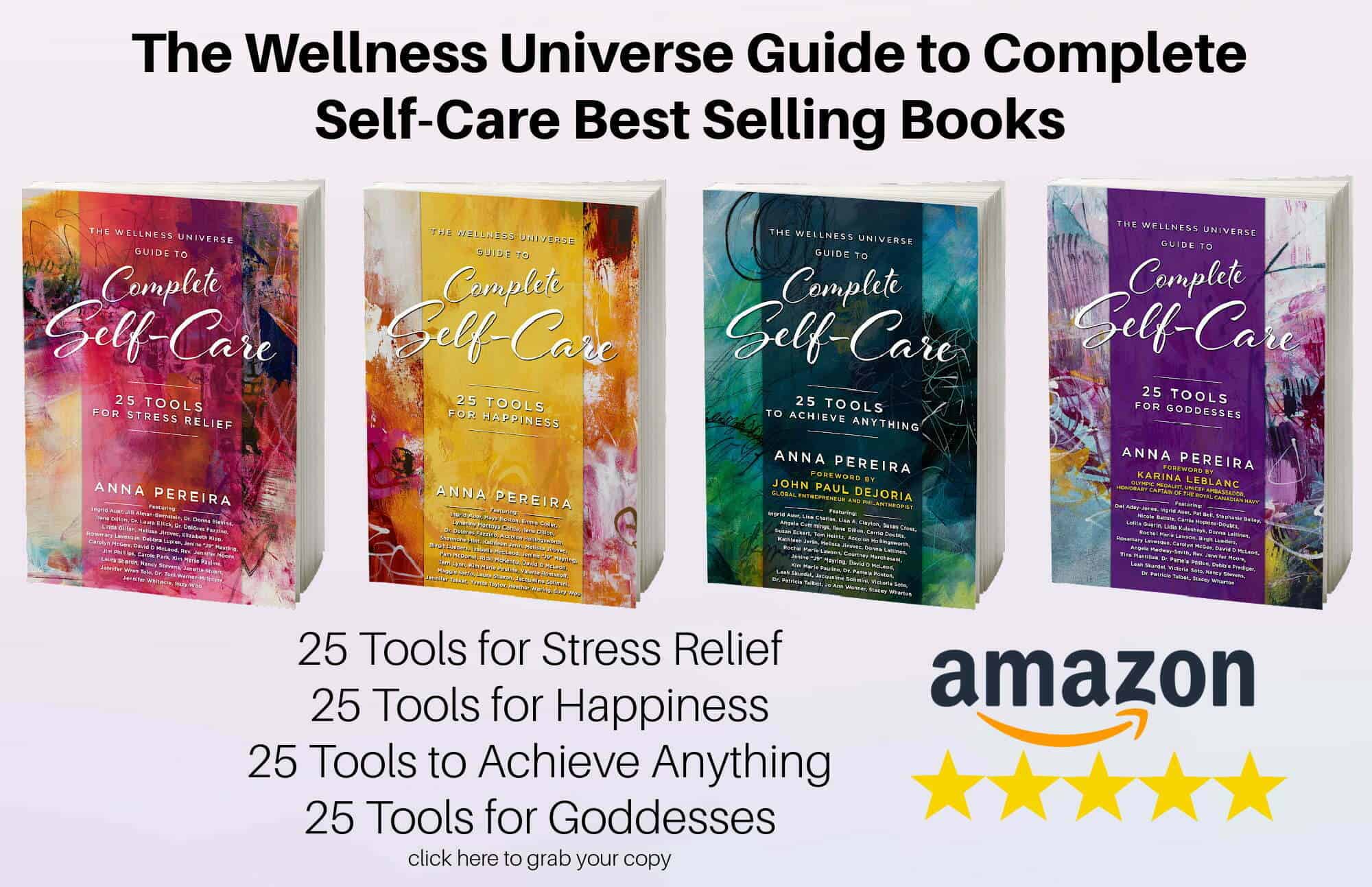 With over 250 independent reviews see how our self-care books are helping thousands of people around the world. Digital and paperback books are available now.
---

Connect to the people that help you live your best life: The Wellness Universe
Elizabeth is a Health Facilitator, Empowerment Coach, EFT/Tapping and Ancestral Clearing Practitioner, and Kundalini Yoga Teacher, helping people to step into the power of their own healing. She has turned her attention as a patient advocate and health facilitator in service to the alarmingly high population of people who suffer from stress, chronic pain, and the quest for a life free from suffering.