July 7th, 2023, is Global Forgiveness Day. On this special day, people worldwide come together to celebrate forgiveness and kindness.
Let's dive into what forgiveness means, why it is important, and how we can spread kindness in our own lives.
What is forgiveness?
Forgiveness is the choice of letting go of anger towards someone who has hurt us. When we forgive, we free ourselves from negative emotions and open our hearts to kindness and understanding. It doesn't mean forgetting what happened, it means choosing to move forward and treating others with kindness and respect.
Why is forgiveness important?
Because it helps us build healthy relationships and create a peaceful world. When we forgive, we let go of grudges and give others a chance to make things right. Forgiving can make us feel happier and lighter. It also helps us understand that nobody is perfect and that we all make mistakes from time to time. Forgiveness brings people together and helps us solve problems peacefully.
Global Forgiveness Day: A day of kindness
Global Forgiveness Day is a special day when people worldwide come together to celebrate forgiveness and spread kindness. What can we do to honor this day? We can do acts of kindness, like apologizing, helping others, or sharing a kind word. We can also write letters to offer forgiveness and make peace with someone we've had a disagreement with. Global Forgiveness Day reminds us that forgiveness has no boundaries, and that kindness can make a big difference in our world.
Ways to spread forgiveness and kindness
There are many ways we can spread forgiveness and kindness in our own lives. We can listen to others when they share something and try to understand their feelings.
Offering an apology when we make a mistake is also an important way to show kindness. Remember, even small acts of kindness can have a big impact on someone's day.
The power of forgiveness
Global Forgiveness Day helps us remember the power of forgiveness and kindness. By forgiving others and being kind we can create a better, more loving world.
Forgiveness isn't always easy, but it's worth it. Let's practice it every day. By spreading kindness wherever we go, we can make the world a better place.
Remember, forgiveness is a special gift we can give ourselves and others. Let's embrace it and make our world a kinder and happier place for everyone!
Your assignment (should you choose to accept it)
Call or text someone you haven't spoken with in more than three months. Rekindle the friendships you once had by embracing forgiveness and allowing yourself to enjoy its power.
---
All information, content, and material are for informational purposes only and are not intended to serve as a substitute for the consultation, diagnosis, and/or medical treatment of a qualified physician or healthcare provider. The information supplied through or on this page, or by any representative or agent of The Wellness Universe, is for informational purposes only and does not constitute medical, legal, or other professional advice. Health-related information provided through this website is not a substitute for medical advice and should not be used to diagnose or treat health problems or to prescribe any medical devices or other remedies. The Wellness Universe reserves the right to remove, edit, move, or close any content item for any reason, including, but not limited to, comments that are in violation of the laws and regulations formed pursuant to the Federal Food, Drug, and Cosmetic Act. None of the posts and articles on The Wellness Universe page may be reprinted without express written permission.
---
The Wellness Universe welcomes Kathy Jerin, Spiritual Leadership & HeartMath Trainer, in partnership with Wellness for All programming for Self Mastery Through Spiritual Awareness with Kathy. 
Catch the recorded session(s) and be sure to join the next LIVE class! 
Register today https://bit.ly/SMTSAwKathyJerin
---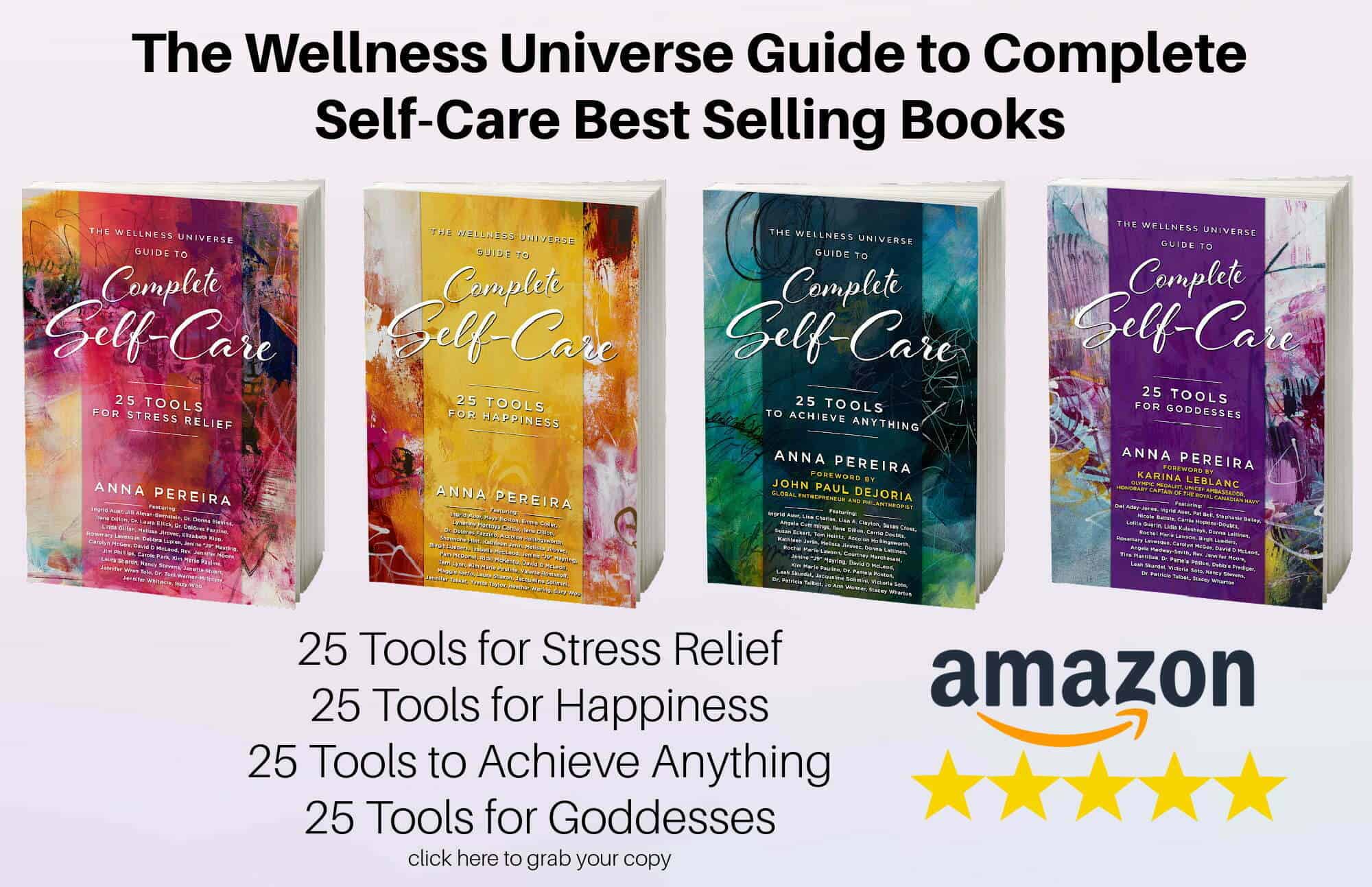 With over 250 independent reviews see how our self-care books are helping thousands of people around the world. Digital and paperback books are available now.
---

Connect to the people that help you live your best life: The Wellness Universe
The Wellness Universe is your resource for health, wellness, well-being, and transformation. We serve and support professionals who make the world a better place and individuals and groups who seek their best life.
A woman owned company; having the vision in 2013, Anna Pereira launched the first directory in 2015 bringing together a community of members making the world a better place to be found by those seeking their best life. The Wellness Universe has grown since then to be a one-stop shop for total wellness support! We are a vetted community, online directory, book publisher, resource center, event producer, content platform, and so much more, supporting whole-health and well-being on a global scale.
The Wellness Universe is a home that connects industry professionals in the health, wellness, and well-being fields to seekers of total well-being. WU provides our WU World-Changer members with peer support, Wellness Universe produced events (live and online), projects, visibility, business mentoring, and community. Through The Wellness Universe our WU World-Changer members serve WU Friends, seekers of health, wellness and transformation, with coaching, workshops, content and more.
The Wellness Universe provides individuals and groups seeking their best lives with access to our members, wellness content, educational resources, and guidance in all areas of wellness to transform visions of how they want to live life into the life they experience.
Through the directory, WU Featured Blog, SoulTreat wellness retreat, Self-Care Books, group well-being programs, and online learning center, The Lounge, The Wellness Universe provides many avenues to support whole health, mind, body, spirit and planet.
Join us today! Wellness Professional or Seeker of Your Best Life