Forest fires have emerged as a global concern due to their destructive impact on air quality and the subsequent health risks they pose to populations. These fires, often caused by human activities such as agriculture and deforestation, release significant amounts of air pollutants, resulting in severe air quality degradation. This blog explores the relationship between forest fires and air quality, highlighting the detrimental effects and potential strategies to mitigate their impact.
The Link between Forest Fires and Air Quality
Forest fires emit a range of air pollutants, including fine particulate matter (PM2.5) and surface ozone, which contribute to air quality deterioration. PM2.5 refers to particles with a diameter of 2.5 micrometers or smaller, capable of penetrating deep into the lungs and causing adverse health effects. These particles have been associated with respiratory and cardiovascular problems [3].
Studies have shown that forest fires, particularly in regions like Southeast Asia, significantly impact regional air quality. Forest fires in Southeast Asia, specifically in Mainland Southeast Asia and south-eastern China, have been linked to high levels of PM2.5 pollution, negatively affecting air quality in the region [2]. Eliminating these fires could lead to substantial improvements in air quality, reducing PM2.5 concentrations by 7% and surface ozone concentrations by 5% in the affected areas [2]. Such reductions would have a significant public health benefit, potentially averting thousands of premature deaths annually [2].
The Unique Characteristics of Wildfire Smoke
Wildfire smoke possesses distinct characteristics compared to other sources of PM2.5, such as urban ambient pollution. Studies have indicated that particulate matter from wildfires exhibits higher toxicity compared to equivalent doses from other sources [3]. The increased toxicity can be attributed to factors such as heightened inflammation, oxidative stress, and altered pulmonary macrophage activity [3]. The carbonaceous nature of wildfire smoke, with higher levels of organic carbon and elemental carbon, contributes to its greater oxidative potential and ability to generate free radicals, resulting in inflammation and oxidative stress in the lungs [3].
Health Impacts and Public Health Priority
Exposure to PM2.5 from forest fires has been associated with various health problems, particularly respiratory and cardiovascular issues [3]. While some uncertainties remain, epidemiological studies have demonstrated that wildfire-specific PM2.5 exacerbates these health conditions [3]. Therefore, it is crucial to differentiate between smoke and non-smoke PM2.5 when assessing their impacts on public health [3].
Addressing the Issue
Given the significant impact of forest fires on air quality and public health, it is imperative to prioritize efforts aimed at reducing and preventing these fires. Implementing measures to control and manage forest fires can contribute to rapid improvements in air quality. Strategies such as sustainable land use practices, stricter regulations, and increased enforcement can help reduce the occurrence of forest fires and limit their adverse effects on air quality.
Furthermore, international collaboration is essential to address the transboundary nature of forest fires. Countries in affected regions should work together to develop coordinated approaches for fire prevention and management. Sharing best practices, technology, and resources can enhance the effectiveness of fire suppression and control measures.
Forest fires have a significant impact on air quality, releasing harmful pollutants that pose risks to public health. The reduction and prevention of forest fires should be a priority for governments, communities, and stakeholders. By implementing sustainable practices and effective fire management strategies, we can mitigate the adverse effects of forest fires on air quality and protect the well-being of individuals and communities.
References:
---
All information, content, and material are for informational purposes only and are not intended to serve as a substitute for the consultation, diagnosis, and/or medical treatment of a qualified physician or healthcare provider. The information supplied through or on this page, or by any representative or agent of The Wellness Universe, is for informational purposes only and does not constitute medical, legal, or other professional advice. Health-related information provided through this website is not a substitute for medical advice and should not be used to diagnose or treat health problems or to prescribe any medical devices or other remedies. The Wellness Universe reserves the right to remove, edit, move, or close any content item for any reason, including, but not limited to, comments that are in violation of the laws and regulations formed pursuant to the Federal Food, Drug, and Cosmetic Act. None of the posts and articles on The Wellness Universe page may be reprinted without express written permission.
---
The Wellness Universe presents Leah Skurdal, Resilience Event Leader, Reset Meditation Guide, and Visionary Thought Leader, holding space and guiding you through High Vibration Living: Leaders Bridging Inner & Outer Peace. A program for heart-led leaders to connect and grow brought to you in partnership with Wellness for All programming.
Catch the recorded session(s) and be sure to join the next LIVE class! 
Register today https://bit.ly/HighVibrationLiving
---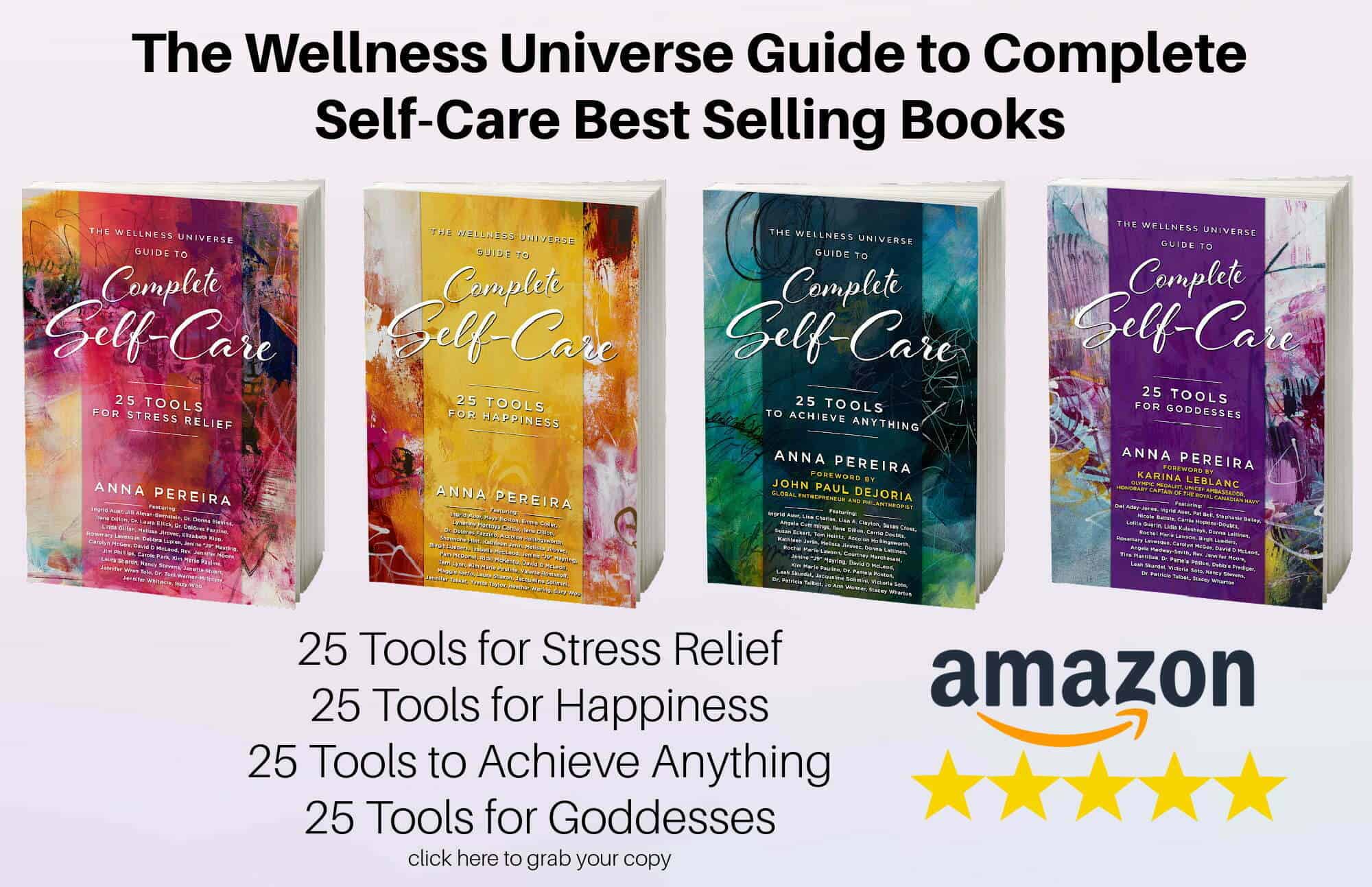 With over 250 independent reviews see how our self-care books are helping thousands of people around the world. Digital and paperback books are available now.
---

Connect to the people that help you live your best life: The Wellness Universe
The Wellness Universe is your resource for health, wellness, well-being, and transformation. We serve and support professionals who make the world a better place and individuals and groups who seek their best life.
A woman owned company; having the vision in 2013, Anna Pereira launched the first directory in 2015 bringing together a community of members making the world a better place to be found by those seeking their best life. The Wellness Universe has grown since then to be a one-stop shop for total wellness support! We are a vetted community, online directory, book publisher, resource center, event producer, content platform, and so much more, supporting whole-health and well-being on a global scale.
The Wellness Universe is a home that connects industry professionals in the health, wellness, and well-being fields to seekers of total well-being. WU provides our WU World-Changer members with peer support, Wellness Universe produced events (live and online), projects, visibility, business mentoring, and community. Through The Wellness Universe our WU World-Changer members serve WU Friends, seekers of health, wellness and transformation, with coaching, workshops, content and more.
The Wellness Universe provides individuals and groups seeking their best lives with access to our members, wellness content, educational resources, and guidance in all areas of wellness to transform visions of how they want to live life into the life they experience.
Through the directory, WU Featured Blog, SoulTreat wellness retreat, Self-Care Books, group well-being programs, and online learning center, The Lounge, The Wellness Universe provides many avenues to support whole health, mind, body, spirit and planet.
Join us today! Wellness Professional or Seeker of Your Best Life