We can use Ancestral Clearing for generational transformation and, in doing so, break the cycle of suffering from the past.
What is Ancestral Clearing?
Ancestral Clearing is a healing modality that has gained popularity in recent years. It is a way to release the burden of past imprints and their impact on present realities. Much of our past is carried within us, sometimes without our knowledge. These imprints can be from ancestral lines, past lives, and collective consciousness. Ancestral Clearing aims to shift the energy and release us from the past.
We inherited a great deal from our ancestors
Whether we know it or not, we inherited a great deal from our ancestors. We are not just physical beings but are also made of energy and emotion. Ancestral imprints or energetic blocks can interfere with our physical, emotional, and spiritual well-being. These blocks can manifest as limiting beliefs, fears, phobias, anxiety, chronic pain, depression, and much more. However, we don't have to be defined by our past. We can release ourselves from the burden of our ancestral imprints, where Ancestral Clearing comes in.
Ancestral Clearing complements other healing modalities
Ancestral Clearing is a trademarked protocol created by John Newton of Health Beyond Belief, LLC. The process complements other healing modalities and aims to release the burden of past imprints and their impact on our present reality. The process is designed to work on multiple levels – energetic, emotional, mental, physical, and spiritual.
The science of ancestral information
The influence of our ancestors has been supported by scientific research. Studies have measured the imprints 14 generations back in our DNA. The mitochondria, which produce energy in cells, are passed down exclusively from mothers. The research suggests that information is passed down from generation to generation, and whether it is active depends on environmental factors.
Ancestral imprints of pandemics
The recent Covid pandemic brought up present awareness of imprints left from trauma experienced during past pandemics, such as the plague in the Middle Ages. Ancestral Clearing can help to release the burden of past trauma and assist in our ability to cope in the present.
The process of Ancestral Clearing
Ancestral Clearing involves holding space, bringing in source energy, and asking for help from a co-creative process with source energy to release our ancestral blocks. This process does not involve seeking forgiveness from our ancestors, but rather, it is a neutral process of releasing the patterns that no longer serve us. The process can be done remotely or in person and can benefit those who want to be free from the baggage of their past.
The benefits of Ancestral Clearing
The benefits of Ancestral Clearing are multi-faceted. It can increase our awareness of our emotions, release physical pain, increase our energy, improve our relationships, break limiting patterns and beliefs, and increase self-awareness and overall well-being. The process also helps to clear the way for us to connect more to our intuition and soul purpose. It supports our ability to listen to our hearts and to trust our wisdom.
Gaining new insights into patterns from the lineage
Identifying patterns and behavioral traits within our family lineage can be a great tool for self-growth. One benefit of Ancestral Clearing is the opportunity to gain insights into these patterns. We can use the wisdom of those patterns to facilitate healing or awareness. By lifting the imprints, we can create space for new ways of being and thinking.
Releasing negative energetic imprints from the past
In conclusion, Ancestral Clearing is a powerful process that can assist us in releasing the burden of our past and stepping forward into our future with presence, clarity, and lightness. Using Ancestral Clearing for generational transformation allows us to break unhealthy patterns from the past. As we release the negative energetic imprints from our past and our ancestral past, we can step forward into our future with a greater sense of well-being, purpose, and peace.
Connect with Elizabeth Kipp on The Wellness Universe and walk away feeling better!
---
All information, content, and material are for informational purposes only and are not intended to serve as a substitute for the consultation, diagnosis, and/or medical treatment of a qualified physician or healthcare provider. The information supplied through or on this page, or by any representative or agent of The Wellness Universe, is for informational purposes only and does not constitute medical, legal, or other professional advice. Health-related information provided through this website is not a substitute for medical advice and should not be used to diagnose or treat health problems or to prescribe any medical devices or other remedies. The Wellness Universe reserves the right to remove, edit, move, or close any content item for any reason, including, but not limited to, comments that are in violation of the laws and regulations formed pursuant to the Federal Food, Drug, and Cosmetic Act. None of the posts and articles on The Wellness Universe page may be reprinted without express written permission.
---
Relax, unwind, and heal with sound in Food for Your Soul. The Wellness Universe invites you to join Sharon Carne, Director of Training and Program Development at the Sound Wellness Institute for this immersive monthly experience.
Catch the recorded session(s) and be sure to join the next LIVE class! 
Register today: https://bit.ly/FoodforYourSoul
---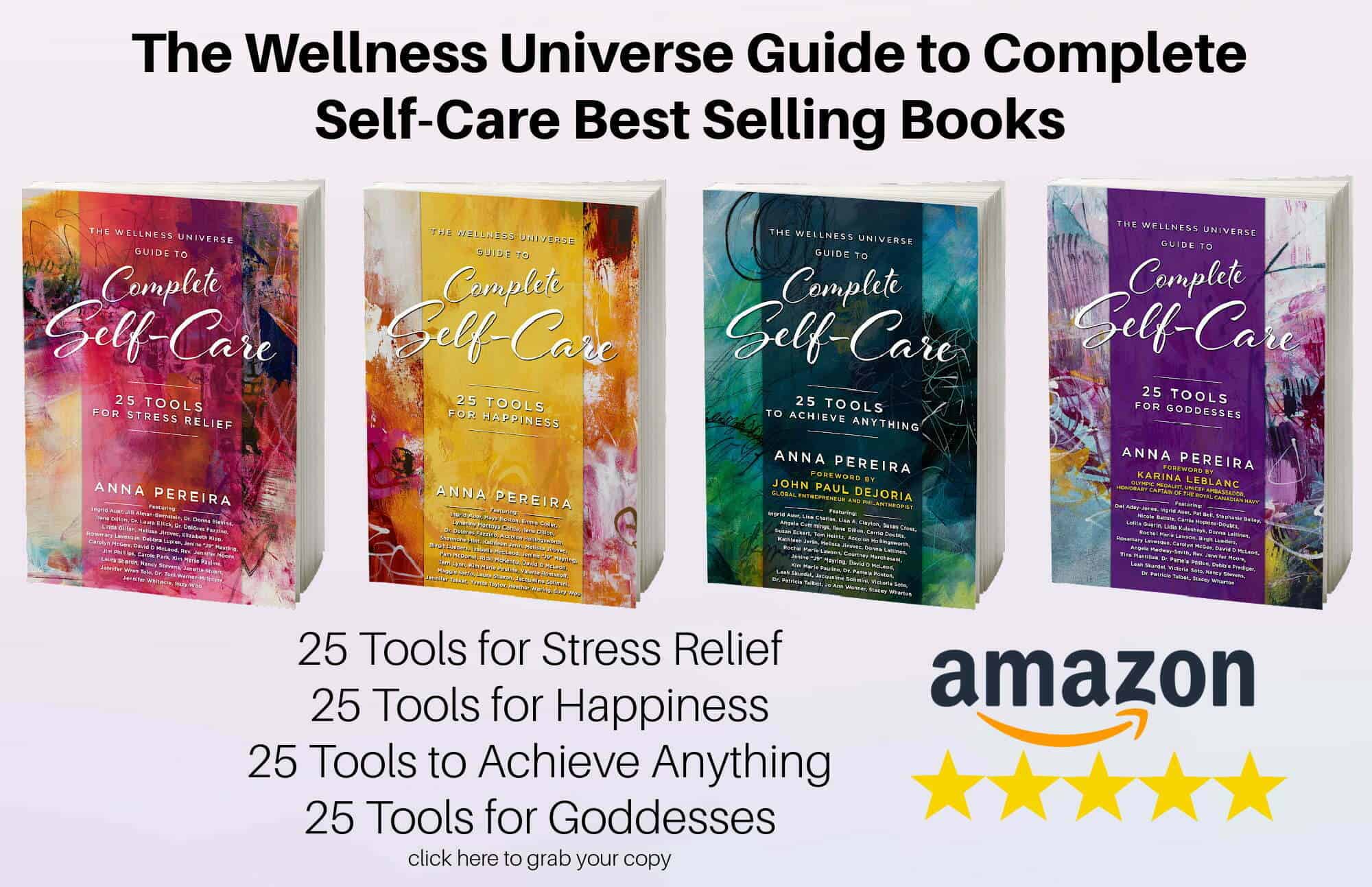 With over 250 independent reviews see how our self-care books are helping thousands of people around the world. Digital and paperback books are available now.
---

Connect to the people that help you live your best life: The Wellness Universe
Elizabeth is a Health Facilitator, Empowerment Coach, EFT/Tapping and Ancestral Clearing Practitioner, and Kundalini Yoga Teacher, helping people to step into the power of their own healing. She has turned her attention as a patient advocate and health facilitator in service to the alarmingly high population of people who suffer from stress, chronic pain, and the quest for a life free from suffering.