Ingrid Auer reads Chapter 22: Your Angel Team, Clearing Your Baggage and Blocks with Divine Assistance from the #1 best-selling book in several categories on Amazon, The Wellness Universe Guide to Complete Self-Care, 25 Tools for Goddesses. Listen and watch the video below as she reads!
Here is an excerpt from the opening of her chapter:
"I still remember him very well. His name was Walter. He was a small, unimpressive man and had taken up residence in my kinesiology practice as an astrologer. I was naturally curious to learn from him what I had planned for my earth life as a soul. "Ingrid, you will be working with a lot of women; I can see that in your birth chart." "Me, with women? After all, I'm not a gynecologist, a midwife, a women's coach!" But Walter was right. In the course of my kinesiological work over two decades, 95% of my clients were women.
At the same time, angels entered my life. At first, I perceived their presence skeptically and cautiously, but they have become the center of my life over the years. In 1998 I received an order from the spiritual world to bring spiritual tools "from heaven to earth." On the one hand, to open people's hearts and, on the other hand, to provide them with spiritual tools for healing their souls. Help for self-help, so to speak.
When my work with angels became more and more known and spread over Europe to the USA, Central, and South America, Japan, and Australia, I gave up my kinesiological work. I was busy starting a small company and bringing my spiritual tools to the world in the form of highly energized symbols and essences. It's not surprising that all my employees are women; my father and my husband are the only male supporters in my company.
Also, as a lecturer, seminar leader, or coach, I was to work almost exclusively with women, although I had no influence over that. It just happened that way. I think of the wonderful and profound women's seminars or women's rituals I've held for various countries with great joy.
So, what Walter predicted for me many years before came true. Even when I walk through rooms where my spiritual tools stand in rows on shelves waiting for their journey into the big wide world, the topic of femininity and womanhood runs like a thread through all the different products.
The majority of my angel essences, oils, and aura essences focus on female issues, such as hormonal problems, pregnancy, childbirth, menstruation, female sexuality, or menopause. But there are also some which rebalance the various emotional injuries in a woman's life on the spiritual level. It doesn't matter if these are female emotional problems being dealt with as a toddler, schoolchild, teenager, young adult, wife, mother, girlfriend, lover, or grieving widow.
What particularly fascinates me is the relationship between the subtle energy centers in the female body and spirituality. If they are blocked, our entire life is blocked. Therefore, this is my call to you:
Isn't it time to free your female chakras from the old ballast of your clan, your childhood, and your present life?
What would it be like to once and for all discard old beliefs and patterns that no longer belong to you?
How would it be to start clearing out and throwing off ballast before your energy system collapses?
What would it be like to discover a new, free, loving, and joyful approach to your own female body?"
Ingrid Auer is one of Europe's leading mediums, channeling messages and energized symbols and essences from the angels and ascended masters, as well as from Mary Magdalene and her companions. Since 1998 she has been writing spiritual books, which she has received as a medium.
About The Wellness Universe Guide to Complete Self-Care, 25 Tools for Goddesses:
25 dedicated Wellness Universe experts come together to help you live a life of well-being, confidence, balance, and betterment in this powerful collaboration.
The collective wisdom, expertise, and passion contained in the book is beyond what you can imagine. With the power of their authentic stories and the master teaching of their tools, what you have in your hands supports you to live in your unique Goddess energy from a foundational, whole-person approach.
Pick up your copy on Amazon.
Connect with Ingrid on The Wellness Universe.
*Originally published on March 7, 2022.
---
All information, content, and material are for informational purposes only and are not intended to serve as a substitute for the consultation, diagnosis, and/or medical treatment of a qualified physician or healthcare provider. The information supplied through or on this page, or by any representative or agent of The Wellness Universe, is for informational purposes only and does not constitute medical, legal, or other professional advice. Health-related information provided through this website is not a substitute for medical advice and should not be used to diagnose or treat health problems or to prescribe any medical devices or other remedies. The Wellness Universe reserves the right to remove, edit, move or close any content item for any reason, including, but not limited to, comments that are in violation of the laws and regulations formed pursuant to the Federal Food, Drug, and Cosmetic Act. None of the posts and articles on The Wellness Universe page may be reprinted without express written permission.
---
Living Beyond Grief, Creating an Inspired Life After Loss. 
The Wellness Universe partners with Grief Warrior Rachel Vasquez in this Wellness for All course to transition your life from grief to hope. Join Rachel as she hosts each session live, empowering you and supporting your journey. You are not alone.
Catch the recorded session(s) and be sure to join the next LIVE class! 
Register today: https://bit.ly/WULivingBeyondGrief
---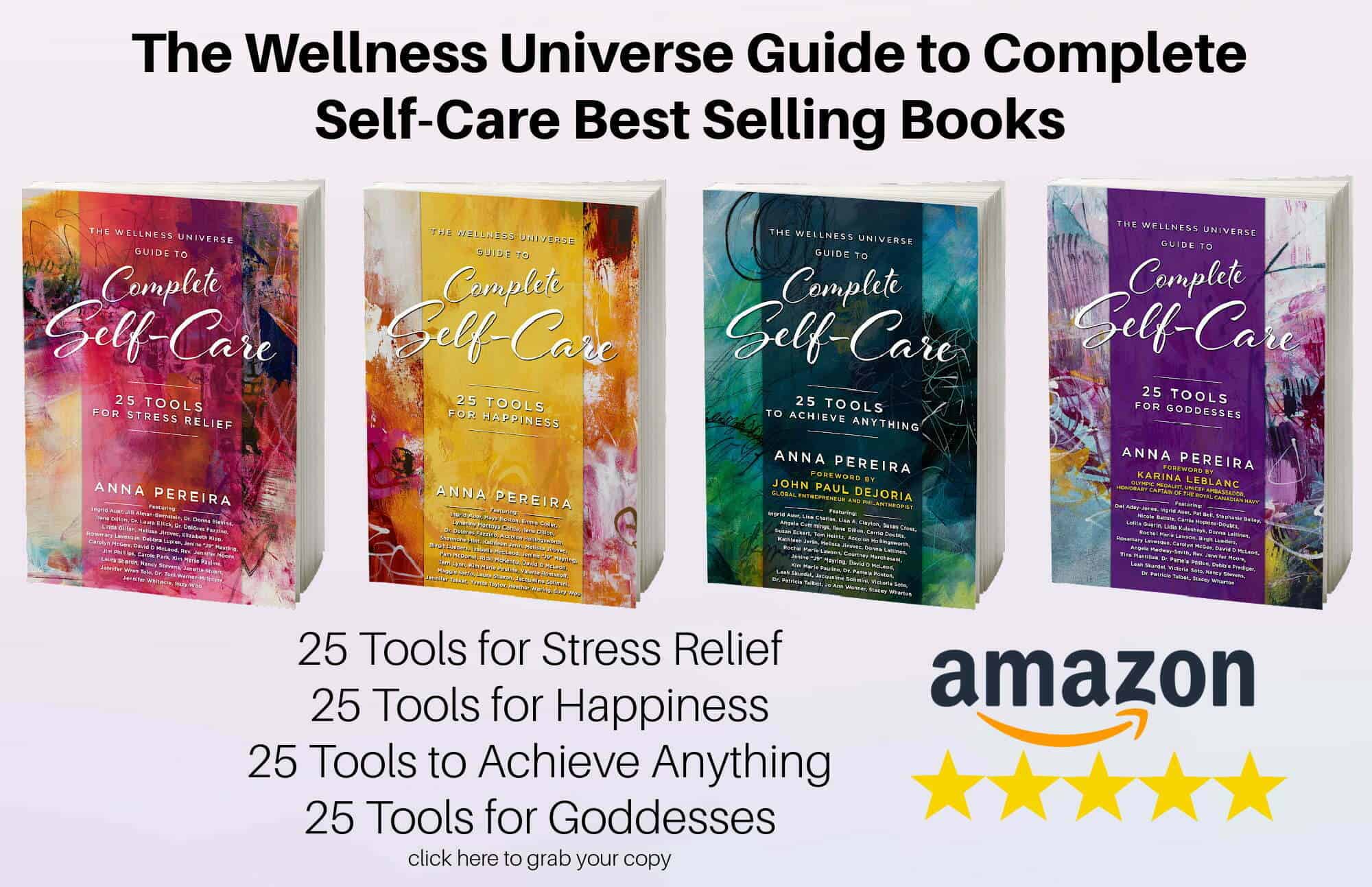 With over 250 independent reviews see how our self-care books are helping thousands of people around the world. Digital and paperback books are available now.
---

Connect to the people that help you live your best life: The Wellness Universe
The Wellness Universe is your resource for health, wellness, well-being, and transformation. We serve and support professionals who make the world a better place and individuals and groups who seek their best life.
A woman owned company; having the vision in 2013, Anna Pereira launched the first directory in 2015 bringing together a community of members making the world a better place to be found by those seeking their best life. The Wellness Universe has grown since then to be a one-stop shop for total wellness support! We are a vetted community, online directory, book publisher, resource center, event producer, content platform, and so much more, supporting whole-health and well-being on a global scale.
The Wellness Universe is a home that connects industry professionals in the health, wellness, and well-being fields to seekers of total well-being. WU provides our WU World-Changer members with peer support, Wellness Universe produced events (live and online), projects, visibility, business mentoring, and community. Through The Wellness Universe our WU World-Changer members serve WU Friends, seekers of health, wellness and transformation, with coaching, workshops, content and more.
The Wellness Universe provides individuals and groups seeking their best lives with access to our members, wellness content, educational resources, and guidance in all areas of wellness to transform visions of how they want to live life into the life they experience.
Through the directory, WU Featured Blog, SoulTreat wellness retreat, Self-Care Books, group well-being programs, and online learning center, The Lounge, The Wellness Universe provides many avenues to support whole health, mind, body, spirit and planet.
Join us today! Wellness Professional or Seeker of Your Best Life