The month of November in the United States is often associated with gatherings around a Thanksgiving feast. Family and friends share a traditional meal and reflect on the things they are thankful for. But what happens when gratitude is intertwined with grief if a loved one is missing from the gathering, difficult memories surface or when traditions change? The holidays can become a complex interplay of gratitude and grief, especially during the Thanksgiving season.
The Season of Gratitude
November serves as a reminder to pause and express gratitude for the blessings in our lives. It's a time to cherish the moments we've shared with loved ones, the beauty of nature, and the simple pleasures that make life special. Many of us have fond memories of Thanksgiving gatherings at our grandparents' homes, where warmth, love, and delicious food created a haven of joy. These memories are often accompanied by a deep sense of gratitude for the moments we shared and the love we received.
However, some of us do not get warm fuzzy memories when remembering holidays past. Instead, past memories and thoughts of upcoming holidays trigger a flood of grief. Unmet expectations, difficult relationships, missing loved ones, and childhood trauma can add to stress during the holidays.
What if the missing loved one is not a person but a place?
Sometimes we experience unsettling grief over the loss of traditions, places, and changes to the natural environment.
Grief and Loss
The passage of time can bring about profound changes, and sometimes, the landscapes of our cherished memories transform in ways that cause us grief. For example, the serene pond at grandma's house that once hosted geese and a thriving ecosystem might have been replaced by towering high-rise buildings. The loss of that natural habitat, with its diverse wildlife, can evoke a deep sense of grief.
It's essential to acknowledge that grief isn't limited to the loss of human life. Environmental changes, such as urban development or natural disasters, can also trigger a sense of loss. This environmental grief is a real and valid emotion, as the destruction of ecosystems can have far-reaching impacts on the world around us.
Navigating Gratitude and Grief
Navigating change and loss during the holiday season often adds other dimensions to grief. Balancing gratitude and grief can be challenging. Feeling both emotions simultaneously is normal and healthy. Here are some ways to navigate this complex emotional terrain:
Acknowledge Your Emotions: Allow yourself to feel both gratitude for the memories and grief for the loss. Emotions are a natural response to life's changes.
Create New Traditions: While you may mourn the loss of a person, a particular place or tradition, consider creating new traditions that honor the memory and continue the spirit of gratitude.
Give Back: In the spirit of Thanksgiving, consider giving back to nature. Volunteer at local conservation efforts, support wildlife organizations, or plant trees to help heal the environment.
Connect with Loved Ones: Share your feelings with friends and family. They may be experiencing similar emotions, and talking about them can provide comfort and understanding.
Practice Mindfulness: Mindfulness meditation and practices can help you stay grounded, appreciate the present moment, and find gratitude in everyday experiences.
Below are some resources to help you navigate the holiday season when coping with change, loss, and missing loved ones.
My August blog Jazz Living: Navigating Change and Grief with Authenticity offers suggestions for coping with grief. https://blog.thewellnessuniverse.com/navigating-change-and-grief-with-authenticity/
Here are two Wellness For All resilience building events:
High Vibration Living: Leaders Bridging Inner & Outer Peace
Wednesday, November 22, 9:30-10:30amEST
How to Honor your Grief at the Holidays,
with guest Carrie Hopkins-Doubts, PCC, Certified Grief Counselor
Instead of coping with grief and loss at the holidays (and drowning your sorrows in another glass of eggnog), learn how you can honor your loved ones at a time when you are really missing them.
Register today! 👉 https://bit.ly/HighVibrationLiving
Resilience for the Holidays 2023: Tools, Tips & Exercises for Well-being.
Tuesday, December 5, 1-3pmEST / 10am-12pmPST
Our panel of experts will share talks to help you navigate stress and enjoy the holiday season.
Gain six self-care tools you can incorporate into your life to support your mental, emotional, and spiritual wellbeing.
You will learn skills to:
✨Celebrate the holidays during a time of loss and grief
✨Enjoy the holidays without being overrun by childhood trauma
✨Reconnect to your unique value and regenerate pride in who you are and what you offer
✨Become emotionally resilient and make the right decisions for yourself and others
✨Experience each day as a sacred gift woven around the Heart of wonder
✨Go into deeper silence to access the source of higher intelligence within
Enroll today! 👉 https://bit.ly/HolidayResilience2023
As we navigate the holiday season, we can honor the complex relationship between gratitude and grief. The changing world around us may trigger feelings of sadness and loss. As we celebrate the memories and moments that have shaped our lives, we can make this season a time of healing and reflection.
I hope you will make time for healing and reflection and join us during one of our upcoming programs.
Connect with Leah on The Wellness Universe.
---
All information, content, and material are for informational purposes only and are not intended to serve as a substitute for the consultation, diagnosis, and/or medical treatment of a qualified physician or healthcare provider. The information supplied through or on this page, or by any representative or agent of The Wellness Universe, is for informational purposes only and does not constitute medical, legal, or other professional advice. Health-related information provided through this website is not a substitute for medical advice and should not be used to diagnose or treat health problems or to prescribe any medical devices or other remedies. The Wellness Universe reserves the right to remove, edit, move, or close any content item for any reason, including, but not limited to, comments that are in violation of the laws and regulations formed pursuant to the Federal Food, Drug, and Cosmetic Act. None of the posts and articles on The Wellness Universe page may be reprinted without express written permission.
---
The Wellness Universe welcomes Linda Dieffenbach, Healing Arts Practitioner & Coach, in partnership with Wellness for All programming for her 12-session course, "Your Transformational Healing Journey: Heal Your Chakras. Heal Your Life."
Catch the recorded session(s) and be sure to join the next LIVE class!
Register today https://bit.ly/HealYourChakraswLindaD
---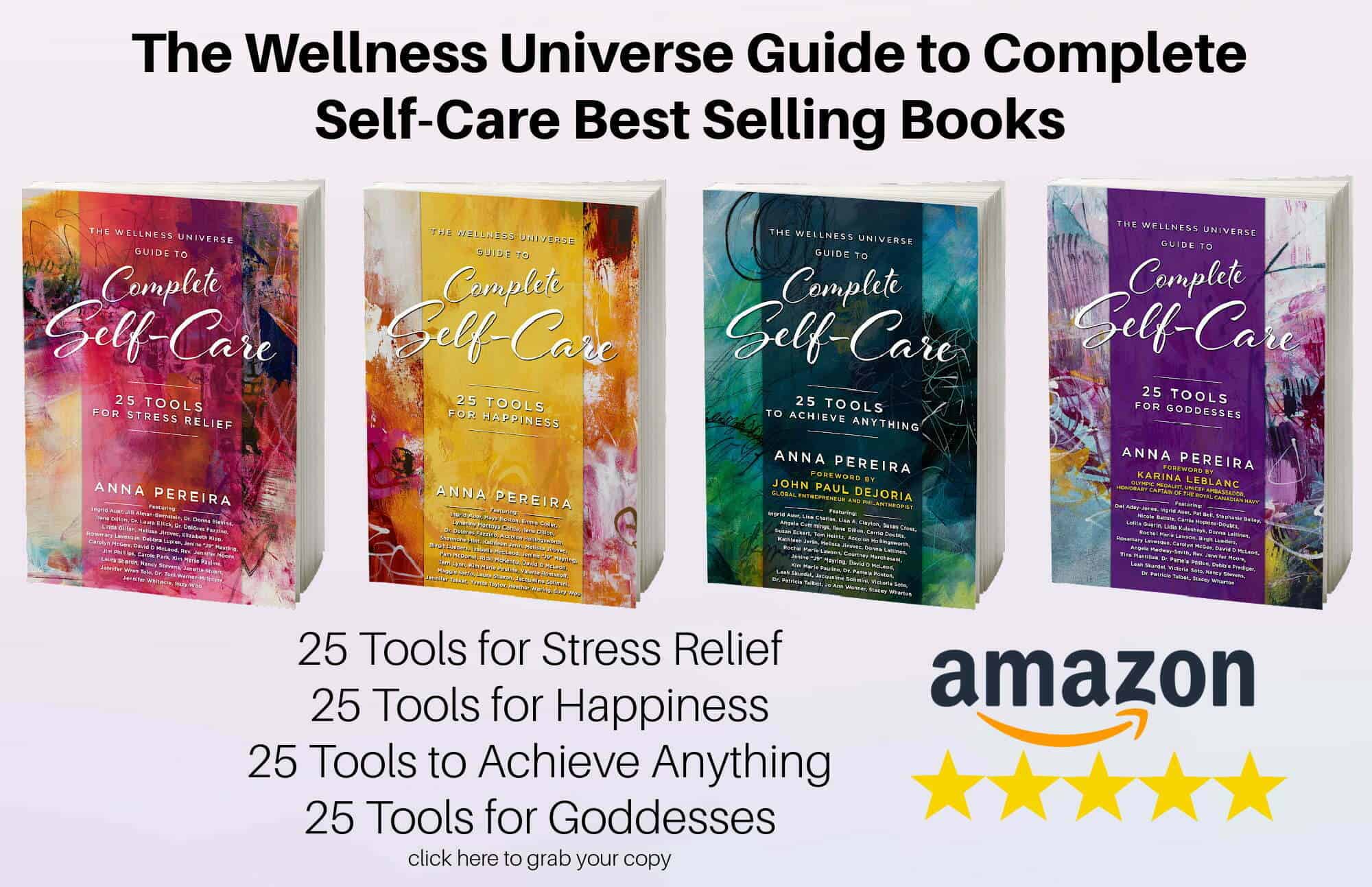 With over 250 independent reviews see how our self-care books are helping thousands of people around the world. Digital and paperback books are available now.
---

Connect to the people that help you live your best life: The Wellness Universe
Leah Skurdal guides people to up-level their stress resilience to improve relationships. Leah shares intuitive insights in private Energy Healing to address the roots of disharmony. As an inspirational speaker and published author, Leah offers lively classes, experiential workshops, and keynotes.