Making friends can be challenging at any age, but as we grow older, it can become even more difficult. We may have lost touch with old pals, moved to a new city, or found ourselves in a different phase of life than our current friends. However, it is never too late to make new connections and build meaningful relationships. Here are some tips on how to make companions as an Adult.
Join Clubs and Groups
One of the easiest ways to make colleagues is by joining clubs and groups that align with your interests. This could be anything from a book club, running group, or a cooking class. By participating in activities, you enjoy, you are more likely to meet like-minded individuals who share your passions.
Attend Networking Events
Attending networking events in your industry or field can also be a great way to meet new people. Even if you are not actively looking for a job, attending these events can lead to new connections and friendships. Be open to striking up conversations and be sure to exchange contact information to keep in touch.
Volunteer
Volunteering is not only a great way to give back to your community, but it can also help you make new buddies. Whether it is at a local animal shelter, food bank, or community center, volunteering can connect you with other individuals who share your desire to make a difference.
Take Classes
Taking classes at a local community center or college can also be a great way to meet new people. Whether it is learning a new language, taking a pottery class, or attending a writing workshop, taking classes can introduce you to new individuals with similar interests.
Attend Social Events
Attending social events like parties, concerts, and festivals can also be a great way to make new pals. Be open to meeting new people and striking up conversations. If you are feeling particularly outgoing, you could even host your own event and invite people you would like to get to know better.
Join Online Communities
In today's digital age, online communities can be a great way to make new friends. Whether it is through social media, online forums, or video game groups, there are many ways to connect with people who share your interests online. Just be sure to use caution when meeting individuals you have only interacted with online.
It is never too late to build new relationships. By joining clubs and groups, attending networking events, volunteering, taking classes, attending social events, and joining online communities, you can expand your social circle and make new connections. Remember, the key to making new comrades is being open, friendly, and willing to put yourself out there.
Join us to learn about Creating Joyful Relationships with WU Expert Carol Pilkington
Live on April 13th at 6 pm.
Here are a few articles you may find helpful:
"How to Make, and Keep, Friends in Adulthood" by The New York Times
"20 Simple Ways To Make Friends As An Adult, Recommended By Experts" By MBGrelationships
"How to make friends as an Adult" by Psyche
---
All information, content, and material are for informational purposes only and are not intended to serve as a substitute for the consultation, diagnosis, and/or medical treatment of a qualified physician or healthcare provider. The information supplied through or on this page, or by any representative or agent of The Wellness Universe, is for informational purposes only and does not constitute medical, legal, or other professional advice. Health-related information provided through this website is not a substitute for medical advice and should not be used to diagnose or treat health problems or to prescribe any medical devices or other remedies. The Wellness Universe reserves the right to remove, edit, move, or close any content item for any reason, including, but not limited to, comments that are in violation of the laws and regulations formed pursuant to the Federal Food, Drug, and Cosmetic Act. None of the posts and articles on The Wellness Universe page may be reprinted without express written permission.
---
The Wellness Universe presents Leah Skurdal, Resilience Event Leader, Reset Meditation Guide, and Visionary Thought Leader, holding space and guiding you through High Vibration Living: Leaders Bridging Inner & Outer Peace. A program for heart-led leaders to connect and grow brought to you in partnership with Wellness for All programming.
Catch the recorded session(s) and be sure to join the next LIVE class! 
Register today https://bit.ly/HighVibrationLiving
---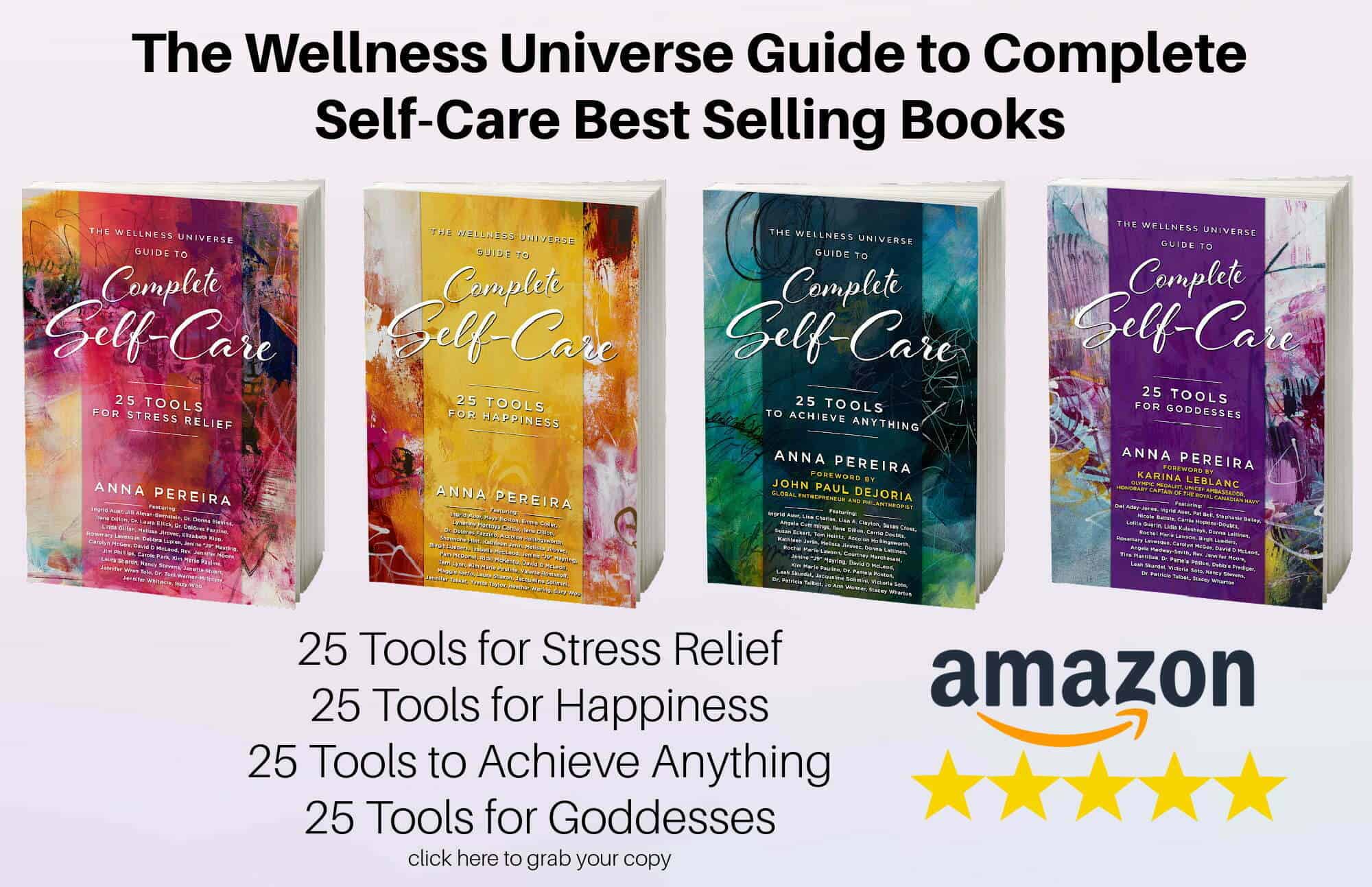 With over 250 independent reviews see how our self-care books are helping thousands of people around the world. Digital and paperback books are available now.
---

Connect to the people that help you live your best life: The Wellness Universe
The Wellness Universe is your resource for health, wellness, well-being, and transformation. We serve and support professionals who make the world a better place and individuals and groups who seek their best life.
A woman owned company; having the vision in 2013, Anna Pereira launched the first directory in 2015 bringing together a community of members making the world a better place to be found by those seeking their best life. The Wellness Universe has grown since then to be a one-stop shop for total wellness support! We are a vetted community, online directory, book publisher, resource center, event producer, content platform, and so much more, supporting whole-health and well-being on a global scale.
The Wellness Universe is a home that connects industry professionals in the health, wellness, and well-being fields to seekers of total well-being. WU provides our WU World-Changer members with peer support, Wellness Universe produced events (live and online), projects, visibility, business mentoring, and community. Through The Wellness Universe our WU World-Changer members serve WU Friends, seekers of health, wellness and transformation, with coaching, workshops, content and more.
The Wellness Universe provides individuals and groups seeking their best lives with access to our members, wellness content, educational resources, and guidance in all areas of wellness to transform visions of how they want to live life into the life they experience.
Through the directory, WU Featured Blog, SoulTreat wellness retreat, Self-Care Books, group well-being programs, and online learning center, The Lounge, The Wellness Universe provides many avenues to support whole health, mind, body, spirit and planet.
Join us today! Wellness Professional or Seeker of Your Best Life