On December 10th, 2022, The Wellness Universe held a self-care panel within their Wellness for All programming in partnership with Leah Skurdal, Speaker, Best-Selling Author, Visionary Thought Leader, and Spiritual Guide to help support your best mental and emotional well-being during the holiday season. Expert speakers gave brief talks and offered tools focused on specific topics to help us in various areas.
Today, we feature our speaker Marisa Ferrera. Marisa's video is shared below.  
Hi, my name is Marisa Ferrera. I'm a Women's Empowerment Coach & Mentor and a Connection Practice Certified Coach and Trainer.  Enjoy this clip from Resilience for the Holidays 2022 where I had the chance to speak about why family members tend to push one another's buttons and tips that can help you experience less stress and more joy when spending time with your family during the holidays. These tips include how to prepare yourself in advance using a Quick Coherence Technique and how to honor your boundaries.  
My hope is for you to walk away with empowering tools that will support you in lovingly and authentically responding to any family conflict or drama that may arise.
Connect with me here: https://www.thewellnessuniverse.com/world-changers/marisaferrera/
You can register to watch the entire free event, here.
---
All information, content, and material are for informational purposes only and are not intended to serve as a substitute for the consultation, diagnosis, and/or medical treatment of a qualified physician or healthcare provider. The information supplied through or on this page, or by any representative or agent of The Wellness Universe, is for informational purposes only and does not constitute medical, legal, or other professional advice. Health-related information provided through this website is not a substitute for medical advice and should not be used to diagnose or treat health problems or to prescribe any medical devices or other remedies. The Wellness Universe reserves the right to remove, edit, move or close any content item for any reason, including, but not limited to, comments that are in violation of the laws and regulations formed pursuant to the Federal Food, Drug, and Cosmetic Act. None of the posts and articles on The Wellness Universe page may be reprinted without express written permission.
---
The Wellness Universe presents Soul Language Expert Lisa Dadd, Consultant & Soul Language Certified Sales Trainer guiding you through a 12-month program for heart-centered, business-minded wellness-preneurs.
Catch the recorded session(s) and be sure to join the next LIVE class!
Register today prior to the LIVE launch: https://bit.ly/SoulSales
---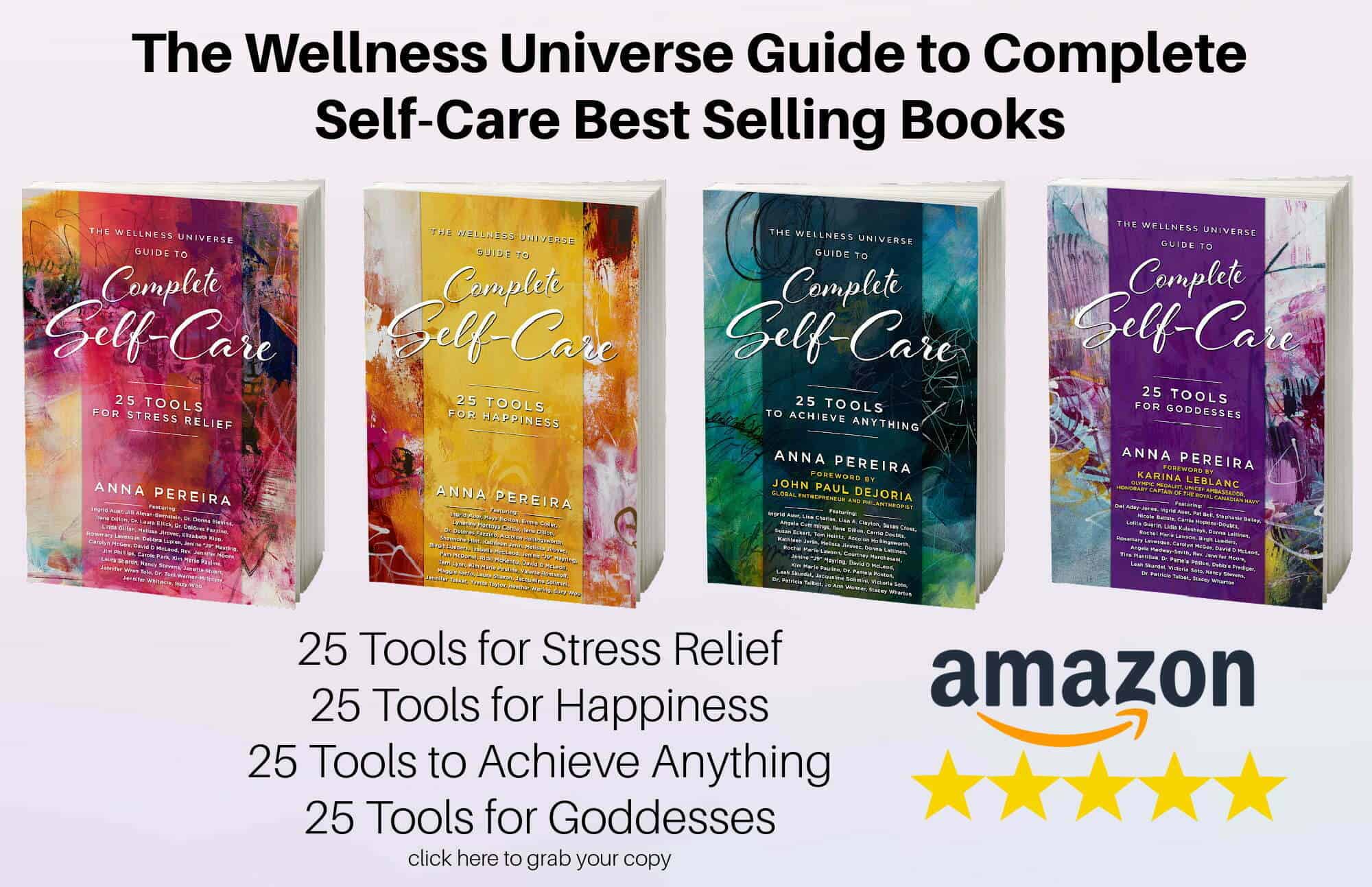 With over 250 independent reviews see how our self-care books are helping thousands of people around the world. Digital and paperback books are available now.
---

 Connect to the people that help you live your best life: The Wellness Universe
The Wellness Universe is your resource for health, wellness, well-being, and transformation. We serve and support professionals who make the world a better place and individuals and groups who seek their best life.
A woman owned company; having the vision in 2013, Anna Pereira launched the first directory in 2015 bringing together a community of members making the world a better place to be found by those seeking their best life. The Wellness Universe has grown since then to be a one-stop shop for total wellness support! We are a vetted community, online directory, book publisher, resource center, event producer, content platform, and so much more, supporting whole-health and well-being on a global scale.
The Wellness Universe is a home that connects industry professionals in the health, wellness, and well-being fields to seekers of total well-being. WU provides our WU World-Changer members with peer support, Wellness Universe produced events (live and online), projects, visibility, business mentoring, and community. Through The Wellness Universe our WU World-Changer members serve WU Friends, seekers of health, wellness and transformation, with coaching, workshops, content and more.
The Wellness Universe provides individuals and groups seeking their best lives with access to our members, wellness content, educational resources, and guidance in all areas of wellness to transform visions of how they want to live life into the life they experience.
Through the directory, WU Featured Blog, SoulTreat wellness retreat, Self-Care Books, group well-being programs, and online learning center, The Lounge, The Wellness Universe provides many avenues to support whole health, mind, body, spirit and planet.
Join us today! Wellness Professional or Seeker of Your Best Life