Why Wait For The Life You Desire?
Breathe. Slow down. What are you rushing toward?
So much stress and anxiety in your world; so much fear. You are moving so fast you can no longer see what is right in front of you. It is all a blur. Your life is whizzing by, and you are missing out on so much of what is available to you right now.
There is nowhere to get to. So many of you are waiting for a particular point in the future when you think you will finally be able to live the life you want; when you will finally have the freedom to choose how you wish to live. We are here to tell you that you do not have to wait. You can choose today, now, right in this moment. Why wait for the life you desire? Why wait to claim what is already yours for the taking?
We are not saying that if you hate your job just quit right now. We are not saying if you are unhappy in your relationship to leave right now. What we are saying is you can begin right now to reframe your experiences and to shift your thinking and to live in this moment knowing that you have the power to recreate your life and your experiences to match what you desire. You do not have to wait for a particular moment in the future to do this. You can continue with your job or stay in your relationship as you begin to put attention on what you desire.
What most of you do is put your attention on what is not working in your life. You focus on a job you hate as you wait for the day you retire. You focus on a relationship that is causing you to experience pain and suffering and feel stuck and afraid to let it go.
We invite you today to begin to focus on what you want; what you truly want. Put your attention on how you would feel if you had all that you wanted right now. Your ego mind will likely jump in and tell you that there is no point in doing this and it is a waste of time because it's impossible. That is the job of the ego-mind; to keep you safe and keep you small. As you begin to put your attention on what you want and as you feel your way into this experience, you will be surprised at how your life will change.
Marisa's Musings
I remember the times in my life when all I could see was what wasn't working. I didn't understand at that time that the more I focused on what wasn't working and the more I focused on my fear and anxiety about my situation, the worse it became. If anyone tried to give me advice, I told them they just didn't understand how hard it was or how impossible it would be to do what they were suggesting.
As I began to learn about the power of thought and started making lists describing in detail what I wanted, how it would feel to have it, and believing I could have it, I started attracting what I wanted into my life.
Before taking back my power by shifting my focus to what I wanted to experience in my life, I never would have believed that one day, I would be leaving the cold Canadian winters behind and move to Colombia, South America where I enjoy great weather year-round. I never would have thought that I'd be in a relationship with the man of my dreams and build our dream home in what we like to call, "Our slice of paradise."
I also never thought I would ever be an entrepreneur and have the freedom to share my gifts and passion with those whom I wish to serve.
There's no limit to what you can create and attract into your life if you're willing to let go of the belief that whatever you desire isn't possible for you and open yourself up to ALL possibilities.
If you have a strong desire to create healthier and more harmonious family relationships while authentically expressing yourself, let's connect. I love empowering heart-centered women to stand in their Divine Feminine Power so they can create the relationships they desire.
Book a Complimentary "Healthy Boundaries or Relationship Renewal" Discovery Session by clicking this link.
Connect with Marisa on The Wellness Universe.
---
All information, content, and material is for informational purposes only and is not intended to serve as a substitute for the consultation, diagnosis, and/or medical treatment of a qualified physician or healthcare provider. The information supplied through or on this page, or by any representative or agent of The Wellness Universe, is for informational purposes only and does not constitute medical, legal, or other professional advice. Health-related information provided through this website is not a substitute for medical advice and should not be used to diagnose or treat health problems or to prescribe any medical devices or other remedies. The Wellness Universe reserves the right to remove, edit, move or close any content item for any reason, including, but not limited to, comments that are in violation of the laws and regulations formed pursuant to the Federal Food, Drug, and Cosmetic Act. None of the posts and articles on The Wellness Universe page may be reprinted without express written permission.
---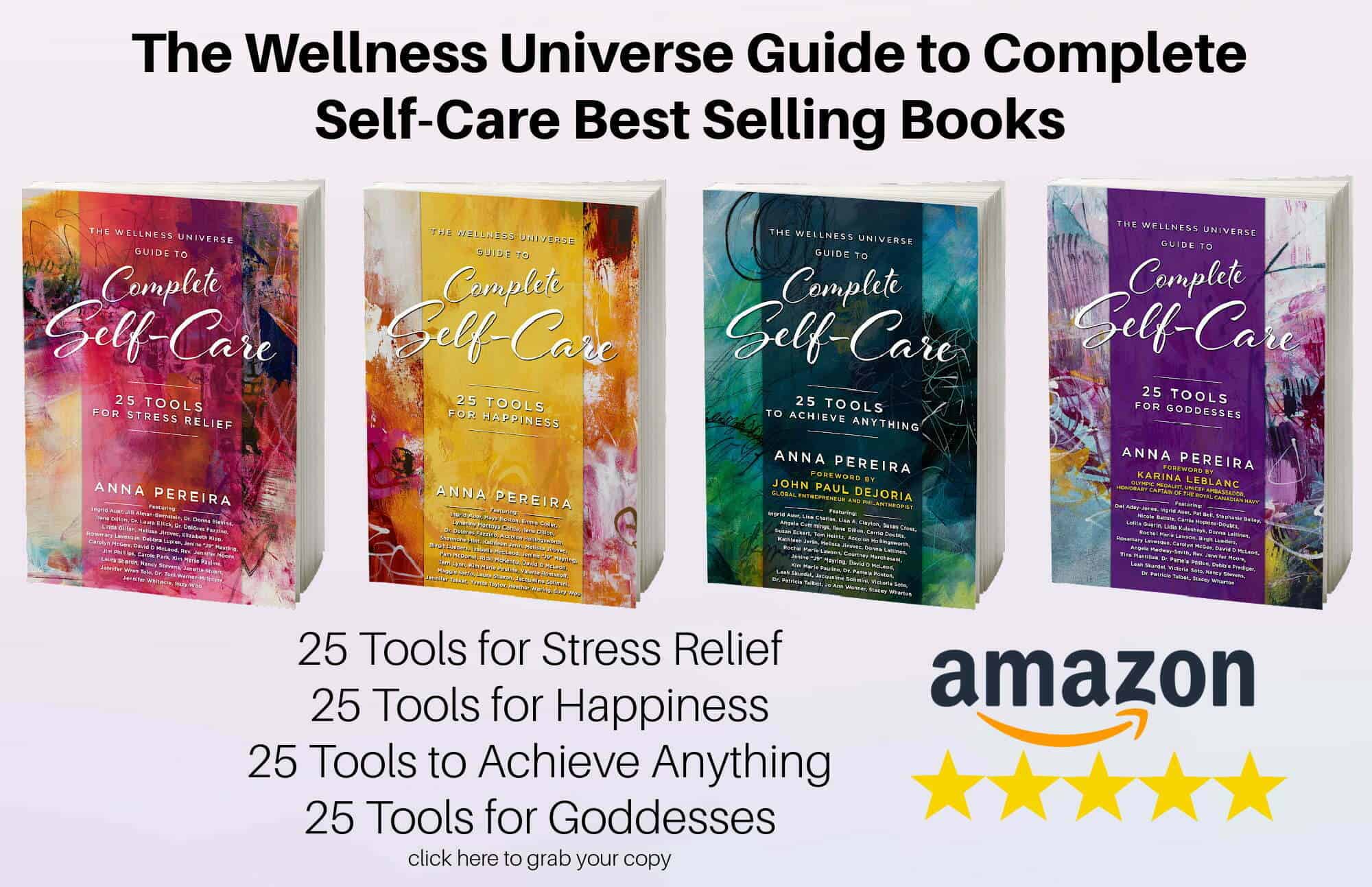 With over 250 independent reviews see how our self-care books are helping thousands of people around the world. Digital and paperback books are available now.
---
Self-development, self-care, and inspirational classes and sessions by Wellness Universe World Changer instructors who support your total well-being.
Visit The Wellness Universe Lounge today!
---
The Wellness Universe is here to serve your best well-being. If you are experiencing anxiety, grief, overwhelm, guilt, anger, or seeking ways to cope and get help for stress, relationships, parenting, or any other issue during this challenging time, we have wonderful resources for you to connect with. Our WU Best Help members are offering reduced rates, sliding scale payment options, and even pro-bono sessions.
WU Best Help
As a Women's Empowerment Coach & Mentor,  Marisa empowers women to authentically express themselves and create healthy boundaries so they can experience deeper connections and more harmonious family relationships. She invites you to join her FB community if this interests you.  
https://www.facebook.com/groups/MagnifyYourMagnificence/