You Have Greatness Within You
Be still. Breathe. Relax. Take in another breath of air. This is your body's means for keeping you alive. This simple act that your body performs day after day, moment by moment, most often without your awareness, is essential for your survival. Just like this simple act has greatness within it, you too, whom you may think as small and insignificant, also have greatness within you and it is this greatness that you are here to share with the world.
It may be a simple act of kindness that may have a ripple effect you may never know or never become aware of that results in something far greater than you can imagine. Your breath does not ask about its purpose. It simply does what it is designed to do. It does not question its worthiness in comparison to other parts of your body for it knows it is a vital part; not superior to other parts and yet just as important as other parts that are also in service to keeping your physical body alive.
When you remember the truth about who you really are, you will no longer question your worth or compare yourself to other beings on your planet, for you will KNOW, just like your breath, that you serve a vital part in the whole of humanity and all you need to do is to allow what is natural for you to express itself with ease and grace.
If all human beings would let go of what they THINK they know and take the time to connect deeply within themselves to where true knowledge exists, you cannot even imagine how remarkable your world and everyone's experience in your world could be.
Remember, we are always here to assist you as you let go of your illusions and false hopes and dreams that are not born of this deeper knowledge but are born of fear and unworthiness. When you uncover the Truth, you will connect with your inner Knowing and will no longer be influenced by the outer conditioning that is most prevalent in your world today. You will truly be free and will be able to hear the deeper longing of your heart and soul. This is the pathway that will lead you to the manifestation of all that you truly desire.
Marisa's Musings
This message really struck me. Before receiving this message, I never thought about myself or my purpose being like my breath, and yet it makes so much sense to me. I spent a great deal of my life feeling unworthy and comparing myself to others. Even when I started my coaching business, I compared myself to other coaches who I thought had a better website than I did and who looked like what they offered was better than anything I could ever offer. I felt small in comparison and that was my biggest problem. I compared myself to others and forgot that what is natural for me and what I have to offer is unique and cannot be compared at all.
I forgot that my job is to simply allow what is natural within me to express itself and to trust that those whom I am meant to serve will find me and that what I have to offer them is exactly what they need. Just like my breath knows what to do to keep me alive and doesn't question its role, I'm getting better and better at simply being ME and allowing my authentic expression to reach and touch others in whatever way serves them best.
I invite you to BE YOUR AUTHENTIC SELF & share your greatness with those around you.
———————————————————————————————————
If you find yourself struggling to authentically express yourself and honor your boundaries, I encourage you to schedule a complimentary Healthy Boundaries Discovery Call. Find out what steps you can take to begin standing in your greatness from a place of love and compassion.
Connect with Marisa Ferrera on The Wellness Universe and walk away feeling better!
---
All information, content, and material is for informational purposes only and is not intended to serve as a substitute for the consultation, diagnosis, and/or medical treatment of a qualified physician or healthcare provider. The information supplied through or on this page, or by any representative or agent of The Wellness Universe, is for informational purposes only and does not constitute medical, legal, or other professional advice. Health-related information provided through this website is not a substitute for medical advice and should not be used to diagnose or treat health problems or to prescribe any medical devices or other remedies. The Wellness Universe reserves the right to remove, edit, move or close any content item for any reason, including, but not limited to, comments that are in violation of the laws and regulations formed pursuant to the Federal Food, Drug, and Cosmetic Act. None of the posts and articles on The Wellness Universe page may be reprinted without express written permission.
---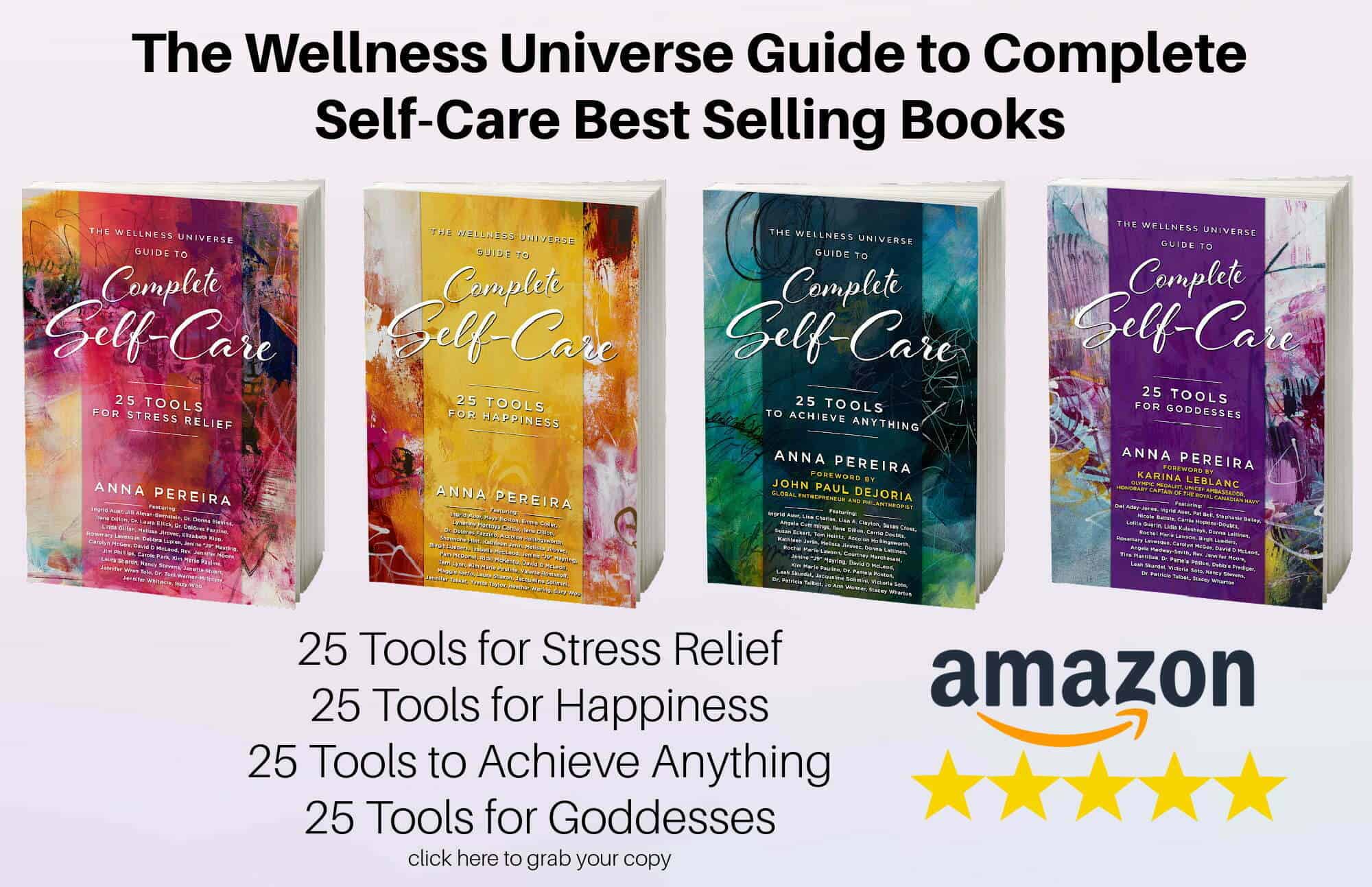 With over 250 independent reviews see how our self-care books are helping thousands of people around the world. Digital and paperback books are available now.
---
Self-development, self-care, and inspirational classes and sessions by Wellness Universe World Changer instructors who support your total well-being.
Visit The Wellness Universe Lounge today!
---
The Wellness Universe is here to serve your best well-being. If you are experiencing anxiety, grief, overwhelm, guilt, anger, or seeking ways to cope and get help for stress, relationships, parenting, or any other issue during this challenging time, we have wonderful resources for you to connect with. Our WU Best Help members are offering reduced rates, sliding scale payment options, and even pro-bono sessions.
WU Best Help
As a Women's Empowerment Coach & Mentor,  Marisa empowers women to authentically express themselves and create healthy boundaries so they can experience deeper connections and more harmonious family relationships. She invites you to join her FB community if this interests you.  
https://www.facebook.com/groups/MagnifyYourMagnificence/