Poor Virgos. When it comes to sizing up the zodiac signs, they really do get a bad rap.
In fact, a spirited and gregarious Leo friend of mine recently told me she's often embarrassed to admit that her rising sign is in Virgo.
"It's all about being a nit-picky perfectionist," she complained, "and I don't really think I'm like that!"
Of course, the truth is that every zodiac sign has its upsides and downsides. So let's give Virgo some lovin' before the New Moon in Virgo on August 27th!
Virgo New Moon Qualities
While it's true that one of the challenging aspects of Virgo energy is the tendency toward overly analytical perfectionism, this trait can also be seen as hardworking with a healthy attention to detail, which combines beautifully with the Virgo love of research and learning about new things. Wouldn't you like someone like that on your team given the chance?
Additionally, Virgo's symbol is the virgin, which at first glance, may not seem particularly exciting. But, if you look closer, you'll see that this virginal vibe often manifests as a passion for all things pure, natural, and organic — hence, Virgo's emphasis on health and good nutrition.
In Latin, virgo means only "unmarried," and in her classic book on feminine psychology, Women's Mysteries, Jungian scholar M. Esther Harding spoke of virginity as a characteristic that can be attributed to any woman who is simply "self-possessed and one-unto-herself."
No mention of celibacy there! And it perfectly captures the positive side of Virgo's self-sufficient, self-contained nature. Add to all of the above the fact that, as an Earth sign, Virgo loves having everything in the correct order, and you've got the perfect recipe for a season meant for self-care routines and rituals.
Assembling your magical Virgo toolkit
The first step is to gather a toolkit full of items associated with Virgo energy, including the following:
Elemental energy: Earth
Colors: Navy blue, beige, and gray
Gemstones: Sapphire
Flowers: Morning glory and aster
Essential Oils: Ginger, thyme, and grapefruit — yes, they're all edible, but they are oils, too!
Music: Sensual, earthy, and mellow — think Soul or R&B
Food/Drink: Whole grains, fruit salad, and leafy greens
And if you really want to pack your toolkit to the brim, you could also research Virgo-themed movies, books, clothes, animals, and places in nature… the list is endless, depending on what you're drawn to explore.
How to set up your Virgo New Moon ritual
Your sacred ritual space could be anywhere… let Virgo's earthy, practical vibe inspire you. If it's possible to be outside (literally on the Earth), go for it. If not, spread a blue, beige, or gray cloth in a quiet corner of your home – that becomes your altar cloth. Surround yourself with candles in those same Virgo colors along with morning glories or asters (or pictures of them!).
Burn one or more of the essential oils in your toolkit, and pick out some sensual, mellow music to deepen the mood. Then be sure to have some wholesome food nearby to ground yourself at the end!
The key element to this New Moon ritual, though, is to have on hand some Play-Doh or modeling clay – something that air-dries without having to bake it.
You're going to make a self-care amulet… or maybe several!
Setting self-care intentions on the Virgo New Moon
New Moons are a powerful time to set intentions for the next month and beyond. So, once you've created your sacred ritual space, allow yourself some time to reflect on how you can better take care of yourself on every level — mentally, physically, emotionally, and spiritually.
Mind – is there a course you've been wanting to take? When is the last time you did a puzzle or read a book that really stimulated your brain?
Body – are you ready to commit to a new and/or improved exercise or nutrition routine? How about a luxurious spa day or a mani-pedi with a friend?
Heart – do you need to create stronger boundaries at work or at home? Is there a local charity or organization you've been meaning to volunteer for?
Spirit – can you create some powerful mantras or affirmations that express the qualities you most want to embody? How about downloading a meditation app on your phone?
Once you've settled on some commitments for any or all of these areas, now you get to engage in some sacred play!
Take a big chunk of your clay or Play-Doh and create a bunch of little discs. Then with a big nail or a pen, carve words and symbols into each one representing your intentions.
Once they dry, voila – you've got your tangible, self-care amulets!
Place them on your altar or desk, carry them in your purse, or just arrange them wherever they'll remind you to stick to your commitments.
If you're ready to deepen your self-care practice even more, definitely check out the video I created for The Wellness Universe last year for the Virgo New Moon, or get a whole list (25 to be exact) of powerful self-care suggestions on my website.
Have fun with it all… and I'd love to hear what you come up with!
Connect with Deborah on The Wellness Universe.
---
All information, content, and material are for informational purposes only and are not intended to serve as a substitute for the consultation, diagnosis, and/or medical treatment of a qualified physician or healthcare provider. The information supplied through or on this page, or by any representative or agent of The Wellness Universe, is for informational purposes only and does not constitute medical, legal, or other professional advice. Health-related information provided through this website is not a substitute for medical advice and should not be used to diagnose or treat health problems or to prescribe any medical devices or other remedies. The Wellness Universe reserves the right to remove, edit, move or close any content item for any reason, including, but not limited to, comments that are in violation of the laws and regulations formed pursuant to the Federal Food, Drug, and Cosmetic Act. None of the posts and articles on The Wellness Universe page may be reprinted without express written permission.
---
Living Beyond Grief, Creating an Inspired Life After Loss. 
The Wellness Universe partners with Grief Warrior Rachel Vasquez in this Wellness for All course to transition your life from grief to hope. Join Rachel as she hosts each session live, empowering you and supporting your journey. You are not alone.
Register today prior to the LIVE launch: https://bit.ly/WULivingBeyondGrief
---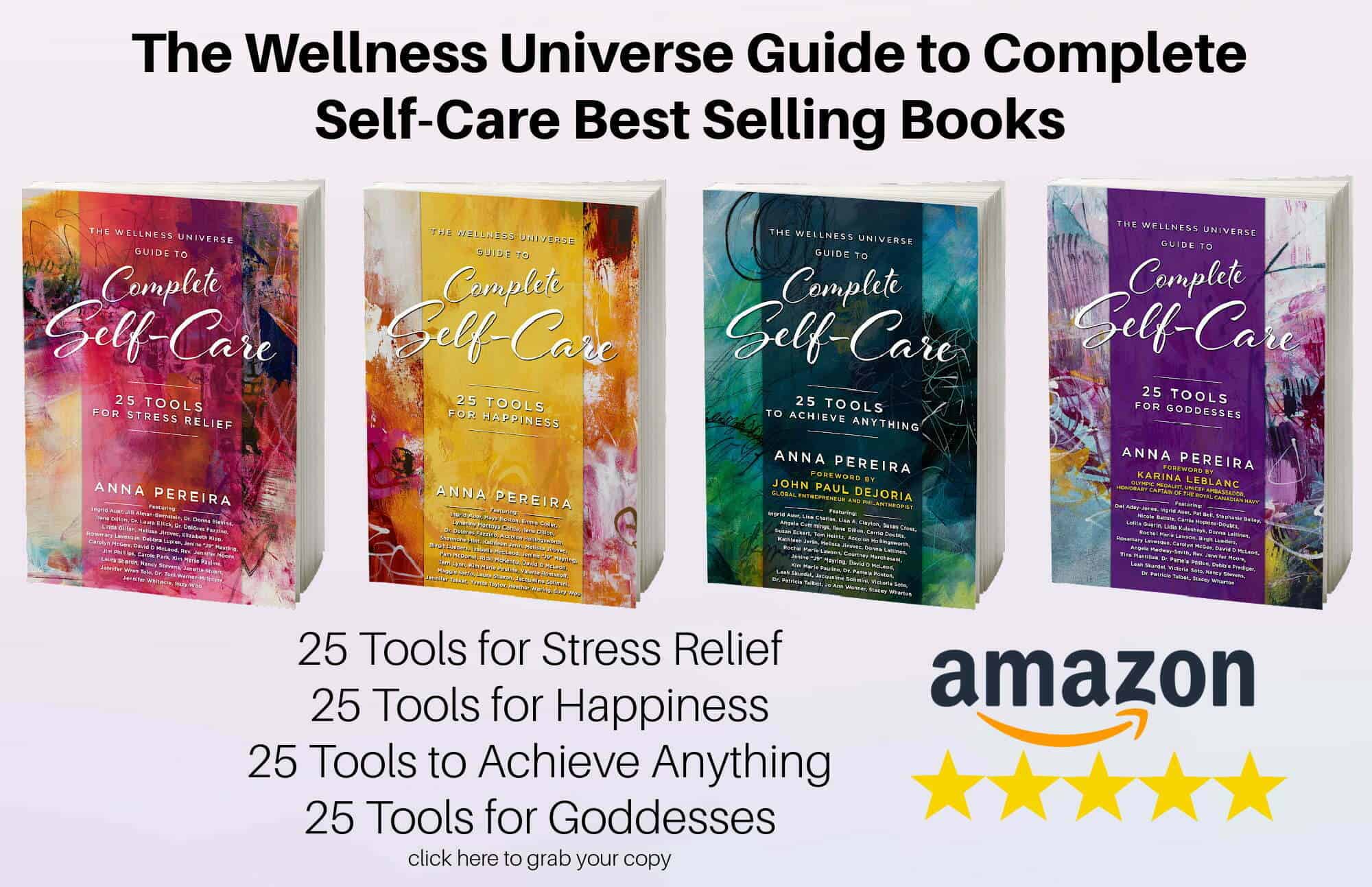 With over 250 independent reviews see how our self-care books are helping thousands of people around the world. Digital and paperback books are available now.
---
Self-development, self-care, and inspirational classes and sessions by Wellness Universe World Changer instructors who support your total well-being.
 Visit The Wellness Universe Lounge today!
---
The Wellness Universe is here to serve your best well-being. If you are experiencing anxiety, grief, overwhelm, guilt, anger, or seeking ways to cope and get help for stress, relationships, parenting, or any other issue during this challenging time, we have wonderful resources for you to connect with. Our WU Best Help members are offering reduced rates, sliding scale payment options, and even pro-bono sessions. WU Best Help
Life & Relationship Coach, Deborah Roth, MA is also a Counseling Astrologer, and Interfaith Minister. She leads women's New Moon Circles and Full Moon TeleMeditations every month and loves designing creative, meaningful rituals for individuals and couples to energize their lives and relationships.