The Wellness Universe believes a happy, healthy, healed human leads to a better community, a better world, and ultimately to world peace.
The Wellness Universe introduces you to conduits of empowerment, change, and healing as we feature our community members who are here to support your happiest, best version of you!
Today's featured member is Dr. Miluna Fausch, President of Pitch Perfect Executive Speaking.
Dr. Fausch shares with us an introduction about how she is creating a better world through well-being support.
Transformation, wellness, and self-care are only a connection away.
I believe that the world is calling for effective, dynamic, responsible leaders with heart. Those who practice what I call the six (6) C's of language arts: Consciousness, Clarity, Courage, Courtesy, Compassion, and inClusion.
There are layers and levels and subtleties that most executives and speakers never even tap into! Your voice, your presence, your delivery, and the words you choose all matter.
My experience includes 9-5, retail, as an entrepreneur, as an investor, serving on Boards, and on stage and screen as a performer. I sold everything from Steinway grands to magazine advertising.
A thirst for an understanding of each aspect of successful acting, entrepreneurship, and a rich spiritual life led me to a B.S. in Music Business, certifications as an intuitive, an energy healer, and Holistic Health Counselor Practitioner (HHCP), a Ph.D. in Holistic Psychology, and private training and classes in voice, acting, and improvisation. 2021 brought Miracle-Minded Coaching training and certification with Marianne Williamson.
I'm an intuitive sound healer who hears the frequency of sounds (yes, I can identify cars by the sound of their engine). Crippling self-doubt and severe stage fright were 'life stoppers' that I had to overcome, and I faced two major surgeries to remove a fist-sized tumor from the right side of my head. This taught me so much, including that I had to take care of myself first in order to save my own life, while facing what it takes to triumph over and heal from the physical, mental, emotional, spiritual, and financial impact of a serious illness brings.
My first book with Forbes UpLevel Your Communication: Evolve your Presence and Speech to Change Everything is for heart-centered executives and businesspeople just like you and is available at your favorite bookstore.
What I know is that there is a direct path to Wellness through our voice, which is our branding and our personal expression. We are designed to, and it is healthy to "speak up."
I have been in love with the voice since I was a little girl, swinging, and singing to all of the television commercial jingles in my backyard while dreaming of becoming a famous singer or a race car driver. Each day I observe how folks communicate to see how it feels as I intuitively watch the response or reaction. I watch every presentation or class with an open heart and a discerning ear.
For me to witness a Leader or Future Leader develop clarity and confidence in their public speaking and move into a higher frequency of communication and presence is my greatest joy!
My coaching practice is Executive Communication and Presence, and my specialty is Intentional and Enlightened Communication for CEOs and Leaders. I teach clients how to speak in a voice that captivates, show up with an authentic and powerful personal presence, and make presentations like a Rockstar. I created my exclusive, proprietary 7-step Vocal Archetypes℠ to train conscientious C-suite executives and thought leaders.
At this point in our planetary evolution, I believe we must develop self-awareness to understand how we are coming across. The personal development called for now is deep, transformational training to know who we are and what we stand for, and then to articulate that in a way that gets us noticed, hired, and promoted. You cannot serve at your best and most profound if there is a disconnect between you and your authentic message for the world.
When we align our voice and our purpose using what I call mature and evolved communication, our influence, and impact to change and better the world intensifies!
Hear from two amazing clients how this coaching changed their lives!
Dr. Miluna Fausch is a fantastic coach. Her rich experience helping executives offers a unique perspective to growing leaders and C-suite leaders alike. Besides being a great coach, Dr. Fausch's innate ability to derive cultural insights makes her counsel very valuable

Vamshi Sarangapani – General Manager of Enterprise Retail at Honeywell Building Technologies
Dr. Miluna Fausch, (Dr. M), has been an outstanding voice and speaking coach for me. I hired, Dr. M to help develop my professional presence and speak from my heart skills to launch our new OUTDOOR compassion teaching business. Dr. M exceeded my expectations for presentation training and as a content collaborator on two compassion programming pitch projects for neurodiversity students. I recommend Dr. M highly and without reservation. Thank you.

Lois Prislovsky, Ph.D.
Thank you for meeting Dr. Miluna Fausch and for connecting with her on their Wellness Universe. 
---
All information, content, and material are for informational purposes only and are not intended to serve as a substitute for the consultation, diagnosis, and/or medical treatment of a qualified physician or healthcare provider. The information supplied through or on this page, or by any representative or agent of The Wellness Universe, is for informational purposes only and does not constitute medical, legal, or other professional advice. Health-related information provided through this website is not a substitute for medical advice and should not be used to diagnose or treat health problems or to prescribe any medical devices or other remedies. The Wellness Universe reserves the right to remove, edit, move or close any content item for any reason, including, but not limited to, comments that are in violation of the laws and regulations formed pursuant to the Federal Food, Drug, and Cosmetic Act. None of the posts and articles on The Wellness Universe page may be reprinted without express written permission.
---
Healing. Here. Now. Mindfulness, Trauma, and Recovery, a course for self-care and healing brought to you in partnership with Aundrea Veney, Founding Director and Chief Vision Officer, and Wellness Universe Trauma Expert Leader exclusively for Wellness for All programming.
Register today prior to the LIVE launch:  https://bit.ly/HealingHereNow
---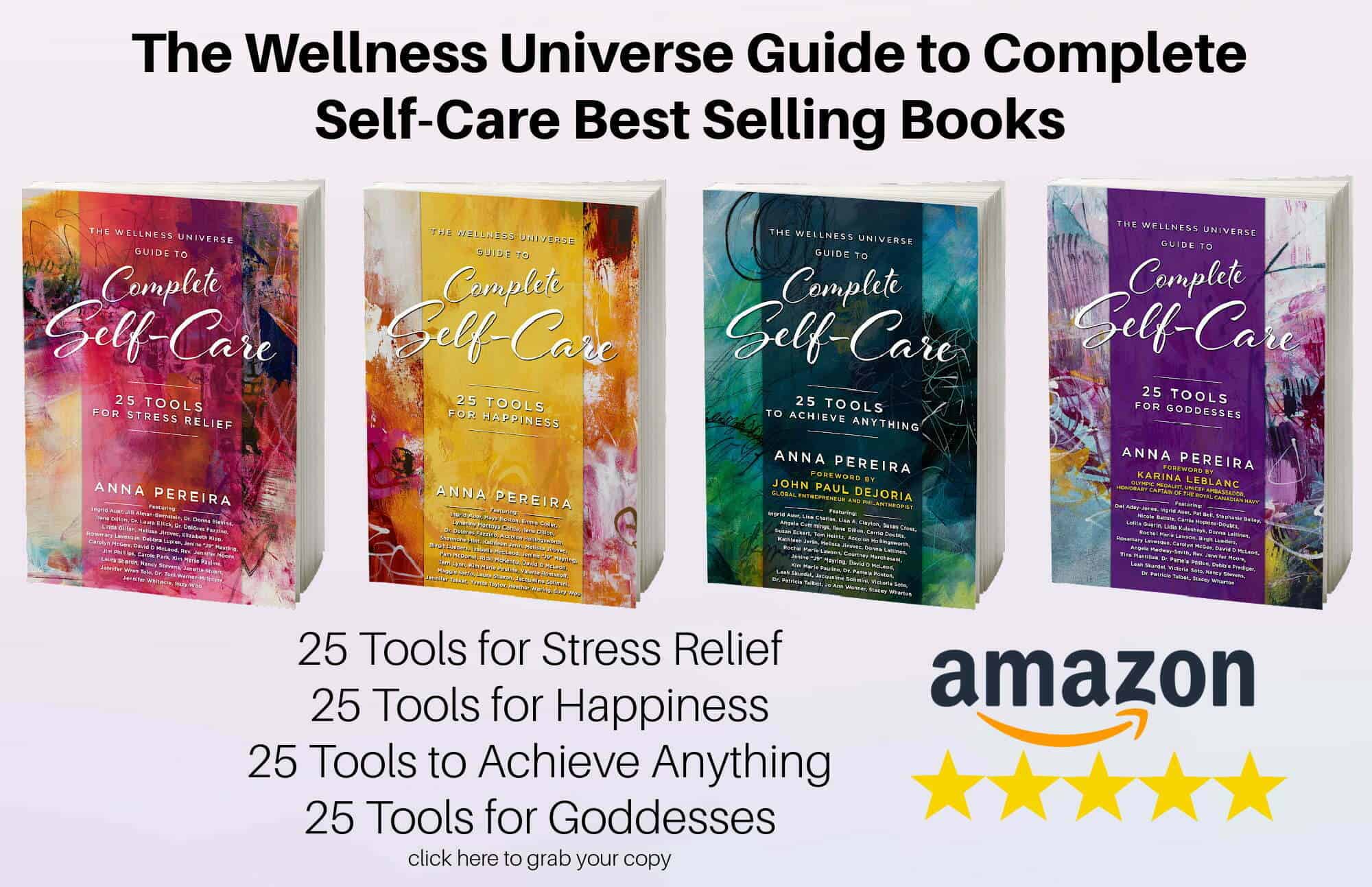 With over 250 independent reviews see how our self-care books are helping thousands of people around the world. Digital and paperback books are available now.
---
Self-development, self-care, and inspirational classes and sessions by Wellness Universe World Changer instructors who support your total well-being.
 Visit The Wellness Universe Lounge today!
---
The Wellness Universe is here to serve your best well-being. If you are experiencing anxiety, grief, overwhelm, guilt, anger, or seeking ways to cope and get help for stress, relationships, parenting, or any other issue during this challenging time, we have wonderful resources for you to connect with. Our WU Best Help members are offering reduced rates, sliding scale payment options, and even pro-bono sessions. WU Best Help
The Wellness Universe is your resource for health, wellness, well-being, and transformation. We serve and support professionals who make the world a better place and individuals and groups who seek their best life.
A woman owned company; having the vision in 2013, Anna Pereira launched the first directory in 2015 bringing together a community of members making the world a better place to be found by those seeking their best life. The Wellness Universe has grown since then to be a one-stop shop for total wellness support! We are a vetted community, online directory, book publisher, resource center, event producer, content platform, and so much more, supporting whole-health and well-being on a global scale.
The Wellness Universe is a home that connects industry professionals in the health, wellness, and well-being fields to seekers of total well-being. WU provides our WU World-Changer members with peer support, Wellness Universe produced events (live and online), projects, visibility, business mentoring, and community. Through The Wellness Universe our WU World-Changer members serve WU Friends, seekers of health, wellness and transformation, with coaching, workshops, content and more.
The Wellness Universe provides individuals and groups seeking their best lives with access to our members, wellness content, educational resources, and guidance in all areas of wellness to transform visions of how they want to live life into the life they experience.
Through the directory, WU Featured Blog, SoulTreat wellness retreat, Self-Care Books, group well-being programs, and online learning center, The Lounge, The Wellness Universe provides many avenues to support whole health, mind, body, spirit and planet.
Join us today! Wellness Professional or Seeker of Your Best Life