The Wellness Universe presents Resilience for Harmony: Tools, Tips, and Exercises for Well-being, produced, created, and hosted by Leah Skurdal, featuring esteemed speakers in the self-care industry: Carol Pilkington, Carolyn McGee, Debbie Prediger, Nicole Batiste, and David McLeod sharing self-care resources and how to fortify your resilience.

Introducing Featured Resilience Speaker … Nicole Batiste
Part 3/5 –  Be the Conductor
Written by Leah Skurdal
Where do you fall on the spectrum of the work life and personal life interface? The lines between work and home have blurred with technology's assistance in working from home.
In many ways, I love the flow of my entrepreneurial work-from-home-when-I-choose lifestyle. I can work on my laptop from my hammock in the backyard and take time for a 45-minute conversation with my daughter who rarely calls. On the other hand, the lines of my working/not working interface get fuzzy and indistinct. Downtime is good for your wellbeing and I'm still practicing being the conductor of my life, as featured resilience speaker, Nicole Batiste says.
How are you doing on conducting your life into a balance of work life and personal life?
Americans as a whole have a tougher time separating work life from personal time compared with other countries.
A recent study by Family Living Today and Now Sourcing reported on work-life balance across the country. A Maryville University blog post highlighted the findings:
The United States ranks 30th out of 38 countries in attaining proper work-life balance.
American full-time workers spend an average of 8.15 hours per day working.
11 percent of Americans work 50 or more hours per week.
33 percent of employed Americans work on Saturdays, Sundays, or holidays.
66 percent of American full-time employees do not strongly believe they have a work-life balance.
My personal conversations with employees confirm the studies. I have learned that their workplace stressors came from bad bosses, miscommunications, rapidly changing priorities, rigid schedules, and long work hours.
The study noted that increased work-life imbalance relates to increased levels of mental stress. For instance, when compared with employees working 35 to 40 hours a week, employees working more than 55 hours are:
1.66 times more likely to have depression
1.74 times more likely to have anxiety
Too much work stress weakens the immune system and contributes to mental illness, heart disease, anxiety, and depression. Having a healthy personal life outside of work life promotes health, wellbeing, and resilience.
In our second resilience-building event September 10, Resilience for Harmony: Tools, Tips & Exercises for Wellbeing, five experts will focus on incorporating different aspects of resilience into our lives.
Mindfulness Educator and Empowerment Coach Nicole Batiste will share strategies for being the conductor of your life.
Nicole reminds us,
The conductor is responsible for how the orchestra shows up to their audience.
You have that same gift and responsibility for how you show up every day. The world is your audience.
Creating an inner harmonious environment is your right, privilege, and gift to yourself and the world.
Join us at Resilience for Harmony to hear Nicole's insights on being the conductor of your life to create the work-life-personal life balance you prefer.
Nicole Batiste is a Mindfulness Educator, Transcendence Catalyst, and Empowerment Coach helping women recognize and release past failures, pains, and outdated subconscious programming so they're equipped to create the life they want. Radical self-reliance is one key to being resilient and able to deal with what life throws at you.
Connect with Nicole here: https://www.thewellnessuniverse.com/world-changers/nicole-batiste/
Join us and be enriched by the strategies and conversations during our 90-minute special event. You will have the opportunity to participate in self-care and resilience-building exercises in our interactive and workshop-style event.
Resilience for Harmony: Tools, Tips & Exercises for Well-Being will take place Saturday, September 10, 2022, 10-11:30amET.
Register Today:  https://bit.ly/ResilienceForHarmony
Those who attend live will be eligible to receive free gifts and prizes donated by the presenters.
This donation-based event is supported by a pay-what-you-can structure to support anyone seeking self-development. Donate at registration, during the live event, at your convenience as you experience the support you seek to attain harmony. Free seats for those in need. Available to all who would like to attend.
Mark your calendars:
Resilience for the Holidays: Tools, Tips & Exercises for Well-being December 10, 2022
Resilience for Transition: Tools, Tips & Exercises for Well-being March 11, 2023
Resources
Maryville University Achieving Work-Life Balance: The Ultimate Guide https://online.maryville.edu/blog/work-life-balance-guide/
Entrepreneur: Is Work-Life Balance Even Possible https://www.entrepreneur.com/article/309121
---
All information, content, and material are for informational purposes only and are not intended to serve as a substitute for the consultation, diagnosis, and/or medical treatment of a qualified physician or healthcare provider. The information supplied through or on this page, or by any representative or agent of The Wellness Universe, is for informational purposes only and does not constitute medical, legal, or other professional advice. Health-related information provided through this website is not a substitute for medical advice and should not be used to diagnose or treat health problems or to prescribe any medical devices or other remedies. The Wellness Universe reserves the right to remove, edit, move or close any content item for any reason, including, but not limited to, comments that are in violation of the laws and regulations formed pursuant to the Federal Food, Drug, and Cosmetic Act. None of the posts and articles on The Wellness Universe page may be reprinted without express written permission.
---
The Wellness Universe presents Integrative Healing Expert Leader, Rosemary Levesque. She is a Licensed Spiritual Healer, Reiki Master Teacher, Certified Vibrational Sound Master Teacher, and Medicinal Aromatherapist, who will be guiding you through the Optimal Healing 12-month program that will help you to enjoy health and wellbeing through the integration of natural and alternative methods, modalities, and resources. 
Catch the recorded session(s) and be sure to join the next LIVE class! 
Register today:  https://bit.ly/OptimalHealingCourse
---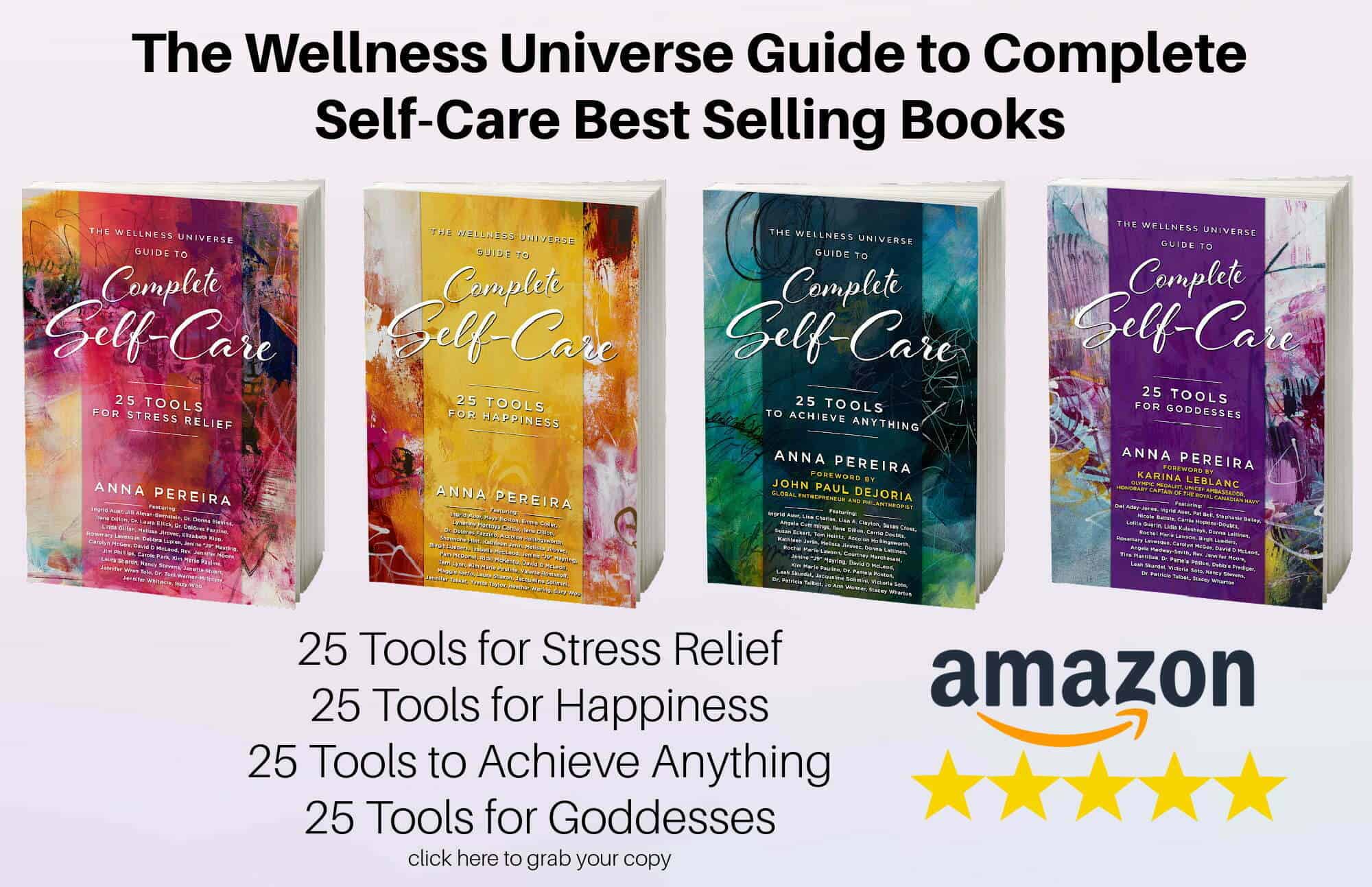 With over 250 independent reviews see how our self-care books are helping thousands of people around the world. Digital and paperback books are available now.
---
Self-development, self-care, and inspirational classes and sessions by Wellness Universe World Changer instructors who support your total well-being.
 Visit The Wellness Universe Lounge today!
---
The Wellness Universe is here to serve your best well-being. If you are experiencing anxiety, grief, overwhelm, guilt, anger, or seeking ways to cope and get help for stress, relationships, parenting, or any other issue during this challenging time, we have wonderful resources for you to connect with. Our WU Best Help members are offering reduced rates, sliding scale payment options, and even pro-bono sessions. WU Best Help
Leah Skurdal guides people to up-level their stress resilience to improve relationships. Leah shares intuitive insights in private Energy Healing to address the roots of disharmony. As an inspirational speaker and published author, Leah offers lively classes, experiential workshops, and keynotes.