In a world that often seems to demand constant happiness, it's crucial to remember that it's okay not to be okay. This sentiment lies at the heart of Suicide Prevention Week, a time when we come together to break down the barriers surrounding mental health, provide essential facts, offer guidance on seeking help, and discover ways to support those in need. Join us on this journey as we explore the realities of suicide prevention, learn how to extend a helping hand, and spread the message that it's okay to ask for help.
Facts About Suicide: Breaking the Silence
Suicide rates have been on the rise, particularly among young individuals. With the surge in social media use by minors, the connection between online networking and self-harm has become evident [1]. Cyberbullying, depression, and a sense of isolation contribute to the complex tapestry of emotions that many individuals, especially adolescents, experience. In the United States, suicide stands as the second leading cause of death among youth, making it crucial to address this issue head-on.
Ways to Seek Help: Finding Your Lifeline
If you or someone you know is struggling, it's essential to know that help is within reach. Platforms like the 988 Suicide & Crisis Lifeline provide a safe space to connect with trained professionals who understand what you're going through [2]. Don't hesitate to reach out for support, whether through helplines, online resources, or talking to a trusted individual in your life. Remember, you're never alone in your journey.
Lending a Helping Hand: Supporting Others Through Tough Times
Being there for someone in need can make a world of difference. Sometimes, a simple conversation can provide the comfort and solace they require. Recognizing the signs of distress, such as sudden changes in behavior or withdrawal from social activities, is essential. Offering a listening ear, showing empathy, and encouraging professional help are powerful ways to support someone who may be struggling.
Interactive Activities: Navigating the Path to Well-being
Connect with Kindness: Reach out to a friend or family member you haven't spoken to in a while. Share a positive message or memory to brighten their day.
Daily Affirmations: Start each day with a positive affirmation. Write down one thing you're grateful for and one positive quality about yourself.
Mindfulness Moments: Practice a moment of mindfulness each day. Close your eyes, take a deep breath, and focus on the present moment.
Spread Positivity: Share an uplifting quote or message on your social media platforms. Use the hashtag #ShineALight to connect with others who are spreading positivity.
Illuminate Hope and Support
As we navigate Suicide Prevention Week, let's remember that each of us has the power to make a difference. By shedding light on the realities of mental health, offering a helping hand, and creating a community of support, we can help those in need find their way through challenging times. Remember, it's okay to ask for help, and it's even more admirable to offer it. Together, we can navigate the path to well-being, one step at a time.
If you or someone you know is struggling with thoughts of suicide, remember that help is always available. Reach out to the National Suicide Prevention Lifeline at 1-800-273-TALK (1-800-273-8255) or text "HELLO" to 741741 to connect with a trained crisis counsellor.
Works Cited
Indian J Psychiatry. (2018). The role of online social networking on deliberate self-harm and suicidality in adolescents: A systematized review of literature. https://www.ncbi.nlm.nih.gov/pmc/articles/PMC6278213/
National Institute of Mental Health. (2023). Digital Shareables on Suicide Prevention. https://www.nimh.nih.gov/get-involved/digital-shareables/shareable-resources-on-suicide-prevention
It's OK Not To Be OK. (2023). You Matter. https://youmatter.988lifeline.org/ok-not-ok/
---
All information, content, and material are for informational purposes only and are not intended to serve as a substitute for the consultation, diagnosis, and/or medical treatment of a qualified physician or healthcare provider. The information supplied through or on this page, or by any representative or agent of The Wellness Universe, is for informational purposes only and does not constitute medical, legal, or other professional advice. Health-related information provided through this website is not a substitute for medical advice and should not be used to diagnose or treat health problems or to prescribe any medical devices or other remedies. The Wellness Universe reserves the right to remove, edit, move, or close any content item for any reason, including, but not limited to, comments that are in violation of the laws and regulations formed pursuant to the Federal Food, Drug, and Cosmetic Act. None of the posts and articles on The Wellness Universe page may be reprinted without express written permission.
---
---
The Wellness Universe welcomes Linda Dieffenbach, Healing Arts Practitioner & Coach, in partnership with Wellness for All programming for her 12-session course, "Your Transformational Healing Journey: Heal Your Chakras. Heal Your Life."
Catch the recorded session(s) and be sure to join the next LIVE class!
Register today https://bit.ly/HealYourChakraswLindaD
---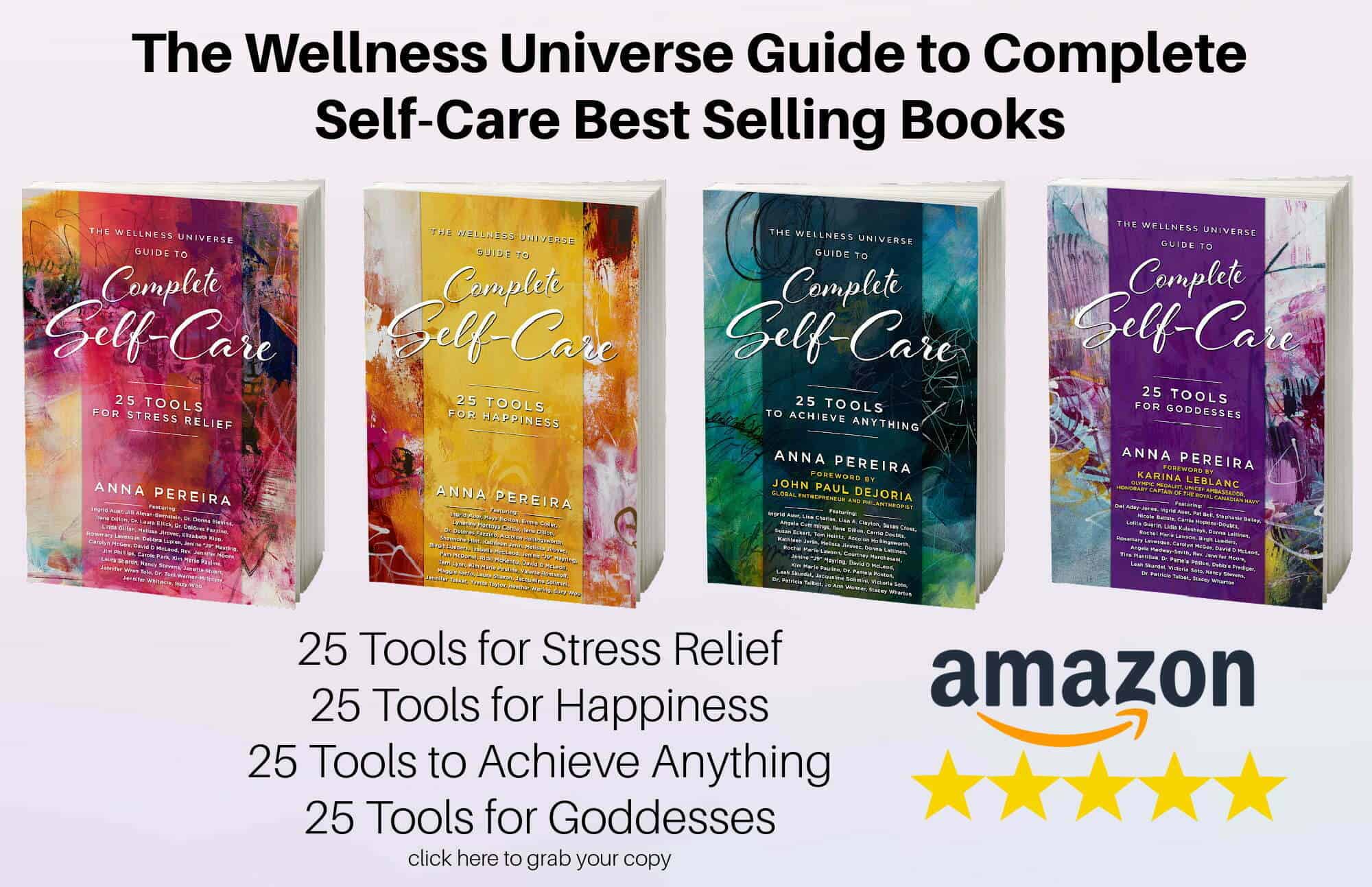 With over 250 independent reviews see how our self-care books are helping thousands of people around the world. Digital and paperback books are available now.
---

Connect to the people that help you live your best life: The Wellness Universe
The Wellness Universe is your resource for health, wellness, well-being, and transformation. We serve and support professionals who make the world a better place and individuals and groups who seek their best life.
A woman owned company; having the vision in 2013, Anna Pereira launched the first directory in 2015 bringing together a community of members making the world a better place to be found by those seeking their best life. The Wellness Universe has grown since then to be a one-stop shop for total wellness support! We are a vetted community, online directory, book publisher, resource center, event producer, content platform, and so much more, supporting whole-health and well-being on a global scale.
The Wellness Universe is a home that connects industry professionals in the health, wellness, and well-being fields to seekers of total well-being. WU provides our WU World-Changer members with peer support, Wellness Universe produced events (live and online), projects, visibility, business mentoring, and community. Through The Wellness Universe our WU World-Changer members serve WU Friends, seekers of health, wellness and transformation, with coaching, workshops, content and more.
The Wellness Universe provides individuals and groups seeking their best lives with access to our members, wellness content, educational resources, and guidance in all areas of wellness to transform visions of how they want to live life into the life they experience.
Through the directory, WU Featured Blog, SoulTreat wellness retreat, Self-Care Books, group well-being programs, and online learning center, The Lounge, The Wellness Universe provides many avenues to support whole health, mind, body, spirit and planet.
Join us today! Wellness Professional or Seeker of Your Best Life