With the recent challenges that so many people worldwide have had to face, it has become essential to be mindful of managing your money and wealth.
In the holistic discipline of Ayurveda, the changing of the seasons is a particular time that allows one to make the appropriate adjustments in their life to transition into the next season without any hiccups, unnecessary challenges, or imbalances.
The holistic principles of Ayurveda can be applied to every aspect of your life, even your wealth.
The summer months are a great time to pull into play the principles of Ayurveda when it comes to minding your wealth.
The summer months tend to be hot, dry, and penetrating and require us to make adjustments to keep the body and mind functioning in a cool, calm, and balanced way.
It's also a great time to do the same when it comes to minding your wealth and preparing for the future.
Here are some tips for June, July, and August.
JUNE
June is a perfect month to rebalance your portfolio. You can ask yourself, "Are my asset allocations still on target?" If some investing categories have performed well, they may be overrepresented in your portfolio, and laggards may be underrepresented.
If stocks take up too much space, this is a great month to shift some equity holdings to bonds and cash.
Check your asset mix twice a year or anytime the market undergoes a significant fluctuation.
June is also a great month to keep tabs on your credit reports. If you haven't claimed your free annual credit reports in the past 12 months, get them from Equifax, Experian, and Transunion and review them for any errors or signs of fraud.
JULY
Perform a midyear tax check-up to see whether you can take steps to lower your taxable income. One idea is to boost contributions to tax-advantaged accounts such as 401(k), IRA, or health savings accounts. If you are 70 or older, you can directly transfer up to $100,00 per year to charity without the distribution counting toward your adjusted gross income.
Grab a great deal. Although Amazon keeps the date hush-hush, the retailer's annual Prime Day sale has always taken place in July.
AUGUST
This is a great month to pay down debt. If a high-interest debt is weighing on your balance sheet, make a plan to wipe it out. Plotting a strategy now will help you avoid falling further into debt during the upcoming holiday shopping season.
Take advantage of back-to-school bargains. Several states have a track record of waiving sales taxes on items such as clothing, computers, and school supplies, typically during a weekend in August.
Cut the cable cord. Many television shows will premier their new season in the coming months. This is a great time to see if your favorite show can be watched at a lower price by switching from expensive cable television to an antenna or video streaming services such as Hulu, Netflix, Sling, YouTube TV, or Tubi.
Summer is also the best time to negotiate a lower bill for high-speed internet.
By performing a summer check and prep, you set yourself up for sustaining wealth as the year progresses.
Namaste,
Rochel Marie Lawson, The Queen of Feeling Fabulous
Pick up a copy of the Best Selling Book Unstoppable today.
Join us at the Brave, Bold & Unstoppable Women\'s Summits!
---
All information, content, and material are for informational purposes only and are not intended to serve as a substitute for the consultation, diagnosis, and/or medical treatment of a qualified physician or healthcare provider. The information supplied through or on this page, or by any representative or agent of The Wellness Universe, is for informational purposes only and does not constitute medical, legal, or other professional advice. Health-related information provided through this website is not a substitute for medical advice and should not be used to diagnose or treat health problems or to prescribe any medical devices or other remedies. The Wellness Universe reserves the right to remove, edit, move or close any content item for any reason, including, but not limited to, comments that are in violation of the laws and regulations formed pursuant to the Federal Food, Drug, and Cosmetic Act. None of the posts and articles on The Wellness Universe page may be reprinted without express written permission.
---
The Wellness Universe welcomes you to our Mid-Week Reset Meditation led by Leah Skurdal, Intuitive Wellness Guide.
Our group meditation is live every 1st and 3rd Wednesday. Sign up here:
---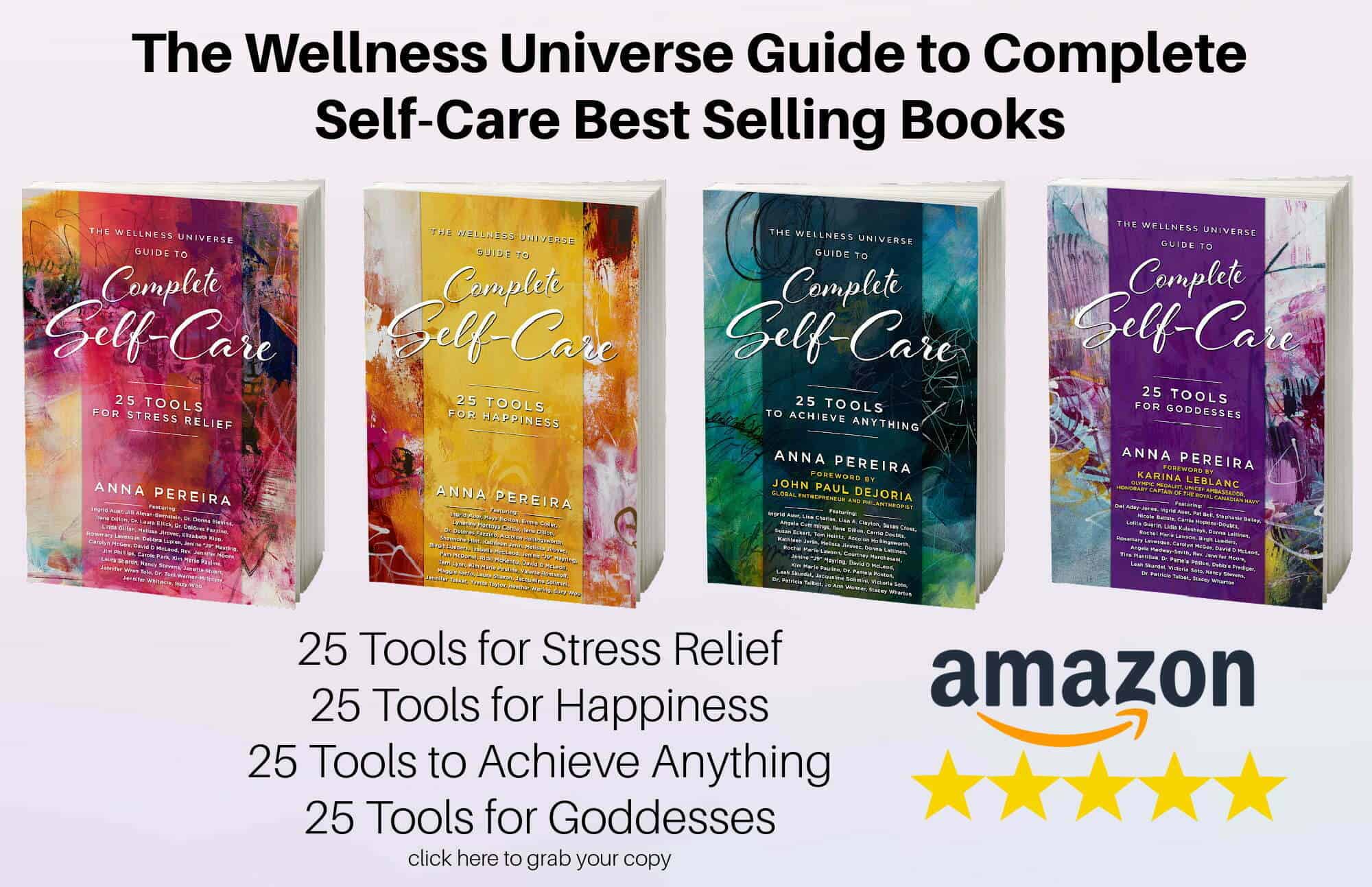 With over 250 independent reviews see how our self-care books are helping thousands of people around the world. Digital and paperback books are available now.
---
Self-development, self-care, and inspirational classes and sessions by Wellness Universe World Changer instructors who support your total well-being.
 Visit The Wellness Universe Lounge today!
---
The Wellness Universe is here to serve your best well-being. If you are experiencing anxiety, grief, overwhelm, guilt, anger, or seeking ways to cope and get help for stress, relationships, parenting, or any other issue during this challenging time, we have wonderful resources for you to connect with. Our WU Best Help members are offering reduced rates, sliding scale payment options, and even pro-bono sessions.
WU Best Help
Rochel Marie Lawson is a Registered Nurse, Ayurvedic Health Practitioner, Holistic Health and Wellness Consultant, Speaker, and Radio Show Hostess. Her goal is to bring holistic health and wellness into the lives of individuals seeking a natural path to wellness.