The Wellness Universe believes a happy, healthy, healed human leads to a better community, a better world, and ultimately to world peace.
The Wellness Universe introduces you to conduits of empowerment, change, and healing as we feature our community members who are here to support your happiest, best version of you and help you shine!
Today's feature member is Elizabeth Kipp, Health Facilitator who guides you to unleash your healing power.
Elizabeth shares with us an introduction about how she is creating a better world through well-being support.
My story
I experienced 59 years of chronic pain and 32 years of addiction to prescribed opiates and benzodiazepines. The only answer the doctors had for my chronic pain was medication. This strategy did not address my pain. It was exacerbated. I became hypervigilant and suffered from hyperalgesia and frequent debilitating panic attacks. My health suffered greatly because this approach led to:
a) my pain getting worse
b) a compromised ability to breathe and digest food, so I could not take in nourishment; I was dying inch by inch, cell by cell
c) depression and hopelessness
I finally found a doctor who understood the nature of the underlying causes of chronic pain. He taught me how to find my way through, without medication, using simple yet powerfully effective methods. I healed and now live a thriving life. You can, too.
What motivates me and why I am passionate about the work I do
The National Institute of Health estimates that 25% of the U.S population suffers from chronic pain across all socioeconomic measures, including children. The World Health Organization estimated that 20% of the world suffers from chronic pain. Further, it underlies addiction, another phenomenon that has rapidly increased over the last ten years, especially in America.
The good news is that there is hope for those who experience the grip of chronic pain. It is possible to heal from it. I, and many others, have found peace and vitality. I don't want anyone to go through what I experienced ever again. I am here to share the tools I learned to heal from chronic pain without the use of pharmaceuticals. I want to help you experience this transformation in your life – and my methods are proven and based on my direct experience.
My Specialty
I serve people suffering from chronic pain or recovering from it. Since addiction is closely related to chronic pain, I serve the addiction recovery community as a Trauma-Trained and Yoga-Informed Addiction Recovery Coach.
Ancestral Clearing® is an integral part of the healing work I offer to help people release the effects of intergenerational trauma.
I am a Bilateral Emotional Freedom Technique (EFT)/Tapping Practitioner and use this powerful modality to help people find peace and ease in their lives.
I'm also a Post-Betrayal Transformation Coach and work for Dr. Debi Silber\'s Post-Betrayal Transformation (PBT) Institute as a Trauma-Trained Yoga Teacher and Chronic Pain Management Specialist.
I have over 900 teacher training hours in Kundalini yoga, Vedic and Tantric wisdom, Sattva Yoga, Kriya, Naad, Hatha Vinyasa Meditation, and Polyvagal Facilitation for Yoga, including Social Justice, and Radiant Body Yoga.
I work in person, over the phone, or online worldwide. I appear in panel discussions, podcasts, summits, and other speaking engagements in my areas of expertise.
I'm an international best-selling author. My book The Way Through Chronic Pain: Tools to Reclaim Your Healing Power is for chronic pain sufferers and those who care for them: doctors, nurses, family members, and friends. It offers proven techniques to clear pain and live a life free from suffering through wisdom gleaned from searching the globe for answers and finding them. I have also co-authored a number of best-selling books in the wellness space, including The Wellness Universe Guide to Self-Care: 25 Tools for Stress Relief.
Testimonial for The Way Through Chronic Pain: Tools to Reclaim Your Healing Power:
"Whether you experience chronic pain or not, this book is a MUST read! Elizabeth Kipp has done a superb job in discussing chronic pain, her personal journey, and how she was able to find healing. "The Way Through Chronic Pain" gives practical solutions to real problems. From focusing on the power of our breath to balancing a negative mind to examining genetics and ancestral clearing, Elizabeth shines her wisdom light on chronic pain. Her "12 Steps of Chronic Pain" and "12 Steps of Wellness" are brilliant! Attention to our nutrition, self-care, and daily practice round out this important book. Spread the word; this is an important book!"
– Kimberley Berlin, LCSW, Integrated Addiction Therapist
How someone can benefit from my services:
The Ancestral Clearing® process can help you let go of the weight of past unhealthy patterns in your life or lineage: physical, emotional, spiritual, financial, or other limitations.
Release the grip of chronic pain by unleashing your healing power
Feel comfortable in your body
Eliminate self-sabotage
Enhance your intuition
Enjoy success and financial freedom that may have eluded you
Effortlessly trust your inner guidance
Wholeheartedly believe in yourself
Heal your past and your lineage
Live up to your true potential
Express your inner voice
Experience the essence of who you are
Testimonials for Elizabeth Kipp, Health Practitioner:
"Elizabeth Kipp is a master in the area of mindset training and applying it to help people heal from chronic pain."
– Dr. Nicholas Jensen, Naturopath, Owner of Divine Elements-Naturopathic Family Wellness, Vancouver, British Columbia, Canada
"Elizabeth Kipp is the guru for healing chronic pain. She understands the value of and knows how to apply a multi-therapeutic approach to get a wholistic amount of healing. She is an amazing light to the world."
– Dr. David Wardy, Doctor of Chiropractic, Wardy Wellness, El Paso, Texas
You can find more testimonials or Elizabeth here.
Thank you for meeting Elizabeth and connecting with her on The Wellness Universe.
---
All information, content, and material are for informational purposes only and are not intended to serve as a substitute for the consultation, diagnosis, and/or medical treatment of a qualified physician or healthcare provider. The information supplied through or on this page, or by any representative or agent of The Wellness Universe, is for informational purposes only and does not constitute medical, legal, or other professional advice. Health-related information provided through this website is not a substitute for medical advice and should not be used to diagnose or treat health problems or to prescribe any medical devices or other remedies. The Wellness Universe reserves the right to remove, edit, move or close any content item for any reason, including, but not limited to, comments that are in violation of the laws and regulations formed pursuant to the Federal Food, Drug, and Cosmetic Act. None of the posts and articles on The Wellness Universe page may be reprinted without express written permission.
---
The Wellness Universe Q&A, Meet & Greet
A warm gathering for Members and those thinking of becoming members of The Wellness Universe. 
Come and meet with our Wellness Universe Mission Ambassador Nicole, AKA Nikki, Batiste for a welcoming gathering to inform you about our community, connect to other world-changers,  and how to get involved.
---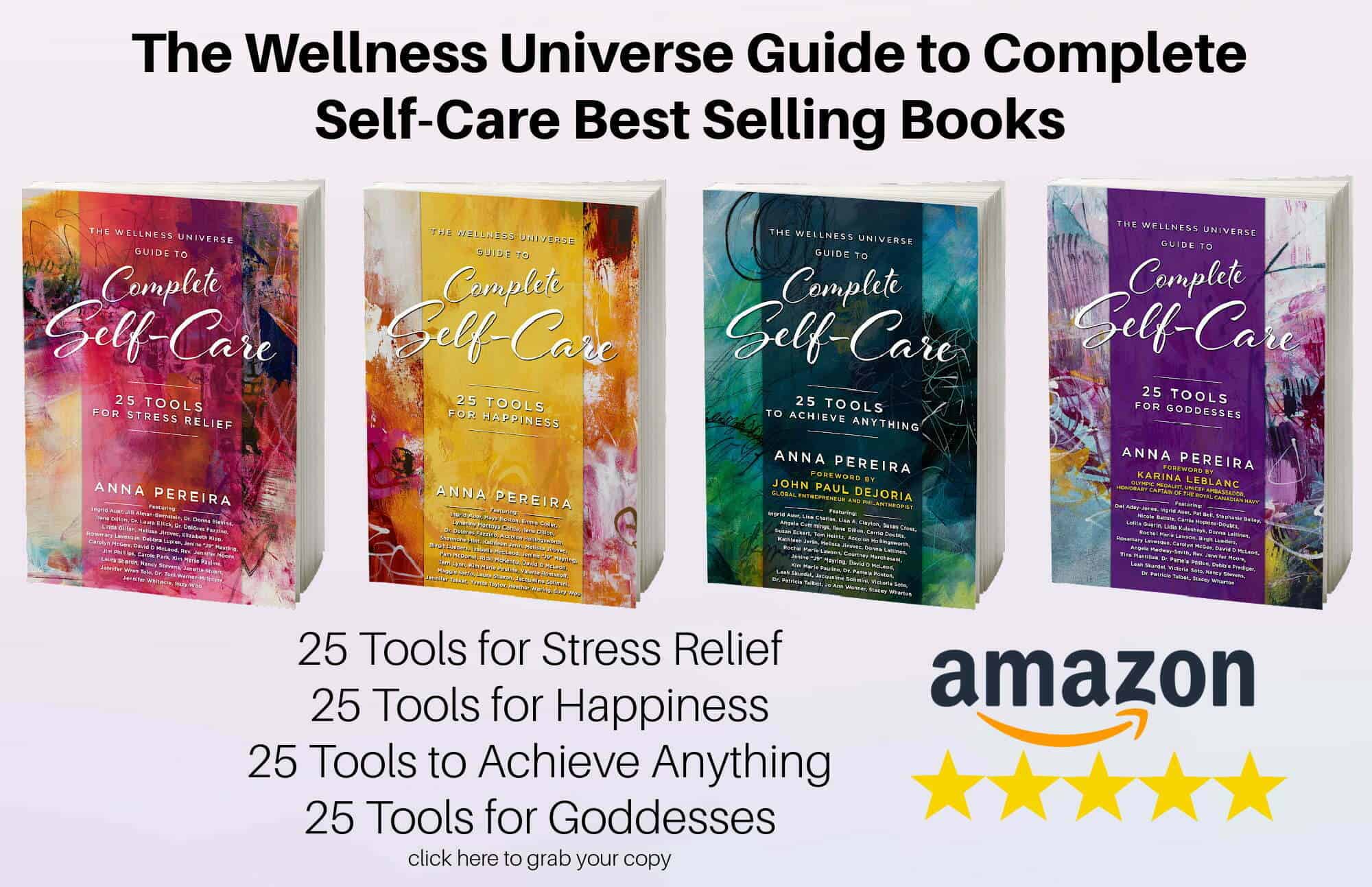 With over 250 independent reviews see how our self-care books are helping thousands of people around the world. Digital and paperback books are available now.
---
Self-development, self-care, and inspirational classes and sessions by Wellness Universe World Changer instructors who support your total well-being.
 Visit The Wellness Universe Lounge today!
---
The Wellness Universe is here to serve your best well-being. If you are experiencing anxiety, grief, overwhelm, guilt, anger, or seeking ways to cope and get help for stress, relationships, parenting, or any other issue during this challenging time, we have wonderful resources for you to connect with. Our WU Best Help members are offering reduced rates, sliding scale payment options, and even pro-bono sessions.
WU Best Help
The Wellness Universe is your resource for health, wellness, well-being, and transformation. We serve and support professionals who make the world a better place and individuals and groups who seek their best life.
A woman owned company; having the vision in 2013, Anna Pereira launched the first directory in 2015 bringing together a community of members making the world a better place to be found by those seeking their best life. The Wellness Universe has grown since then to be a one-stop shop for total wellness support! We are a vetted community, online directory, book publisher, resource center, event producer, content platform, and so much more, supporting whole-health and well-being on a global scale.
The Wellness Universe is a home that connects industry professionals in the health, wellness, and well-being fields to seekers of total well-being. WU provides our WU World-Changer members with peer support, Wellness Universe produced events (live and online), projects, visibility, business mentoring, and community. Through The Wellness Universe our WU World-Changer members serve WU Friends, seekers of health, wellness and transformation, with coaching, workshops, content and more.
The Wellness Universe provides individuals and groups seeking their best lives with access to our members, wellness content, educational resources, and guidance in all areas of wellness to transform visions of how they want to live life into the life they experience.
Through the directory, WU Featured Blog, SoulTreat wellness retreat, Self-Care Books, group well-being programs, and online learning center, The Lounge, The Wellness Universe provides many avenues to support whole health, mind, body, spirit and planet.
Join us today! Wellness Professional or Seeker of Your Best Life