The seven factors that influence the inner process of your success are as follows:
1) You Are Pure Potential
2) You Reap What You Sow
3) Deliberate Creation
4) Detachment
5) Patience Is A Virtue
6) Give & Receive
7) Your Life Purpose
These factors of success are gently reminding us that we DO have the potential and ability to achieve anything. It's a natural phenomenon that a planted seed will grow and that what you reap is what you sow. The power is within to achieve it, and the gift of free will allows us to create anything we desire. It's also a fact that when we feel good, we do good, which is incredibly fulfilling. We don't need to achieve anything more to reach fulfillment. Detachment from our self-image and possessions, means there are plenty of things we can practically use and still enjoy, but no longer identify with. Transcend neediness. Why should there be any rush when patience is a virtue. Going with the flow of life results in an effortless floating downstream towards the vast sea of possibility. The river of life is a boundless provider once we've finally allowed our transcendent selves to emerge. By aligning ourselves with our true inner nature, we're consistently giving and receiving. When we're blissfully consumed by a joyful doing, we've realized that rewards take care of ourselves. Following the heart and not the head, reveals our true passion and purpose in life. This is also our best means of serving humanity.
Destined for Success
The seven factors of success have now been discovered and proven by the various laws of quantum physics. They provide direct scientific proof of these factors of success, a physical version of the theoretical seven spiritual laws of success. In other words, they offer a different perspective on the spiritual theory of growth and inspiration. Quantum physics/mechanics is basically a practical and logical explanation of the essential spiritual teachings of how to live a fulfilling life consisting of unconditional love, joy, and peace. It practically destines our success.
Evolving is an inspiring channel for anyone seeking to create positive change in their own lives, support the lives of others, and consequentially take an important step towards a more joyful and peaceful world.
Connect with Gus today!
---
All information, content, and material are for informational purposes only and are not intended to serve as a substitute for the consultation, diagnosis, and/or medical treatment of a qualified physician or healthcare provider. The information supplied through or on this page, or by any representative or agent of The Wellness Universe, is for informational purposes only and does not constitute medical, legal, or other professional advice. Health-related information provided through this website is not a substitute for medical advice and should not be used to diagnose or treat health problems or to prescribe any medical devices or other remedies. The Wellness Universe reserves the right to remove, edit, move or close any content item for any reason, including, but not limited to, comments that are in violation of the laws and regulations formed pursuant to the Federal Food, Drug, and Cosmetic Act. None of the posts and articles on The Wellness Universe page may be reprinted without express written permission.
---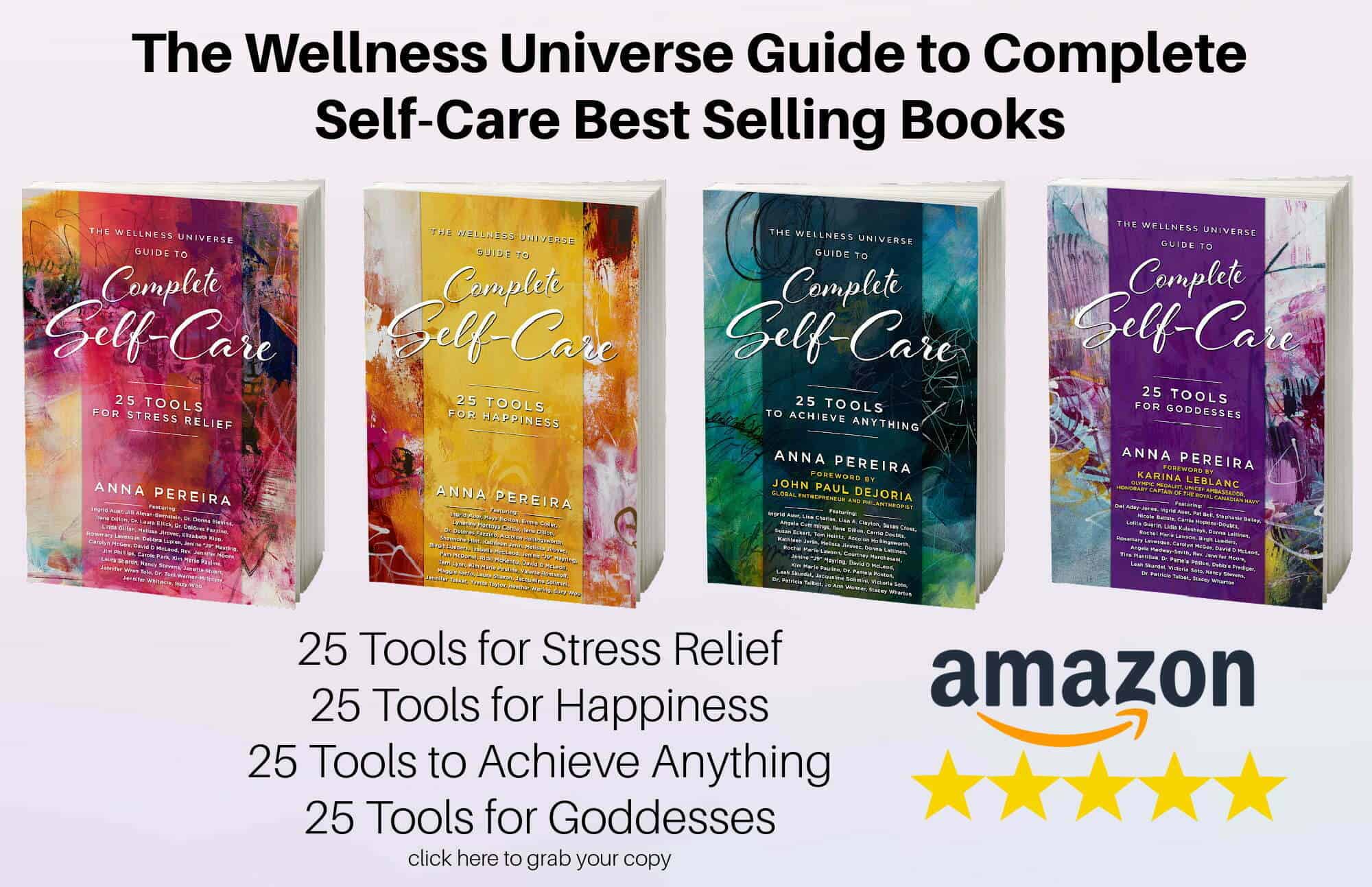 With over 250 independent reviews see how our self-care books are helping thousands of people around the world. Digital and paperback books are available now.
---
Self-development, self-care, and inspirational classes and sessions by Wellness Universe World Changer instructors who support your total well-being.
Visit The Wellness Universe Lounge today!
---
The Wellness Universe is here to serve your best well-being. If you are experiencing anxiety, grief, overwhelm, guilt, anger, or seeking ways to cope and get help for stress, relationships, parenting, or any other issue during this challenging time, we have wonderful resources for you to connect with. Our WU Best Help members are offering reduced rates, sliding scale payment options, and even pro-bono sessions.
WU Best Help
I'm a certified "Law of Attraction" Coach and use Energy Healing to guide my clients to their pathway towards a life of well-being and success. This involves removing past negative conditioning and beliefs in order to start attracting a continuous flow of abundance into their lives. My coaching motto is, "We don't face reality, we create our own reality."