What Is A Wellness Coach?
A wellness coach is a professional who helps people assess their current physical and emotional state, and helps them set goals for what they want to achieve in their overall wellness and health by working with them on plans of action to reach these goals. (*) Wellness coaching is a process that facilitates sustainable behavior change by shining the light on people's unique skills, strengths, and resources. (**)
How Can Wellness Coaches Help You?
Wellness Coaches can help you by guiding you through the process of making positive and lasting changes in your life. They can help you create a vision for your ideal health and well-being while encouraging you every step of the way as you achieve your goals. Wellness Coaching addresses you as a whole and focuses on your overall lifestyle rather than just a few select elements.
What Are the Benefits of Having A Wellness Coach?
A healthy relationship with a Wellness Coach can assist you in some of the following ways:
Stress Management
Maintaining a healthy and positive mindset
Finding balance in your busy schedule
Prioritizing self-care and self-love
Move past challenges that stand in the way of your goals
Help you make better general choices that are aligned with your lifestyle
Get past feelings of overwhelm
Guidance with mindful thinking
Build self-confidence
Top 4 Wellness Coaches
CEO, Lynda Lippin Pilates, LLC
"I am an award-winning Pilates teacher, offering focused, sustainable, effective online Pilates programs that help busy women (especially women with low bone density and chronic pain) feel and function at their very best for the long haul."
---
Certified Expressive Arts Coach (RMT, CCF) | Credentialed Creative Arts Teacher (MS) | Certified Grief and Trauma Coach (CCF)
"I have more than forty years of experience helping others identify, embrace, and release blocked feelings and emotions through the creative, expressive, and performing arts."
---
Certified LIFE/Business/Spiritual Coach | America's Authority on Living In Full Expression
"I help people understand what has been misunderstood so the life they are living is the life they desire."
---
Certified Master Life/Mindset/Transformation Coach
"I empower mid-life adults to transcend triggers, challenges, and obstacles so they can express and experience the fullness of who they really are and thereby create truly magnificent and fulfilling lives."
---
Sources:
(*) https://bit.ly/2A7q2xD
(**) https://instituteforwellness.com/what-does-a-wellness-coach-do/
---
---
All information, content, and material are for informational purposes only and are not intended to serve as a substitute for the consultation, diagnosis, and/or medical treatment of a qualified physician or healthcare provider. The information supplied through or on this page, or by any representative or agent of The Wellness Universe, is for informational purposes only and does not constitute medical, legal, or other professional advice. Health-related information provided through this website is not a substitute for medical advice and should not be used to diagnose or treat health problems or to prescribe any medical devices or other remedies. The Wellness Universe reserves the right to remove, edit, move or close any content item for any reason, including, but not limited to, comments that are in violation of the laws and regulations formed pursuant to the Federal Food, Drug, and Cosmetic Act. None of the posts and articles on The Wellness Universe page may be reprinted without express written permission.
---
Live Today!
The Wellness Universe presents Hema Vyas our Heart-Set Prosperity Expert guiding you through a 12-month program that will transform your life.
This donation-based flex course has 12 sessions, 1X per month. The pay-what-you-can structure supports your success so no matter your financial status, you can join us!
Register today bit.ly/HeartSetProsperity
---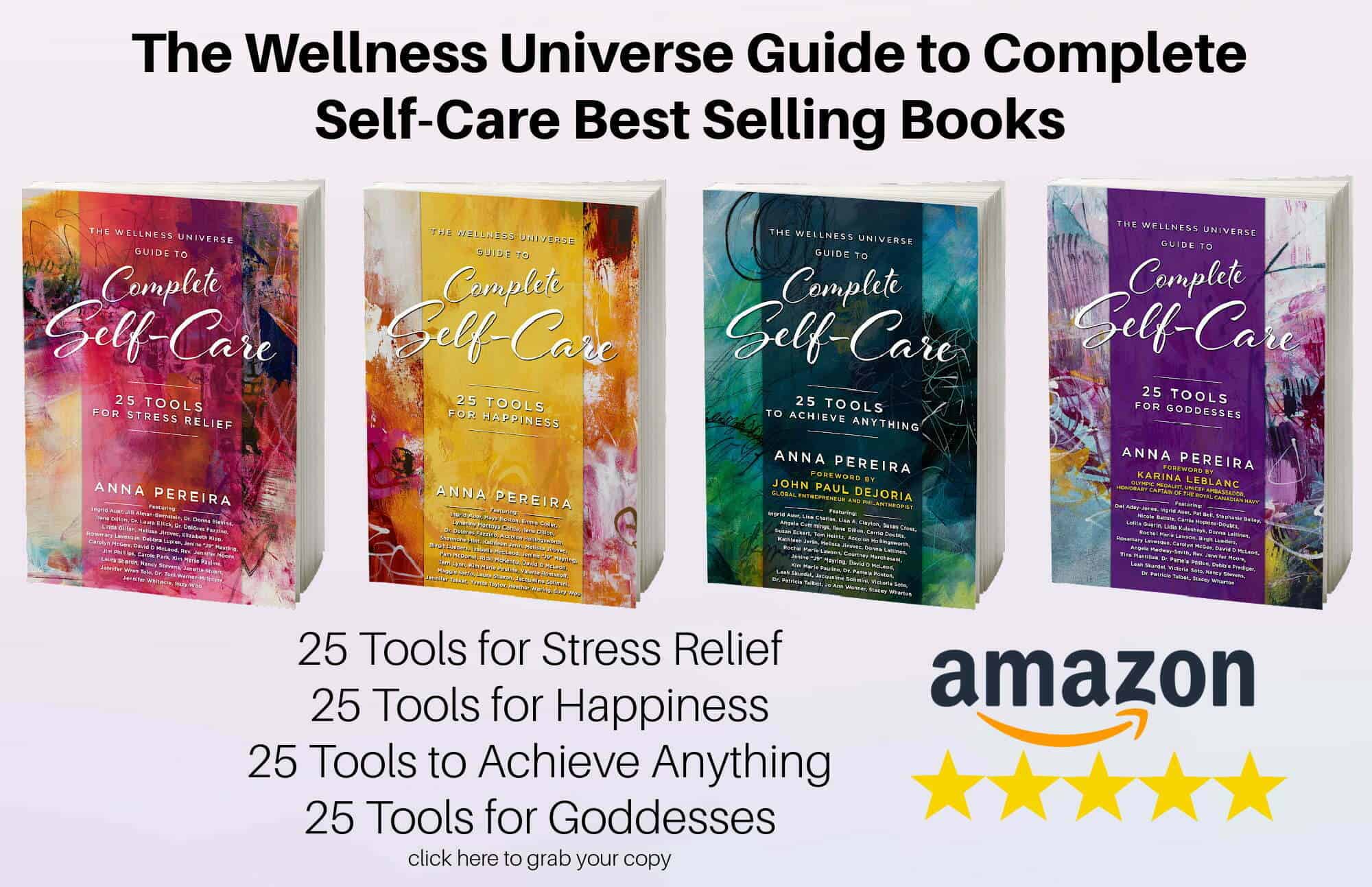 With over 250 independent reviews see how our self-care books are helping thousands of people around the world. Digital and paperback books are available now.
---
Self-development, self-care, and inspirational classes and sessions by Wellness Universe World Changer instructors who support your total well-being.
Visit The Wellness Universe Lounge today!
---
The Wellness Universe is here to serve your best well-being. If you are experiencing anxiety, grief, overwhelm, guilt, anger, or seeking ways to cope and get help for stress, relationships, parenting, or any other issue during this challenging time, we have wonderful resources for you to connect with. Our WU Best Help members are offering reduced rates, sliding scale payment options, and even pro-bono sessions.
WU Best Help