The term happiness is used in the context of mental or emotional states, including positive or pleasant emotions ranging from contentment to intense joy. It is also used in the context of life satisfaction, subjective well-being, eudaimonia, flourishing, and well-being. (source: https://en.wikipedia.org/wiki/Happiness )
What is the International Day of Happiness?
It's a day to be happy, of course! Since 2013, the United Nations has celebrated the International Day of Happiness as a way to recognize the importance of happiness in the lives of people around the world. In 2015, the UN launched the 17 Sustainable Development Goals, which seek to end poverty, reduce inequality, and protect our planet, three key aspects that lead to well-being and happiness.
The United Nations invites each person of any age, plus every classroom, business, and government to join in celebration of the International Day of Happiness.
Background
The General Assembly of the United Nations in its resolution 66/281 of 12 July 2012 proclaimed 20 March the International Day of Happiness, recognizing the relevance of happiness and well-being as universal goals and aspirations in the lives of human beings around the world and the importance of their recognition in public policy objectives. It also recognized the need for a more inclusive, equitable, and balanced approach to economic growth that promotes sustainable development, poverty eradication, happiness, and the well-being of all peoples.
The resolution was initiated by Bhutan, a country that recognized the value of national happiness over national income since the early 1970s and famously adopted the goal of Gross National Happiness over Gross National Product. It also hosted a High-Level Meeting on "Happiness and Well-Being: Defining a New Economic Paradigm" during the sixty-sixth session of the General Assembly. (source https://www.un.org/en/observances/happiness-day)
How can we experience more happiness?
Check out the Amazon Best-Seller in several categories, The Wellness Universe Guide to Complete Self-Care: 25 Tools for Happiness, and see what you can do right now to experience happiness.
Are you feeling happy? Pay it forward!
As we live our happiness, we inspire more happiness into the world, which makes the world a better place.
*This article is adapted from one that was originally published on March 20, 2021.
---
All information, content, and material is for informational purposes only and is not intended to serve as a substitute for the consultation, diagnosis, and/or medical treatment of a qualified physician or healthcare provider. The information supplied through or on this page, or by any representative or agent of The Wellness Universe, is for informational purposes only and does not constitute medical, legal, or other professional advice. Health-related information provided through this website is not a substitute for medical advice and should not be used to diagnose or treat health problems or to prescribe any medical devices or other remedies. The Wellness Universe reserves the right to remove, edit, move or close any content item for any reason, including, but not limited to, comments that are in violation of the laws and regulations formed pursuant to the Federal Food, Drug, and Cosmetic Act. None of the posts and articles on The Wellness Universe page may be reprinted without express written permission.
---
Celebrating International Day of Happiness March 20th with a best-selling read!

Everyone wants to be happy, but we're not very often taught how.
Everyone needs a special toolkit for that, and better yet, a master teacher to guide them! What if you had 25 of those guides alongside you on the journey? That would be a game-changer.
The Wellness Universe Guide to Complete Self-Care: 25 Tools for Happiness is that powerful expert toolkit you've been hoping for. You'll find the authentic stories of our authors to inspire you, and then you'll be blown away by the level of mastery with which they then teach you a practical tool for happiness. These are techniques for a positive mindset, balanced emotions, a healthy body, better eating habits, better communication skills, and more!
Because it's time to be happy and this book will start you on your journey.
Grab your copy now!
---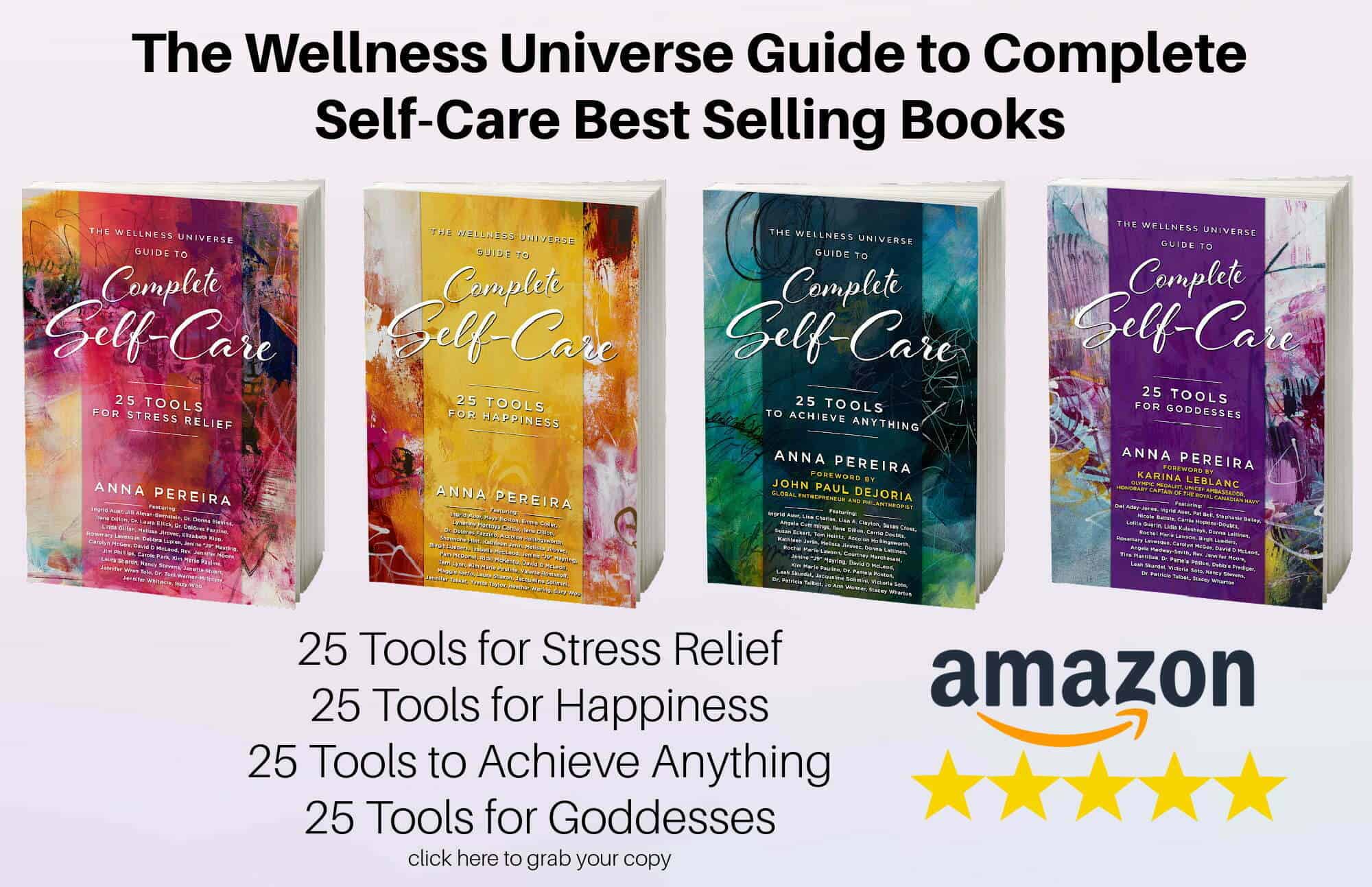 With over 250 independent reviews see how our self-care books are helping thousands of people around the world. Digital and paperback books are available now.
---
Self-development, self-care, and inspirational classes and sessions by Wellness Universe World Changer instructors who support your total well-being.
Visit The Wellness Universe Lounge today!
---
The Wellness Universe is here to serve your best well-being. If you are experiencing anxiety, grief, overwhelm, guilt, anger, or seeking ways to cope and get help for stress, relationships, parenting, or any other issue during this challenging time, we have wonderful resources for you to connect with. Our WU Best Help members are offering reduced rates, sliding scale payment options, and even pro-bono sessions.
WU Best Help
The Wellness Universe is your resource for health, wellness, well-being, and transformation. We serve and support professionals who make the world a better place and individuals and groups who seek their best life.
A woman owned company; having the vision in 2013, Anna Pereira launched the first directory in 2015 bringing together a community of members making the world a better place to be found by those seeking their best life. The Wellness Universe has grown since then to be a one-stop shop for total wellness support! We are a vetted community, online directory, book publisher, resource center, event producer, content platform, and so much more, supporting whole-health and well-being on a global scale.
The Wellness Universe is a home that connects industry professionals in the health, wellness, and well-being fields to seekers of total well-being. WU provides our WU World-Changer members with peer support, Wellness Universe produced events (live and online), projects, visibility, business mentoring, and community. Through The Wellness Universe our WU World-Changer members serve WU Friends, seekers of health, wellness and transformation, with coaching, workshops, content and more.
The Wellness Universe provides individuals and groups seeking their best lives with access to our members, wellness content, educational resources, and guidance in all areas of wellness to transform visions of how they want to live life into the life they experience.
Through the directory, WU Featured Blog, SoulTreat wellness retreat, Self-Care Books, group well-being programs, and online learning center, The Lounge, The Wellness Universe provides many avenues to support whole health, mind, body, spirit and planet.
Join us today! Wellness Professional or Seeker of Your Best Life