Happy New Year – It's 2022! We know words have power and carry both high and low vibrations. By choosing high vibration words to reflect what you truly want to experience for 2022, you're engaging in the art of manifesting your year!
Here is some inspiration from Wellness Universe World-Changers and their word of the year:
Joy Andreasen shares,
My word for this year is SHINE. As I shine the light of my soul, I not only become a lighthouse to those navigating the dark places in their lives, but I also inspire others to shine the light of their souls.
This year, 2022, is a year of connections and relationships as we need each other. We don't need another to-do list or another ten-step program to success. We need to simply shine the light of our unique expression of the Divine and let it radiate from within. We need to remember that we are all sparks of the Divine and we all carry within us the light of love, of healing, and of joy.
Living life with joy and appreciation for the gifts of life and being present in the moment will create a powerful grid of light that shines out from within and connect us to others shining their own lights.
Ragini Elizabeth Michaels says,
My word for the year is DISCIPLINE. I chose this word because the key to my happiness and success rests on my commitment to disciplining my mind and placing my attention on awareness. I understand many things about myself, yet this knowledge doesn't bring change without first shifting my attention and focusing on the most useful level of truth I've discovered so far.
I hold myself already successful in this commitment as well as for everyone else learning to use their power in productive and loving ways.
Jo Wenner adds,
My word of the year is FOCUS. I believe we will continually be challenged to move forward within a Covid-laced world, replete with the challenges of climate change and international conflicts. For me, it's going to be important to focus on why I am here and to, above all else, bring greater Love into the world through Compassionate Conversations.
Welcome to 2022! May it be a year of Mighty Blessings that propel us into greater Love, Truth, and Belonging.
What is your word for the year? Don't worry if you're reading this and it's not the beginning of the year, it's never too late to choose a word as a focus for your life – you can even do this on a monthly basis!
Share your word for the year or your experience with this practice below.
Have a happy and blessed 2022!
---
All information, content, and material is for informational purposes only and is not intended to serve as a substitute for the consultation, diagnosis, and/or medical treatment of a qualified physician or healthcare provider. The information supplied through or on this page, or by any representative or agent of The Wellness Universe, is for informational purposes only and does not constitute medical, legal, or other professional advice. Health-related information provided through this website is not a substitute for medical advice and should not be used to diagnose or treat health problems or to prescribe any medical devices or other remedies. The Wellness Universe reserves the right to remove, edit, move or close any content item for any reason, including, but not limited to, comments that are in violation of the laws and regulations formed pursuant to the Federal Food, Drug, and Cosmetic Act. None of the posts and articles on The Wellness Universe page may be reprinted without express written permission.
---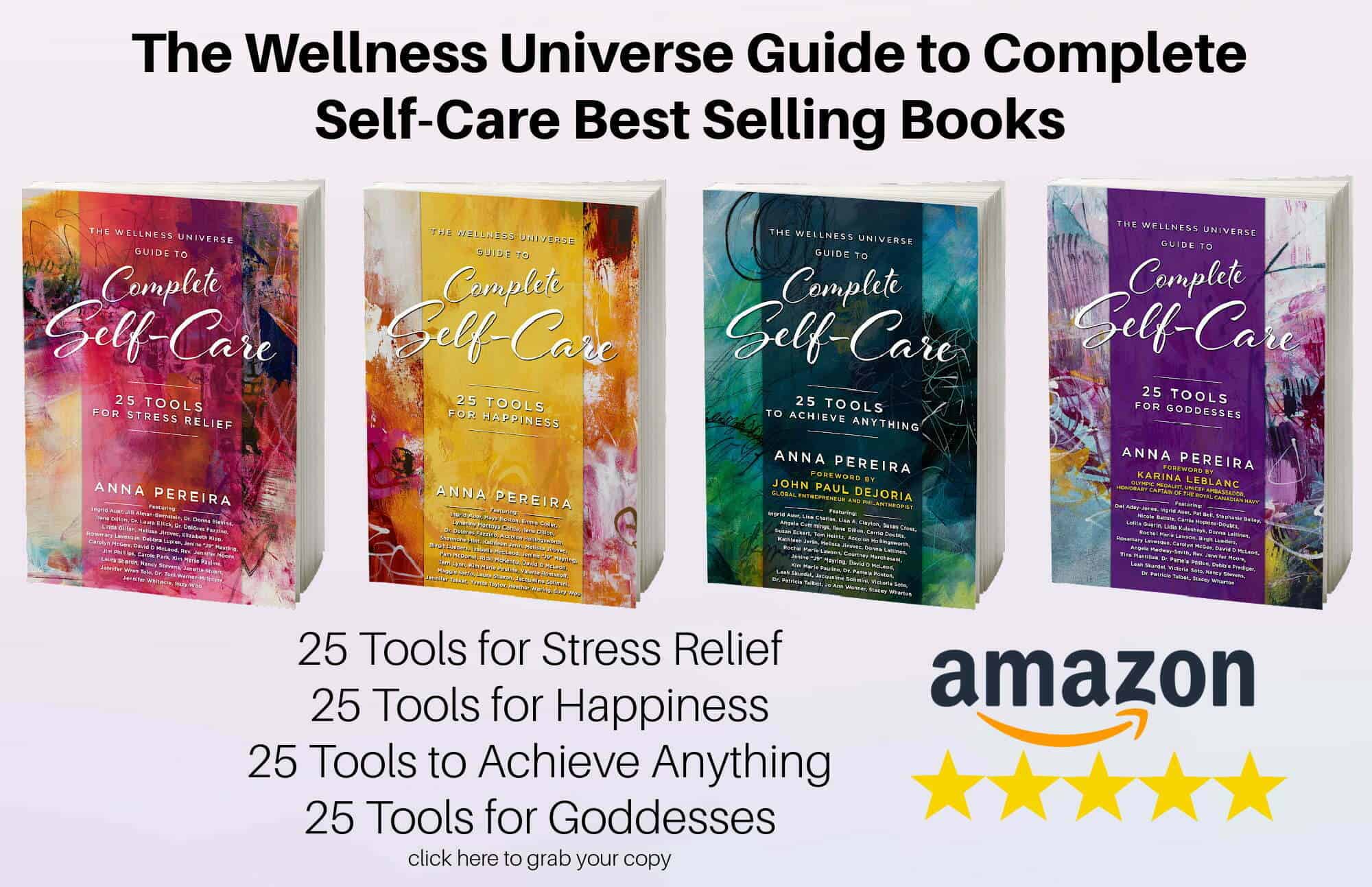 With over 250 independent reviews see how our self-care books are helping thousands of people around the world. Digital and paperback books are available now.
---
Self-development, self-care, and inspirational classes and sessions by Wellness Universe World Changer instructors who support your total well-being.
Visit The Wellness Universe Lounge today!
---
The Wellness Universe is here to serve your best well-being. If you are experiencing anxiety, grief, overwhelm, guilt, anger, or seeking ways to cope and get help for stress, relationships, parenting, or any other issue during this challenging time, we have wonderful resources for you to connect with. Our WU Best Help members are offering reduced rates, sliding scale payment options, and even pro-bono sessions.
WU Best Help