The Wellness Universe presents Resilience for Harmony: Tools, Tips, and Exercises for Well-being, produced, created, and hosted by Leah Skurdal, featuring esteemed speakers in the self-care industry: Carol Pilkington, Carolyn McGee, Debbie Prediger, Nicole Batiste, and David McLeod sharing self-care resources and how to fortify your resilience.
Introducing Featured Resilience Speaker… Carolyn McGee
Part 5/5 – The Secret to Healthy Connections
Written by Leah Skurdal
"How you show up in one area of your life is how you show up everywhere," says resilience expert and Sacred Haven Living Guide, Carolyn McGee.
Showing up in your life means being fully present in the moment. When you are present and listening, you are showing up for other people and for yourself. Showing up means living your life on purpose.
How purposefully are you showing up in your life? For yourself? For people you care about? For your work?
Note this quick checklist (not a to-do list but a noticing list) to show up fully in your life in this moment:
Think of something beautiful or something you appreciate. Notice how your heart feels.
Notice something you appreciate in front of you now.
Take a breath and notice the expansion of your rib cage.
Give yourself screen-free time.
Make space – between your ears, between your jawbone and your shoulders, in your closet, on your desk, in your calendar.
Notice your thoughts with curiosity and kindness.
Quit complaining.
In the end, the only thing we have control over is the attitude we bring to each day.
Through the vibration of our attitudes, we attract our next experiences.
Carolyn McGee utilizes everyday situations as opportunities to help you recognize roadblocks in your life and transform them into healing moments and healthy relationships. This skill set will empower you to transform any obstacle and manifest the success, love, and happiness that you desire and deserve.
Carolyn reminds us to,
Learn to recognize your patterns to bring harmony in all areas of your life.
Carolyn will be speaking about The Secret to Healthy Connections at Resilience for Harmony. Carolyn McGee's Sacred Haven Living helps women break lifelong patterns of how they engage to understand their relationship with themselves, others, money, and spirit. As the Decision Queen, she guides you to trust your intuition to make empowered decisions without second guessing to take inspired action!
Connect with Carolyn:  https://www.thewellnessuniverse.com/world-changers/carolynmcgee/
Carolyn's course Sacred Haven Living is available live and by recording. Enroll Today: https://bit.ly/SacredHavenLiving
Join us and be enriched by the strategies and conversations during our 90-minute special event. You will have the opportunity to participate in self-care and resilience-building exercises in our interactive and workshop-style event. Resilience for Harmony: Tools, Tips & Exercises for Well-Being will take place Saturday, September 10, 2022, 10-11:30amET.
Register Today:  https://bit.ly/ResilienceForHarmony
Those who attend live will be eligible to receive free gifts and prizes donated by the presenters.
This donation-based event is supported by a pay-what-you-can structure to support anyone seeking self-development. Donate at registration, during the live event, and at your convenience, as you experience the support you seek to attain harmony. Free seats for those in need. Available to all who would like to attend.
Mark your calendars:
Resilience for the Holidays: Tools, Tips & Exercises for Well-being December 10, 2022
Resilience for Transition: Tools, Tips & Exercises for Well-being March 11, 2023
---
All information, content, and material are for informational purposes only and are not intended to serve as a substitute for the consultation, diagnosis, and/or medical treatment of a qualified physician or healthcare provider. The information supplied through or on this page, or by any representative or agent of The Wellness Universe, is for informational purposes only and does not constitute medical, legal, or other professional advice. Health-related information provided through this website is not a substitute for medical advice and should not be used to diagnose or treat health problems or to prescribe any medical devices or other remedies. The Wellness Universe reserves the right to remove, edit, move or close any content item for any reason, including, but not limited to, comments that are in violation of the laws and regulations formed pursuant to the Federal Food, Drug, and Cosmetic Act. None of the posts and articles on The Wellness Universe page may be reprinted without express written permission.
---
The Wellness Universe presents Hema Vyas our Heart-Set Prosperity Expert guiding you through a 12-month program that will transform your life.
Catch the recorded session(s) and be sure to join the next LIVE class! 
Register today https://bit.ly/HeartSetProsperity
---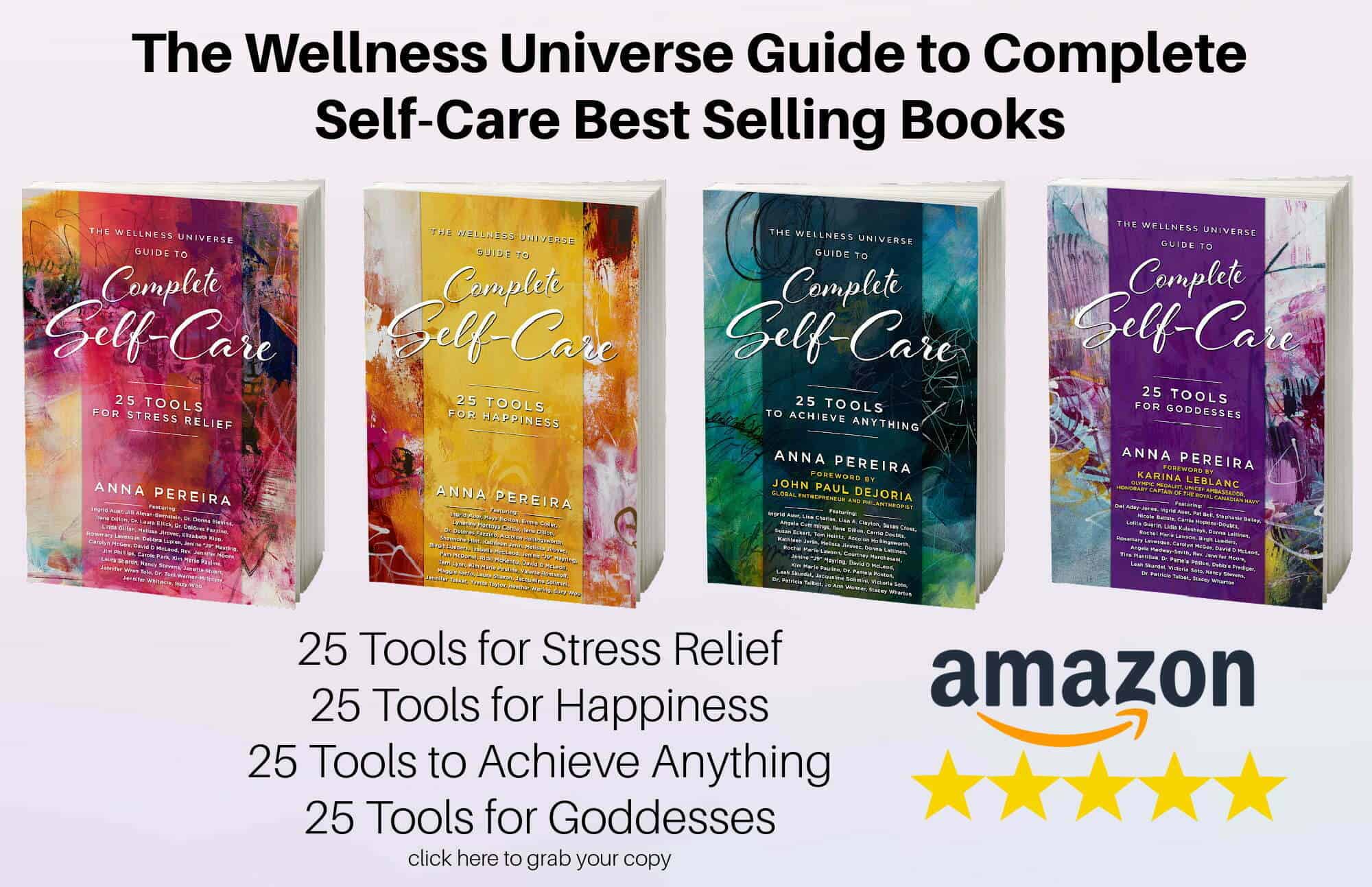 With over 250 independent reviews see how our self-care books are helping thousands of people around the world. Digital and paperback books are available now.
---
Self-development, self-care, and inspirational classes and sessions by Wellness Universe World Changer instructors who support your total well-being.
 Visit The Wellness Universe Lounge today!
---
The Wellness Universe is here to serve your best well-being. If you are experiencing anxiety, grief, overwhelm, guilt, anger, or seeking ways to cope and get help for stress, relationships, parenting, or any other issue during this challenging time, we have wonderful resources for you to connect with. Our WU Best Help members are offering reduced rates, sliding scale payment options, and even pro-bono sessions. WU Best Help
Leah Skurdal guides people to up-level their stress resilience to improve relationships. Leah shares intuitive insights in private Energy Healing to address the roots of disharmony. As an inspirational speaker and published author, Leah offers lively classes, experiential workshops, and keynotes.