The Wellness Universe features Marisa Ferrera, Women's Empowerment Coach, and mentor. As a member of The Wellness Universe and International Best-Selling Author of the book MAGNIFY YOUR MAGNIFICENCE: Your Pathway to the Life & Relationships You Truly Desire, we wanted to share a bit about her work in the world.
We asked Marisa to share her journey in writing her book and to shine a light on the inside scoop about her inspiration, process, reader reflections, and more.
WU: What influenced you to write your book MAGNIFY YOUR MAGNIFICENCE: Your Pathway to the Life & Relationships You Truly Desire?
Marisa: I didn't actually have any intentions to write a book. What happened was that after going through a challenging time, feeling uncertain and frustrated about my future and how I could share my gifts with the world, I threw my hands in the air and told the Universe that I was tired of trying to figure out my next step and I wanted some clear guidance.
Not long afterward, I started receiving channeled messages in the middle of the night and one of the messages mentioned it was part of a book.
I share this experience in detail at the beginning of my book and aside from this part, the rest of the book was completely channeled. I didn't change or edit any of the messages I received.
WU: Tell us a bit about your journey. How long did it take you to write? How did writing your book change your life?
Marisa: I received the channeled messages over the course of about six or seven months and received them one at a time. Each message came to me between the hours of approximately 3am-5am. I felt grateful that every time I was awakened through the night, I felt wide awake. I remember feeling blessed to be receiving such powerful messages and I was eager to record them.
One thing I love about the messages is that each one is followed by a practical action step that we can take to help us integrate the information into our personal lives. I've read the book and completed the exercises a few times and each time, I was able to go deeper into uncovering my blocks and limiting beliefs so I could let them go and open myself up to more and more possibilities.
This book really helped me remember the truth about who I am and what I'm capable of. It gave me the confidence to not give up when I faced challenges and to call on and trust my inner guidance any time I wanted or needed assistance of any kind.
WU: What are your readers sharing? How has your book inspired and impacted lives?
Marisa: I've received a lot of positive feedback from those who read my book.
One reader, Lorna, told me that reading this book was like reconnecting with her soul. Another reader, Hilary, shared that while reading the book she felt instantly free and experienced joyous relief wash over her. She went on to say, "The words that came through Marisa and spilled into her book breathed life into my soul and woke me up to the vastness of who I am and what I am innately capable of."
Other readers found that the messages gave them clarity and helped them release what no longer served them.
Here's one of the 5 Star Amazon Reviews for this book written by Leslie:
Thank you will never be enough. I can't explain how reading this book made me feel but I do know that it struck a chord with me in a way I've never felt before and I released a whole pile of "garbage." Marisa, you are an incredible source of inspiration.
This book is a must-read for both those who are feeling unworthy, lost, and not good enough or those who are looking to strengthen their self-love and purpose. The exercises provide a template for the discovery of our authentic self and all our gifts that make us all truly magnificent!"
WU: What do you aspire to achieve through your book?
Marisa: It is my hope that those who are drawn to read this book will experience more peace, love, and joy in their lives as they connect more deeply with their authentic Self and remember the magnificence of who they truly are.
WU: Any final words you would like to share?
Marisa: I'd like to share what's written on the back cover of my book and it is this. "No matter what your life or your relationships look like today, you have an innate ability to transform them into more than you can ever imagine. All you have to do is learn how to access what is already within you, waiting to be discovered and expressed."
Thank you Marisa for sharing.
If you found this insightful and inspiring and would like to get a copy of MAGNIFY YOUR MAGNIFICENCE: Your Pathway to the Life & Relationships You Truly Desire, connect with Marisa visit https://www.thewellnessuniverse.com/world-changers/marisaferrera/
---
All information, content, and material are for informational purposes only and are not intended to serve as a substitute for the consultation, diagnosis, and/or medical treatment of a qualified physician or healthcare provider. The information supplied through or on this page, or by any representative or agent of The Wellness Universe, is for informational purposes only and does not constitute medical, legal, or other professional advice. Health-related information provided through this website is not a substitute for medical advice and should not be used to diagnose or treat health problems or to prescribe any medical devices or other remedies. The Wellness Universe reserves the right to remove, edit, move or close any content item for any reason, including, but not limited to, comments that are in violation of the laws and regulations formed pursuant to the Federal Food, Drug, and Cosmetic Act. None of the posts and articles on The Wellness Universe page may be reprinted without express written permission.
---
The Wellness Universe presents Sharon Carne, Director of Training and Program Development guiding you through A Beginner's Guide to Sound Healing 6-month program that will help you to heal with sound, frequency, and vibration.
Catch the recorded session(s) and be sure to join the next LIVE class!
---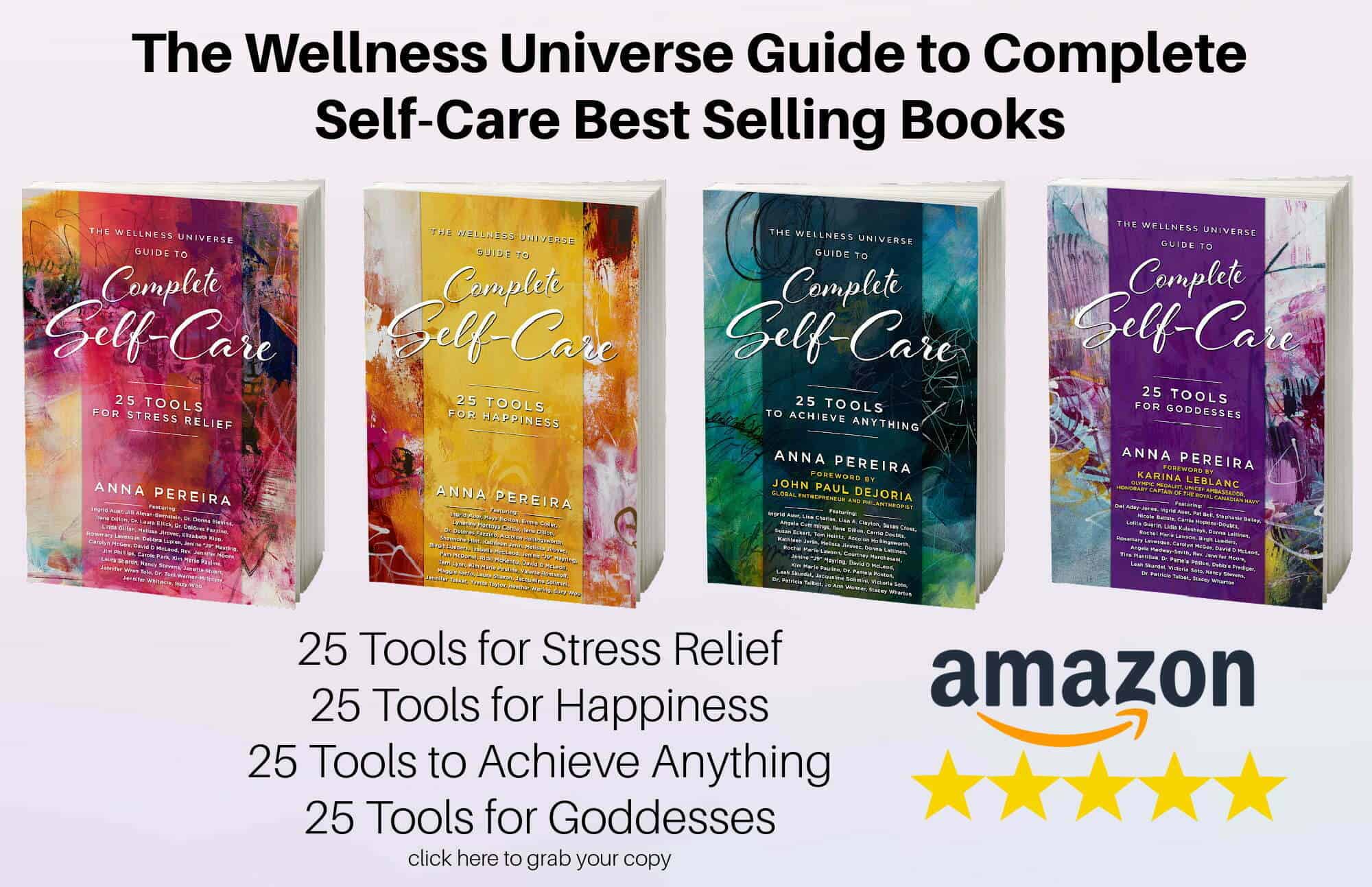 With over 250 independent reviews see how our self-care books are helping thousands of people around the world. Digital and paperback books are available now.
---
Self-development, self-care, and inspirational classes and sessions by Wellness Universe World Changer instructors who support your total well-being.
 Visit The Wellness Universe Lounge today!
---
The Wellness Universe is here to serve your best well-being. If you are experiencing anxiety, grief, overwhelm, guilt, anger, or seeking ways to cope and get help for stress, relationships, parenting, or any other issue during this challenging time, we have wonderful resources for you to connect with. Our WU Best Help members are offering reduced rates, sliding scale payment options, and even pro-bono sessions. WU Best Help
The Wellness Universe is your resource for health, wellness, well-being, and transformation. We serve and support professionals who make the world a better place and individuals and groups who seek their best life.
A woman owned company; having the vision in 2013, Anna Pereira launched the first directory in 2015 bringing together a community of members making the world a better place to be found by those seeking their best life. The Wellness Universe has grown since then to be a one-stop shop for total wellness support! We are a vetted community, online directory, book publisher, resource center, event producer, content platform, and so much more, supporting whole-health and well-being on a global scale.
The Wellness Universe is a home that connects industry professionals in the health, wellness, and well-being fields to seekers of total well-being. WU provides our WU World-Changer members with peer support, Wellness Universe produced events (live and online), projects, visibility, business mentoring, and community. Through The Wellness Universe our WU World-Changer members serve WU Friends, seekers of health, wellness and transformation, with coaching, workshops, content and more.
The Wellness Universe provides individuals and groups seeking their best lives with access to our members, wellness content, educational resources, and guidance in all areas of wellness to transform visions of how they want to live life into the life they experience.
Through the directory, WU Featured Blog, SoulTreat wellness retreat, Self-Care Books, group well-being programs, and online learning center, The Lounge, The Wellness Universe provides many avenues to support whole health, mind, body, spirit and planet.
Join us today! Wellness Professional or Seeker of Your Best Life