The Wellness Universe features Carol Pilkington, a Spiritual/Astrology Counselor. As a member of The Wellness Universe, and Best-Selling Author of the book Your Amazing Itty-Bitty Book of Astrology: 15 Key Questions People Ask About Astrology, we wanted to share a bit about her work in the world. Through astrology, she works with entrepreneurs, small business owners, and executives to fulfill their highest potential and purpose in life and helps them work through the barriers.
We asked Carol to share her journey in writing her book. Shining a light on the inside scoop about her inspiration, process, reader reflections, and more.
WU: What influenced you to write your book Your Amazing Itty-Bitty Book of Astrology: 15 Key Questions People Ask About Astrology?
Carol: There are so many misunderstandings about what astrology is and how it can be used as a transformational tool alongside one's spiritual practice.
WU: Tell us a bit about your journey. How long did it take you to write your book and how did writing your book change your life?
Carol: It took about four months to write as I had to do some historical research which was in itself a learning experience, it even opened my eyes to how astrology became so misunderstood. Astrology has been instrumental in helping me understand the cycles of life I'm in as well as given me a blueprint or map if you will to live and fulfill my calling in life as I have through my evolution and growth. Nothing is promised, each of us still must do the work and take responsibility for our own process. I never dreamed of becoming a published author; it has certainly changed my life.
WU: What are your readers sharing? How has your book inspired and impacted lives?
Carol:  Here's a review from a reader:
5.0 out of 5 stars Way More Than Itty Bitty Info

Reviewed in the United States on September 24, 2015

This may be an "Itty Bitty" book, but the author is clearly quite knowledgeable about astrology and packs in a lot of information. As a longtime journalist and author ("Building for Boomers," McGraw-Hill), I find the amount of research that went into this book quite impressive. I've been a casual follower and researcher of astrology for many years, and I learned a lot! I think Carol Pilkington nailed the important questions that people might ask about astrology. The questions are about how it all got started, how it works, and its evolution over the years. She never evangelizes about astrology, and she doesn't push it. She just answers questions in a very informative and logical way and urges people to come to their own conclusions.
WU: What do you aspire to achieve through your book?
Carol: I hope to clear up some of the myths about astrology and inspire readers to add astrology to their toolbox in their own transformational process.
WU: Any final words you would like to share?
Carol: We are the Gods walking therefore it stands to reason that the Intelligences are living through us. From the Emerald Tablet – As above, So below: That which is above is like to that which is below, and that which is below is like to that which is above.
Thank you Carol for sharing. If you found this insightful and inspiring and would like to get a copy of Your Amazing Itty Bitty Book of Astrology: 15 Key Questions People Ask About Astrology, connect with Carol visit https://www.thewellnessuniverse.com/world-changers/carolpilkington/
---
All information, content, and material are for informational purposes only and are not intended to serve as a substitute for the consultation, diagnosis, and/or medical treatment of a qualified physician or healthcare provider. The information supplied through or on this page, or by any representative or agent of The Wellness Universe, is for informational purposes only and does not constitute medical, legal, or other professional advice. Health-related information provided through this website is not a substitute for medical advice and should not be used to diagnose or treat health problems or to prescribe any medical devices or other remedies. The Wellness Universe reserves the right to remove, edit, move or close any content item for any reason, including, but not limited to, comments that are in violation of the laws and regulations formed pursuant to the Federal Food, Drug, and Cosmetic Act. None of the posts and articles on The Wellness Universe page may be reprinted without express written permission.
---
The Wellness Universe welcomes you to our Mid-Week Reset Meditation led by Leah Skurdal, Intuitive Wellness Guide.
Our group meditation is live every 1st and 3rd Wednesday. Sign up here: 
https://bit.ly/WUMidWeekMeditation
---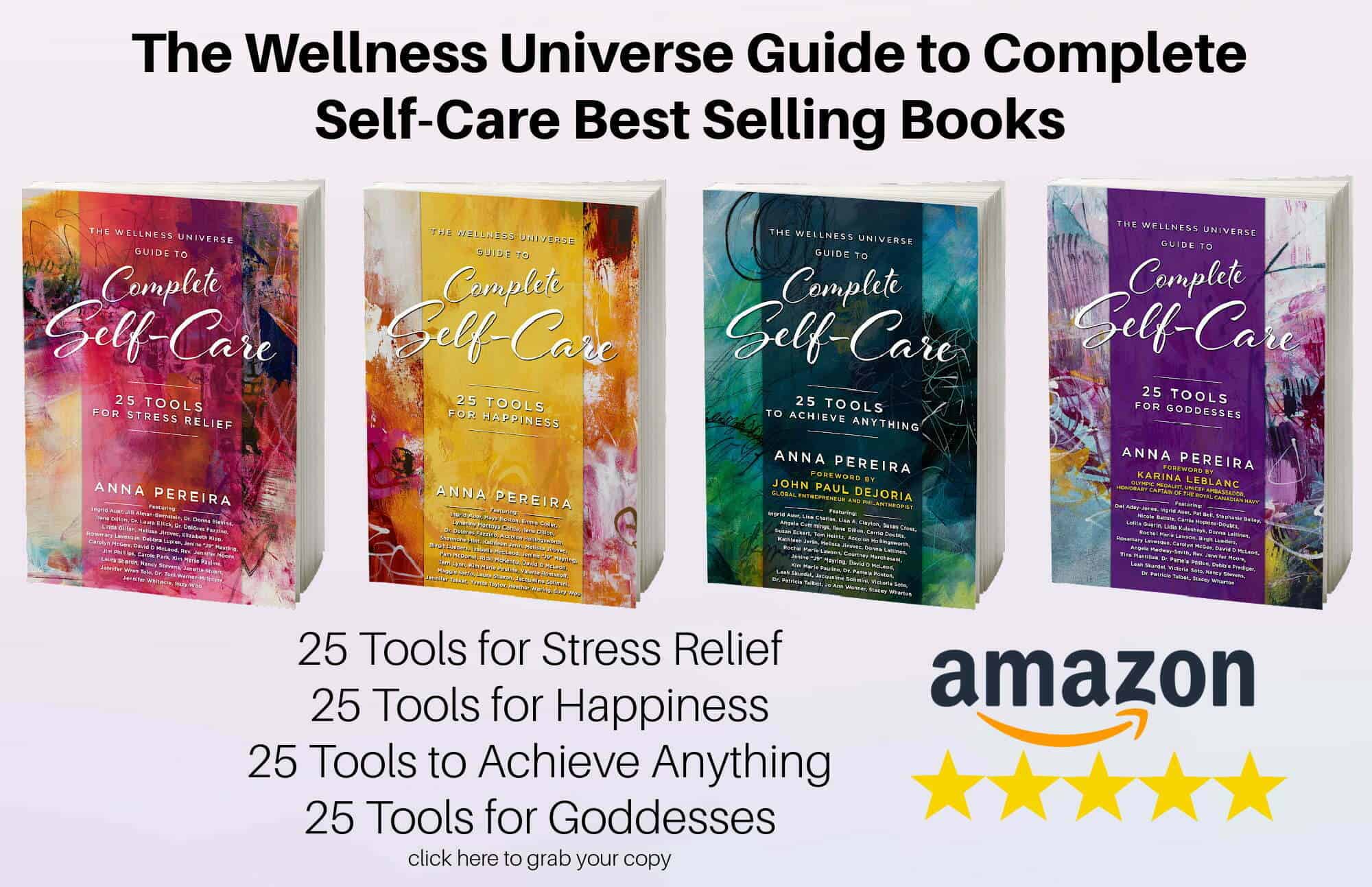 With over 250 independent reviews see how our self-care books are helping thousands of people around the world. Digital and paperback books are available now.
---
Self-development, self-care, and inspirational classes and sessions by Wellness Universe World Changer instructors who support your total well-being.
 Visit The Wellness Universe Lounge today!
---
The Wellness Universe is here to serve your best well-being. If you are experiencing anxiety, grief, overwhelm, guilt, anger, or seeking ways to cope and get help for stress, relationships, parenting, or any other issue during this challenging time, we have wonderful resources for you to connect with. Our WU Best Help members are offering reduced rates, sliding scale payment options, and even pro-bono sessions. WU Best Help
The Wellness Universe is your resource for health, wellness, well-being, and transformation. We serve and support professionals who make the world a better place and individuals and groups who seek their best life.
A woman owned company; having the vision in 2013, Anna Pereira launched the first directory in 2015 bringing together a community of members making the world a better place to be found by those seeking their best life. The Wellness Universe has grown since then to be a one-stop shop for total wellness support! We are a vetted community, online directory, book publisher, resource center, event producer, content platform, and so much more, supporting whole-health and well-being on a global scale.
The Wellness Universe is a home that connects industry professionals in the health, wellness, and well-being fields to seekers of total well-being. WU provides our WU World-Changer members with peer support, Wellness Universe produced events (live and online), projects, visibility, business mentoring, and community. Through The Wellness Universe our WU World-Changer members serve WU Friends, seekers of health, wellness and transformation, with coaching, workshops, content and more.
The Wellness Universe provides individuals and groups seeking their best lives with access to our members, wellness content, educational resources, and guidance in all areas of wellness to transform visions of how they want to live life into the life they experience.
Through the directory, WU Featured Blog, SoulTreat wellness retreat, Self-Care Books, group well-being programs, and online learning center, The Lounge, The Wellness Universe provides many avenues to support whole health, mind, body, spirit and planet.
Join us today! Wellness Professional or Seeker of Your Best Life