The Wellness Universe features Lisa Barnett is the Founder of Akashic Knowing School, a member of The Wellness Universe, and an International Best-Selling author of two books on the Akashic Records, Author of the book The Infinite Wisdom of the Akashic Records, we wanted to share a bit about her work in the world:
As the Founder of the Akashic Knowing School of Wisdom Lisa has taught thousands of students worldwide to access their personal Soul Library to receive wisdom, guidance, and support to transform their life.
With more than thirty years of experience in spiritual healing, Lisa teaches empowerment tools to help you find: greater fulfillment, happiness, abundance, and health. She offers Akashic reading & Quantum Healing sessions to heal trauma, release karma, and clear old soul contracts and vows. She helps individuals align with their Soul's Plan & path.
We asked Lisa Barnett to share their journey in writing their book. Shining a light and the inside scoop on their inspiration, process, reader reflections, and more.
WU: What influenced you to write your book "From Questioning to Knowing ~ 73 Prayers to Transform Your Life"?
Lisa Barnett: I spent many years, connecting deeply with the Akashic Record Keepers, the Beings of Light that keep our records. They had asked me to start a school and assist them in bringing the ancient Akashic Wisdom back to humanity. About 2 years after writing my first book, the Record Keepers again said to me: It's  Time to Write a New Book.
WU: Tell us a bit about your journey. How long did it take you to write? How did writing your book change your life?
Lisa Barnett: I asked them what they wanted me to write this time. They said, "A Prayer Book". I was a bit surprised as I expected them to say, "The Infinite Wisdom, Part 2". So I asked again, "A prayer book?" The Record Keepers said to me, "Did you forget that you spent 10 years as a prayer practitioner with the Golden Gate Center of Spiritual Living?" I laughed and acquiesced.
I then spent two – 3-day sessions, channeling the 73 Healing Prayers and content of the book. It was very quick and easy to write. I am very grateful for the ability to channel or download wisdom from the Akashic Record Keepers to support humanity.
WU: What are your readers sharing? How has your book inspired and impacted lives?
Lisa Barnett: Many of my readers write to me and say how easy it is to use these powerful prayers. They share miracles in their life as they read this book.
Amazon Review:
5.0 out of 5 stars Powerful, Transformative & Profound
Reviewed in the United States on January 1, 2019
Verified Purchase
I recently got your book," From Questioning to Knowing." I read a prayer every night before bed and usually in the morning upon waking and it takes me right there. I can absolutely feel the divine pouring in, changing my vibration daily now, elongating my time aware of the divine…so thank you for sharing your gift!
If you're considering this book know it contains 73 short, powerful prayers/meditations that are full of possibilities to transform your life.
They come from a very high place.
I am grateful to have a review and foreword from Jack Canfield:
It's no accident, but rather divine timing, that Lisa has written this book now when so many have unanswered questions. By simply reading a prayer, every page of this book can transform you almost effortlessly from where you are to where you feel loved and supported.
-Jack Canfield, New York Times Bestselling Co-Author of Chicken Soup for the Soul® 
WU: What do you aspire to achieve through your book?
Lisa Barnett: The Akashic Record Keepers asked me many years ago, to help them bring the Akashic Record wisdom and energy back to humanity. It is my intention, through this book and the healing prayers to assist people to release emotional pain and healing with ease.
WU: Any final words you would like to share?
Lisa Barnett: It is your birthright to have access to your Soul Library, the Akashic Records. It will support you, help you understand your life, and assist with understanding your life path and purpose. These prayers are intended to help with understanding and release that which no longer serves you.
Thank you, Lisa Barnett, for sharing. If you found this insightful and inspiring and would like to get a copy of "From Questioning to Knowing – 73 Prayers to Transform Your Life" and connect with Lisa, visit https://akashicknowing.com/
---
All information, content, and material are for informational purposes only and are not intended to serve as a substitute for the consultation, diagnosis, and/or medical treatment of a qualified physician or healthcare provider. The information supplied through or on this page, or by any representative or agent of The Wellness Universe, is for informational purposes only and does not constitute medical, legal, or other professional advice. Health-related information provided through this website is not a substitute for medical advice and should not be used to diagnose or treat health problems or to prescribe any medical devices or other remedies. The Wellness Universe reserves the right to remove, edit, move or close any content item for any reason, including, but not limited to, comments that are in violation of the laws and regulations formed pursuant to the Federal Food, Drug, and Cosmetic Act. None of the posts and articles on The Wellness Universe page may be reprinted without express written permission.
---
Carolyn McGee, Sacred Haven Living Expert, Intuition Coach, and Teacher in partnership with The Wellness Universe, Wellness for All programming, guides us through a transformational 12-session course Sacred Haven Living: The 12 Keys to Connection for Every Relationship.  
Register today prior to the LIVE launch: https://bit.ly/SacredHavenLiving
---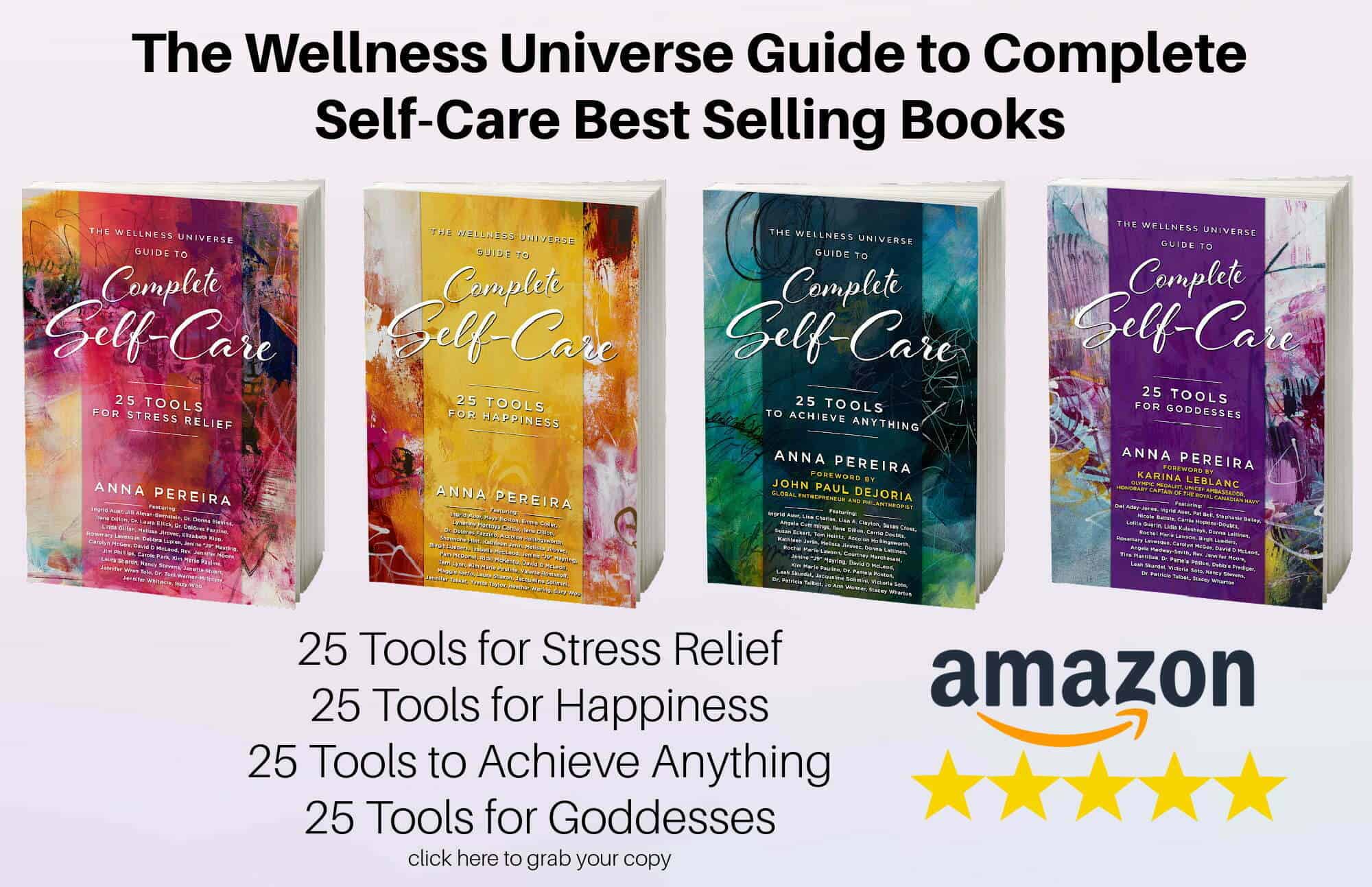 With over 250 independent reviews see how our self-care books are helping thousands of people around the world. Digital and paperback books are available now.
---
Self-development, self-care, and inspirational classes and sessions by Wellness Universe World Changer instructors who support your total well-being.
 Visit The Wellness Universe Lounge today!
---
The Wellness Universe is here to serve your best well-being. If you are experiencing anxiety, grief, overwhelm, guilt, anger, or seeking ways to cope and get help for stress, relationships, parenting, or any other issue during this challenging time, we have wonderful resources for you to connect with. Our WU Best Help members are offering reduced rates, sliding scale payment options, and even pro-bono sessions. WU Best Help
The Wellness Universe is your resource for health, wellness, well-being, and transformation. We serve and support professionals who make the world a better place and individuals and groups who seek their best life.
A woman owned company; having the vision in 2013, Anna Pereira launched the first directory in 2015 bringing together a community of members making the world a better place to be found by those seeking their best life. The Wellness Universe has grown since then to be a one-stop shop for total wellness support! We are a vetted community, online directory, book publisher, resource center, event producer, content platform, and so much more, supporting whole-health and well-being on a global scale.
The Wellness Universe is a home that connects industry professionals in the health, wellness, and well-being fields to seekers of total well-being. WU provides our WU World-Changer members with peer support, Wellness Universe produced events (live and online), projects, visibility, business mentoring, and community. Through The Wellness Universe our WU World-Changer members serve WU Friends, seekers of health, wellness and transformation, with coaching, workshops, content and more.
The Wellness Universe provides individuals and groups seeking their best lives with access to our members, wellness content, educational resources, and guidance in all areas of wellness to transform visions of how they want to live life into the life they experience.
Through the directory, WU Featured Blog, SoulTreat wellness retreat, Self-Care Books, group well-being programs, and online learning center, The Lounge, The Wellness Universe provides many avenues to support whole health, mind, body, spirit and planet.
Join us today! Wellness Professional or Seeker of Your Best Life