Stop People-Pleasing to Improve Your Health
Each of us wants to feel accepted and liked. We want to be recognized for our hard work and thought of as kind and helpful in our communities and among friends. But if you're a people pleaser, you have most likely picked-up some habits that are slowly eating away at your confidence and your self-worth.
How Do You Know If You're A People Pleaser?
You're more motivated to complete tasks when someone else is holding you accountable
You avoid confrontation because you don't want someone to be mad at you
You avoid giving yourself credit for things
You pretend to agree with everyone
You apologize often
If these descriptions sound like you, then you are most likely a people pleaser.
It's entirely too self-defeating to go through life feeling like your ideas are not as important as someone else's. Not only are you causing yourself additional emotional stress by worrying if others are "happy enough," but you're failing to give yourself enough credit for your own thoughts, wants, and desires in life.
Worried you'll come across as unkind, stubborn, or abrasive? If your heart is in the right place, you have nothing to worry about. It is impossible to please all of the people all of the time and that's okay. Understanding that you cannot control other people's thoughts is a big step in the right direction to a greater sense of self-appreciation.
Remember, someone else's thoughts and desires do not require a change in your own beliefs or item on your to-do list. Shared below are a few things you can do to start living for yourself.
Here Are 3 Ways to Stop Being A People Pleaser:
Say No to One Thing You Don't Want to Do
If you're like many people-pleasers out there, you're overcommitted because you have a hard time saying "no." It's liberating to get some free time back for no other reason than the fact that you can. Next time someone asks you to do something for them, respond politely by saying,
"Thank you for thinking of me. Let me check my schedule and get back to you." If it's not something you want to add to your schedule, it's okay to say, no.
Ask Thought-Provoking Questions
Ask thought-provoking questions to instigate conversation instead of conflict when you don't agree with someone. Agreeing with everyone does not accomplish anything. Know that you have valuable opinions, and your questions will most likely spawn new ideas that others had not previously thought of. If you're at work, for example, consider asking, "Have you considered doing it this way?" or "If we try thing A instead of thing B, what do you see as the outcome?"
Conversation breeds creativity.
Try A New Hobby
Making a decision to do an activity on your own, at a time and location you choose without any outside input is a great first step in building confidence in your decision-making abilities. Take yourself to a movie. Try a new restaurant. Go to a new store.
If you are trying to be all things to all people, you will never reach your goals in life.
You have them, I know you do! It's time to embrace what makes you unique and stop worrying about what others think. When you focus on the things that make you happy in this world, you will meet people who are like you. You will surround yourself with others who have similar values and build yourself up for the person you are truly meant to be on the inside.
After reading this article, what is one decision are you going to make and stick to today, for yourself, no matter what other people think?
Did you know you can find help here? From personal to professional well-being, connect with someone who can guide you to a happier, healthier, and whole life! Become a WU Friend today!
If you provide support or products that make the world a better place and help humanity live in health, happiness, and wholeness, join us as a WU World-Changer!
– The Wellness Universe
*Previously published on November 14, 2018.
---
All information, content, and material are for informational purposes only and are not intended to serve as a substitute for the consultation, diagnosis, and/or medical treatment of a qualified physician or healthcare provider. The information supplied through or on this page, or by any representative or agent of The Wellness Universe, is for informational purposes only and does not constitute medical, legal, or other professional advice. Health-related information provided through this website is not a substitute for medical advice and should not be used to diagnose or treat health problems or to prescribe any medical devices or other remedies. The Wellness Universe reserves the right to remove, edit, move or close any content item for any reason, including, but not limited to, comments that are in violation of the laws and regulations formed pursuant to the Federal Food, Drug, and Cosmetic Act. None of the posts and articles on The Wellness Universe page may be reprinted without express written permission.
---
Get Retreat Ready: Turn Your Retreat Vision Into a Viable Retreat!
Countless coaches and healers yearn to create connection, community, and deep transformation utilizing the power of in-person retreats. Yet few make good on that dream.
Get Retreat Ready is a 2-hour, interactive workshop to support you in bringing your retreat dream to reality!
This masterclass instructed by The Wellness Universe Retreat Planner, Tamara Golden:
---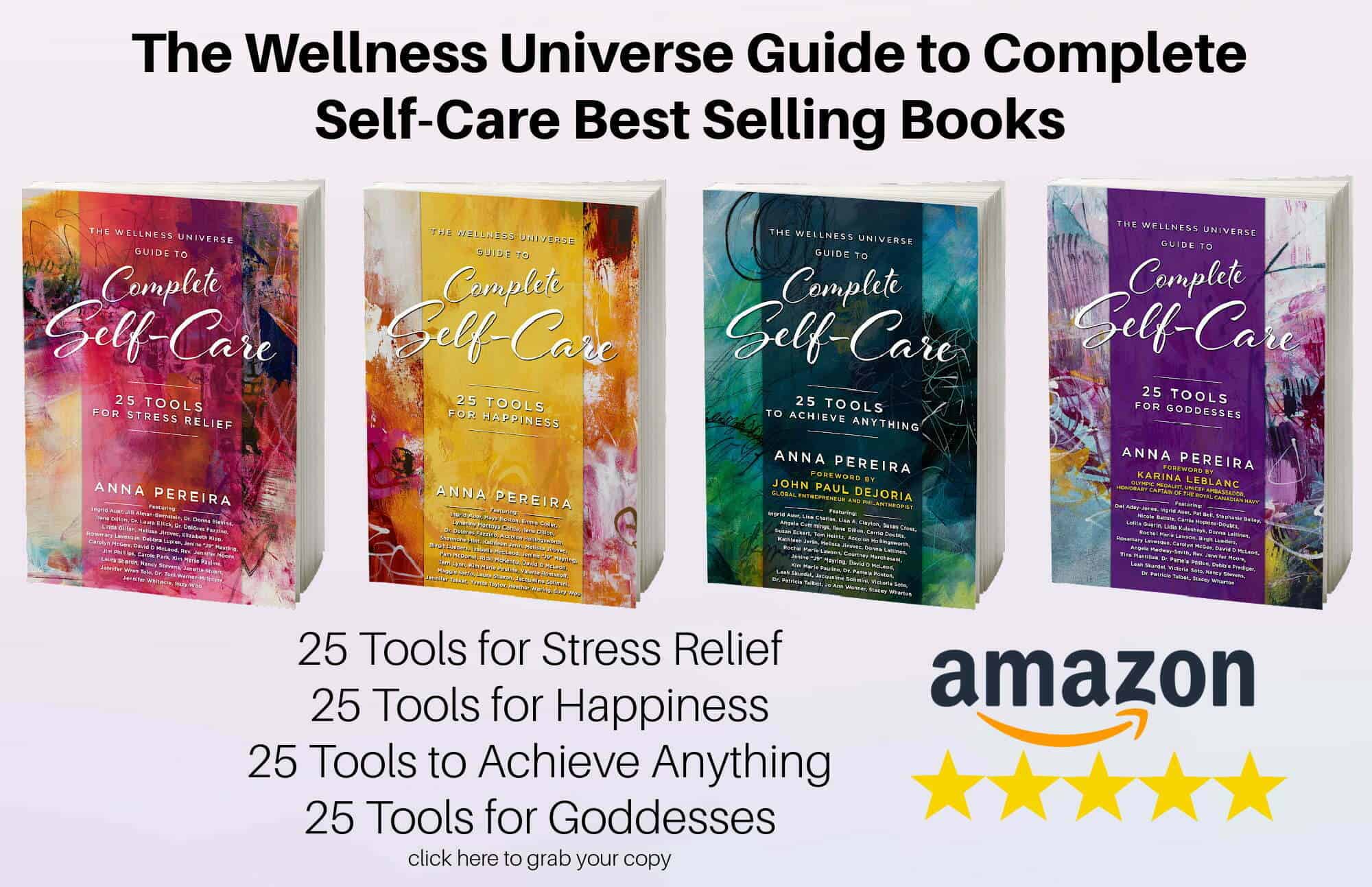 With over 250 independent reviews see how our self-care books are helping thousands of people around the world. Digital and paperback books are available now.
---
Self-development, self-care, and inspirational classes and sessions by Wellness Universe World Changer instructors who support your total well-being.
Visit The Wellness Universe Lounge today!
---
The Wellness Universe is here to serve your best well-being. If you are experiencing anxiety, grief, overwhelm, guilt, anger, or seeking ways to cope and get help for stress, relationships, parenting, or any other issue during this challenging time, we have wonderful resources for you to connect with. Our WU Best Help members are offering reduced rates, sliding scale payment options, and even pro-bono sessions.
WU Best Help