Anna Pereira reads Chapter 1: Heart Reclamation, Using Visualization to Take Back Your Life from the #1 best-selling book in several categories on Amazon, The Wellness Universe Guide to Complete Self-Care, 25 Tools for Goddesses. Listen and watch the video below as she reads!
Anna opens her chapter with a recollection of her adulthood. Her chapter will give hope, help, and support to anyone that seeks self-love and reclaim their life.

"If you let this one get away you will be alone forever."
The scene was just like watching a movie and hearing the echo, "FOREVER… FOREVER…forever…" as the camera zooms in, frame by frame, the look of horror on my face, is he right? Will I really be alone forever? Is J the best thing that has ever entered my life? Am I such a terrible person? Not compatible? Hard to get along with? Standards too high? Undeserving of love? Worthless? Get away? Must I imprison someone to be loved?
Why would my dad say this to me?
Oh, the thoughts that went through my head! I felt dizzy and nauseous as if I were going to pass out. To consider being alone the rest of my life was terrifying. To have these thoughts running through my mind brought back all of the unworthy feelings, and more than feelings, at this point, they were beliefs—deep, rooted, defining beliefs of not being worthy of love.
Then I shrugged it off. My dad has his own issues, and he was projecting them again.
We were so much in love. He was a great guy. Funny, charming, a great circle of friends, social, stable career in IT for a global company, and easy on the eyes. A great love of my life. And the chemistry; Ai! Chihuahua! I gave J my entire heart, body, and soul.
GROWING UP UNWORTHY
Riding bikes, playing with Barbies, kickball in the street, going to the park, exploring nature, digging in the dirt, salamander hunting, coloring contests, going to the beach, swimming in the pool, cartwheels in the front yard, a special trip to DQ for my favorite hot fudge brownie sundae; this was childhood.
Also, bullying, blame, shame, teasing, belittling, and ostracizing.
"Anna's corroded. Anna's corroded." The neighborhood bullies taunted me. I was picked last for teams. I was blamed for literally anything that went wrong, anytime, anywhere."
Watch and listen to the video below to experience Anna's entire chapter.
Anna is the CEO and Head Goddess of The Wellness Universe. Her tool will help you take back your heart and your life.
About this book:
25 dedicated Wellness Universe experts come together to help you live a life of well-being, confidence, balance, and betterment in this powerful collaboration.
The collective wisdom, expertise, and passion contained in the pages of the book is beyond what you can imagine. With the power of their authentic stories and the master teaching of their tools, what you have in your hands supports you to live in your unique Goddess energy from a foundational, whole-person approach.
Pick up your copy on Amazon.
Connect with Anna on The Wellness Universe.
---
All information, content, and material is for informational purposes only and is not intended to serve as a substitute for the consultation, diagnosis, and/or medical treatment of a qualified physician or healthcare provider. The information supplied through or on this page, or by any representative or agent of The Wellness Universe, is for informational purposes only and does not constitute medical, legal, or other professional advice. Health-related information provided through this website is not a substitute for medical advice and should not be used to diagnose or treat health problems or to prescribe any medical devices or other remedies. The Wellness Universe reserves the right to remove, edit, move or close any content item for any reason, including, but not limited to, comments that are in violation of the laws and regulations formed pursuant to the Federal Food, Drug, and Cosmetic Act. None of the posts and articles on The Wellness Universe page may be reprinted without express written permission.
---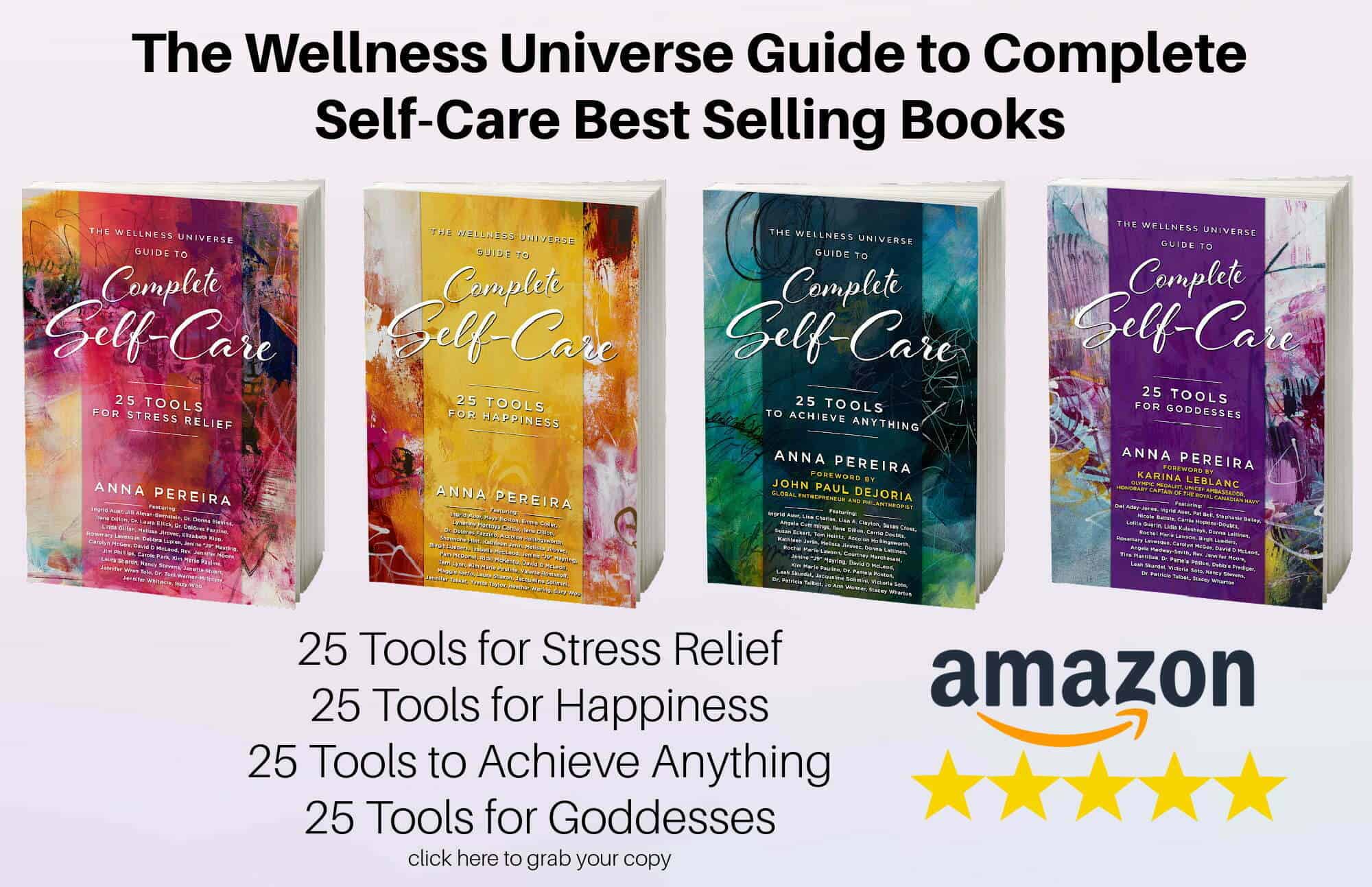 With over 250 independent reviews see how our self-care books are helping thousands of people around the world. Digital and paperback books are available now.
---
Self-development, self-care, and inspirational classes and sessions by Wellness Universe World Changer instructors who support your total well-being.
Visit The Wellness Universe Lounge today!
---
The Wellness Universe is here to serve your best well-being. If you are experiencing anxiety, grief, overwhelm, guilt, anger, or seeking ways to cope and get help for stress, relationships, parenting, or any other issue during this challenging time, we have wonderful resources for you to connect with. Our WU Best Help members are offering reduced rates, sliding scale payment options, and even pro-bono sessions.
WU Best Help
The Wellness Universe is your resource for health, wellness, well-being, and transformation. We serve and support professionals who make the world a better place and individuals and groups who seek their best life.
A woman owned company; having the vision in 2013, Anna Pereira launched the first directory in 2015 bringing together a community of members making the world a better place to be found by those seeking their best life. The Wellness Universe has grown since then to be a one-stop shop for total wellness support! We are a vetted community, online directory, book publisher, resource center, event producer, content platform, and so much more, supporting whole-health and well-being on a global scale.
The Wellness Universe is a home that connects industry professionals in the health, wellness, and well-being fields to seekers of total well-being. WU provides our WU World-Changer members with peer support, Wellness Universe produced events (live and online), projects, visibility, business mentoring, and community. Through The Wellness Universe our WU World-Changer members serve WU Friends, seekers of health, wellness and transformation, with coaching, workshops, content and more.
The Wellness Universe provides individuals and groups seeking their best lives with access to our members, wellness content, educational resources, and guidance in all areas of wellness to transform visions of how they want to live life into the life they experience.
Through the directory, WU Featured Blog, SoulTreat wellness retreat, Self-Care Books, group well-being programs, and online learning center, The Lounge, The Wellness Universe provides many avenues to support whole health, mind, body, spirit and planet.
Join us today! Wellness Professional or Seeker of Your Best Life