Have you ever had someone walk up to you and ask you "How are you?" and without even thinking, the words "I'm fine" automatically come out?
Even if a hundred people would ask you that question in one day, your answer would most likely still be the same, and you will simply say "Fine, you?"
But of course, you can't always be fine. People encounter highs and lows throughout their day and of course throughout their lives.
It is inevitable to feel angry, anxious, scared, nervous, sad, tense, worried, troubled, or unsure.
Emotions like these can leave you feeling afraid, disconnected, unbalanced, alone, isolated, and off-kilter.
When this happens, we become unbalanced and end up lacking connection to the goodness, love, happiness, and ebb and natural flow of life.
When this happens, it can create havoc and upheaval in your life.
In Ayurveda, the belief is that when we become unbalanced and disconnected, we actually open up a gateway for illness and disease to come into our lives.
The best way to circumvent this is to restore balance and reconnect with the essence of your true self and your life path.
So when it feels like your thoughts are going a hundred miles per hour and you feel discombobulated, or like your energy is frenetic and you know you need to calm yourself down and reconnect, what I share next will definitely do the trick.
There's a fabulous, quick, and easy exercise you can do to restore your balance, ground and calm yourself down, and reconnect to your true essence.
It is called the 5-4-3-2-1 Technique.
This exercise is designed to bring you to the present moment when your mind keeps bouncing about from one anxious and unbalancing thought to another. So when you're feeling overwhelmed, simply shift attention to your breathing and begin asking yourself these questions:
What are 5 things that you see?
Maybe you notice the way the light is shining through the window or the way the light bounces off the pattern of the wall. Look for the small details that usually escape your attention.
What are the 4 things you feel?
Do you feel the cold ground beneath your feet or how your butt feels in your seat? You can pick up any nearby object and feel the surface with your fingertips.
What are 3 things that you hear?
Listen to the sounds around you. Pay attention to the very close sounds that may be in the distance. Maybe you can hear the bird singing outside your window or the ambulance racing down the street in the distance.
What are 2 things you smell?
This could be the smell of your morning coffee, the smell of perfume in the air, or that piece of fresh fruit sitting on your desk.
What is 1 thing that you can taste?
Take a bite of something yummy and preferably healthy. Focus your attention on the flavors and see where the sensation takes you.
Once you go through the 5 steps, you will feel and notice an immediate feeling of reconnection, balance, and grounding.
The calm, steady, and focus you will reappear.
Wishing you peace to your mind, wellness to your body, and tranquility to your spirit.
Namaste,
Rochel
Connect with Rochel today!
---
All information, content, and material are for informational purposes only and are not intended to serve as a substitute for the consultation, diagnosis, and/or medical treatment of a qualified physician or healthcare provider. The information supplied through or on this page, or by any representative or agent of The Wellness Universe, is for informational purposes only and does not constitute medical, legal, or other professional advice. Health-related information provided through this website is not a substitute for medical advice and should not be used to diagnose or treat health problems or to prescribe any medical devices or other remedies. The Wellness Universe reserves the right to remove, edit, move or close any content item for any reason, including, but not limited to, comments that are in violation of the laws and regulations formed pursuant to the Federal Food, Drug, and Cosmetic Act. None of the posts and articles on The Wellness Universe page may be reprinted without express written permission.
---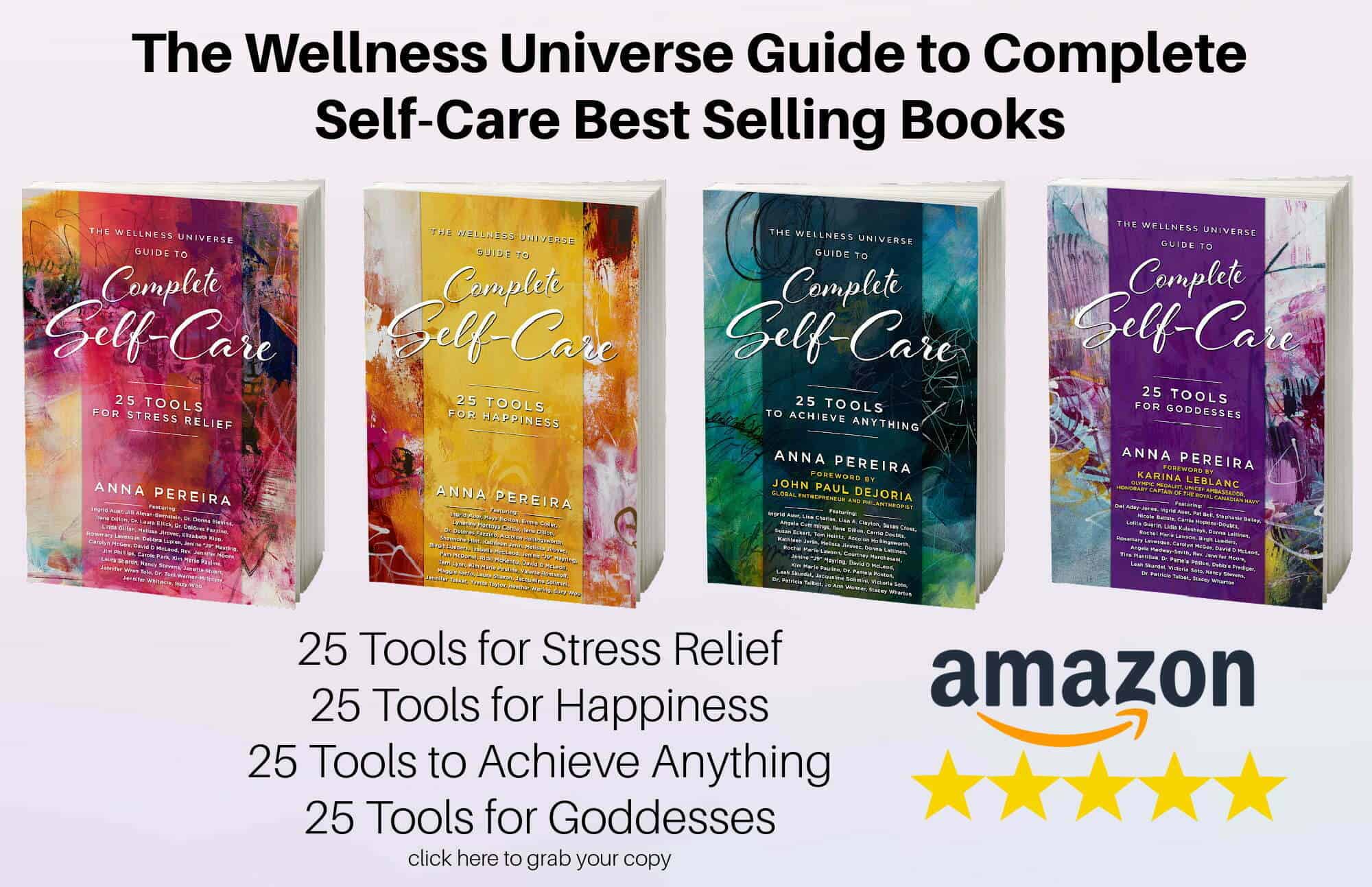 With over 250 independent reviews see how our self-care books are helping thousands of people around the world. Digital and paperback books are available now.
---
Self-development, self-care, and inspirational classes and sessions by Wellness Universe World Changer instructors who support your total well-being.
Visit The Wellness Universe Lounge today!
---
The Wellness Universe is here to serve your best well-being. If you are experiencing anxiety, grief, overwhelm, guilt, anger, or seeking ways to cope and get help for stress, relationships, parenting, or any other issue during this challenging time, we have wonderful resources for you to connect with. Our WU Best Help members are offering reduced rates, sliding scale payment options, and even pro-bono sessions.
WU Best Help
Rochel Marie Lawson is a Registered Nurse, Ayurvedic Health Practitioner, Holistic Health and Wellness Consultant, Speaker, and Radio Show Hostess. Her goal is to bring holistic health and wellness into the lives of individuals seeking a natural path to wellness.