During the pandemic, I was having a zoom "Happy Hour" with some friends, and we began to have a really intriguing conversation.
We began discussing the Law of Attraction and the movie, "The Secret."
Two of my friends are high-achieving, ambitious ladies who work hard and believe that results are the benefits of hard work and not of luck or just "wishing" for something.
One of the ladies is very easy-going; happy-go-lucky and always positive but often struggles with saving money.
The fourth gal is a very powerful manifester. She is also very lucky when it comes to playing card games, bingo, playing the lottery, and such. This gal also manifests things that are not good for her, and she does not have a "real job" but lives quite a luxurious lifestyle.
And then there is me.
I have a completely different thought process when it comes to living my dream life and it is the utilization of a combination of things including the Law of Attraction. And I have manifested my dream life many times.
As we chatted about the Law of Attraction, the ladies turned their attention to me and asked me what my secret was to attracting and living my dream life.
I was actually shocked because I have known these ladies for a long time, and they have seen me use all the gifts available to us by the universe to manifest our dream lives.
So, I asked them,
"Do you really want to know? Are you just curious? Or are we simply making small talk?"
And they said, "We really want to know."
One of them said, "Isn't it a coincidence that we are talking about this, because no one actually talks about the laws of The Law of Attraction."
Of course, I said, "There are no coincidences, it was meant to be, and I am grateful to be finally having this conversation with you ladies."
I've wanted to share this information with them for a long time.
Here is what I told them:
One of the main ingredients to ignite The Law of Attraction begins with gratitude because, without it, The Law of Attraction will never work.
But it goes a bit deeper than just having gratitude.
You have to be able to have gratitude, no matter what is going on in your life.
I'm talking about the good and the bad, the positive and the negative, the love, and the hate.
The understanding of being grateful for everything in our lives is one of the things that most people neglect to do, and later on, they are the ones who wonder why they are not able to live the life of their dreams.
The feeling and the energy of gratitude have to be expressed in all aspects of our lives.
It's this energy of gratitude that lights the fire and sparks the magnetic vibrations to go out into the universe and bring back to you that which matches your vibrations of gratitude.
Because most people forget to have gratitude for everything in their life, the process of The Law of Attraction cannot be fully initiated.
So, most people only receive bits and pieces or partial aspects of what they desire, or their results are so weak and distant from what they desire, thus, they believe that The Law of Attraction does not work.
In the movie, The Secret, a lot of information was left out about The Law of Attraction. The mystery was not completely let out of the bag.
The movie led to lots of false interpretations gave people a false sense of reality about The Law of Attraction and led people to believe that if they simply "put the wishes, dreams, and desires out into the universe," then they would magically appear.
Because of this, people become frustrated, angry, and bitter, and those are the exact feelings that don\'t go hand in hand with gratitude, abundance, or anything good.
Those are the exact feelings that block your blessings, dreams, wishes, and dream life from coming into your life.
So, if you want to begin igniting The Law of Attraction to work for you, here is something you can do to make gratitude a natural part of your life and ignite the magnetic vibrations of your dreams to be magnetically drawn to you.
Every night before you go to bed, state out loud something that you are grateful for in this format:
What are you grateful for?
Why are you grateful for it?
How are you grateful for it?
For example:
I am grateful for The Universe gifting me this new interview with the media.
I'm grateful for this because I have no media experience and don't have the skill or expertise to secure an interview.
Lastly, I ask how I can use this experience to make the world a better place.
Then go to sleep with the last question in your mind. Maybe in a day or two something will spark in your mind, and you will know exactly what to say and do.
I told my gals this, and now I'm passing it onto you:

Remember this, you are connected to the universe in so many ways. Being grateful is just one way to show your appreciation and to deepen your connection.
This might just be the missing ingredient you need to get The Law of Attraction to work for you.
I want you to remember that the power of gratitude is the real DEAL!
Connect with Rochel Marie Lawson on The Wellness Universe and walk away feeling better!
---
All information, content, and material is for informational purposes only and is not intended to serve as a substitute for the consultation, diagnosis, and/or medical treatment of a qualified physician or healthcare provider. The information supplied through or on this page, or by any representative or agent of The Wellness Universe, is for informational purposes only and does not constitute medical, legal, or other professional advice. Health-related information provided through this website is not a substitute for medical advice and should not be used to diagnose or treat health problems or to prescribe any medical devices or other remedies. The Wellness Universe reserves the right to remove, edit, move or close any content item for any reason, including, but not limited to, comments that are in violation of the laws and regulations formed pursuant to the Federal Food, Drug, and Cosmetic Act. None of the posts and articles on The Wellness Universe page may be reprinted without express written permission.
---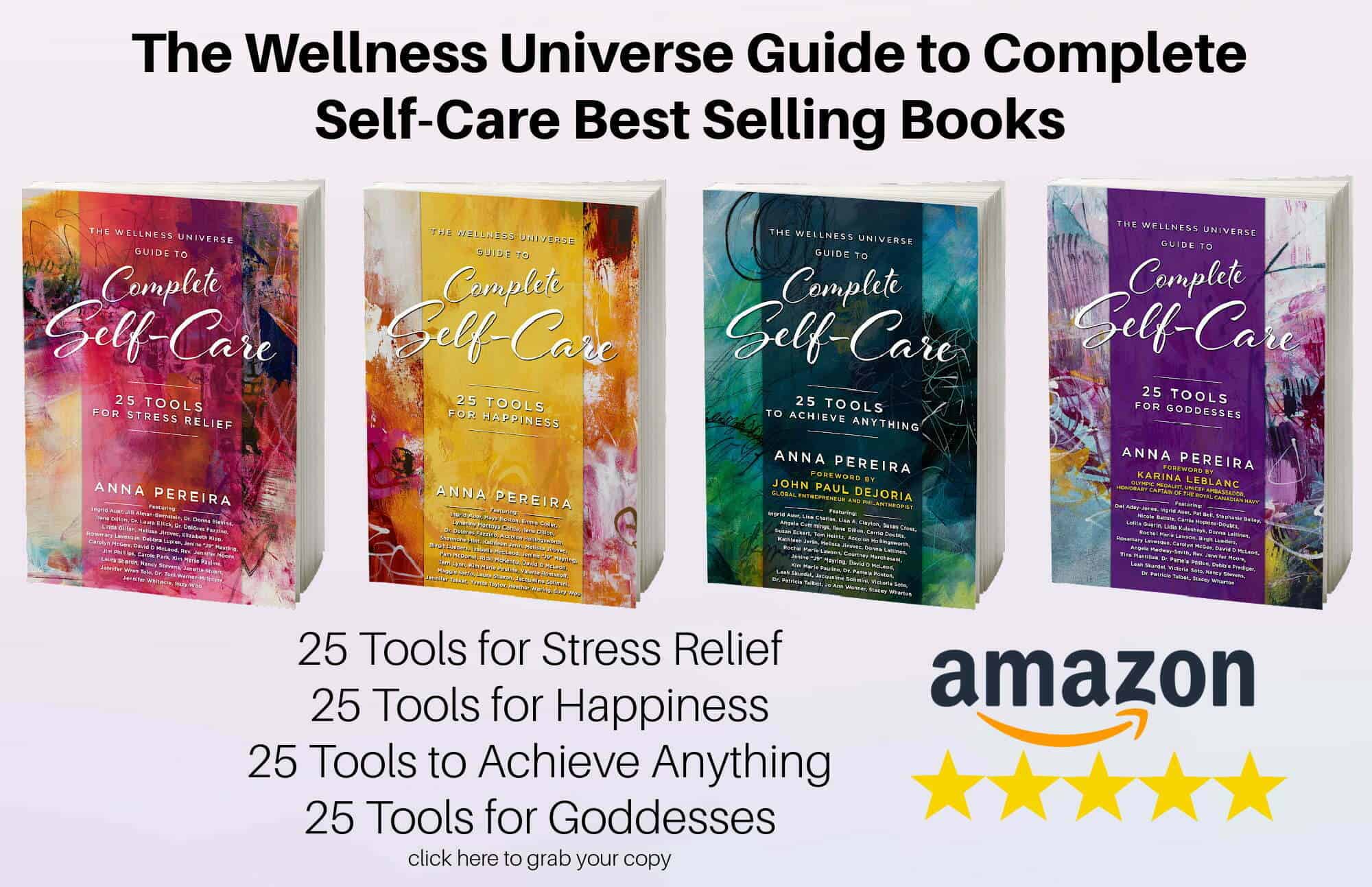 With over 250 independent reviews see how our self-care books are helping thousands of people around the world. Digital and paperback books are available now.
---
Self-development, self-care, and inspirational classes and sessions by Wellness Universe World Changer instructors who support your total well-being.
Visit The Wellness Universe Lounge today!
---
The Wellness Universe is here to serve your best well-being. If you are experiencing anxiety, grief, overwhelm, guilt, anger, or seeking ways to cope and get help for stress, relationships, parenting, or any other issue during this challenging time, we have wonderful resources for you to connect with. Our WU Best Help members are offering reduced rates, sliding scale payment options, and even pro-bono sessions.
WU Best Help
Rochel Marie Lawson is a Registered Nurse, Ayurvedic Health Practitioner, Holistic Health and Wellness Consultant, Speaker, and Radio Show Hostess. Her goal is to bring holistic health and wellness into the lives of individuals seeking a natural path to wellness.