If you're in the northern hemisphere, chances are you're very ready to welcome the warmer days, blooming flowers, and budding trees that start to appear in March and April!
Spring officially begins on the Spring Equinox when the Sun enters the constellation of Aries. This year, which fell on March 20th and also marks the point on the seasonal Wheel of the Year when we celebrate the themes of rebirth, expansion, and new possibilities that are reflected in the Earth's reawakening.
Last month, I shared a lovely little ritual to commemorate that energy and now want to introduce you to some of the Springtime celebrations that occur around the world this time of year. I especially looked for ones that I wasn't familiar with, like the Cherry Blossom festivals or the Hindu celebration of Holi in India, and even then, it was hard to pick just a few.
Here they are, in no particular order:
Sechseläuten, Zurich's Spring Festival — April 17
Back in the 16th century, Zurich's City Council decreed that the "guilds" of craftspeople and artisans should work another hour at the end of the day to take advantage of the summer months. At 6pm on the appointed day, the bell of the famous church Grossmünster is rung to proclaim the beginning of Spring and this additional hour. A paper snowman, symbolizing winter, is placed on top of a huge bonfire and lit right on the dot of 6:00. The snowman's head is filled with fireworks so Spring definitely makes a dramatic entrance!
Kanamara Matsura, Japan – April 2
This festival is a very literal celebration of the fertility of Springtime, otherwise known as the Penis Festival! People from all over Japan come to honor the goddess Kanamata at her shrine where a giant pallus is erected to ask for good luck, fertility, and protection from sexually transmitted diseases. Phallic images can be found everywhere from decorations to snacks, inside homes, and outside shops. There's also a mikoshi (portable shrine) parade of numerous giant phalli carried by men in drag. Definitely a unique way to welcome Spring!
Seville Feria, Spain — April 23-29
Seville's "Feria de Abril" is a week-long celebration that occurs 2 weeks after Easter, so the date changes each year. It began as a cattle fair in the 1840s and has grown to become the largest festival in the city. Over 1000 small privately-owned structures called "casetas" are erected with a bar, kitchen, and elaborate music system so people never have to leave the fairgrounds. There are horse parades with everyone in traditional clothing, flamenco dancing, and bullfights every evening. Not a specific celebration of Spring, but a joyful one, nonetheless.
Skagit Valley Tulip Festival, Washington — March 1-April 10
The Netherlands isn't the only place to find tulips bursting out in the Spring! Just an hour north of Seattle, you'll find fields and fields of them, complete with the beautiful Cascade Mountains in the background. There are also indoor gardens in "Tulip Town", along with farm tours, art shows, concerts, wine tastings, and markets with local treats. Sounds like a lovely celebration of Spring after a cold winter in the Pacific Northwest.
Songkran, Thailand — April 13-15
Known as the Thai Water Festival, this celebration has evolved into a country-wide water fight! Water is considered spiritually purifying in the Thai culture – it washes away bad luck from the previous year and is bestowed as a blessing for happiness and good fortune in the year ahead. The festival originated when water was collected from the cleansing of Buddha statues and then trickled over the shoulders of the village elders and family members. Nowadays, revelers dowse each other with huge water guns, hoses, and buckets of water while saying 'sa-wat-dee pi mai', which means 'Happy New Year.' Considering it's the hottest month of the year in Thailand, that may not be such a bad thing!
Lotus Lantern Festival, South Korea – May 19-23
This nighttime festival originated over 1300 years ago and is celebrated the weekend before Buddha's birthday. Lanterns are placed in each home and are lit as darkness falls. These glowing lights are symbolic of our yearnings for peace from within our hearts, with hopes that it can be achieved worldwide. Then, thousands of people walk with their lanterns in a huge Lantern Parade, representing their commitment to Buddha's enlightenment principles. There's a 60 ft. lantern sculpture, along with food, dancing, and games, as well as Buddha gifts ranging from tea to meditations and paintings.
Are you tempted to visit some of these wonderful Spring celebrations? If that's not possible, try re-enacting portions of them on your own…. splash yourself (and maybe someone you love) with water, burn (safely) a paper snowman, or light a lantern. There are lots of fun, "rite-minded" ways to commemorate this seasonal change – have fun with it!
Connect with Deborah on The Wellness Universe.
---
All information, content, and material are for informational purposes only and are not intended to serve as a substitute for the consultation, diagnosis, and/or medical treatment of a qualified physician or healthcare provider. The information supplied through or on this page, or by any representative or agent of The Wellness Universe, is for informational purposes only and does not constitute medical, legal, or other professional advice. Health-related information provided through this website is not a substitute for medical advice and should not be used to diagnose or treat health problems or to prescribe any medical devices or other remedies. The Wellness Universe reserves the right to remove, edit, move, or close any content item for any reason, including, but not limited to, comments that are in violation of the laws and regulations formed pursuant to the Federal Food, Drug, and Cosmetic Act. None of the posts and articles on The Wellness Universe page may be reprinted without express written permission.
---
Relax, unwind, and heal with sound in Food for Your Soul. The Wellness Universe invites you to join Sharon Carne, Director of Training and Program Development at the Sound Wellness Institute for this immersive monthly experience.
Catch the recorded session(s) and be sure to join the next LIVE class! 
Register today: https://bit.ly/FoodforYourSoul
---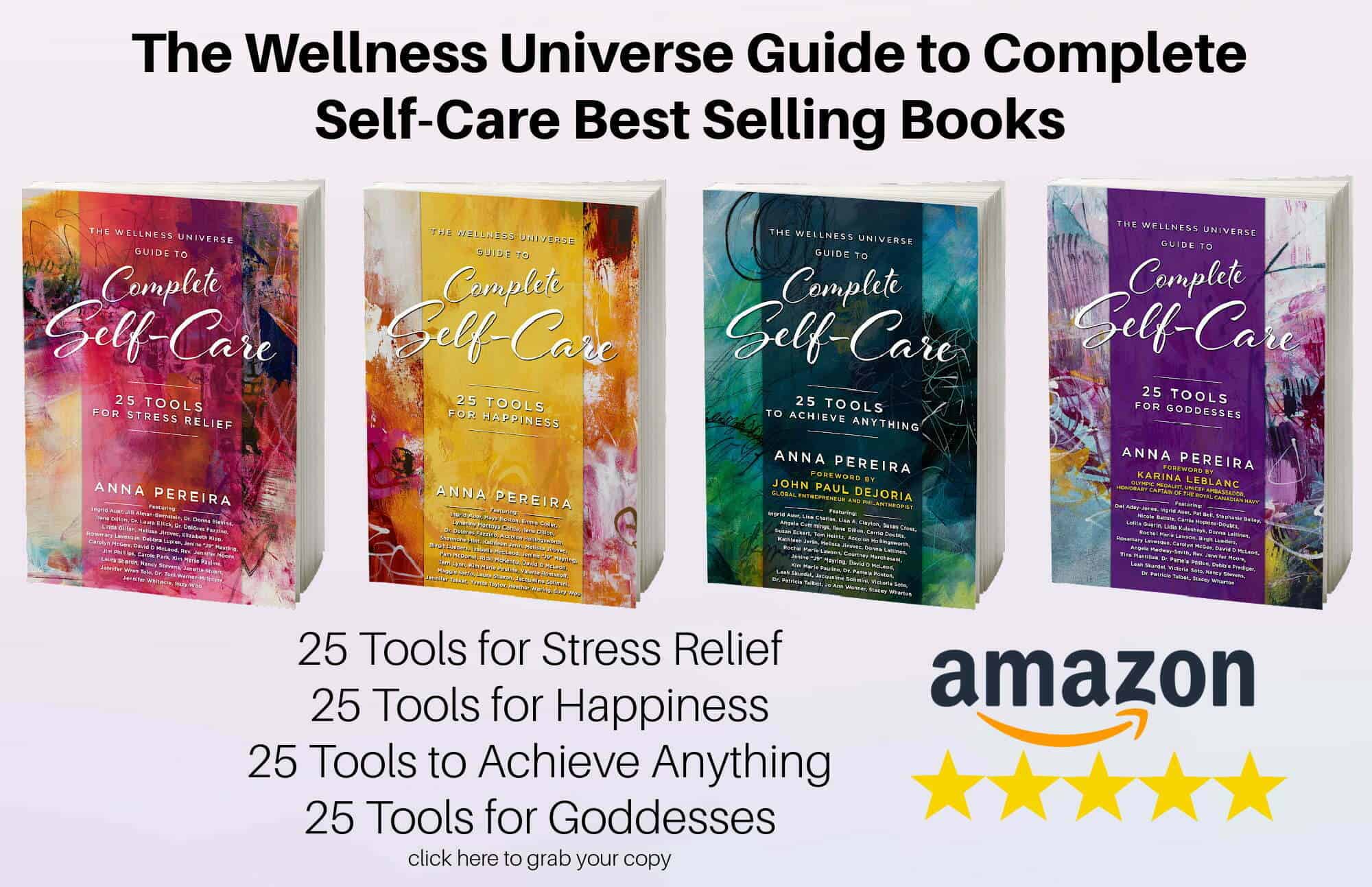 With over 250 independent reviews see how our self-care books are helping thousands of people around the world. Digital and paperback books are available now.
---

Connect to the people that help you live your best life: The Wellness Universe
Life & Relationship Coach, Deborah Roth, MA is also a Counseling Astrologer, and Interfaith Minister. She leads women's New Moon Circles and Full Moon TeleMeditations every month and loves designing creative, meaningful rituals for individuals and couples to energize their lives and relationships.