When has an insight or a higher truth suddenly emerged and surprised you? Maybe in the shower, walking in nature, or washing dishes? The shower stall seems to be a favorite place for insights to emerge. You're fully present in your body, your mind is at rest and an insight percolates through from the inside.
When I have allowed my mind to be in observation, I have been astounded by the truth and wisdom expressed through my heart and body.
When I was in college and graduate school, my scholarly, mind-focused self was like a huge melon-head perched on a stick-figure body. Critical, judgmental, cynical, rational, logical, always directing from my head.
Don't get me wrong. I loved school. Learning new, interesting subjects is my happy place and I can get distracted from my goals because learning new material feeds me. (Unless it's technical crap – then I'm sometimes cussing and tearing my hair out.) I'm glad I put in the hard work to earn my degrees, but the work came with a cost. I spent years unlearning to remember the heart wisdom and body wisdom I knew innately as a preschooler.
What about you? What is your proportion of mind wisdom, heart wisdom, and body wisdom?
Neuroscience now recognizes we have three brains, explained author Brian Gorman in the Forbes article, Change Leadership: Why Your Head, Heart And Gut Are Critical To Listen To. The cephalic thinking brain in our head (mind wisdom) makes meaning out of what we perceive. Our cardiac heart-brain (heart wisdom) processes emotions and connects with others. Our enteric gut brain (body wisdom) focuses on self-preservation and mobilization.
I was like the author's example of business leaders who are disconnected from their heart and gut brains and filter information and decisions through the head brain. I didn't trust my intuition. Occasionally, I checked in with my heart wisdom and let my gut-body wisdom catch up later.
We need to listen to all three brains to make decisions, according to Gorman, especially during these transformational times we are experiencing today. Relying only on the rational head brain during times of uncertainty can trigger a fight, flight, freeze, or appease response. Decisions without the compassion of heart wisdom or the courage of body wisdom can result in resistance to change.
Over years of developing self-awareness and inner listening, I've learned to rely on and trust my heart and body wisdom. When I come to a choice point, I've learned to check in with my heart wisdom first, check with my head brain, ask my body wisdom for approval, then recheck with my logical mind to make a plan. I've noticed my body wisdom speaks to me, not only in my gut, but in my knees, neck, breath, and other areas of my physical body.
At your next choice point, I invite you to practice Jazz Living and check in with your body wisdom and heart wisdom to see what insights emerge. How does choice A feel in your heart and in your gut? How does choice B feel in your heart and in your gut?
In Jazz Living,
Get present in your body and find your inner rhythm.
Bring your attention from head to heart and reconnect inward.
Listen deeply for your groove.
Share your voice with courage.
Listen compassionately to others and collaborate.
Most of us were not trained in listening to our body wisdom, so it might take a little practice. The first step is to get fully present in your body:
Bring your attention from head to heart to belly.
Notice body sensations: heat, tingling, muscle tension.
Notice sounds, smells, the taste in your mouth, colors and reflections, and the feel of cloth against your skin.
Let your mind be in observation and give your body permission to move as it wants to.
Pay attention to thoughts and emotions that show up as your body unwinds energetic patterns.
The benefits of listening to your heart wisdom and body wisdom far outweigh the effort of noticing.
Trusting that you know what you know, builds your self-esteem. Listening to your heart and body wisdom helps you make more solid, trustworthy decisions. When you know and trust yourself, you can show up more authentically in your relationships.
If you would like to practice connecting to your body wisdom in a supportive environment, please join me live for another class in the Jazz Living series, Learning to Trust Your Body Wisdom, Monday, December 12, 7-8pmET. Register HERE. https://bit.ly/LeahSkurdal-BodyWisdom Recording available.
I would love to connect with you and chat about how you connect to your heart wisdom and body wisdom. I invite you to reach out through my WU profile. You are wiser than you know.
Connect with Leah on The Wellness Universe.
Reference:
Brian Gorman, Change Leadership: Why Your Head, Heart And Gut Are Critical To Listen To, Forbes, Mar 4, 2019
---
All information, content, and material are for informational purposes only and are not intended to serve as a substitute for the consultation, diagnosis, and/or medical treatment of a qualified physician or healthcare provider. The information supplied through or on this page, or by any representative or agent of The Wellness Universe, is for informational purposes only and does not constitute medical, legal, or other professional advice. Health-related information provided through this website is not a substitute for medical advice and should not be used to diagnose or treat health problems or to prescribe any medical devices or other remedies. The Wellness Universe reserves the right to remove, edit, move or close any content item for any reason, including, but not limited to, comments that are in violation of the laws and regulations formed pursuant to the Federal Food, Drug, and Cosmetic Act. None of the posts and articles on The Wellness Universe page may be reprinted without express written permission.
---
Healing. Here. Now. Mindfulness, Trauma, and Recovery, a course for self-care and healing brought to you in partnership with Aundrea Veney, Founding Director and Chief Vision Officer, and Wellness Universe Trauma Expert Leader exclusively for Wellness for All programming.
Register today prior to the LIVE launch:  https://bit.ly/HealingHereNow
---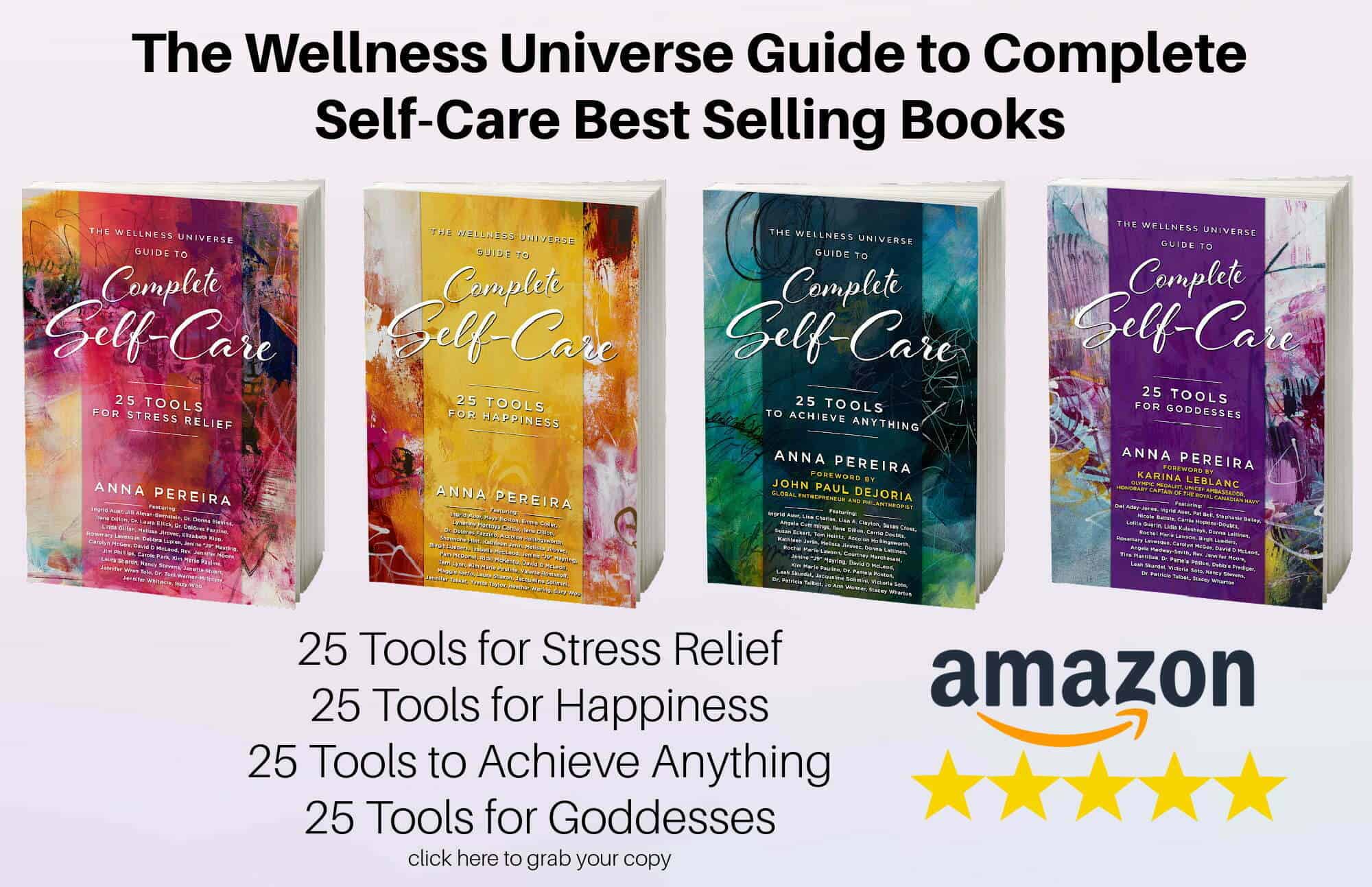 With over 250 independent reviews see how our self-care books are helping thousands of people around the world. Digital and paperback books are available now.
---
Self-development, self-care, and inspirational classes and sessions by Wellness Universe World Changer instructors who support your total well-being.
 Visit The Wellness Universe Lounge today!
---
The Wellness Universe is here to serve your best well-being. If you are experiencing anxiety, grief, overwhelm, guilt, anger, or seeking ways to cope and get help for stress, relationships, parenting, or any other issue during this challenging time, we have wonderful resources for you to connect with. Our WU Best Help members are offering reduced rates, sliding scale payment options, and even pro-bono sessions. WU Best Help
Leah Skurdal guides people to up-level their stress resilience to improve relationships. Leah shares intuitive insights in private Energy Healing to address the roots of disharmony. As an inspirational speaker and published author, Leah offers lively classes, experiential workshops, and keynotes.