The Wellness Universe believes a happy, healthy, healed human leads to a better community, a better world, and ultimately to world peace.
The Wellness Universe introduces you to conduits of empowerment, change, and healing as we feature our community members who are here to support your happiest, best version of you to help you shine!
Today\'s featured member is Marisa Ferrera, Women\'s Empowerment Coach & Mentor
Empowering women to authentically express themselves and create healthy boundaries so they can experience deeper connections and more harmonious family relationships.
Marisa shares with us an introduction about how she is creating a better world through well-being support.
Transformation, wellness, and self-care are only a connection away.
My Personal Story
Growing up in a dysfunctional family where I experienced both emotional and physical abuse, I learned at an early age that it was safer to keep quiet than to speak up. I struggled with no self-confidence, no self-esteem, and no voice.
When I started seeing a counselor in my early 20s, I discovered that in order to protect myself from experiencing pain, I unconsciously shut myself down on an emotional level. I had difficulty connecting with how I felt about anything or anyone.
This realization terrified me. I knew that unless I was willing to unlock the door of the trapped feelings I had buried deep within me, not only would I be unable to experience love for myself or others, but I would also continue to live a very unhappy and lonely life.
Along my journey, I learned about the power of healing from our past and how conflict can be used as a catalyst for creating deeper and more meaningful connections. I decided to turn my pain into my purpose.
I now guide heart-centered women in improving the quality of their relationships with their families and with themselves so they can experience relationships that are in alignment with their heart's desires.
What Motivates Me?
Since I can remember, I've had a deep desire for myself and others to experience harmonious and fulfilling relationships. Because of my past, I have a lot of empathy and compassion for those struggling with their relationships, especially with family members.
I know on a very deep level and from personal experience that no matter how much conflict or drama someone is experiencing within their family relationships, they are capable of healing from their past and can break free from their pain and suffering so they can experience the inner peace and joy they deserve.
It brings me the greatest pleasure to support women along this healing and transformational journey.
My Specialty
Through a powerful and proven, step-by-step process, I support women in breaking free from their fears and the negative family patterns that keep them from authentically expressing themselves and that trap them into saying YES to others and NO to themselves.
I show women how triggers are our teachers and how they can transform conflict into opportunities for healing so they can experience deeper and more meaningful connections with the people they love while honoring their boundaries.
Testimonials
Before working with Marisa, setting clear boundaries was very hard for me. I always wanted everyone to like me, and I used to go to great lengths to keep everyone happy. That only set me up to be emotionally exhausted.
Within a very short time of working through the Create Healthy Boundaries Mentoring Program, I started to realize that boundaries are vital for my health and for managing my relationships. I know now that it is not selfish to take care of myself and my needs while also considering the needs of others. I am pleasantly surprised now that my boundaries are, at their core, about protecting and nurturing my "Yes."
Thanks to Marisa I have learned to truly honor the importance of setting boundaries in my life, without guilt or shame.
~Lucyna
Before I started working with Marisa, I was having difficulty communicating with my daughters and understanding why they pushed me away. As time went on, it got more and more difficult to communicate with them because so much distance had happened as a result of difficult issues with my divorce.
Marisa helped me uncover some feelings that I had from my childhood and major events that caused me a lot of pain. I was able to move forward to a place where I was much more at peace and felt more comfortable in my relationships and dealing with past issues.
It was very scary for me to have a conversation with my daughters about all of this and with Marisa's help, I learned how I could start a conversation first with my youngest daughter.
Through her coaching and using the tools she shared in her program, I was able to talk about a lot of these things in a very authentic way.
All in all, it was a really great experience and I highly recommend this program to other people who are having issues with their family, maybe friends that they've had difficulty communicating with so they can create healthier and happier relationships with those people.
~Marybeth
Thank you for meeting Marisa and connecting with her on their Wellness Universe.
---
All information, content, and material are for informational purposes only and are not intended to serve as a substitute for the consultation, diagnosis, and/or medical treatment of a qualified physician or healthcare provider. The information supplied through or on this page, or by any representative or agent of The Wellness Universe, is for informational purposes only and does not constitute medical, legal, or other professional advice. Health-related information provided through this website is not a substitute for medical advice and should not be used to diagnose or treat health problems or to prescribe any medical devices or other remedies. The Wellness Universe reserves the right to remove, edit, move or close any content item for any reason, including, but not limited to, comments that are in violation of the laws and regulations formed pursuant to the Federal Food, Drug, and Cosmetic Act. None of the posts and articles on The Wellness Universe page may be reprinted without express written permission.
---
The Wellness Universe presents Sharon Carne, Director of Training and Program Development guiding you through A Beginner\'s Guide to Sound Healing a 6-month program that will help you to heal with sound, frequency, and vibration.
This donation-based flex course has 6 sessions, 1X per month beginning 5/5/22. The pay-what-you-can structure supports your success so no matter your financial status, you can join us!
Register today prior to the LIVE launch: https://bit.ly/WUSoundHealing
---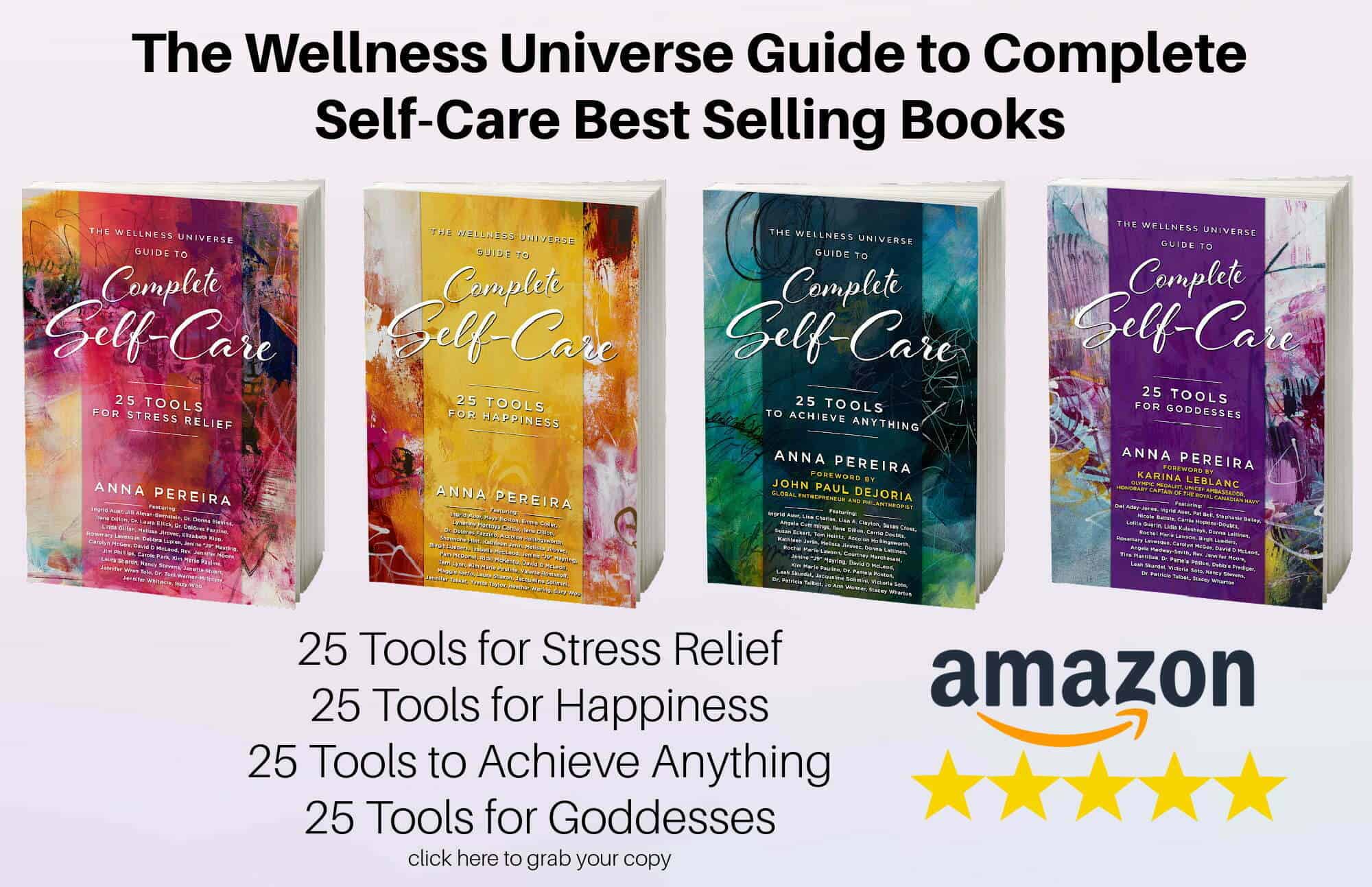 With over 250 independent reviews see how our self-care books are helping thousands of people around the world. Digital and paperback books are available now.
---
Self-development, self-care, and inspirational classes and sessions by Wellness Universe World Changer instructors who support your total well-being.
Visit The Wellness Universe Lounge today!
---
The Wellness Universe is here to serve your best well-being. If you are experiencing anxiety, grief, overwhelm, guilt, anger, or seeking ways to cope and get help for stress, relationships, parenting, or any other issue during this challenging time, we have wonderful resources for you to connect with. Our WU Best Help members are offering reduced rates, sliding scale payment options, and even pro-bono sessions.
WU Best Help
The Wellness Universe is your resource for health, wellness, well-being, and transformation. We serve and support professionals who make the world a better place and individuals and groups who seek their best life.
A woman owned company; having the vision in 2013, Anna Pereira launched the first directory in 2015 bringing together a community of members making the world a better place to be found by those seeking their best life. The Wellness Universe has grown since then to be a one-stop shop for total wellness support! We are a vetted community, online directory, book publisher, resource center, event producer, content platform, and so much more, supporting whole-health and well-being on a global scale.
The Wellness Universe is a home that connects industry professionals in the health, wellness, and well-being fields to seekers of total well-being. WU provides our WU World-Changer members with peer support, Wellness Universe produced events (live and online), projects, visibility, business mentoring, and community. Through The Wellness Universe our WU World-Changer members serve WU Friends, seekers of health, wellness and transformation, with coaching, workshops, content and more.
The Wellness Universe provides individuals and groups seeking their best lives with access to our members, wellness content, educational resources, and guidance in all areas of wellness to transform visions of how they want to live life into the life they experience.
Through the directory, WU Featured Blog, SoulTreat wellness retreat, Self-Care Books, group well-being programs, and online learning center, The Lounge, The Wellness Universe provides many avenues to support whole health, mind, body, spirit and planet.
Join us today! Wellness Professional or Seeker of Your Best Life