How well do you navigate change?
Some people love to rearrange the furniture in their homes on a regular basis. Please do not move my furniture. That's one change where I respond with irritation – even pig-headed obstinance. I can't find my gardening gloves when my husband cleans the garage. I like things to be out in plain sight where I can find them easily. He prefers things to be put away neatly. We've been married for 32 years, so this is an ongoing conversation. Some people might feel stressed by my clutter. I feel stressed when other people move my clutter. Decluttering is an area of slow incremental change for me.
In other areas of my life, flexibility is my superpower and I easily surf the waves of change with agility and grace. We don't have all the ingredients a recipe calls for. No problem. We can substitute other ingredients. An extra person shows up for dinner. No problem. We'll put another plate on the table. The schedule got readjusted again. No problem. I can roll with the changes. Kids come home with a highly contagious virus. No problem. I've got this.
Maybe those changes trigger resistance and struggle for you.
In what areas of your life can you shift and change most gracefully?
In what areas of your life do you hold on and resist change?
When we resist change or feel stuck in old behavior patterns, our sympathetic nervous system can get triggered into a fight or flight response leading to muscle tension, shallow breathing, and hyper-vigilance. If we stay in that pattern for too long, the parasympathetic nervous system in charge of our rest and digest response, can get frozen into holding the breath, muscle pain, or even cause depression.
Activating and soothing the vagus nerve, the body's nervous system superhighway of information is one way to develop resilience and exit the fight/flight/freeze response to stress. With a healthy vagal tone, you can recover from stress faster. You're better able to regulate emotions, connect with other people and maintain physical, mental, and emotional health.
So what's the vagus nerve?
The vagus nerve is the part of the nervous system linking the neck, heart, lungs, and abdomen to the brain. That's how you feel butterflies in your tummy when you're excited and have a gut feeling about something. The vagus nerve wanders from the base of the skull, down the neck, back, sides, and around to the front of the abdomen. Vagus is the Latin word for wandering.
I'll be sharing more insights on how we can influence the vagus nerve to increase our mental well-being in our Mental Health Awareness Day Virtual Mini Retreat.
In recognition of World Mental Health Day, The Wellness Universe is sponsoring a virtual Mental Health Awareness Mini-Retreat on Saturday, October 8, 11am-1:30pmET.
Each speaker will share great information and helpful tools to enhance mental well-being. You can read about each of the seven speakers and register for the Mental Health Awareness Day Mini Retreat here: https://bit.ly/WUMentalHealthDay2022
Make mental health for all a global priority.
~ The World Federation for Mental Health (WFMH)
The Wellness Universe is making mental health a global priority. This event is part of the Wellness For All programming offered on a pay-as-you-can-donation basis contributing to making educational and transformative wellness programs available for all.
We have what it takes to navigate change with agility and grace. I don't need to feel stressed about decluttering. Next time I focus on decluttering, I will tone up my vagal nerve first so decluttering goes smoothly.
Hope you can join us for the Wellness Universe World Mental Health Awareness Mini Retreat and enhance your mental well-being.
Connect with Leah on The Wellness Universe.
---
All information, content, and material are for informational purposes only and are not intended to serve as a substitute for the consultation, diagnosis, and/or medical treatment of a qualified physician or healthcare provider. The information supplied through or on this page, or by any representative or agent of The Wellness Universe, is for informational purposes only and does not constitute medical, legal, or other professional advice. Health-related information provided through this website is not a substitute for medical advice and should not be used to diagnose or treat health problems or to prescribe any medical devices or other remedies. The Wellness Universe reserves the right to remove, edit, move or close any content item for any reason, including, but not limited to, comments that are in violation of the laws and regulations formed pursuant to the Federal Food, Drug, and Cosmetic Act. None of the posts and articles on The Wellness Universe page may be reprinted without express written permission.
---
The Wellness Universe partners with strategic powerhouse Debbie Prediger in this Wellness for All masterclass series that feeds your success journey: Business Momentum and Strategy. Join WU Business Momentum Guide, Debbie Prediger, Empowerment Coach and Strategist, as she hosts each session live, empowering you, heart-led, business-minded entrepreneur twice a month!
Catch the recorded session(s) and be sure to join the next LIVE class!
Register today: ​​https://bit.ly/BusinessMomentum
---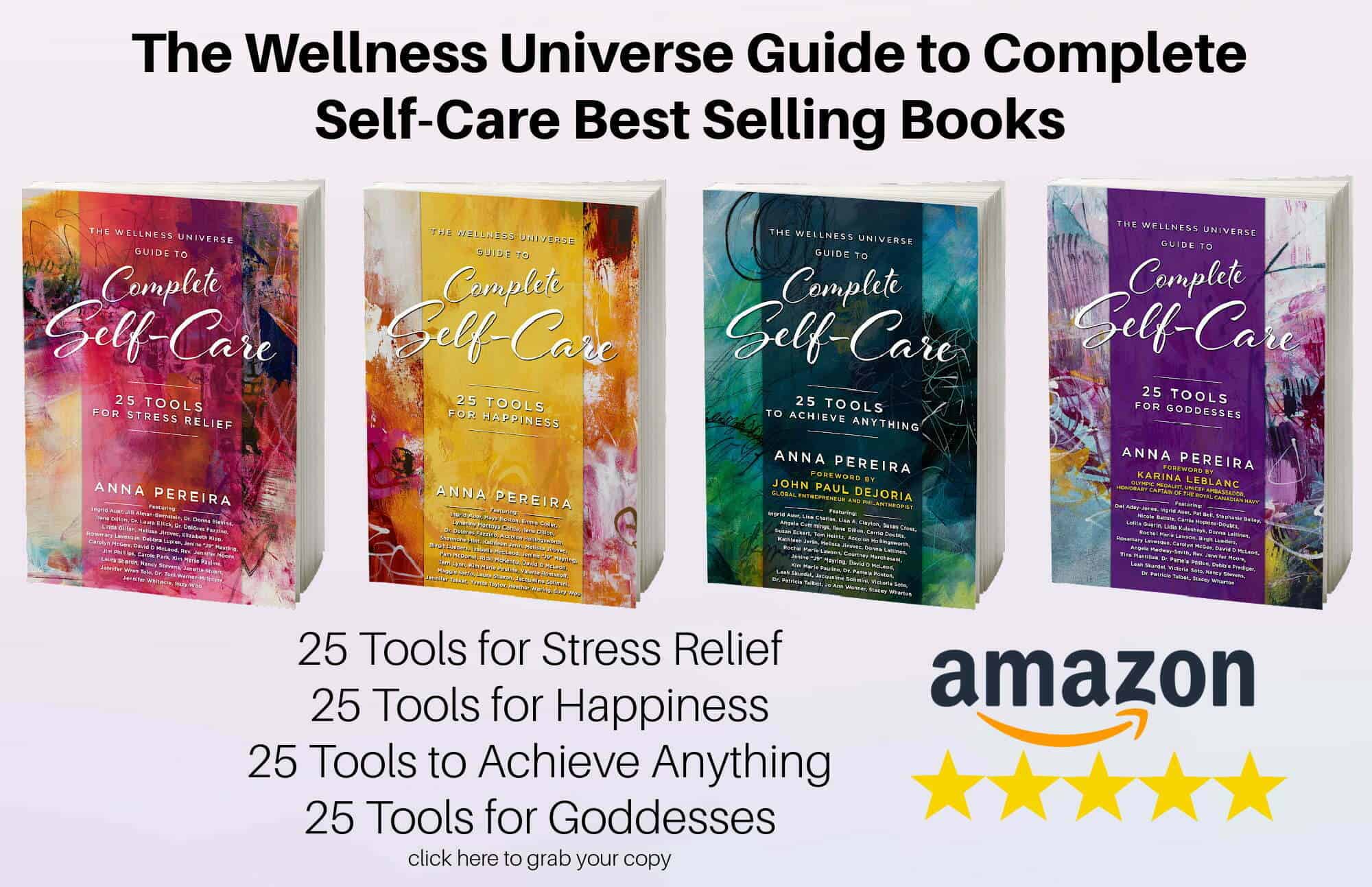 With over 250 independent reviews see how our self-care books are helping thousands of people around the world. Digital and paperback books are available now.
---
Self-development, self-care, and inspirational classes and sessions by Wellness Universe World Changer instructors who support your total well-being.
 Visit The Wellness Universe Lounge today!
---
The Wellness Universe is here to serve your best well-being. If you are experiencing anxiety, grief, overwhelm, guilt, anger, or seeking ways to cope and get help for stress, relationships, parenting, or any other issue during this challenging time, we have wonderful resources for you to connect with. Our WU Best Help members are offering reduced rates, sliding scale payment options, and even pro-bono sessions. WU Best Help
Leah Skurdal guides people to up-level their stress resilience to improve relationships. Leah shares intuitive insights in private Energy Healing to address the roots of disharmony. As an inspirational speaker and published author, Leah offers lively classes, experiential workshops, and keynotes.