We have a burning desire to have a wonderful relationship, successful career, and wonderful life, yet whether it's a tiny daily habit like procrastination or a complete and intentional action, we sabotage our success. Many of us have done this.
Fear of Success Or Fear of Failure?
Whether we chose or not to admit it, we have fears. With success comes responsibilities. Will we have to live up to an expectation we can't reach? Will we have to step outside our comfort zone? Will we be expected to learn something new? Will we be able to afford what's coming? Will we have the wisdom, confidence, wherewithal, etc. to take on the dream?
Fears. All fears swirl around in our heads. These fears lead to either a charge of excitement for the unknown or a feeling that you have what it takes to fulfill your end of the bargain to make a success of your dreams. Or do you find yourself with cold feet running in the opposite direction?
Sabotaging success is common and nothing to be ashamed of.
Some may think this is a fear of failure when it is, in actuality, fear of success. Crazy, right?! But it's true. If we take a deep dive into what we are doing to keep ourselves from taking steps toward success, it may not be failure that we fear.
Many of us fear the unknown and the more real something becomes, the heaviness of responsibility sets in. Do you freeze? Do you run away? Do you avoid it?
Diving into Self-Sabotage:
I get a lot of raised eyebrows when I say: Most people think of self-demolition as fear of success. But deep down, despair over achievements isn't truly a fear of ambition and your own worth — it's a fear of trying one's best and not succeeding, of being let down and publicly humiliated as we worry that our best might not be good enough.

-Ellen Hendriksen, Ph.D., Psychology Today
Evaluating and addressing the root issues and fears we have around success that lead to self-sabotage is essential for tackling it head-on and stopping self-sabotaging.
Joy, fulfillment, and sharing your greatest gifts with the world are what you are here to do. Inspiring others and motivating them through your achievements are additional rewards reaped when you are enjoying success at the highest level. Let's not forget personal satisfaction, confidence, and experiencing a positive outlook on life! These are yet more benefits to achieving success.
Did you gain insight into self-sabotaging your success? Please share them with us in the comments section below. 
Did you know you can find help here? From personal to professional well-being, connect with someone who can guide you to a happier, healthier, and whole life! Become a WU Friend today!
If you provide support or products that make the world a better place and help humanity live in health, happiness, and wholeness, join us as a WU World-Changer!
-The Wellness Universe
*Adapted from an original post published on March 3, 2019.
---
All information, content, and material are for informational purposes only and are not intended to serve as a substitute for the consultation, diagnosis, and/or medical treatment of a qualified physician or healthcare provider. The information supplied through or on this page, or by any representative or agent of The Wellness Universe, is for informational purposes only and does not constitute medical, legal, or other professional advice. Health-related information provided through this website is not a substitute for medical advice and should not be used to diagnose or treat health problems or to prescribe any medical devices or other remedies. The Wellness Universe reserves the right to remove, edit, move or close any content item for any reason, including, but not limited to, comments that are in violation of the laws and regulations formed pursuant to the Federal Food, Drug, and Cosmetic Act. None of the posts and articles on The Wellness Universe page may be reprinted without express written permission.
---
The Wellness Universe presents Hema Vyas our Heart-Set Prosperity Expert guiding you through a 12-month program that will transform your life.
Catch the recorded session(s) and be sure to join the next LIVE class! Register today https://bit.ly/HeartSetProsperity
---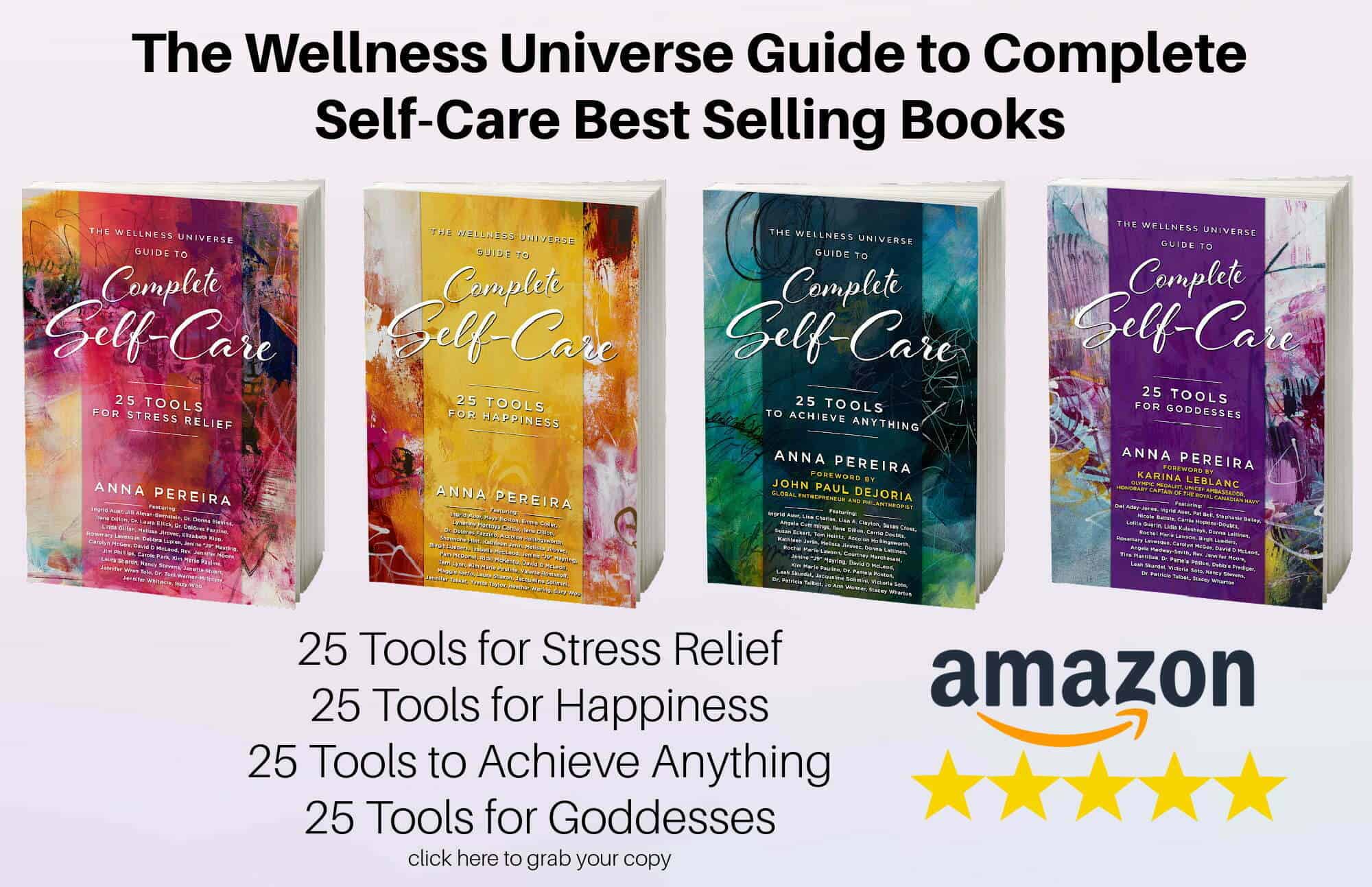 With over 250 independent reviews see how our self-care books are helping thousands of people around the world. Digital and paperback books are available now.
---
Self-development, self-care, and inspirational classes and sessions by Wellness Universe World Changer instructors who support your total well-being.
 Visit The Wellness Universe Lounge today!
---
The Wellness Universe is here to serve your best well-being. If you are experiencing anxiety, grief, overwhelm, guilt, anger, or seeking ways to cope and get help for stress, relationships, parenting, or any other issue during this challenging time, we have wonderful resources for you to connect with. Our WU Best Help members are offering reduced rates, sliding scale payment options, and even pro-bono sessions. WU Best Help
The Wellness Universe is your resource for health, wellness, well-being, and transformation. We serve and support professionals who make the world a better place and individuals and groups who seek their best life.
A woman owned company; having the vision in 2013, Anna Pereira launched the first directory in 2015 bringing together a community of members making the world a better place to be found by those seeking their best life. The Wellness Universe has grown since then to be a one-stop shop for total wellness support! We are a vetted community, online directory, book publisher, resource center, event producer, content platform, and so much more, supporting whole-health and well-being on a global scale.
The Wellness Universe is a home that connects industry professionals in the health, wellness, and well-being fields to seekers of total well-being. WU provides our WU World-Changer members with peer support, Wellness Universe produced events (live and online), projects, visibility, business mentoring, and community. Through The Wellness Universe our WU World-Changer members serve WU Friends, seekers of health, wellness and transformation, with coaching, workshops, content and more.
The Wellness Universe provides individuals and groups seeking their best lives with access to our members, wellness content, educational resources, and guidance in all areas of wellness to transform visions of how they want to live life into the life they experience.
Through the directory, WU Featured Blog, SoulTreat wellness retreat, Self-Care Books, group well-being programs, and online learning center, The Lounge, The Wellness Universe provides many avenues to support whole health, mind, body, spirit and planet.
Join us today! Wellness Professional or Seeker of Your Best Life